8 Go-To Salad Dressing Recipes
From Cesar to honey mustard, these veggie enhancers are low in calories and score high in nutrition.
Store-bought salad dressings offer convenience, but they're often littered with sugar, unhealthy oils, and sketchy additives.
Consider Hidden Valley's ranch dressing: In addition to boasting 140 calories per two-tablespoon serving, it's riddled with monosodium glutamate (MSG) and phosphoric acid. But preparing your own salad dressing at home can help you avoid these unhealthy ingredients while cutting unwanted calories and saving money. To help you out, we rounded up eight healthy and delicious salad dressing recipes you can make in a matter of minutes. Looking for a salad to try them on? Check out these 30 Summer Salads You Need to Try.
Pomegranate Balsamic Dressing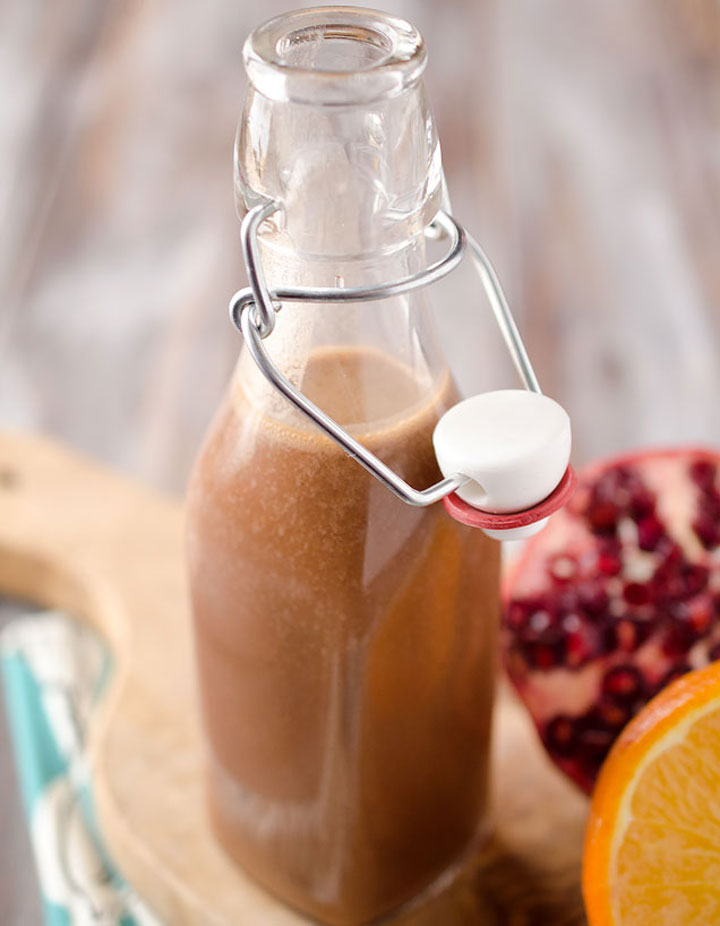 This balsamic dressing recipe puts a refreshing twist on the old classic with freshly squeezed orange and pomegranate juices. One serving of this dressing contains 106 calories and just three grams of sugar — significantly less sweet than store-bought balsamic, which can easily have seven grams of sugar or more.
Get the recipe from The Creative Bite.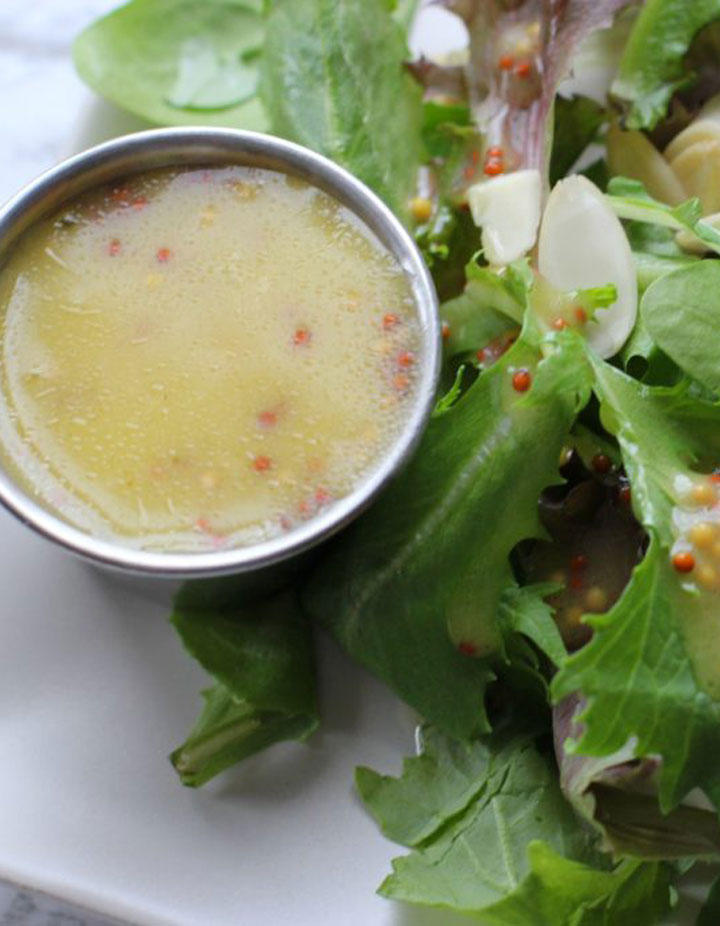 Honey mustard dressing is notorious for being high in sugar, but this version calls for just two teaspoons of honey. Hunger-regulating apple cider vinegar, olive oil, and a touch of mayo balance out the sweet flavors while providing creaminess. By contrast, an identical serving of Wishbone's Light Honey Dijon dressing has more than double the amount of sugar. Want to learn more about how to kick your metabolism into overdrive? Check out The 55 Best Ways to Boost Your Metabolism!
Get the recipe from I Heart Vegetables. 
Caesar dressing is typically high in calories and loaded with fat, but this "skinny" Laughing Spatula recipe doesn't sacrifice flavor and uses simple ingredients you might already have. The recipe swaps protein-packed Greek yogurt for mayonnaise and cuts back on the cheese with just 1/3-cup of Parmesan. This savory dressing contains just 52 calories per two-tablespoon serving and has three grams of satiating protein. In fact, it's so good, it won't be hard to say no to Ken's Caesar Dressing, which has more than three times the calories and just one gram of protein for the same serving size.
Get the recipe from Laughing Spatula.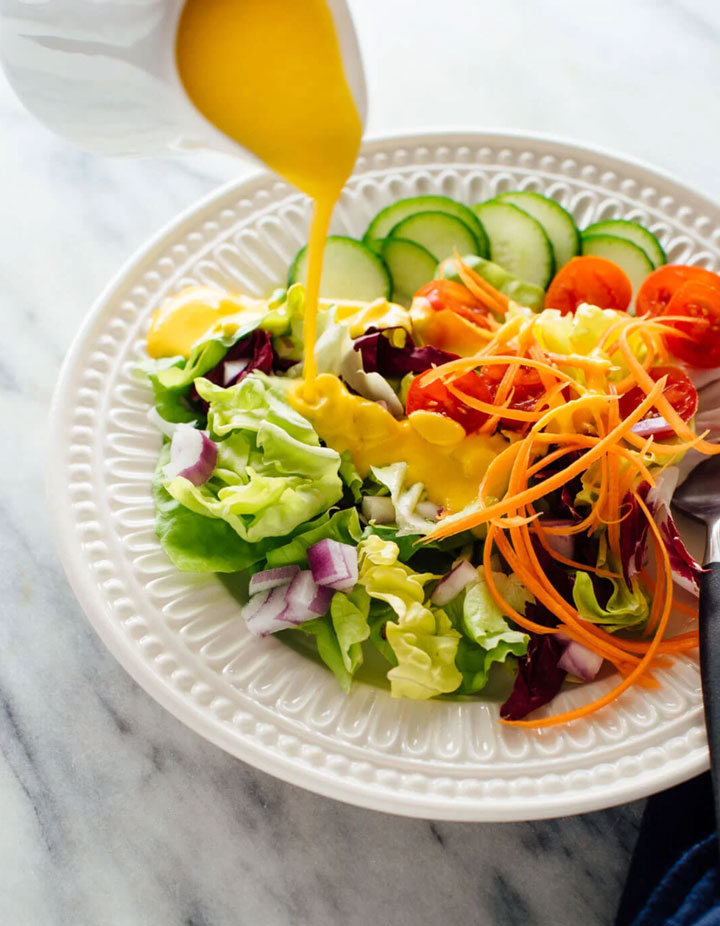 6254a4d1642c605c54bf1cab17d50f1e
This Asian-inspired salad dressing recipe has a deliciously sweet and zesty flavor from the carrots, honey, ginger, and lime. The best part is this taste-winning combo happens to be health-boosting, too. Carrots are an excellent source of cancer-fighting beta-carotene, and ginger can help relieve an upset stomach and lower LDL cholesterol. And if you get sick of throwing this fresh and light dressing on your salad, it's also great drizzled over cooked rice, tofu, or steamed veggies.
Get the recipe from Cookie + Kate.
Avocado Cilantro Dressing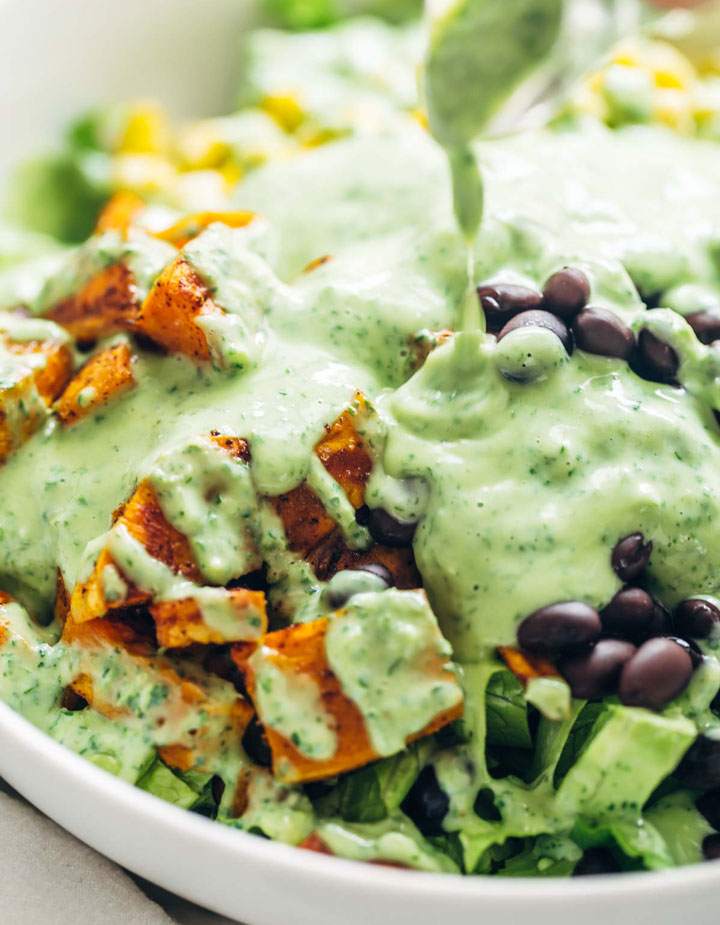 You can bring the zesty flavors of the Southwest to your table with this avocado cilantro creation. Greek yogurt infuses more creaminess and a tangy flavor, while lime juice lends a touch of citrus. While avocados are calorie-dense, they provide heart-healthy monounsaturated fats that have also been shown to curb hunger and boost cognitive function. To top it off, cilantro can help relax digestive muscles and aid an overactive gut.
Get the recipe from Pinch of Yum.
Basil Peppercorn Vinaigrette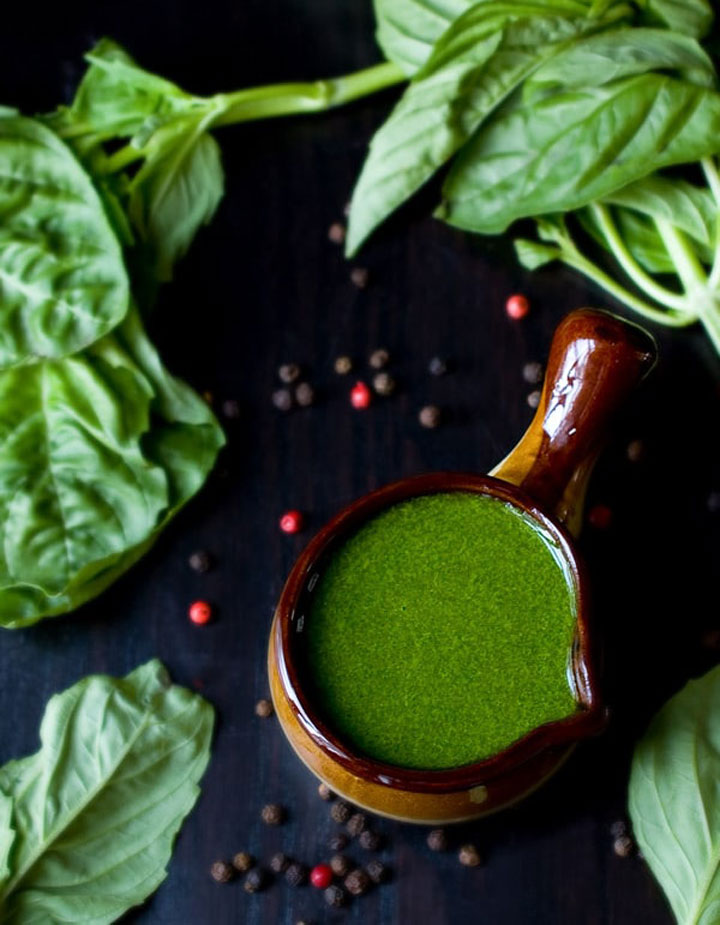 If you're a fan of pesto, you'll absolutely love this vibrant green dressing. This basil peppercorn vinaigrette has a spicy kick from the peppercorn and garlic and a tangy flavor from the balsamic and red wine vinegar. But basil takes the health spotlight of this dressing for its powerful antibacterial properties. Glorify your salads, pasta, steak and chicken dishes with this flavorful dressing.
Get the recipe from Savory Simple.
Greek Yogurt Ranch Dressing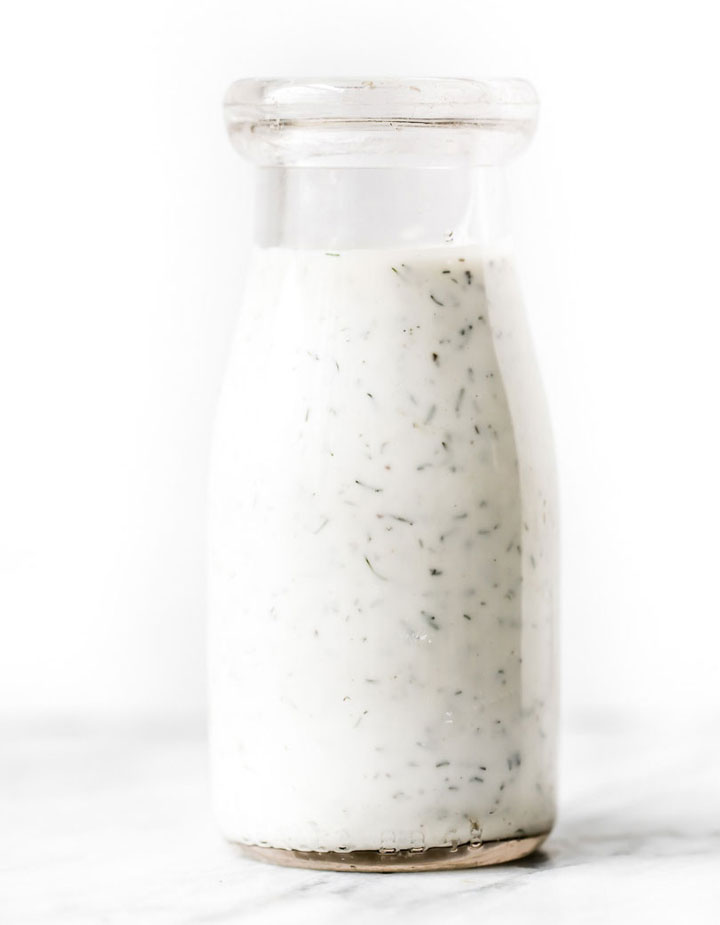 You won't miss the store-bought stuff when you pair your salads and buffalo wings with this healthy Greek yogurt ranch dressing. Simply mix Greek yogurt with garlic and onion powder, fresh lemon juice, dried dill and salt, and you have a deliciously creamy dressing you can put on basically any dish. Unlike Hidden Valley Ranch, which packs 140 calories per serving, this dressing is less than 20 calories and has nearly three grams of protein.
Get the recipe from Ambitious Kitchen.
Golden Turmeric Tahini Dressing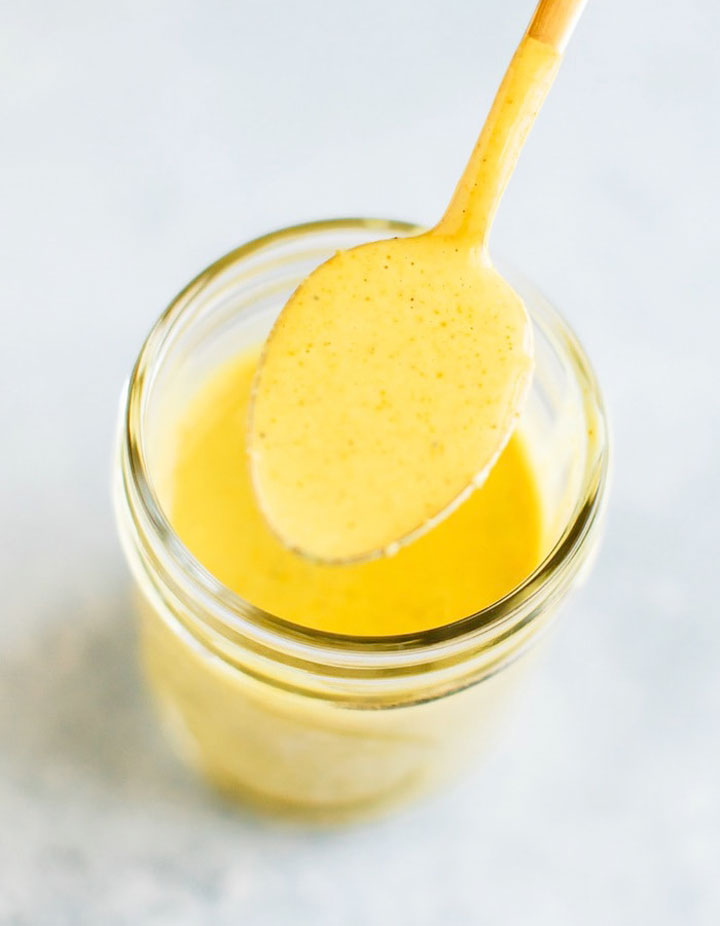 Think of this golden turmeric tahini as sunshine for your salads. Turmeric is a superspice that's been shown to help reduce inflammation and boost cognitive function, while tahini is loaded with lignans, which can help lower bad cholesterol and oxidative stress. This recipe also features nutritional yeast, a vegan-friendly source of B vitamins. Get creative and enjoy this dressing as a sauce or dip. At just 71 calories per serving, it's a wonderful addition to any dish. For more health-boosting foods, check out this list of the 30 Best Anti-Inflammatory Foods.
Get the recipe from Eating Bird Food.