34 Hottest Healthy Restaurants in America
If you're seeking some solid eateries, these are the hottest healthy restaurants spanning the U.S.
Take a look at Pinterest, Instagram, or Facebook, and one thing is clear: we're a nation that's simultaneously obsessed with dining out and healthy living. So, it's really no surprise that healthy restaurants are one of the quickest growing sectors in the restaurant space. In fact, locally sourced seafood and protein, locally grown produce, and healthful kids' meals were named top culinary trends for 2016 in The Restaurant Association's Restaurant Industry Forecast. Other popular trends included minimally processed foods and gluten-free items, both terms that practically synonymous with better eating.
While there's no shortage of good-for-you eateries, we'd argue that identifying those that are actually doing something exciting and unique requires some expert curation. And healthy restaurants that your kids and fast food-loving friends would happily break bread at are an even rarer breed—and is an attribute that we believe qualifies a restaurant to rank as one of the "hottest" of the bunch. Read on to discover the best healthy chains and local gems in or near your home state, many of which are serving up grub that resembles the type of wholesome stuff we'd cook ourselves.
FAST-CASUAL
Sweetgreen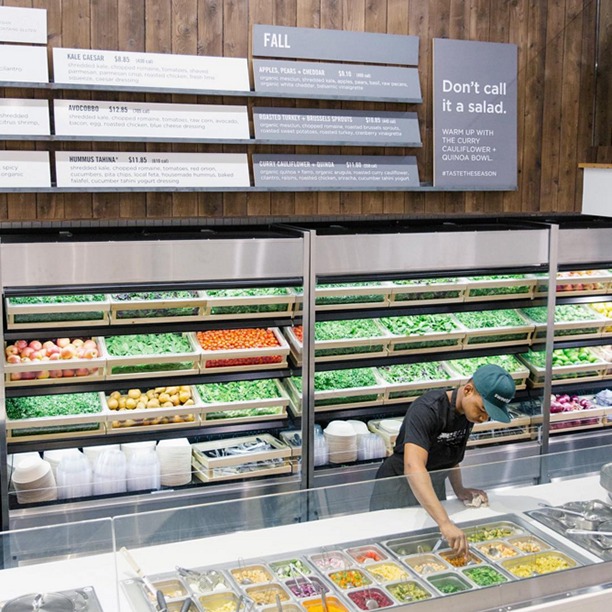 Locations: Calif., D.C, Ill., Mass., Md., N.Y., Pa., Va.
We love that Sweetgreen is hyper-aware of your health. Sweetgreen form relationships with local providers to craft a menu with all-organic ingredients sourced from farmers. They've got a great variety of salad options—from spicy to creamy—and whole- grain-filled bowls packed with nutrient-dense foods like quinoa, farro, avocado (one of our favorite full-fat foods for weight loss), shredded cabbage, beets, and leafy greens. However, the real fun happens when you mix your own salad. Grab a base of shredded kale and organic wild rice and toss it with fresh add-ins like spicy broccoli, snap peas, and roasted vegetables—each fresh from the market.
The Organic Coup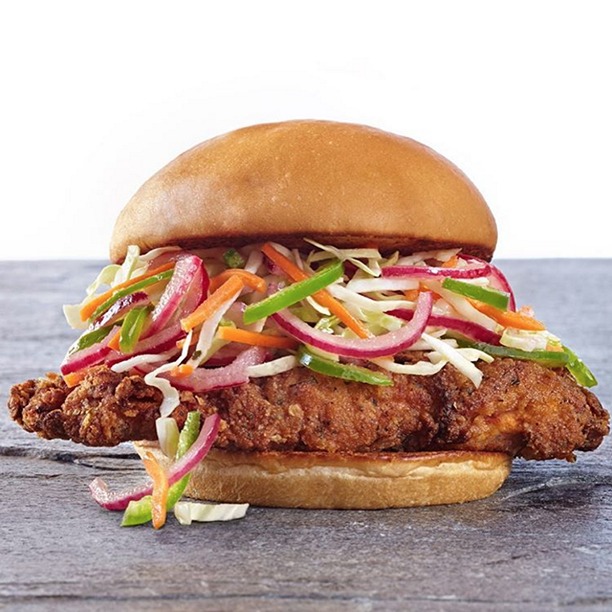 Locations: Pleasanton, Calif.
Love fast food but weirded out by all the chemicals and hard-to-pronounce ingredients? The Organic Coup is about to become your new favorite restaurant. Founded by a former Costco exec, the fast-casual joint is the nation's first 'certified organic fast-food' concept. (Even the sodas are organic!) Its menu is comprised of wraps, bowls, tenders and fried chicken sandwiches, made with organic coconut oil. Though the chain doesn't serve up fries, shakes, or classic fast-food desserts, they sell a delicious organic popcorn drizzled with caramel and chocolate that makes for a sweet ending to any lunch or dinner.
Lyfe Kitchen
Locations: Calif., Colo., Ill., Nev., Tenn., Tex.
At Lyfe Kitchen, customers can get delicious, locally- and sustainably-sourced meals on their trays just minutes after they place an order. Every menu item clocks in under 600 calories and most have reasonable sodium counts, too, which some may find surprising since the chain was started by a pair of former McDonald's execs. Aside from menu staples like breakfast wraps, pancakes, fruit, flatbreads, wraps, burgers, salads, bowls and plates (roasted salmon, tomato & fennel, anyone!?) there are tons of vegan and gluten-free choices—and even unique drinks like their orange ginger chia Lyfe Water, which is made with fresh-squeezed orange juice, filtered water, lime, ginger, and mint chia seeds.
The Veggie Grill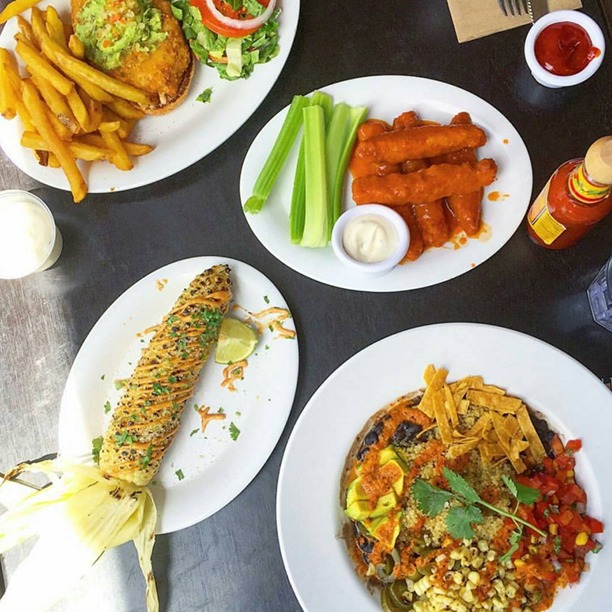 Locations: Calif., Ore., Wash.
If you've been trying to eat more veggies, but can't stand the taste of vegetables, this is the place for you. Instead of serving up mushy bean sprouts, strange tofu concoctions, and other esoteric dishes, The Veggie Grill gives familiar American classics like hamburgers, fries (there's are made with cauliflower), buffalo chicken wraps, 'crab' cakes and mac n' cheese. They also have special seasonal menus that feature the best of nature's bounty throughout the year. Spring menu highlights include spring pea guacamole, chilled soups, and chargrilled asparagus (swoon!).
Just Salad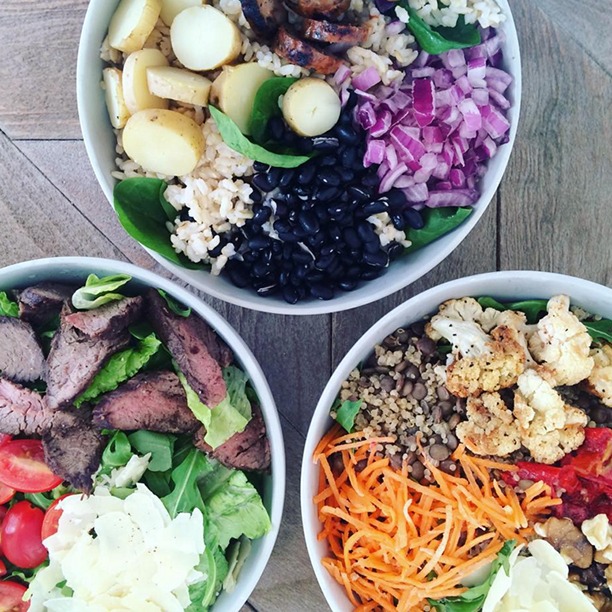 Locations: New York, N.Y., Chicago, Ill.
It may be called Just Salad, but we'd argue the fast-casual chain is more than a place to build your own salads and wraps. Thanks to their nutrition and fitness ambassador program, the chain is able to serve up a menu that's been designed by a registered dietician and offer loyal salad noshers discounts on local fitness classes. Any restaurant that makes it easier for its customers to commit to a healthy lifestyle is a winner in our eyes!
Juice Generation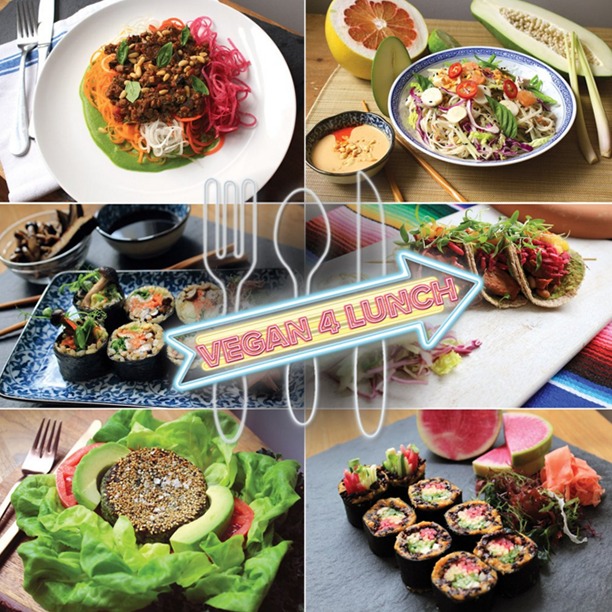 Locations: New York, N.Y.
You may think of Juice Generation as "just another smoothie and cold-pressed juice shop," but we'd argue that it's much more than that. The company, which has been around since 1999, has stayed trendy and knowledgeable about their customers' needs by opening in and locations where fit, health-conscious people gather. (A number of their shops are actually inside Equinox gyms.) After noticing a demand for clean, packaged on the go meals and bites, CEO Eric Helms launched a brand new menu called "Vegan4Lunch." It which offers a variety of chef-made offerings like Jackfruit Tacos, Kale Quinoa Burgers, Green Papaya Pad Thai, and Mushroom Avocado Rolls.
Protein Bar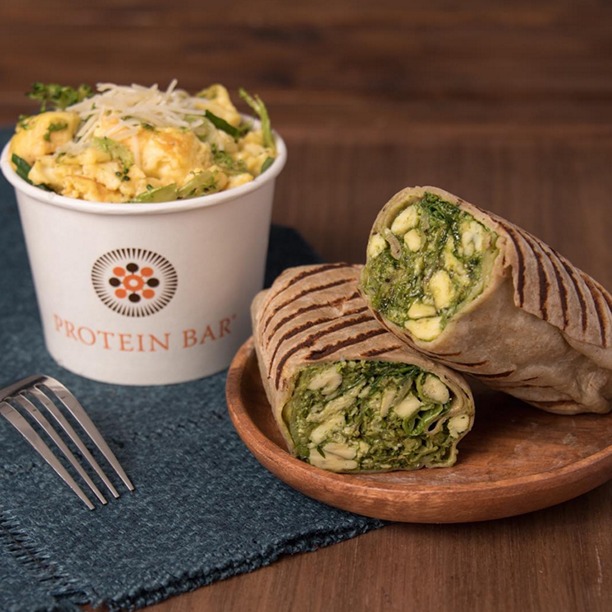 Locations: Chicago, Ill., Col., D.C.
Offering Eat This, Not That! favorites like matcha green tea, oatmeal (topped with quinoa, flaxseed, millet and more!), egg scrambles, and savory bowls (many of which can be customized to be vegan), Protein Bar is a safe-haven for busy health-conscious consumers.
Panera Bread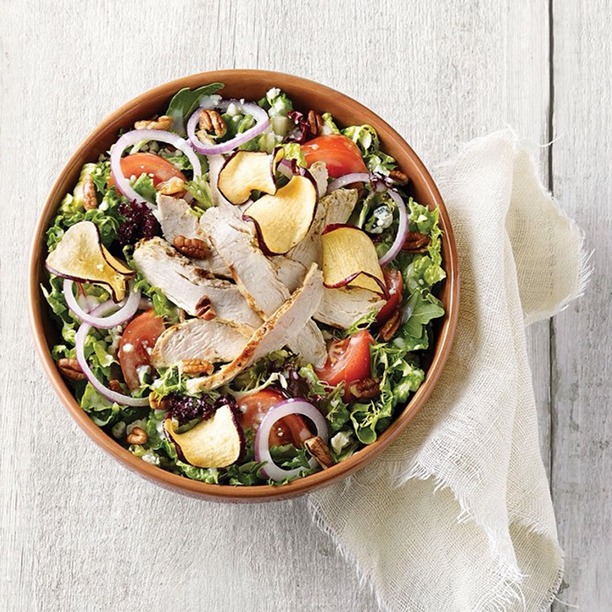 6254a4d1642c605c54bf1cab17d50f1e
Locations: Nationwide
It's not that Panera Bread is the absolute healthiest eatery on the block, but we give it tons of bonus points for being so widespread and accessible, even in the tiniest of towns. With more than 1,800 locations nationwide, the soup, salad and sandwich baron makes it easy to grab a meal for under 600 calories. Some of our go-tos include their lentil quinoa bowl with chicken broth bowl 390 calories), the tomato mozzarella flatbread, and the Fuji apple chicken salad (550 calories). One caveat: A number of their dishes carry up to half of the daily recommended amount of sodium and a day's worth of fat (Avocado Chicken Cobb with Ranch, we're looking at you!).
Noodles and Company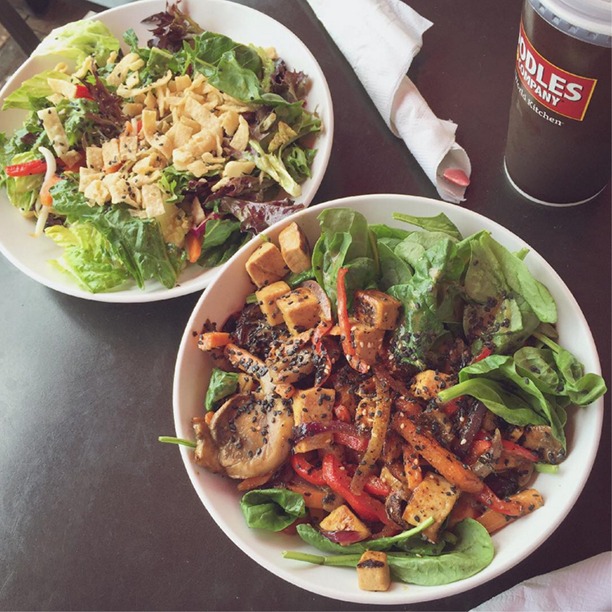 Locations: Nationwide
Serving up noodle-based dishes (many of which can be made with whole grain linguini!), salads and low-carb, protein-rich "Buff Bowls" inspired by Asian, Mediterranean, and American flavors, Noodles and Company has something for everyone. We love that they offer every dish is two sizes: regular and small. Translation: If you're craving something more indulgent like Pad Thai, you can get the 550 calories version instead of blowing your diet on a dish that would normally serve up over 1,000 calories. Word of caution, though: Stay away from the desserts. None of them fall under the 450-calorie mark and are not what you want to be eating if weight loss is your goal.
Jason's Deli
Locations: Nationwide
Not only is this deli's menu packed with dishes wholesome enough to be something you made in your own kitchen, but Jason's also uses organic ingredients whenever possible and offers vegetarian and gluten-sensitive menus to guests with special dietary needs. But those aren't the only things that have earned this chain its bragging rights; they also serve a quinoa shrimp and mango salad that was developed with the help of the medical experts at University of Texas MD Anderson Cancer Center. Most restaurants—including sit-downs—can't claim anything like that.
Pret a Manger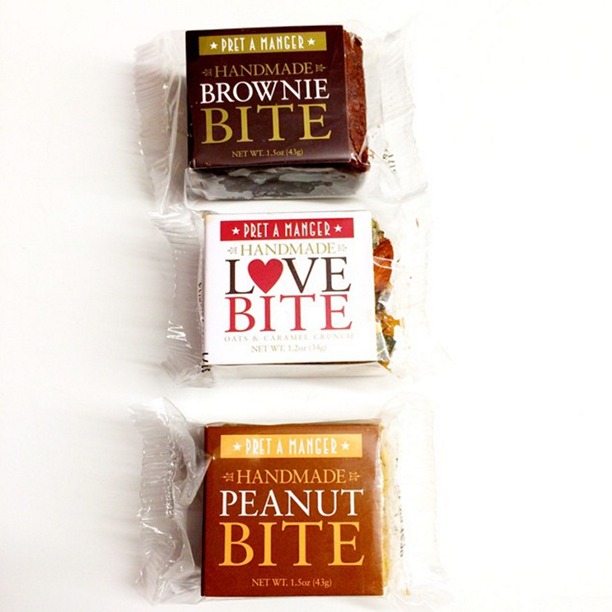 Locations: New York, N.Y., Boston, Mass., Chicago, Ill., D.C.
This UK-based fast food chain is nothing like conventional American fast food—in fact, we'd not sure we even feel right calling it fast food. Not only is Pret's food far more nutritious than anything you'd find on the McDonald's Menu, we'd argue it's actually more convenient, too. When you walk into a Pret, you'll find display refrigerators lined with a collection of healthy meals and snacks. For breakfast, you'll find ETNT staffers noshing on the chain's five-grain oatmeal, overnight oats, or the hard-boiled egg, avocado and quinoa pot. Lunchtime favorites include the Moroccan lentil soup, kale chicken Caesar salad, and the balsamic chicken and avocado sandwich. Another perk? In addition to the giant pastries that line their check-out display cases, they sell tiny, perfectly portioned dessert bites, perfect for those who crave something sweet but don't want to ingest a gajillion calories. (Gajillion is a real number, right?)
Chipotle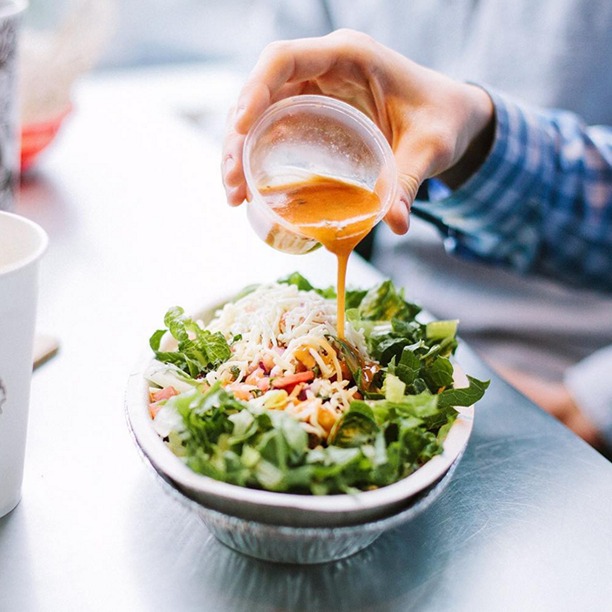 Locations: Nationwide
We know what you're thinking: "How did Chipotle make this list of healthy restaurants?" But bear with us! Despite the multiple e.coli outbreaks (if you can look past that, that is…) and their massive 1,000 calorie burritos, this Tex-Mex fast-casual eatery is still among the most nutritious in the nation. Their build-it-yourself-style service model gives every customer complete control how many calories wind up in their salad, bowl, and taco, and better yet, the meats are all hormone- and antibiotic-free meats and many of their other ingredients are organic and sourced from local suppliers.
Dig Inn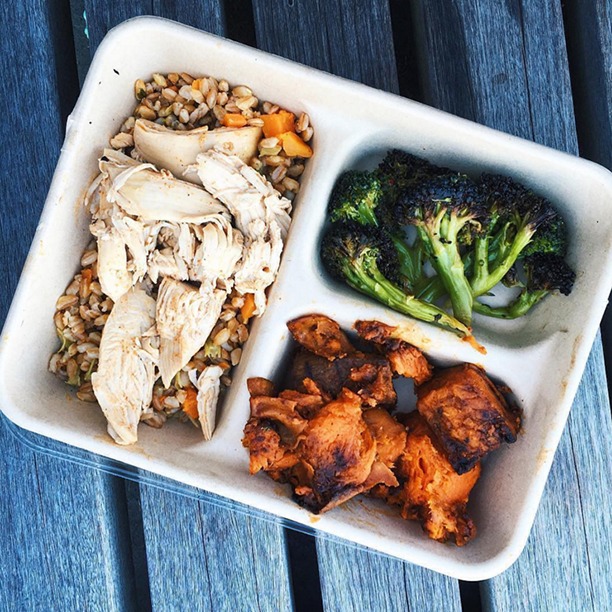 Locations: New York, N.Y.
Picture your Sunday family dinner spread, minus all the unhealthy casseroles and pies. That's essentially what it's like to eat at Dig Inn. It's a seasonal market-style eatery that offers locally sourced and reasonably priced meals. You can make your own plate by picking a base (salad or whole grain), a protein (such as steak, chicken, tofu, or salmon), and then a few sides. The sides range from roasted sweet potatoes and pan-sauteed cauliflower to crunchy summer couscous and kale and rhubarb salad. You can get an entire plate of healthy, filling food for around eight to ten bucks—even more of a reason to stop in!
Blaze Pizza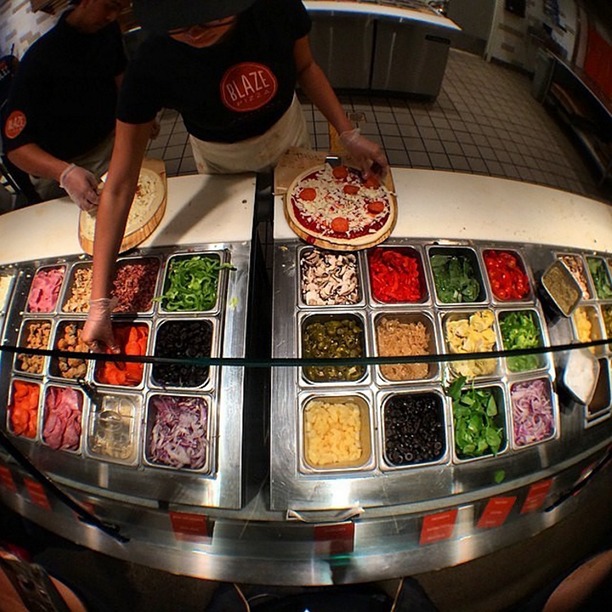 Locations: Nationwide
If Chipotle and Pizza Hut had a health-conscious artisanal baby, this build-your-own pizza shop would be it. Blaze carries every cheese, veggie, meat and sauce under the sun (for real, though) and you can add as many add-ons as your taste buds can handle for just $7.65. The best part is: Thanks to their super-hot blazing oven, the pies cook in just 3 minutes! Now that's some seriously quick service!
Evos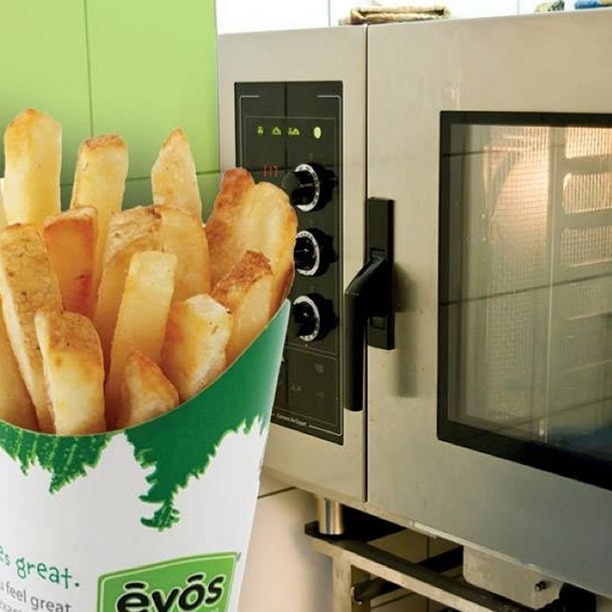 Locations: Fla.
EVOS is home to both the Airfry and the Airbaked Chicken Strip, air-baked taters and nuggets that carries 50-70 percent less fat than their conventional varieties. To keep all of their menu items on the healthier side—without sacrificing flavor—they serve up slow roasted meat and steer clear of artery-clogging grease and artificial ingredients. Even their milkshakes (none of which contain more than 310 calories) are made from organic milk and real sugar. Another reason we love the chain: They're the opposite of shady. Since 1994, EVOS has voluntarily made their nutrition and allergen information available to guests. Two thumbs up to that!
NEW AMERICAN & FRENCH
Northstar Café
Locations: Columbus, Ohio
Columbus, Ohio chain Northstar Café, has something for vegans, vegetarians, and wholesome food seekers alike. The stars of their lunch and dinner menu are their seasonal salads and house burger, which is made completely of organic black beans, brown rice, and beets! If you find yourself there before noon, check out the mint (!!!) iced cold-brewed coffee and pair it with the single ricotta pancake. Anywhere that helps its customers indulge their sweet tooth while keeping portions in check gets an A+ in our book.
Le Pain Quotidien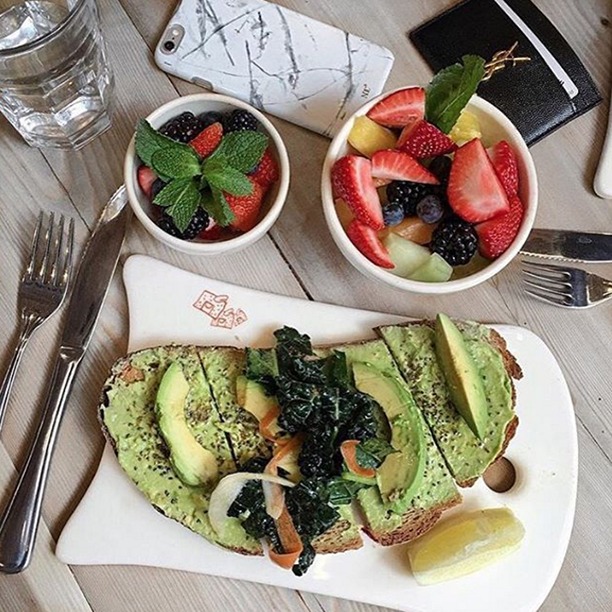 Locations: N.Y., Penn., D.C., Calif.
Though Le Pain Quotidien is French for "the daily bread," the organic menu spans far beyond carbs and crusts. In their 200+ locations, they serve Instagram-worthy healthy fare like brightly-colored berry cups, chia seed pudding, avocado toast, open-faced sandwiches, salads, and soups. They also carry a number of organic wines and craft beers for customers looking to get a little loose.
ASIAN, BURGERS & PIZZA
Pizza Fusion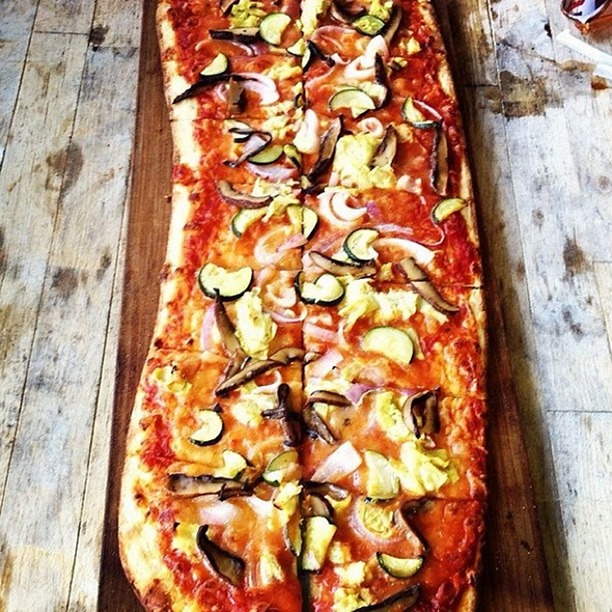 Locations: Calif., Ariz., Tex., Fla., Ga., Pa. and Va.
With organic ingredients sourced from local farms and gluten- and lactose-free menu items, Pizza Fusion is not your typical neighborhood pizzeria. Don't feel like dining out? Place an order from home and your food will be transported to your front door in one of the company's hybrid cars. Talk about a pizza company with a conscience!
N/naka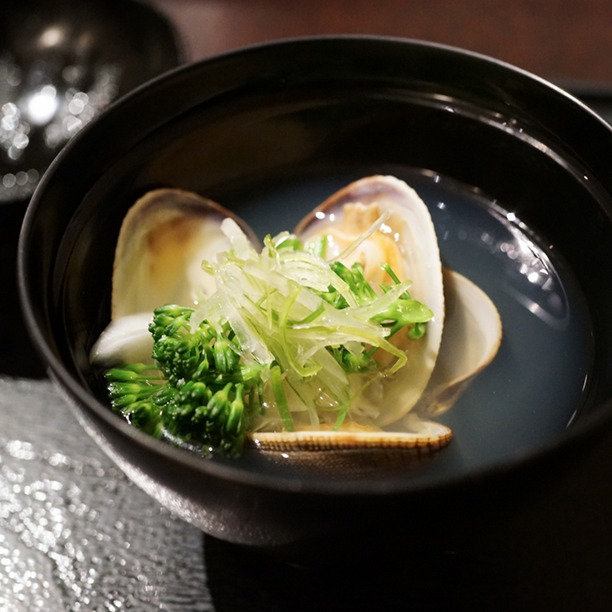 Locations: Los Angeles, Calif.
If you've been meaning to check out n/Naka (which was featured in Chef's Table on Netflix), you best come in with a big appetite—and a few hours to spare! Ordering à la carte at this kaiseki restaurant isn't an option. (Kaiseki is a traditional multi-course Japanese dinner.) Guests have the option of a 13-course modern menu ($185) or a 13-course vegetarian menu ($160), both of which are made with seasonal ingredients and take a good two and a half hours to work through. The slower you eat, the less likely you are to overeat, so this concept is actually pretty genius and waistline-friendly.
Coppi's Organic Restaurant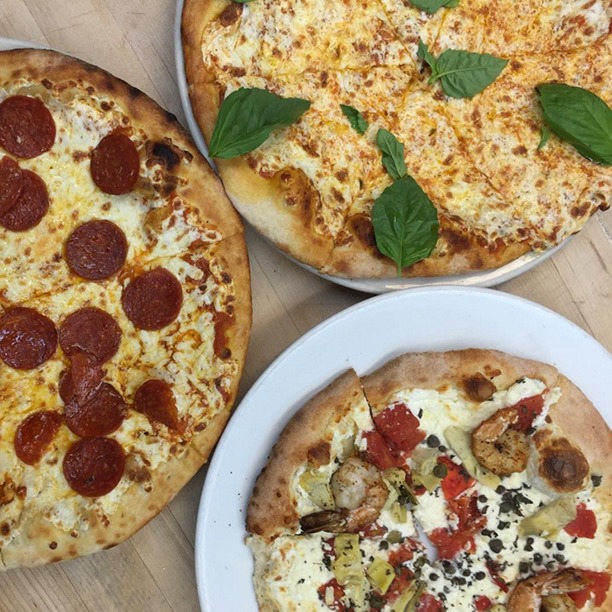 Locations: D.C.
Not only does this D.C.-based Italian eatery use wood-burning ovens to cook their pizzas, but they also power the entire restaurant with wind-powered electricity. This healthy restaurant also gets points for using sustainably sourced fish, organic produce, and grass-fed, free-range meat. While you're there check out the Zucca al Forno, an oven seared butternut squash antipasta topped with ricotta, red onions, pine nuts, capers, and garlic. (Swoon!) Looking for a new brunch spot? Besides Coppi's traditional a.m. menu, it also has two additional menus devoted to vegan and vegetarian offerings. Vegan-friendly highlights include the 14th Dalai Lama Peace Breakfast, which is comprised of quinoa with toasted coconut, pistachio, and fruit and the Lower East Side Veggie Reuben, which is made with tempeh cooked in brine, sauerkraut, Russian Dressing, and caraway seeds.
Makoto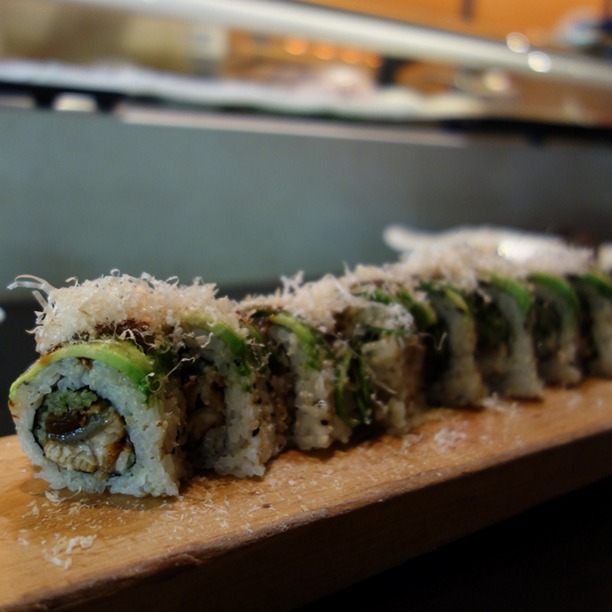 Locations: Bal Harbour, Fla.
If you're familiar with other Stephen Starr restaurants (El Vez, Buddakan, The Continental Restaurant and Martini Bar) you already know they're all a-maz-ing destinations filled with interesting decor and food that always leaves your taste buds wanting more. And this Florida-based Japanese restaurant is no different. Chef Makoto Okuwa, one of Morimoto's protégés, created a menu featuring a creative mix of sushi and sashimi (made with fresh fish flown in from Tokyo three times weekly), and small and large plate bites, which allows diners who want to eat smart to keep their meals to a reasonable portion size. Some Eat This! Approved menu items include the miso sea bass, the edamame namesake (eggplant and tofu hummus, edamame tapenade, nori wonton chips), the watermelon ceviche (tuna, white fish, octopus, squid, cucumber, serrano lime), the asparagus with sesame soy and the spicy yellowtail roll topped with wasabi, scallion, avocado and sliced jalapeno.
Claire's Corner Copia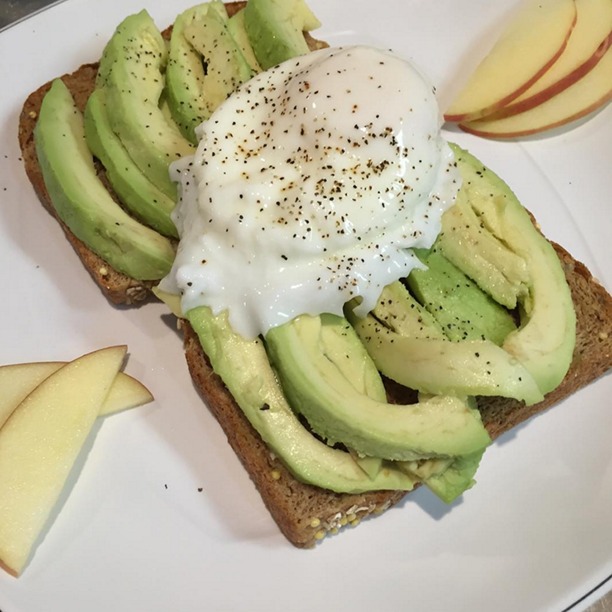 Locations: New Haven, Conn.
For over 40 years, Claire's has been serving up a cornucopia of fresh, vegetable-centric menu offerings to her Connecticut clientele. For breakfast, we love their Seasonal Goodness Sandwich, which is build on an organic whole wheat english muffin and piled with sauteed organic seasonal vegetables, a poached organic egg, pesto ricotta, and mozzarella and their smoothies, which are all rumored to fall under the 250-calorie mark. The lunch and dinner menu is overflowing with entree-sized salads, Mexican fare like quesadillas and burritos, vegan and gluten-free sandwiches, flatbread pizzas, veggie burgers, curries, pasta, and roasted veggie plates. It's an eclectic menu with something for everyone. Oh, and don't miss out on the desserts; they have a Lithuanian coffee cake that's to die for.
SEASONAL & FARM-TO-TABLE
Spa Cafe
Locations: Goleta, Calif.
If you're looking to eat somewhere where literally everything on the menu is healthy and seasonally-based, go to the Spa Cafe at the Bacara Resort & Spa. They source their fish from local fishermen and get their produce from nearby farms. Better yet: From their $10 Irish oatmeal brûlée to their $20 freekeh free-range chicken bowl, they've got something for every taste palate and every budget.
Blue Hill at Stone Barns
Locations: Pocantico Hills, N.Y.
Twenty-five miles north of Manhattan sits Stone Barns Center for Food and Agriculture, a nonprofit farm and education center in Pocantico Hills, New York. On the same grounds lives Blue Hill at Stone Barns, a famous restaurant that sources its fare from its very own fields and pastures, as well as other local farms. That means things that were picked from the ground just hours earlier, wind up on diner's plates. The best part: There are no menus at Blue Hill at Stone Barns. Instead, guests are offered the multi-taste "Grazing, Rooting, Pecking" menu featuring the best offerings the fields and local market has to offer. While the $168 – $218 per guest overhead is admittedly quite steep, we think this is a once-in-a-lifetime dining experience every healthy foodie and veggie-lover should save up for.
ABC Kitchen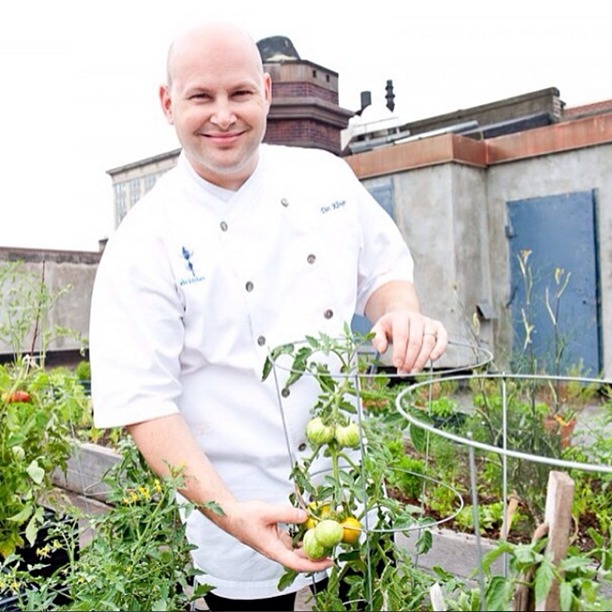 Locations: New York, N.Y.
Many of the veggies used in ABC Kitchen's seasonal dishes are grown right on the restaurant's very own roof—and the things that don't are arriving from regional farmers and fair trade cooperatives. Better yet, the entire menu is free of pesticides, synthetic fertilizers, insecticides, antibiotics, and hormones. Order one of their whole wheat pizzas and the roasted cauliflower with onion, walnut crumbs and a fried egg as appetizers for the table and then move on to salmon with sweet and spicy carrot sauce, roasted carrots and basil for your mail. Delish!
The Little Beet Table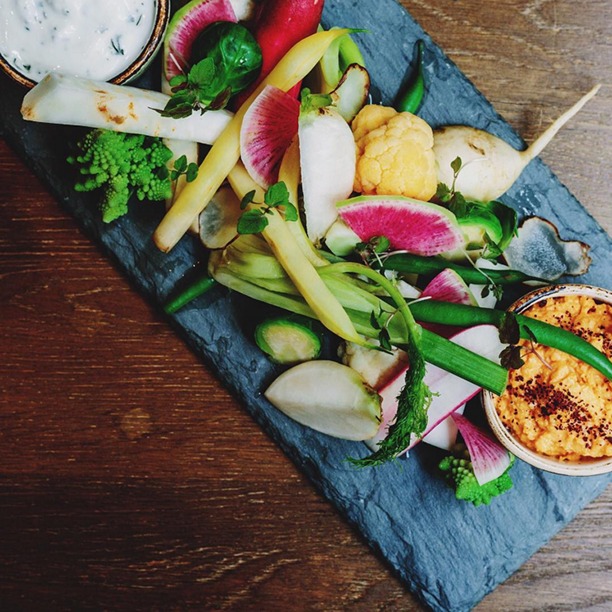 Locations: New York, N.Y.
As a resident of New York City and a huge veggie-fan, I have to a admit that just writing about The Little Beet Table makes my heart skip a beat. Not only is the rustic atmosphere totally Instagram-worthy, but their produce-centric menu is designed for sharing, which means you can try a bunch of different things! (They actually they have more apps, sides and superfood-packed vegetable plates than entreés on their menu.) During my first time eating there, I split a number of small plates with my dining companion before asking our waitress for an order of the lemon, sea salt and chili Brussels sprouts for dessert. Yes, I said dessert—I'm crazy like that! She didn't bat an eye at our strange request; I fell in love right then and there with this amazing dining spot.
Founding Farmers
Locations: D.C., Montgomery County, Md., Tysons, Va.
As the name implies, Founding Farmers' seasonal menu features ingredients supplied daily from hundreds of family farms across America. They serve indulgent delights like homemade sodas, a "candy corn" farm bread and a bananas foster pancakes right along with more waistline-friendly options like a meatless mushroom and Swiss reuben and a cauliflower steak risotto. The perfect family-friendly restaurant? We think so.
Seasons 52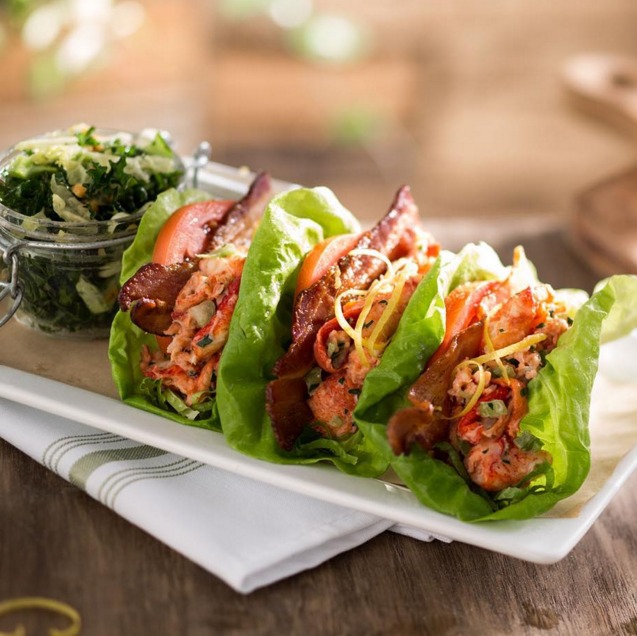 Locations: Nationwide
At Seasons 52, the motto is "The best of each season straight to your table," and this motto is impeccably reflected in their menu. All of their entrées rely heavily on fresh vegetables, which helps the chefs keep everything under the 700-calorie mark, with many carrying fewer than 500-calories. Even their side dishes are veggie-centric and low-cal; a few of our favorites: the charcoal roasted veggies in a sherry vinaigrette (90 calories), the shaved kale salad in a roasted peanut vinaigrette (310 cals) and the quinoa and citrus salad (270 calories).
SUITABLE FOR SPECIAL DIETS
Dirt Candy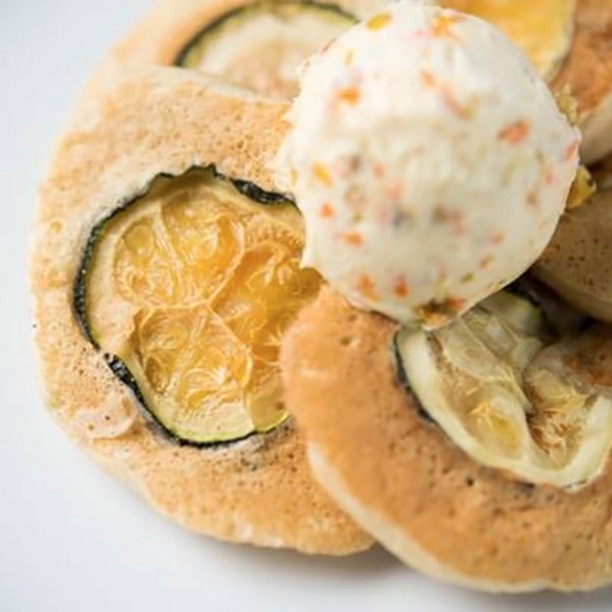 Locations: New York, N.Y.
This vegetarian hotspot is one of the few to be awarded Bib Gourmand status by the folks at Michelin Guide (yes, as in Michelin Star), a recognition awarded to chilled out joints with exceptional food. And it's easy to see why Dirt Candy is a winner; they're not serving up any sad veggie burgers or tired tofu at this eatery. Instead, their menu is packed with artfully composed, delectable dishes like zucchini pancakes, Brussels sprout tacos, carrot sliders on carrot buns, and kale matzoh ball soup, served with a poached egg and okra.
By Chloe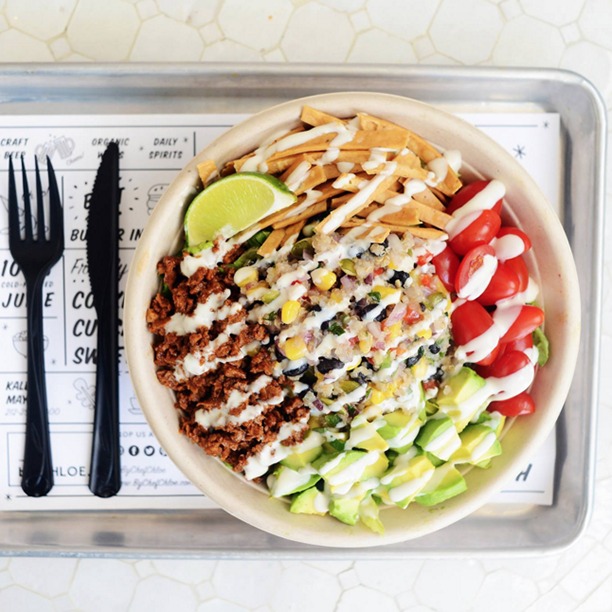 Locations: New York, N.Y., Boston, Mass. (summer 2016)
This vegan, certified Kosher, fast-service restaurant is best known for their healthified comfort foods. They aim to shake the assumption that eating well is tasteless and boring—and they're killin' it. Some of their most popular dishes include their dairy-free ice creams ($4.95 – $9.95), their quinoa "taco" salad, their classic burger ($8.95), which is made with tempeh, lentils (one of the best vegetarian protein sources, chia and walnuts and topped with a beet ketchup, and their mac n' cheese ($4.95 – $8.95), which is served with sweet-potato-cashew "cheese" sauce, shiitake "bacon," and an almond "parmesan."
Restaurant Nora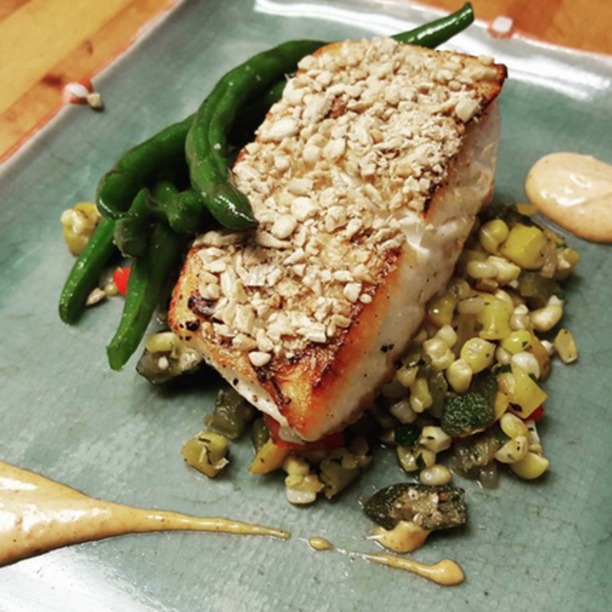 Locations: D.C.
Fun fact: Restaurant Nora was the first certified organic restaurant in America! They also source all of their produce from certified organic farmers and producers. That means there meats and veggies are free of synthetic fertilizers, pesticides, antibiotics, hormones and GMOs. They serve a number of healthy small plates and some protein-packed entrées that are just to-die-for. The most mouthwatering of the bunch is hands down their pan-seared rockfish, which is served with a parsnip beet puree, carrots, kale, green beans, and a light herb emulsion. Next time you're in the nation's capital it's definitely worth a visit.
Hu Kitchen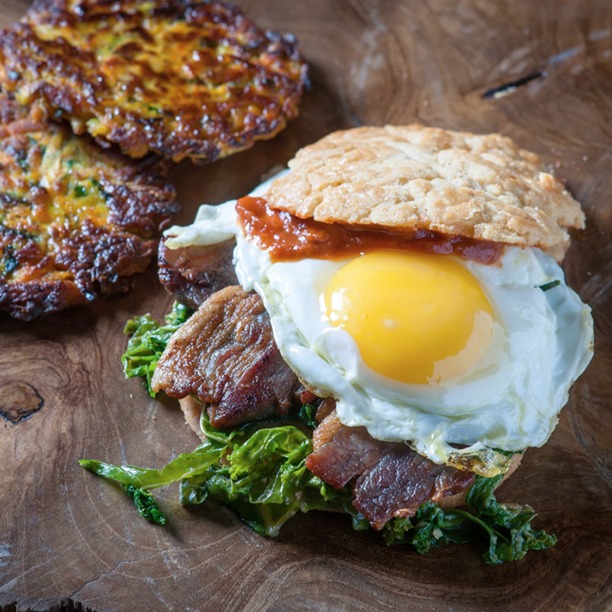 Locations: New York, N.Y.
Hu Kitchen, the best-ever cafeteria-style restaurant for Paleo-followers and processed food-haters alike, allows customers to assemble their ideal meal at the eatery's various food stations. In the plated meal area, customers can piece together veggie and whole grain side dishes with grass-fed, pastured meats, organic poultry, or wild seafood. At the Mashbar station, patrons with a sweet tooth can #CheatClean with Hu's healthy twist on build your fro-yo. Instead of dairy-based ice cream, they offer things like chia pudding and cashew cream, and the traditional sugary toppings are replaced with organic superfoods, such as chia seeds, fruit, grain-free granola, house-made almond butter, and toasted coconut. We could go on and on about this place; from smoothies and date-based dessert balls to coconut-wrap egg sandwiches and house-made chocolate bars, they literally have everything. Try it once and you'll be hooked.
Miya's Sushi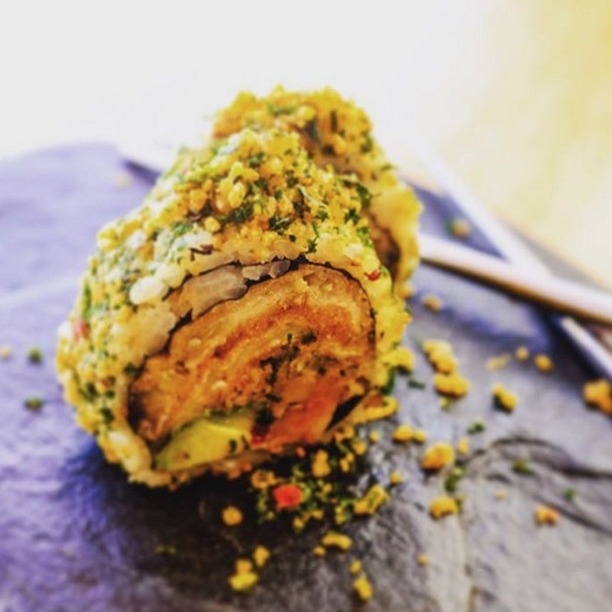 Locations: New Haven, Conn.
Usually, sushi joints offer just one or two boring veggie rolls to accommodate their vegan and vegetarian patrons. Miya's Sushi, however, is not about that life, putting a far more creative spin on fish-free sushi. The eatery's Roll of Milk and Honey, infused the flavors of figs, dates, raisins, sheep's milk feta, roasted barley, cinnamon, spicy red pepper, honey, pistachio, extra virgin olive oil, and manna. Another menu star: The Japafrican Queen, a concoction that infuses an Ethiopian berbere spice mix with eggplant, okra, goat cheese, apricots, avocado, pickled radish, and chives. The best part: There are tons of delicious options for carnivores, too; there's something for everyone.
Natural Selection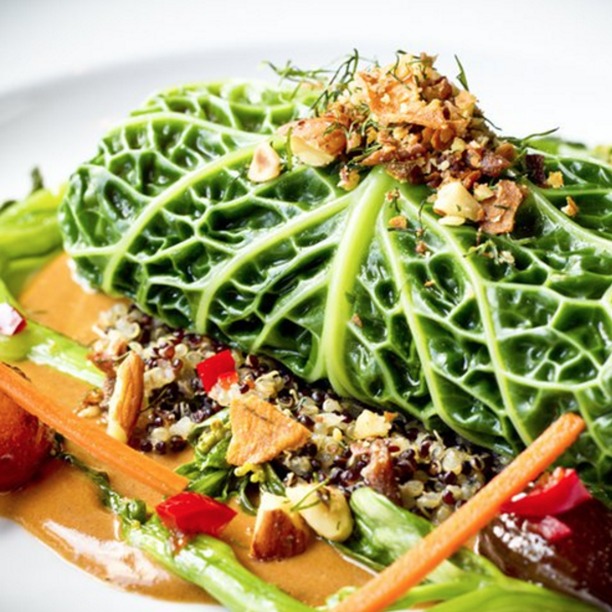 Locations: Portland, Ore.
Natural Selection's menu is built on a fresh mix of vegetables, fruits and grains, making a must-visit location for vegetarian around the nation. Though all of their dishes are sold à la carte, they have a drool-worthy, four-course tasting menu that's just $45 per person! The menu is always-changing—and always delicious—and is best complimented by their cocktails and non-alcoholic sips (we love the turmeric spritzer made with turmeric drinking vinegar, turmeric-cinnamon syrup, and lemon) which are made table-side on a rolling bar cart.