I'm a Dietitian—Here's What I Order at a Mexican Restaurant
Eat healthy at a Mexican restaurant with these expert tips.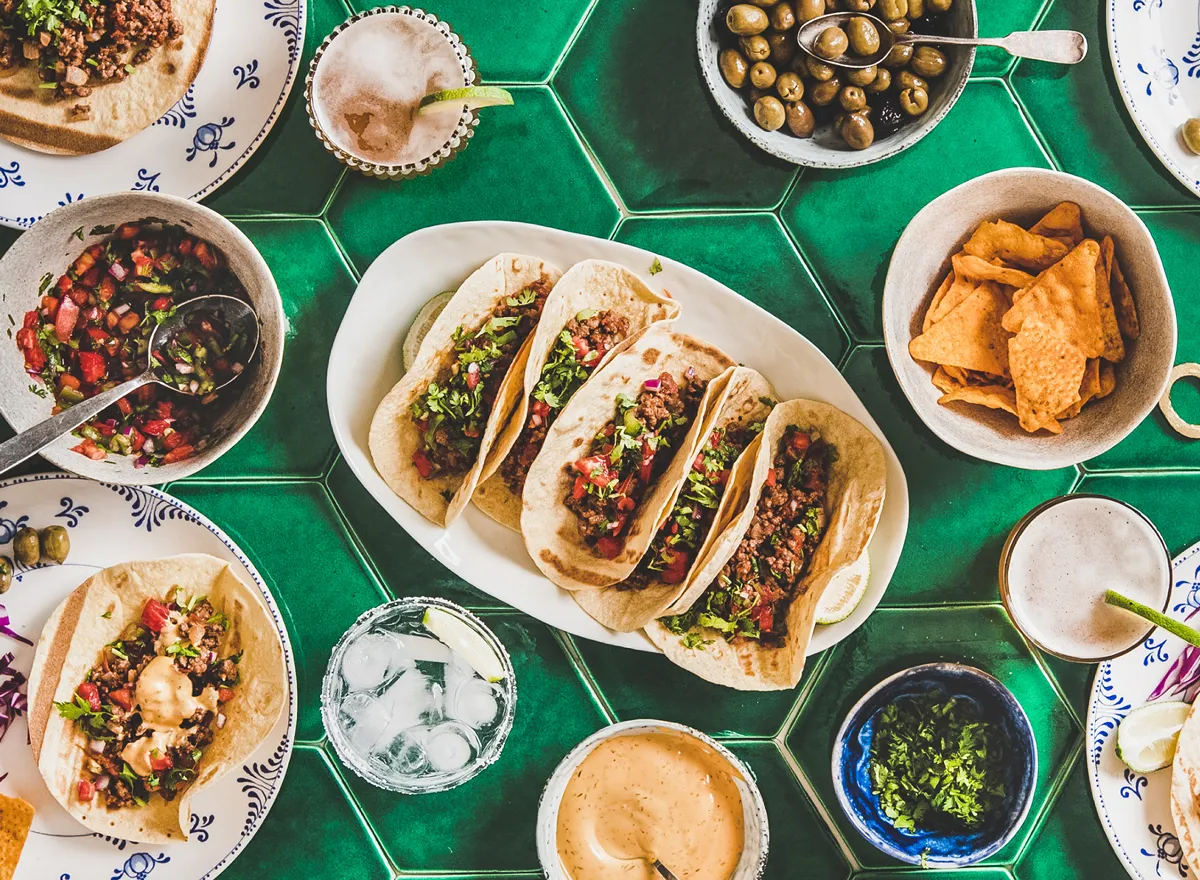 Navigating restaurant menus can be tricky. Not only can the sheer number of options be overwhelming, but narrowing down selections that support your health and weight loss goals can feel downright impossible. This is no exception for Mexican food, which is known for its spice, cheesy toppings, and tortilla-wrapped entrees.
While the options on a menu may not meet your needs exactly, there are many modifications you can make to allow your meal to better suit your goals. Asking for specific preparations, making swaps, and ordering off-menu meals are just some ways to tailor your meal. Restaurants are known for high calorie counts, excessive sodium content, and meals that provide more fat than some need in an entire day. Meals like that can be part of an overall healthy diet; however, if you eat out regularly, you should consider how restaurant food could be impacting your health. Not only can salt negatively impact your health if consumed in high amounts too often, but high calorie and fat counts can make weight loss and the management of related conditions more challenging.
To help you navigate the menu at your favorite Mexican restaurant, I've put together a list of tips and tricks. Although every restaurant has its own unique items and various preparations for traditional meals, these suggestions can work for a wide variety of menu offerings. I'm a dietitian, and here's what I order at a Mexican restaurant. Read on, and for more, don't miss The #1 Unhealthiest Order at 9 Major Fast-Food Mexican Chains.
Order the guacamole, but skip the chips.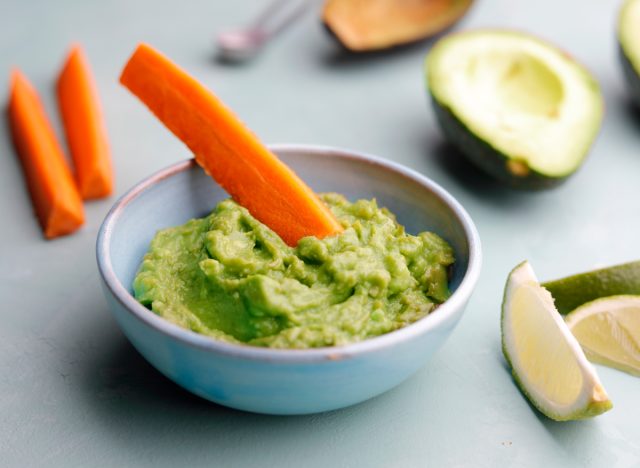 I know, I'm no fun, but skipping the chips could save you hundreds of empty calories. Tortilla chips pack carbs, fat, and salt, and provide little nutritional value in return. If you are able to enjoy just a few chips while you wait for your meal, this won't make a huge dent in your calories. However, for many, it is far too easy to mindlessly eat chips, resulting in an empty basket by the time your meal arrives.
Next time, ask your server not to bring the chips. This keeps you from having to rely on willpower to only have a couple. If you can't wait until your meal arrives to eat, order a small salad and use salsa as your dressing. Alternatively, share an order of guacamole for the table and ask for raw veggies for dipping.
Consider the soup.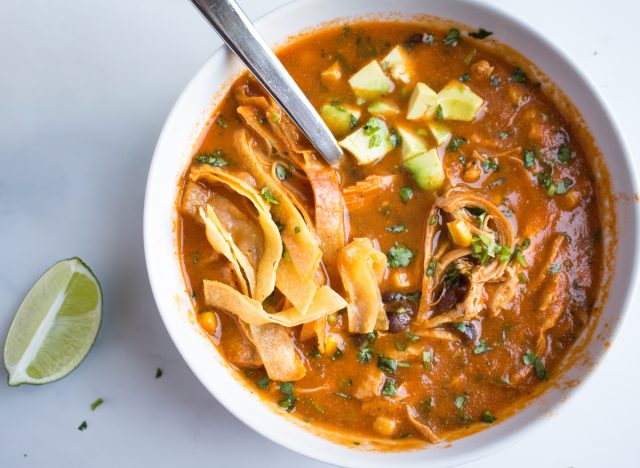 While a bowl of soup may not sound appetizing year-round, chicken tortilla soup is often one of the healthiest menu items at a Mexican restaurant. Traditionally made with a broth base, tomato, onion, garlic, and chiles, tortilla soup is generally much lower in fat and calories than most other menu offerings. Not to mention, the shredded chicken adds a protein boost to keep you full. Top your soup with avocado slices for some healthy fats and fiber, and you have a balanced meal.6254a4d1642c605c54bf1cab17d50f1e
To round out this option even more, choose a variety that includes beans, or ask for a side of beans to add to the soup to create a heartier meal. The only shortcoming of the soup is the high sodium content. To balance this, skip the salty chips and watch your salt intake for the rest of the day. Although not as frequently found on menus, caldo de camaron is another broth-based soup with shrimp and vegetables that makes for a healthy and hearty option.
Watch the sauce.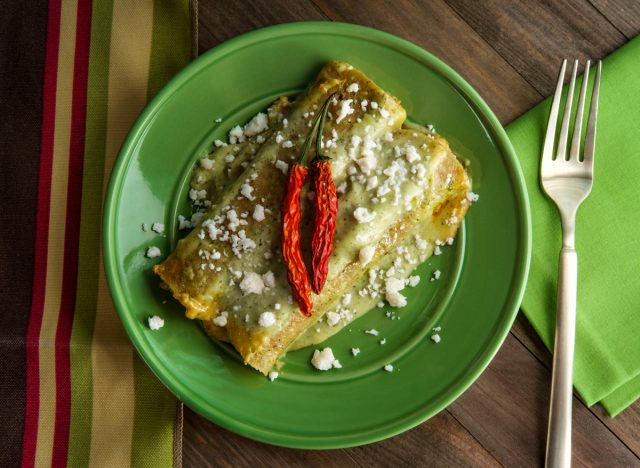 We can all admit that a creamy, cheesy sauce adds loads of flavor to a meal, but this flavor comes along with plenty of calories, fat, saturated fat, and sodium. If you enjoy chicken enchiladas for your meal, which can be a reasonable selection, skip the cheese and sour cream sauces in favor of a red or green enchilada sauce. This can drastically lower calories while packing plenty of flavor. Another option would be to get your enchiladas without sauce and instead top with salsa or pico de gallo.
Choose grilled over fried.
Not only does this include chips, but other popular Mexican menu items like fried tacos, chimichangas, taco shells, and flautas. Fried items generally pack more fat than their non-fried counterparts, leading to much higher calorie counts.
Instead of fried options, look for those that are grilled, pan-cooked, or allow you to build your own meal. For example:
Fajitas: With fajitas, you can choose the lower calorie corn tortillas instead of flour, a lean protein like chicken or shrimp, and you also have the opportunity to choose portions of toppings that work for your goals.
Tacos: Soft tacos with corn tortillas and entrees that include a lean protein (without sauce) and grilled veggies are other good selections at a Mexican restaurant.
When in doubt, choose leaner options, like chicken and fish, more often than steak and pork, and exercise portion control by sharing a meal or bringing home half to eat later.
Melissa Rifkin, MS, RDN, CDN
Melissa is a Connecticut-based registered dietitian with over 15 years of experience, including clinical and outpatient settings, and runs the popular nutrition education Instagram account, Confessionofadietitian.
Read more about Melissa