20 Easy Ways to Add Fiber to Your Diet
Losing weight shouldn't equate with hunger pangs and anger…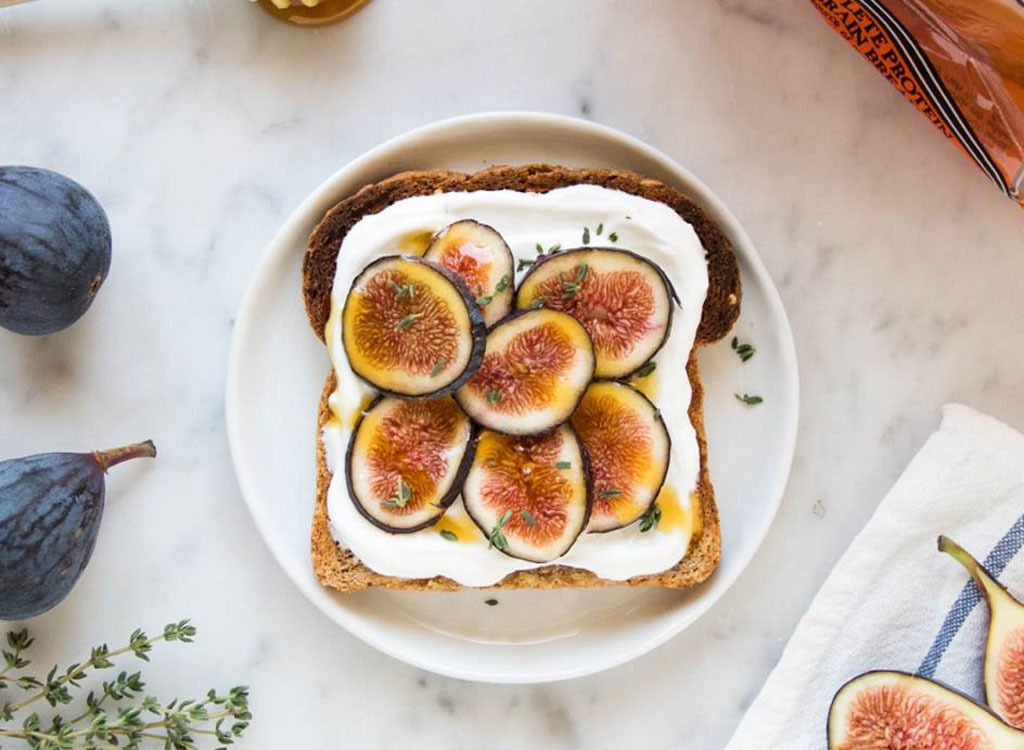 Losing weight shouldn't equate with hunger pangs and irritability. And no matter what fad dieters preach, you can actually lose weight by eating more. Eating more fiber, that is! This belly-filling and cholesterol-lowering macronutrient is essential for weight loss because foods that are packed with the stuff take longer to digest. And that means you'll feel full way past that last bite of lunch.
So make sure you're filling up on enough of the stuff (the daily recommended amount is 25 to 38 grams a day) by reviewing our ten easy ways to add fiber to your diet, and then add these 30 Foods With More Fiber Than an Apple to your grocery list, as well!
Swap Mayo for Avocado in Sandwiches
Every sandwich needs a creamy counterpart, so why not choose a topping that's good for you? Just half of an avocado contains 4.6 grams of belly-filling fiber. Its satiating powers are so potent that a study in the Nutrition Journal discovered that folks who added half a fresh avocado to their meal reported a 40 percent decreased desire to eat for hours afterward. And unlike mayo, which is virtually void of nutrients, this egg-shaped fruit is packed with healthy fats as well as aids the absorption of fat-soluble nutrients like vitamins A, D, K and E.
Add Bulgur to Salads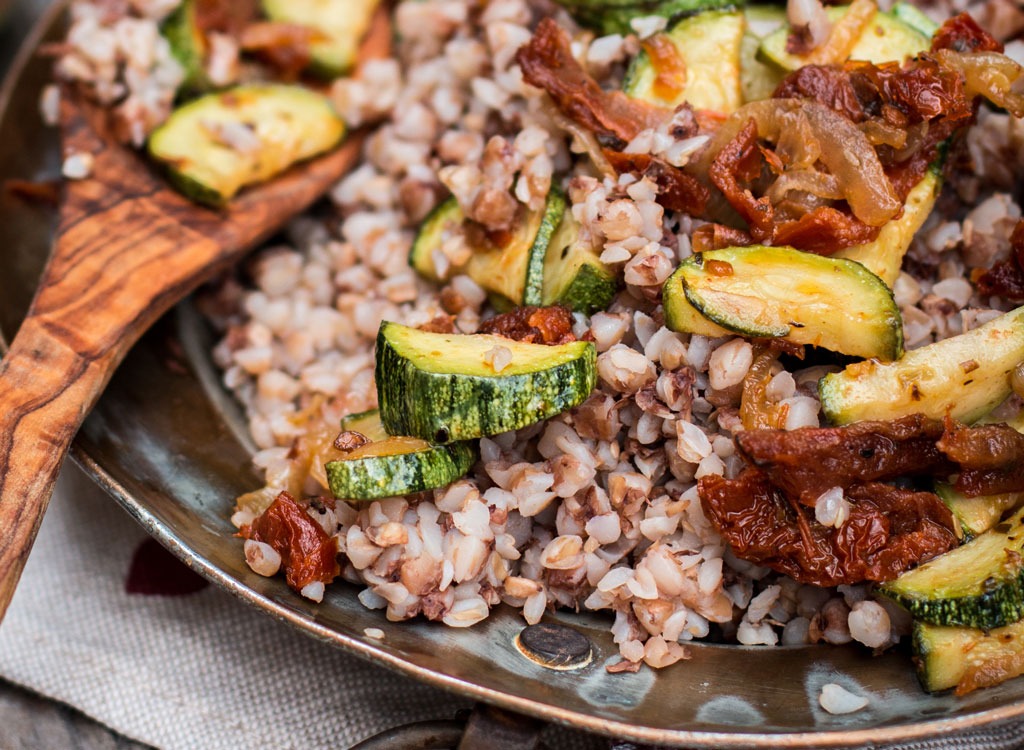 Take your salad to the next level by adding a crunch factor with cooked bulgur. Just a cup of the stuff packs in 150 calories and a whopping 8 grams of fiber. The Mediterranean staple is also a wonderful replacement to your mundane side of toast or scoop of quinoa. Need another reason to spice up your salad with bulgur? The cracked wheat made our list of The 20 Best Fat-Fighting Ingredients Worldwide!
Snack on Popcorn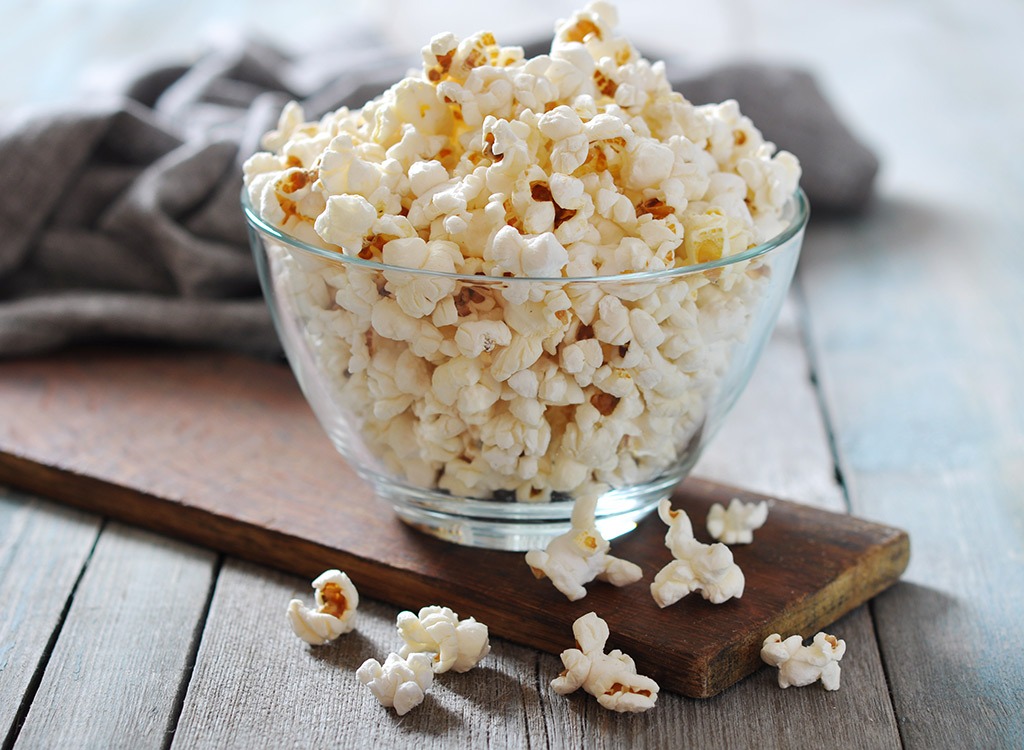 We're all for munching on your favorite snacks in moderation, but the problem with potato chips—besides that they're oily and caloric—is that you cant stop at just a handful! Don't let yourself succumb to the crunch and saltiness by devouring a whole bag of Lay's during your next Netflix and chill sesh. Instead, go for plain air-popped popcorn. Three cups of the inflated kernels pack in 3.5 grams of our star macronutrient as well as contain cancer-fighting polyphenols.
Make Hummus Your Go-To Dip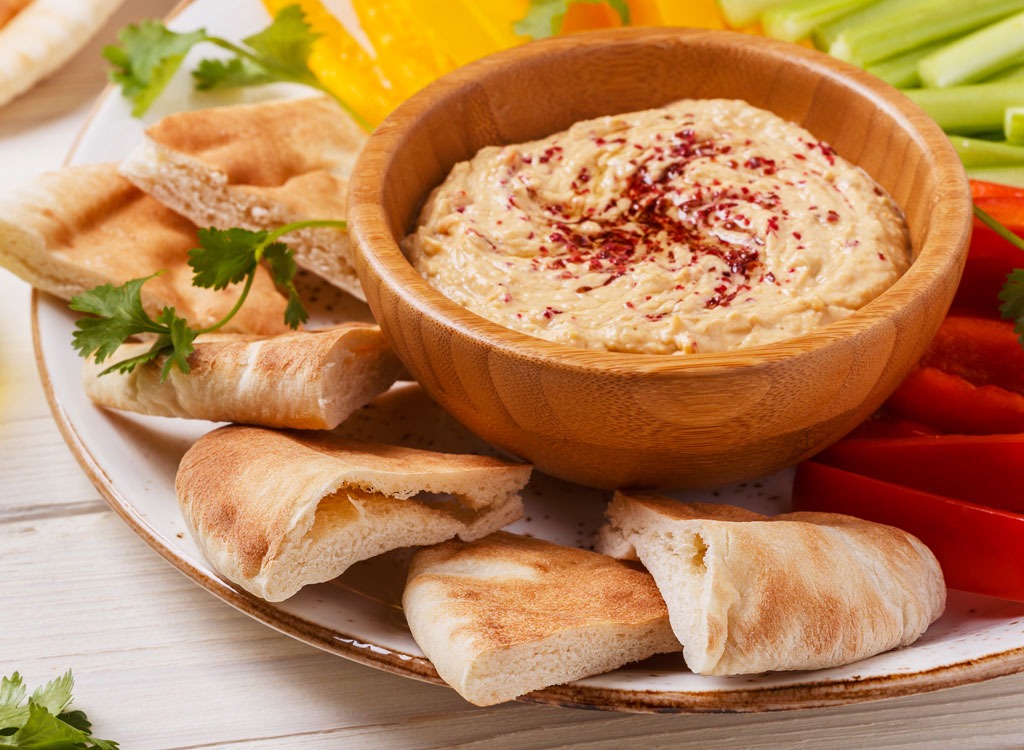 Hummus and veggies are like Beyoncé and Jay-Z—the ultimate power couple. Fiber- and vitamin-packed veggies are the perfect vessel for a scoop or two of the creamy chickpea dip, which has 2.5 grams of fiber per ¼ cup. Hummus is so versatile, you could practically dunk anything into it (including your fingers!) and even add it to salads and sandwiches to boost their nutrient and flavor factor.
Sneak Chia and Flax Seeds Into Oatmeal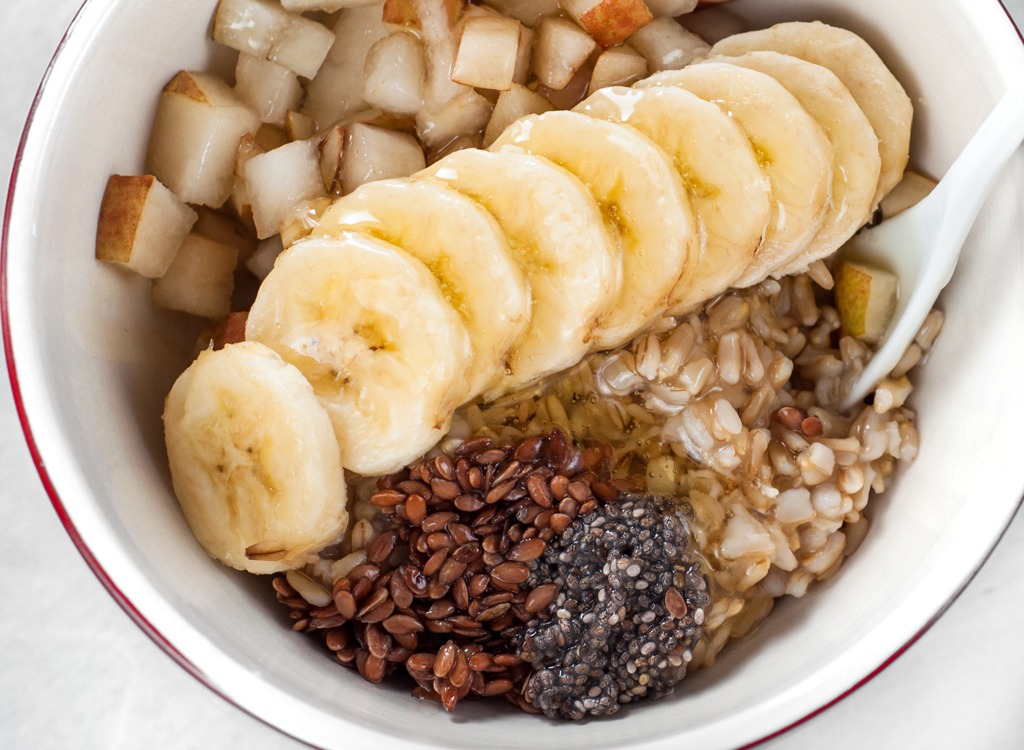 A mere tablespoon of flaxseeds contains 2.8 grams of satiating fiber. In fact, this superfood is the richest plant source of omega-3 fats, which defend against inflammation, mood swings, heart disease, and diabetes. Their equally crunchy sibling, chia seeds, have almost double the fiber, clocking in at 5 grams per tablespoon! While the derivative of the furry pet you tended to as a child lends a creamy texture to baked goods and puddings, you can also add the stuff to oatmeal, cereal, and yogurt.
Toss Almonds Into Cereal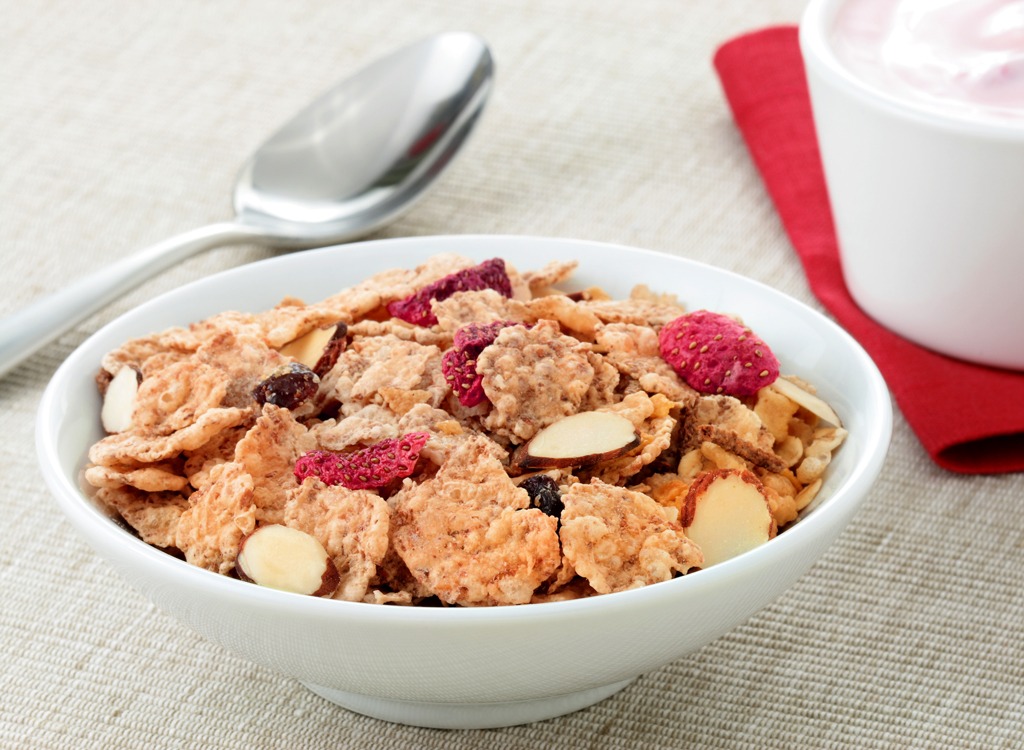 Rather than drizzling lackluster cereal or overnight oats with honey, cut back on added sugars and dial up on extra crunch by tossing a pinch of sliced almonds into your bowl. A mere ounce of this nutritious nut packs in 15 percent of your daily-recommended fiber amount! Not to mention, these slightly sweet nuts are a solid source of magnesium and iron, which most Americans need more of.
Swap Your Side Dish for Beans
We bet you didn't know that cooked navy beans and black beans are fiber superstars! The former contains 9.5 grams per half a cup and the latter 7.5 grams per half a cup. What's more, they're loaded with muscle-building protein, which makes these creamy legumes perfect weight loss tools. Just cook the beans until tender and keep 'em whole or mash them for a delicious and fat-frying accompaniment to your favorite meals.
Choose Ezekiel Bread Every Time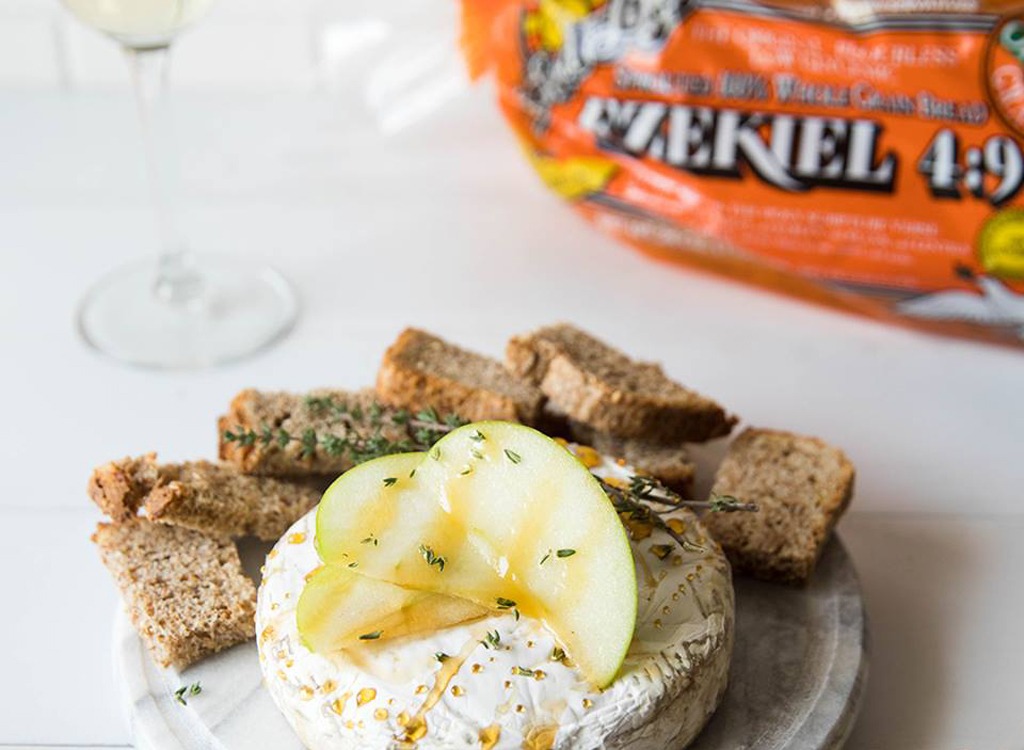 Food For Life's Ezekiel bread is full of good-for-you grains and legumes like antioxidant-rich millet, lentils, soybeans, spelt (which promotes bone and tissue growth), and barley, which has enough fiber to keep your digestive tract in check. Just one slice of the Ezekiel Flax Sprouted Whole Grain variety contains four grams of fiber, so you can splurge on two open faced sammies without the guilt of eating extra bread!
Try Meatless Mondays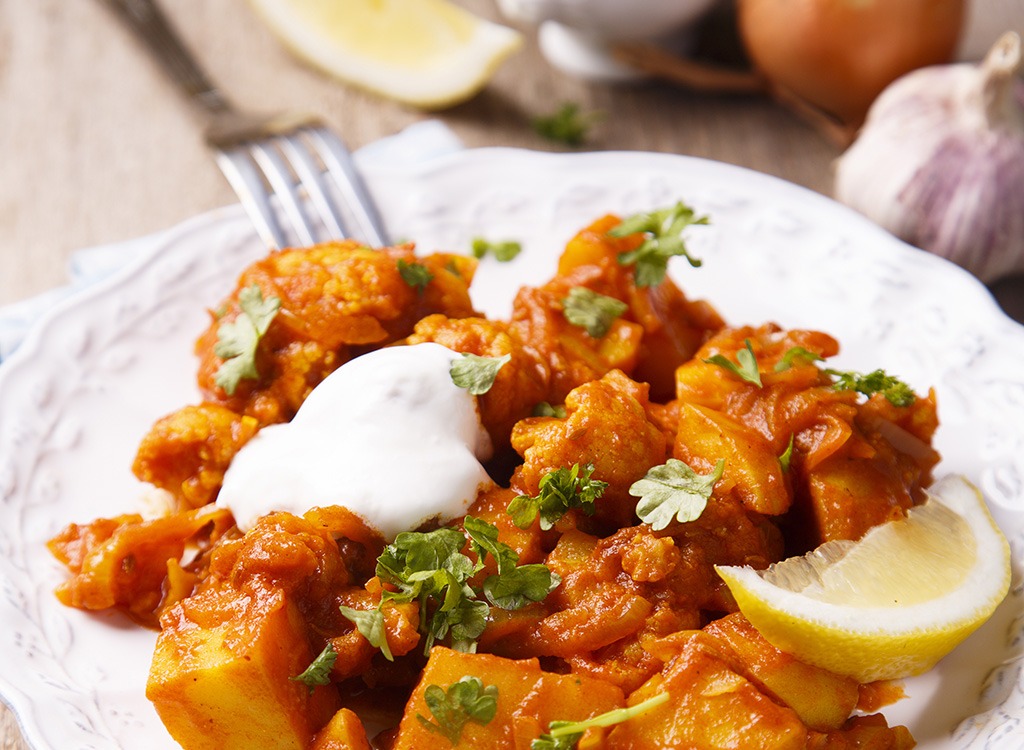 That all-beef burger or steak dinner sure isn't providing your body with the LDL-lowering fiber it craves—that is unless you're pairing your protein with extra veggies and legumes. But, adding more fiber to your diet shouldn't have to mean you must forgo the fries every single time. Instead, opt for finally giving meatless Mondays a shot. Why's that? Plant sources of fiber such as organic tofu and veggie burgers are nutrient powerhouses and, not to mention, they're totally delicious. Check out these 20 Protein-Packed Vegetarian Meals for some vegetarian-friendly dinner ideas.
Enjoy Figs for Dessert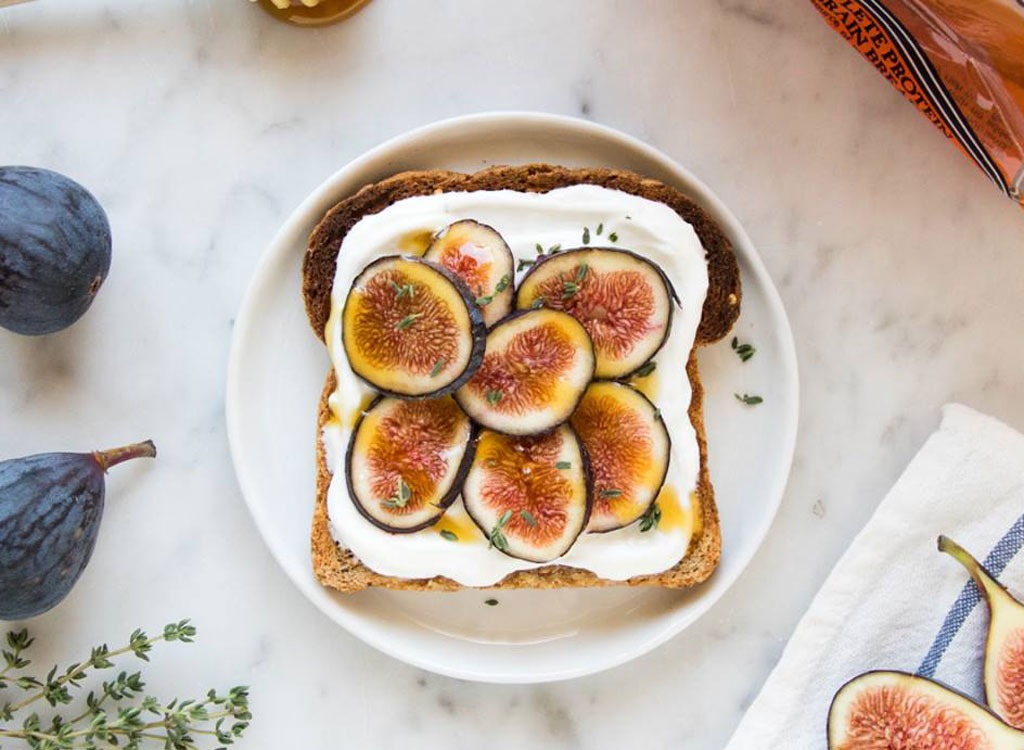 Figs should be one of your favorite fruits, and if they aren't, you're about to be convinced. Besides for being scrumptiously sweet, munching on four of these purple orbs pack in almost 8 grams of… you guessed it… fiber. Plus, they're a superb source of anemia-fighting iron, and they're rich in antioxidants as well as help stabilize blood sugar and triglyceride levels. Always choose fresh over dried figs since the latter contain more sugar. Like you see above, we like pairing our figs with some protein-heavy Greek yogurt—or ricotta—on Ezekiel bread to help slow down your body's digestion of the figs' sugar.
Whip Up a Pot of Split Pea Soup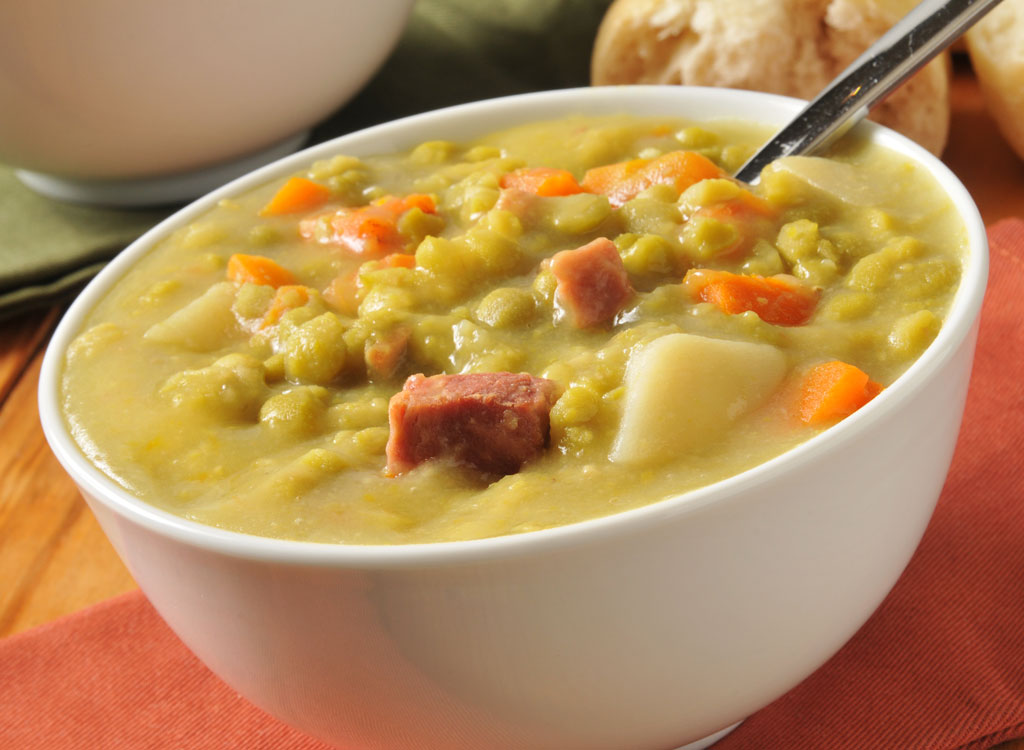 Nothing beats a piping hot bowl of soup once the temperatures start to plummet. This winter, try switching your regular bowl of chicken noodle for split pea soup. Just 100 grams of the legumes pack in 8 grams of filling fiber for only 118 calories.
Grill Asparagus as a Side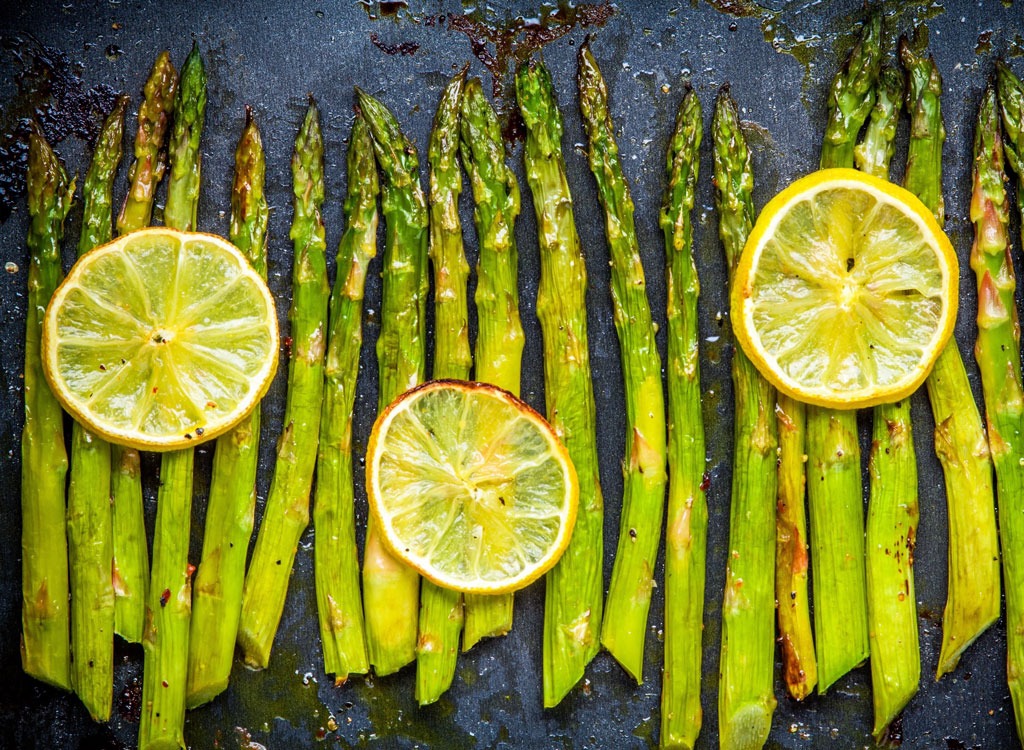 Instead of pairing your protein with baked potato or pasta, try switching up your side dish with grilled asparagus. The spring veggie packs in almost 4 grams of fiber in just a cup-sized serving. And trust us, it's way too easy to munch on more than that.
Switch Out Your Morning Cereal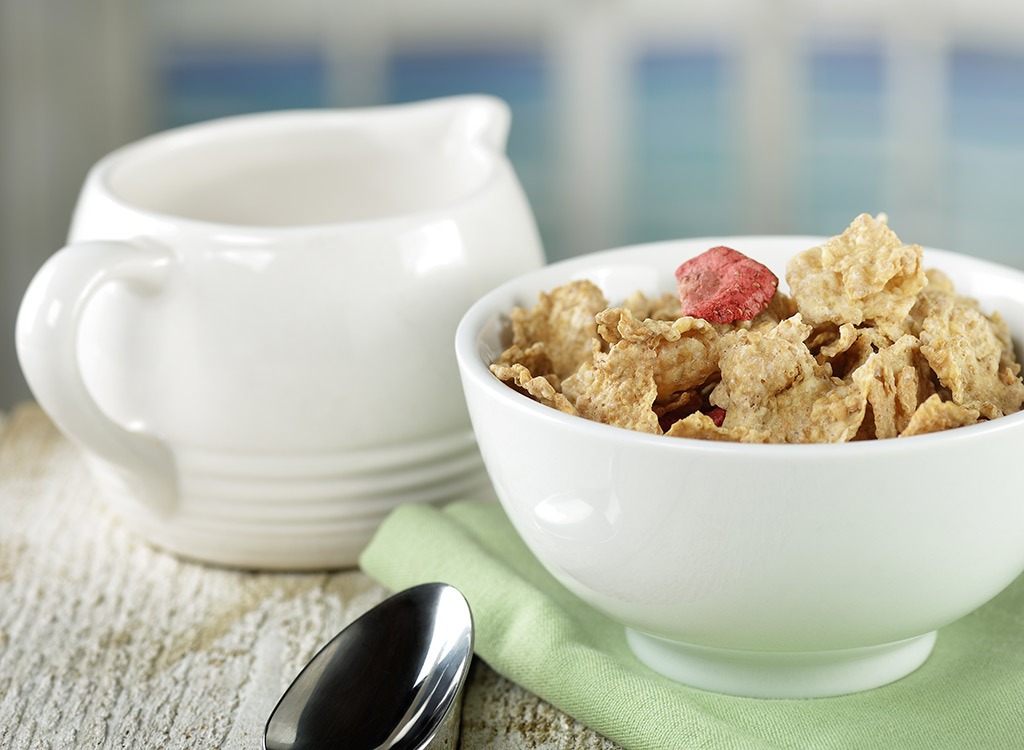 Forget the colorful, sugary flakes you got away with eating as a kid. To bump up your daily fiber count, go for cereals that have over 5 grams of the satiating macro and no more than 10 grams of sugar. Nature's Path Organic Smart Bran and Kellogg's All-Bran Original both fit the bill.
Pack a Pear for Lunch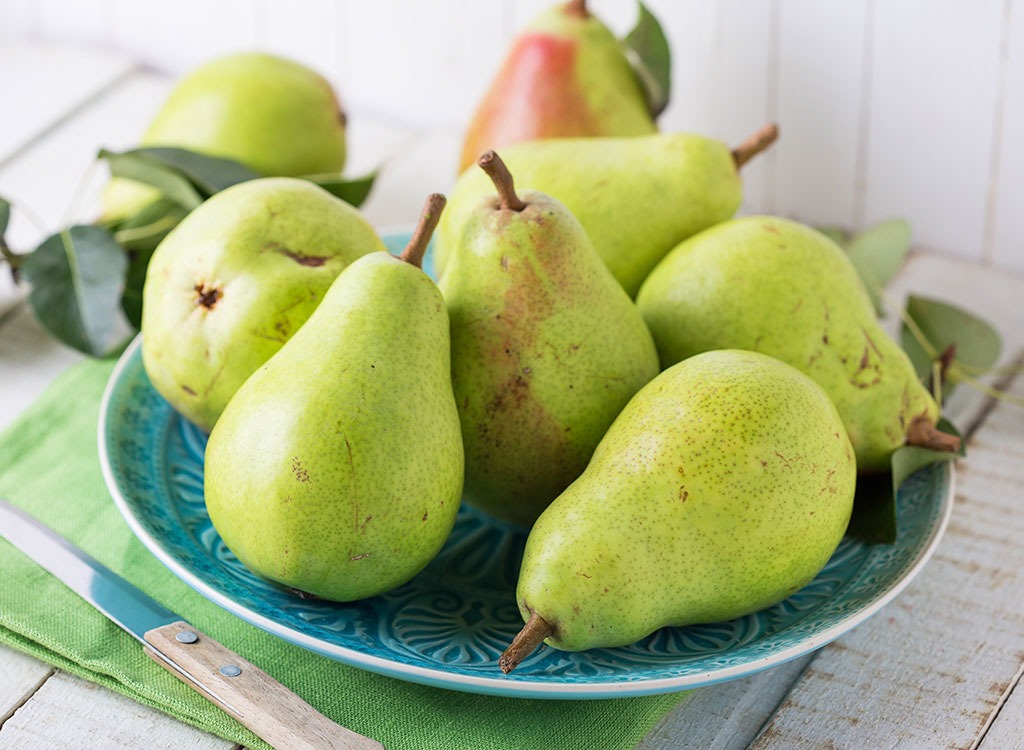 Beat that 3 p.m. slump without reaching for those diet-derailing glazed doughnuts. The crunchy fruit will satiate your sweet tooth while keeping your tummy full with an impressive 6 grams of the belly-filling stuff.
Whip Up an Artichoke Heart Dip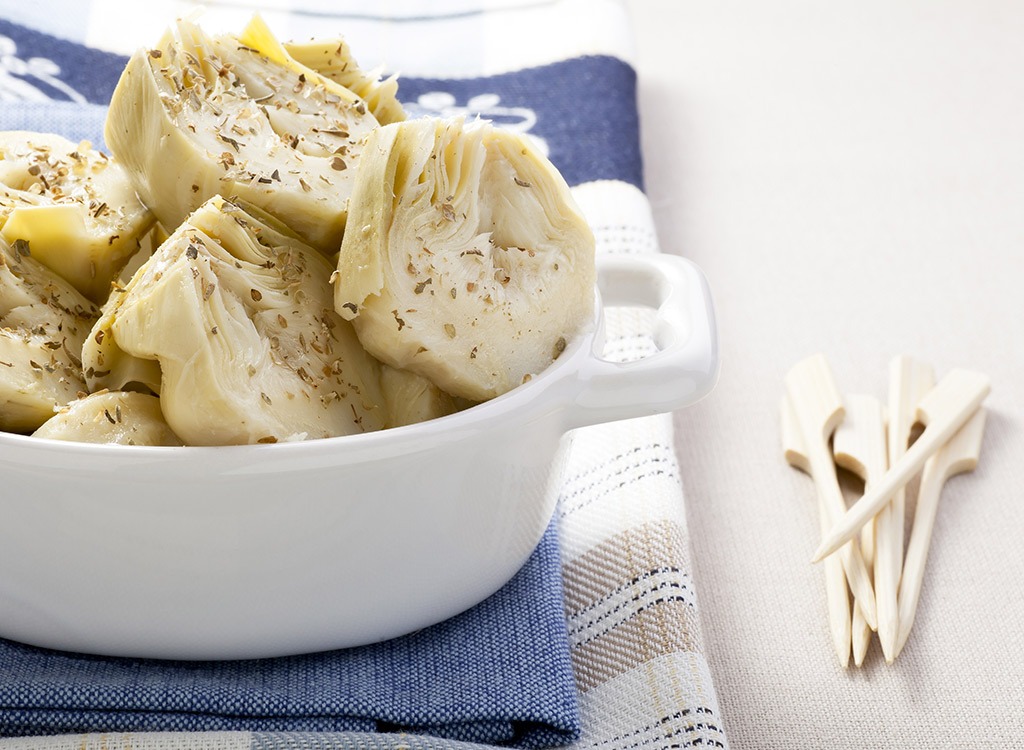 Game-day shouldn't be synonymous with neon queso and jarred salsa. Switch up your lackluster dips for one that you make at home with fiber-rich artichoke hearts and protein-packed Greek yogurt. Just a half cup of the tender veggie contains 4.8 grams of fiber to help keep you full until the wings are charred.
Change Up Your Pasta
You know what's better than a big comforting bowl of pasta? A bowl of pasta that won't leave you reaching for seconds just a few hours after you've dug in. That's where Banza comes in. Banza pasta is made out of heart-healthy chickpeas and packs in 13 grams of our star macro per 3.5-ounce serving. Pair the penne with our best pasta sauce of all time.
Snack on Pomegranate Seeds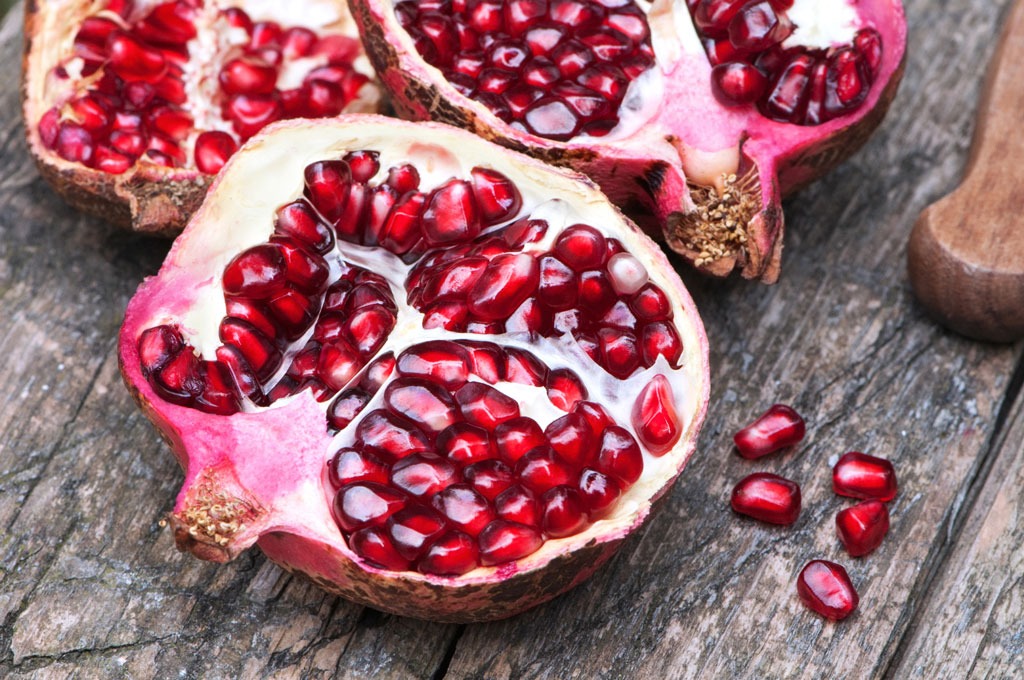 Half of this ruby-red fruit is jam-packed with 5.6 grams of fiber, making pomegranate arils a wonderful snack. You can even toss them into plain Icelandic skyr, Greek Yogurt, or revamp your PB&J sandwich by swapping jam for these sweet seeds.
Make Chili More Often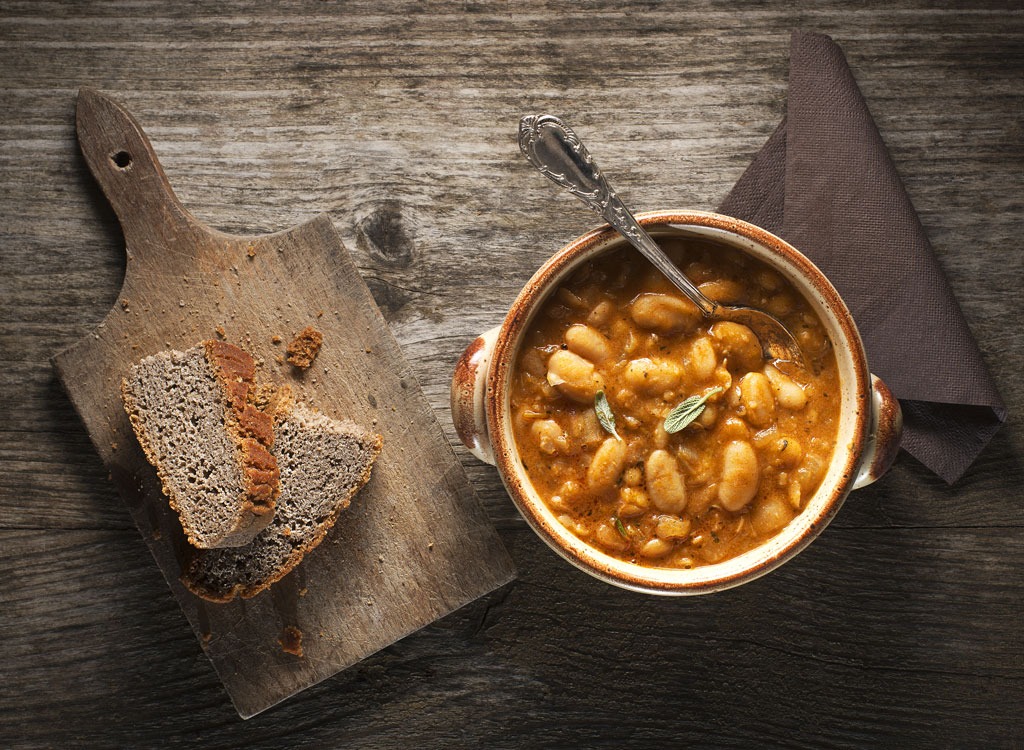 6254a4d1642c605c54bf1cab17d50f1e
'Tis the season to eat more chili. Pack your crock pot with cooked navy beans, which are brimming with 9.6 grams of fiber per half-cup—that's 34 percent of your daily recommended intake!—in addition to the rest of your hearty fix-ins.
Toss Raspberries Into a Parfait
Forgo the drizzle of honey or squirt of agave and sweeten your morning parfaits with a half cup of fresh raspberries. Your taste buds will thank you for the fruit's succulent tang while your body will benefit from the 4 grams of fiber.
Upgrade Your Protein Powder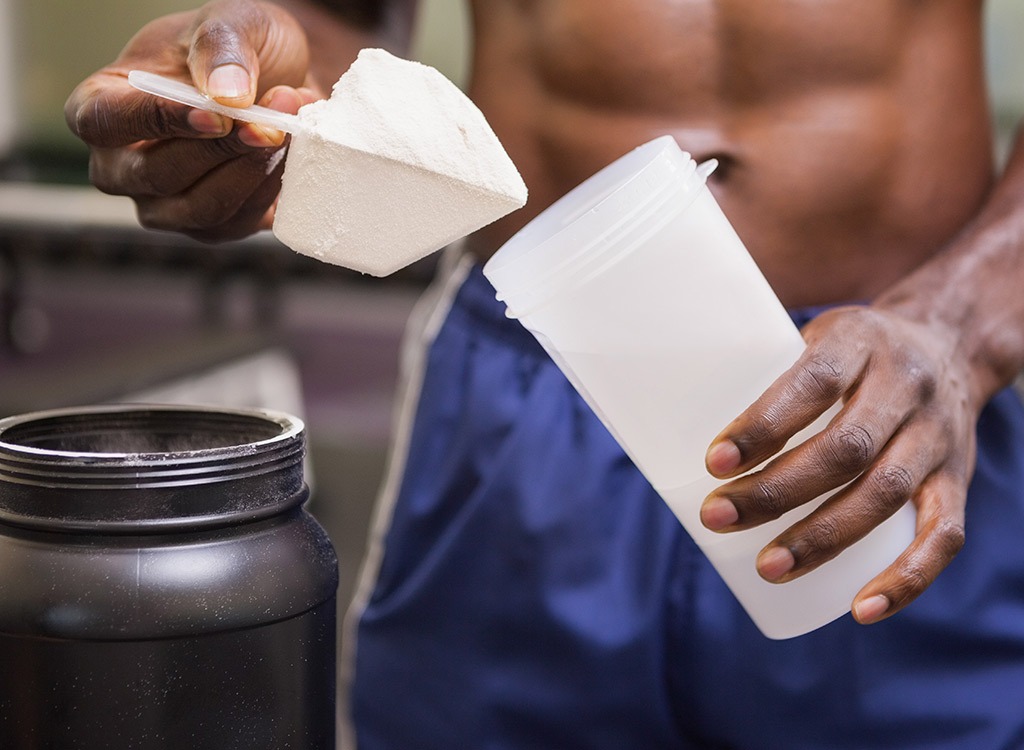 Rather than scooping your usual whey into a post-workout shake, go for a powder that's more potent at quelling your hunger. To save you the guesswork at your local health shop, we tested 10 protein powders and found the best one. Many of the top brands—like Vega—boast at least 6 grams of fiber per serving!
April Benshosan
April is a born-and-raised Brooklynite who has a passion for all things health, wellness, and tastebud-related.
Read more about April