I Tried the 'Thor' Workout Chris Hemsworth Did To Get Fit for His New Movie
Does Thor need a sidekick? Because I'm totally game for the job.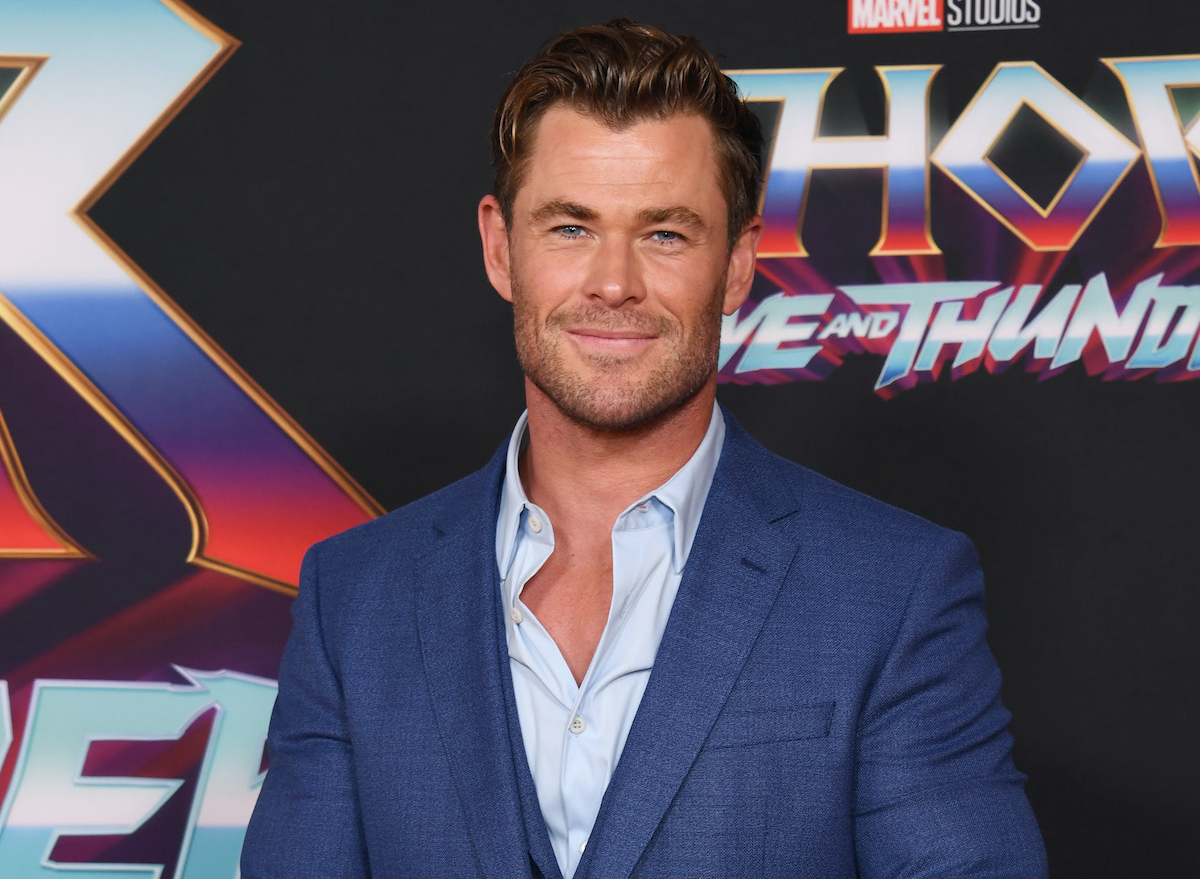 It's no secret that Chris Hemsworth is totally shredded. In the newly released "Thor: Love and Thunder," the actor's muscles are as large and impressive as ever. Through his health and fitness brand Centr, Chris Hemsworth and his team have shared the actor's fitness regimens and diets. But the star's routine looked a bit different for "Thor: Love and Thunder," and I received the inside scoop by working out with Hemsworth's trainer and Centr Head Trainer, Luke Zocchi. Read on to learn more about my experience performing Chris Hemsworth's workout and learning all about his training secrets. And next up, don't miss The 6 Best Exercises for Strong and Toned Arms in 2022, Trainer Says.
I tried Chris Hemsworth's "Thor" workout program, and it was personalized to my fitness level
The session was held to celebrate the debut of the revitalized "Centr Power" program, available to individuals of all training levels who hope to build muscles just like Thor's. According to Chris Hemsworth, "Centr Power shares the formula we have used to get me in my best shape for over 20 movies, including the 'Thor' franchise. It is built around the key principles of muscle-building and will have you working to your max no matter how long you've been lifting—now super-sized for even bigger results."
As a very casual gym-goer myself, I was curious to see just how accessible the program is. And as it turned out, the workout was personalized to my own fitness level. One of the first things Zocchi did was explain what each of our five resistance bands was, ranging from "extra light" to "extra heavy." He recommended starting points based on fitness levels, so I kicked things off with the "light" band.
Related: The Fitness Habits Arnold Schwarzenegger Lives by Still Work at 74
We worked the shoulder muscles, just like Hemsworth did while training for "Thor"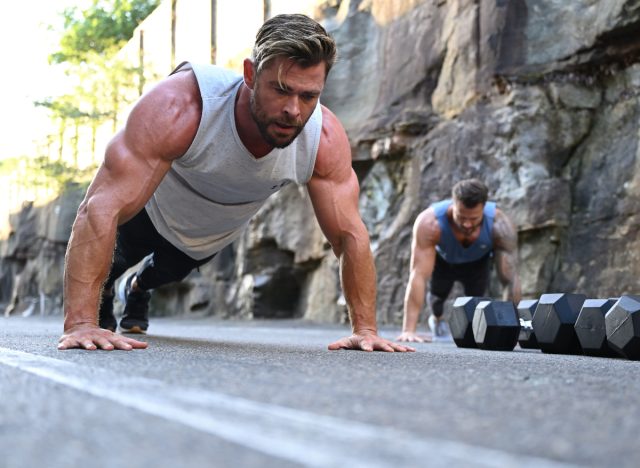 Each set of exercises was a combination of "push, pull, legs, and repeat," Zocchi said. The last exercise engaged the shoulder muscles: "In 'Thor,' we focus so much on shoulders I had to add in a little shoulder work," he revealed. Working different muscles also made the workout very manageable because it kept one from getting a little bit too strained.
We completed three sets of exercises, and Zocchi encouraged us to use a stronger band if we felt comfortable enough. I moved up to the "medium" band for squats and isolated bicep curls, but stuck with the light band for the rest of the moves.
This Hemsworth-approved workout is even more iconic than I initially realized—Zocchi revealed that this was the exact session he led the actor through right before his naked scene in "Thor: Love and Thunder." If you haven't seen the movie yet, just know that Chris Hemsworth looks "muscular like a god," as Zocchi put it. Thor is a god, after all.
The session wouldn't be complete without making Hemsworth's "Thor" smoothie
After breaking a sweat, it was time to whip up Hemsworth's "Thor" smoothie for a refreshing treat. "The training is one aspect, but you need to back it up with nutrition," Zocchi explained. According to Zocchi, Hemsworth consumed 4,500 calories per day—split up into 10 meals of 450 calories each—to train for the movie.
"He would struggle to do that after a while," Zocchi said. "So this smoothie is what Chris would do if he was full eating food…[He] would drink at least two, but sometimes three a day." But don't worry—you will not be consuming that many calories per day in Centr Power, because it's all personalized to your starting point and goals.
So what exactly is the "Thor" smoothie all about? Well, luckily I was able to try it out for myself. I combined almond milk, one banana, dates, almond butter, salt, ice, and chocolate protein powder, as per Zocchi's lead, into a blender. According to Zocchi, the salt helps you hold fluids after a training session, the dates serve as a natural sweetener, and the almond butter offers a healthy fat. Eat This, Not That! also reports that almond butter contains more calcium within each spoonful compared to peanut butter, which can help make your bones stronger and lower your blood pressure. Overall, the smoothie was delicious and filling—I can see how it took the place of Hemsworth's meals sometimes.
Related: The Fitness Habits Tom Cruise Follows To Stay Young and in Shape at 59
Even Thor enjoys cheat meals from time to time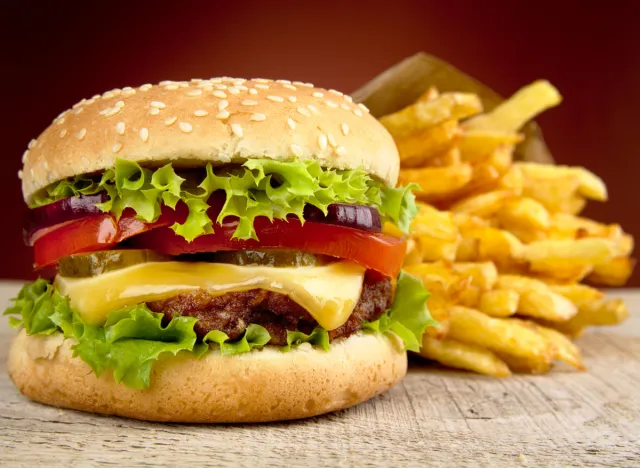 Although Hemsworth counted on this smoothie during his "Thor" training, he also had a lot of cheat meals. "At least a cheat meal once a week for sure," Zocchi said. "People get surprised. They think he doesn't cheat but we try to keep a balance." According to Zocchi, Hemsworth's go-to cheat foods were pizza, ice cream, and burgers.6254a4d1642c605c54bf1cab17d50f1e
As a newbie to the fitness world, I can confidently say that anyone can successfully do Centr Power. The best part about the session? I had fun—totally unlike my visits to the gym! I came out of it feeling like a strong goddess, too. (Does Thor need a sidekick?) Zocchi assured us that having fun is actually a part of the journey. "One piece of advice for people starting this program: take it serious, train hard, but at the same time have fun with it," he said. "You're doing a good thing so try to enjoy it as much as possible."
Mia Salas
Mia is a freelance writer for several publications and a soon-to-be graduate from Princeton University with a degree in English.
Read more about Mia