7 Ice Cream Chains That Crashed and Burned
When ice cream and froyo aren't enough to keep a dessert business afloat, something has to be off.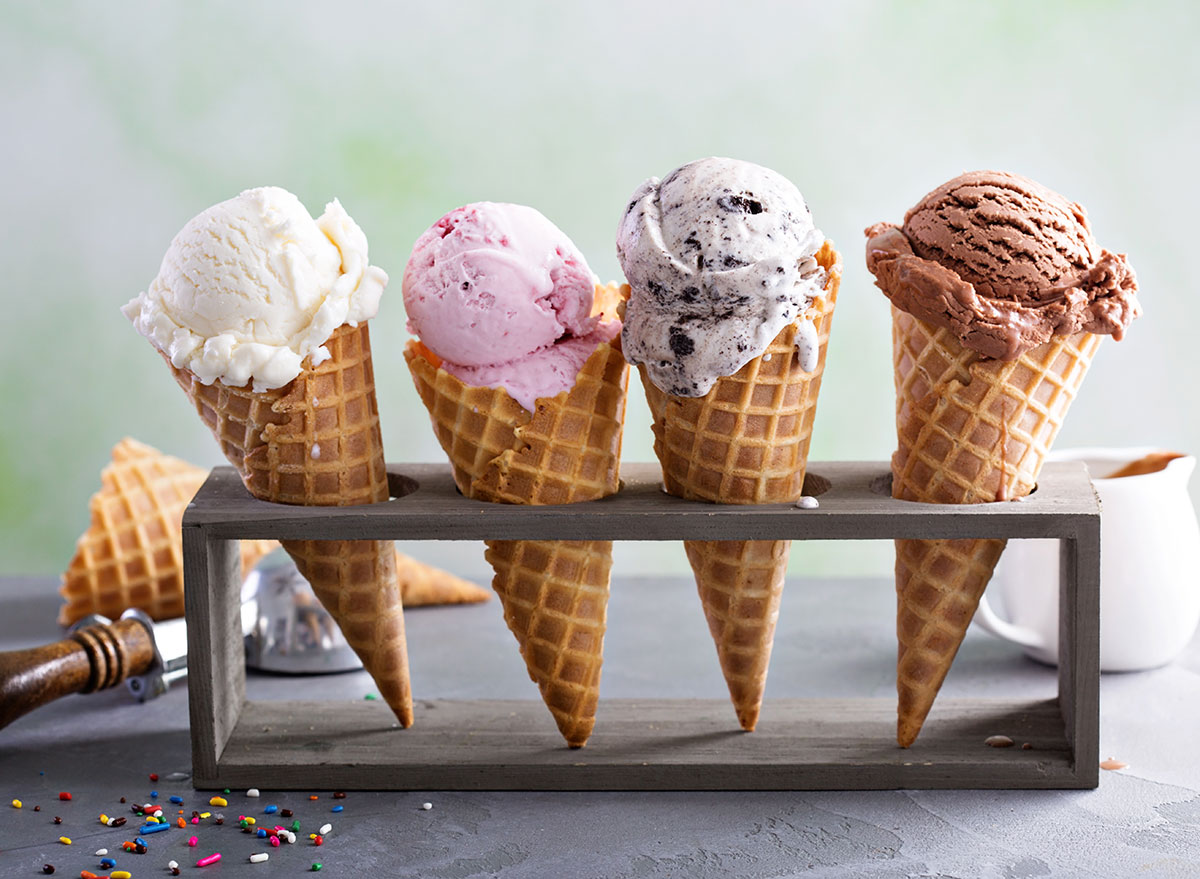 In theory, you can't go wrong if you open up an ice cream restaurant. These chains dedicated to frozen dairy treats have the potential to draw in tons of crowds looking for relief on hot summer days, or when the mood strikes for a sweet pick-me-up. While ice cream parlors will always have serious curb appeal, not every chain that focuses on dishing out desserts has what it takes to make it.
Many ice cream businesses that once made it big and franchised across the country relied on food trends and novelty to find customers. Once America moved past dessert phenomena like rolled ice cream or frozen yogurt sold by the pound, the business models of many ice cream chains plummeted straight into the ground. Anyone with a sweet tooth who loved dining out in the aughts and 2010s most likely saw a handful of trendy ice cream shops pop up, but very few of these chains could maintain their initial momentum.
With all of this in mind, here are eight ice cream and frozen yogurt chains that started out with a bang, but eventually lost their luster. And for more sweet content, check out 8 Ice Cream Brands That Use the Highest Quality Ingredients.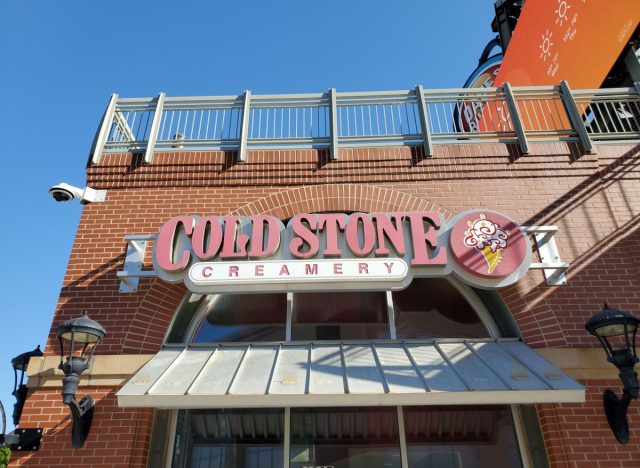 Back in the early 2010s, you couldn't go five blocks and not pass by a Cold Stone Creamery. According to the company's website, the chain came about in 1988, but only started franchising new locations in 1994. What set this brand apart from mom-and-pop ice cream parlors was its serving technique, which involved rolling out ice cream on frozen slabs in front of customers while employees put on small shows to entertain those waiting for their orders.6254a4d1642c605c54bf1cab17d50f1e
At the height of their business in 2008, roughly 1,300 Cold Stone Creamery franchise locations found their way across 47 states and 16 countries, but this success was short-lived. Franchisees reportedly opened new locations too close to each other, creating unnecessary competition. Meanwhile, other locations simply couldn't draw in enough income. Today, the franchise maintains a little over 900 locations across the U.S. While this company has still stayed afloat, it is clear that it can't quite match its presence in the 2000s.
Over the course of the 2010s, a frozen yogurt craze swept America. A ton of ice cream chains found ways to capitalize on the popularity of this dessert, and Pinkberry led the charge when it opened in 2005. Things started to look grim in 2010 when the Los Angeles-based Pinkberry flagship store closed. By the time 2022 rolled around, Pinkberry had closed many other locations in major cities, even totally moving out of New Orleans.
While Pinkberry claims that it continues to operate over 100 locations around the country, it seems like finding these locales proves harder by the year. But perhaps it's not too late for this brand to make a comeback.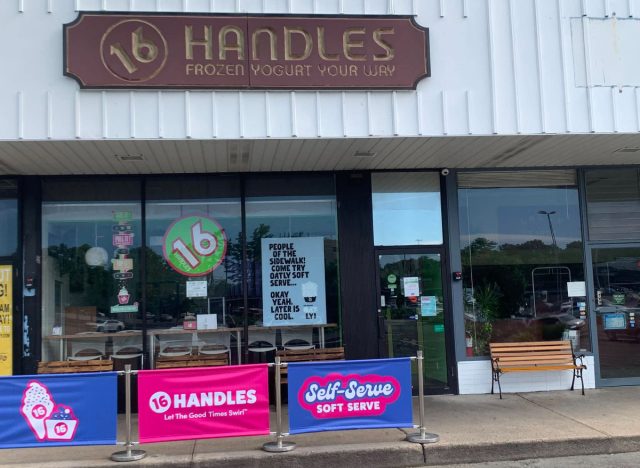 Any froyo-lovers based in the Northeast has surely found themselves at a 16 Handles location at some point. This frozen dessert chain made waves when customers couldn't get enough frozen yogurt in their lives, and it looked like this business had what it took to make it big. In 2015, the company opened 40 stores across America and a few locations in Saudi Arabia, in addition to striking a deal to open 150 more across the Middle East, according to Restaurant News.
However, the company appears to have since downsized to approximately 30 locations, and more recently, was bought out by the chain's largest franchisee and YouTuber Danny Duncan. Hopefully, this move will help breathe some new life into the enterprise, but for now, it looks like 16 Handles might continue to exist as a niche ice cream restaurant in New York and New Jersey.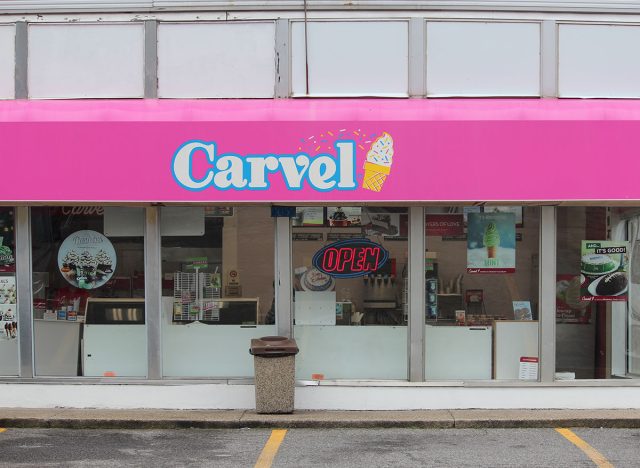 Although many familiar ice cream restaurants rose and fell over the past few decades, few dessert-based businesses had the trajectory of Carvel. The brand that's now synonymous with Fudgie the Whale birthday cakes and banana splits, Carvel first got its start in 1929, when a man named Tom Carvel began selling ice cream out of a vending truck. Eventually, the brand opened its first retail location in 1934 and continued to make strides throughout the 20th century, rivaling the likes of other ice cream chains, including Dairy Queen, and even expanding into Europe. During the mid-1970s Carvel seemed to have really found its rhythm, reportedly generating over $40 million in revenues across its over 700 locations. By 1985, the number of Carvel stores had  climbed upwards of 850 locations and was making approximately $300 million, according to the New York Times.
However, Carvel's prominence in the ice cream and dessert space gradually begin to fade by the mid-1990s, due to a shift toward greater emphasis on the sale of Carvel-branded ice cream products in grocery stores versus in chain restaurants. Today, Carvel only maintains 326 restaurants in the U.S., but its legacy lives on in its ice cream that continues to find its way to freezer sections nationwide.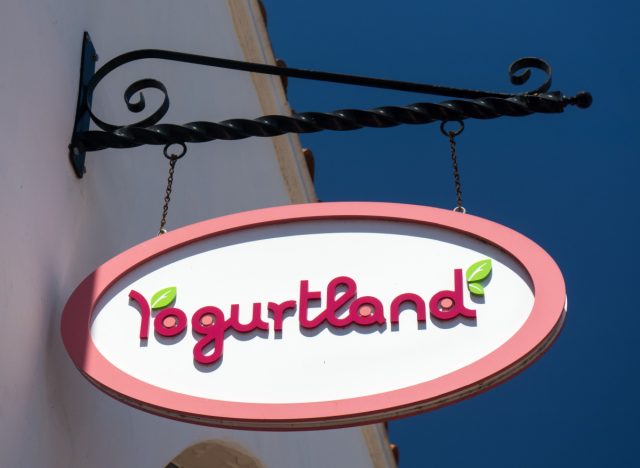 Yogurtland ranks among the many restaurants crippled by the economic impact of COVID-19 pandemic that never completely recovered. After opening in 2006, Yogurtland reportedly grew to over 320 locations across 17 states and five countries by 2016. However, the franchise's momentum came to a rapid halt in 2020. The chain made the decision to shutter all of its Australian locations, and more shutdowns soon followed. Nowadays, the chain claims that only about 250 locations remain between the U.S. and international franchises. Only time will tell if this business can effectively recover and rebound to reach the heights of its former glory days.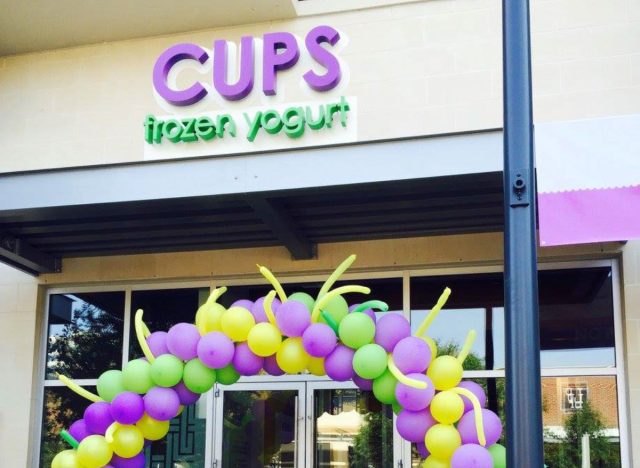 Despite never ascending on the same scale as many other franchises serving ice cream and frozen yogurt, Cups Frozen Yogurt did rack up enough hype in its heyday to hold its own against other competing chains within this restaurant category.
Cups was off to a strong start when it opened its first brick-and-mortar location in 2010. By 2013, Cups had opened 13 locations across the tri-state area, according to QSR Magazine. Thanks to the locations' posh interiors, attractive waitstaff, and its all-around luxurious froyo presentation, people seemed very excited about this franchise's rapid expansion, and the company began to make headlines. Some critics even likened Cups to a nightclub, with one columnist for the Exchange even pointing out that this frozen yogurt chain was referred to as "the Hooters of froyo" among customers.
But after all the hype and so much buzz, Cups couldn't sustain its initial success. Although the chain still continues to hold on by the skin of its teeth, currently, only five locations remain in operation.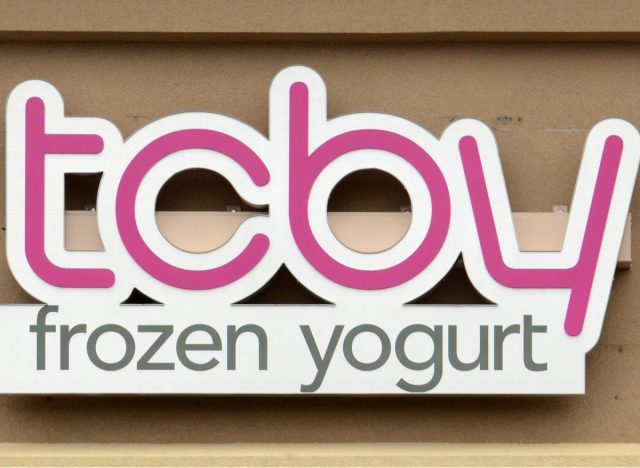 Although many chain restaurants capitalizing on frozen yogurt trend have come and gone, TCBY claims it is the pioneer in this space, billing itself as "the original and most well-known frozen yogurt brand."
In the early 2000s, this chain set itself up as an ice cream powerhouse, boasting around 1,800 locations in its prime. But according to Entrepreneur Media, TCBY's parent company, Mrs. Fields, filed for Chapter 11 bankruptcy in 2008. Additionally, waves of competition from new froyo shops continued to severely undercut TCBY's profits. Fast-forward to 2022, and the chain now only claims to have around a meager 250 locations nationwide. Although TCBY may still have a shot at a second act as it pursues alternative measures to innovate on frozen yogurt, unfortunately, it seems like it still might be struggling to gather enough staying power to thrive at the levels it once did.