If You Can Walk This Far, You May Live Longer, Says Science
Here's how scientists use the "Six-Minute Walking Test" to measure exercise capacity.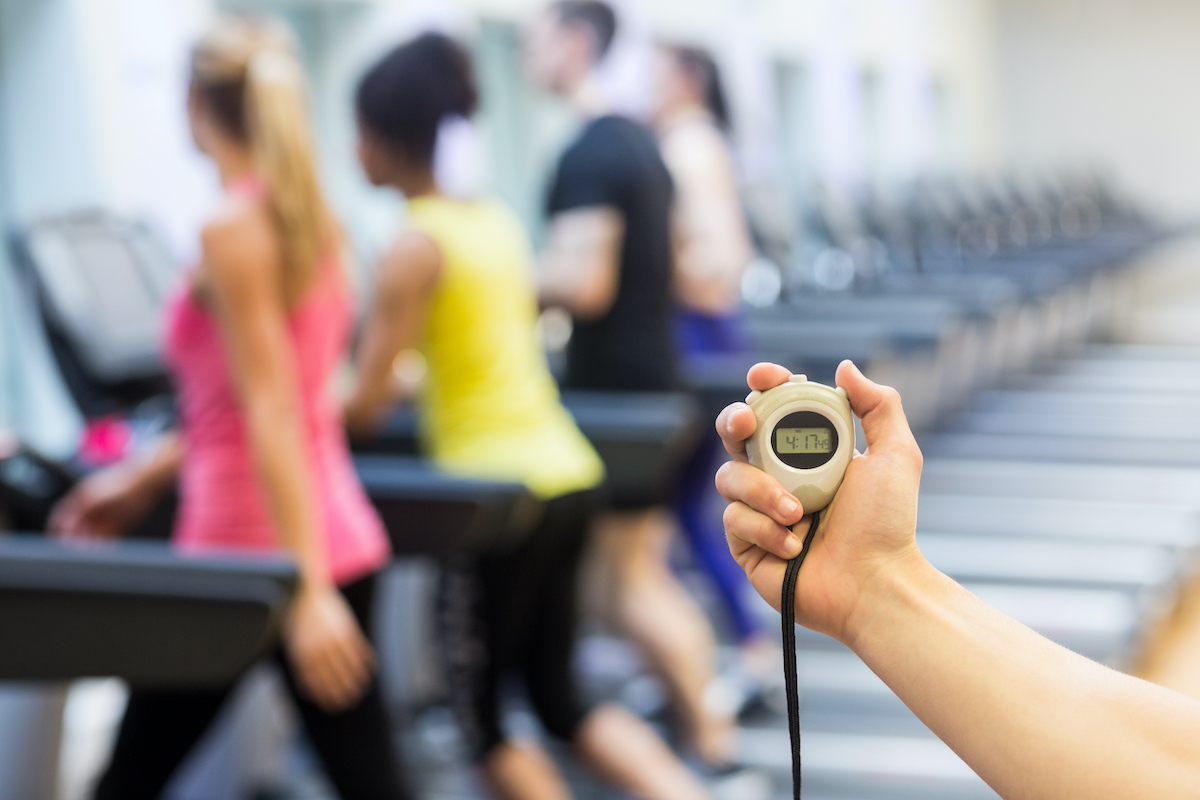 A new study published in JAMA, which focused on those who suffer from peripheral artery disease (PAD), revealed that higher-speed walking, rather than slower speed walking, was associated with assuaging the pain and negative symptoms associated with PAD after a full year of testing. To accurately gauge the efficacy of the different types of walking workouts? The scientists bookended the study with a single task: The Six-Minute Walking Test.
It's not the first time this test has been used. In fact, it has a really long history.
Originally devised by a scientist named Bruno Balke, M.D., Chief of the Biodynamics Branch at the Aeromedical Research Division of the Federal Aviation Agency, in 1963 (yes, it was so long ago that "agency" is now "administration"), the Six-Minute Walking Test (6MWT) was initially used, says the American College of Rheumatology, "to test exercise tolerance in chronic respiratory disease and heart failure," but "has since been used as a performance-based measure of functional exercise capacity in other populations including healthy older adults, people undergoing knee or hip arthroplasty, fibromyalgia, and scleroderma."
According to a big 2011 study of the 6MWT published in the European Respiratory Journal, the test isn't just a solid way to measure exercise tolerance and cardiorespiratory fitness levels, but it's actually a predictor of death, as well. "6MWT has gained importance in the assessment of functional exercise capacity in patients with chronic respiratory disease," says the study. "It has proved to be reliable, inexpensive, safe and easy to apply. In addition, it correlates well with important outcomes, including death."
According to a study published last year in the academic journal Chest, doctors will use the 6MWT as a predictor of mortality in "certain chronic respiratory conditions." Another study, published in the journal Therapeutic Advances in Cardiovascular Disease, found that the 6MWT was valuable to doctors looking to treat those who may suffer from heart failure.
So what is this test? And how do you do it? Read on for everything you need to know. And if you love nothing more than to walk, make sure you're aware of The Secret Cult Walking Shoe That Walkers Everywhere Are Totally Obsessed With.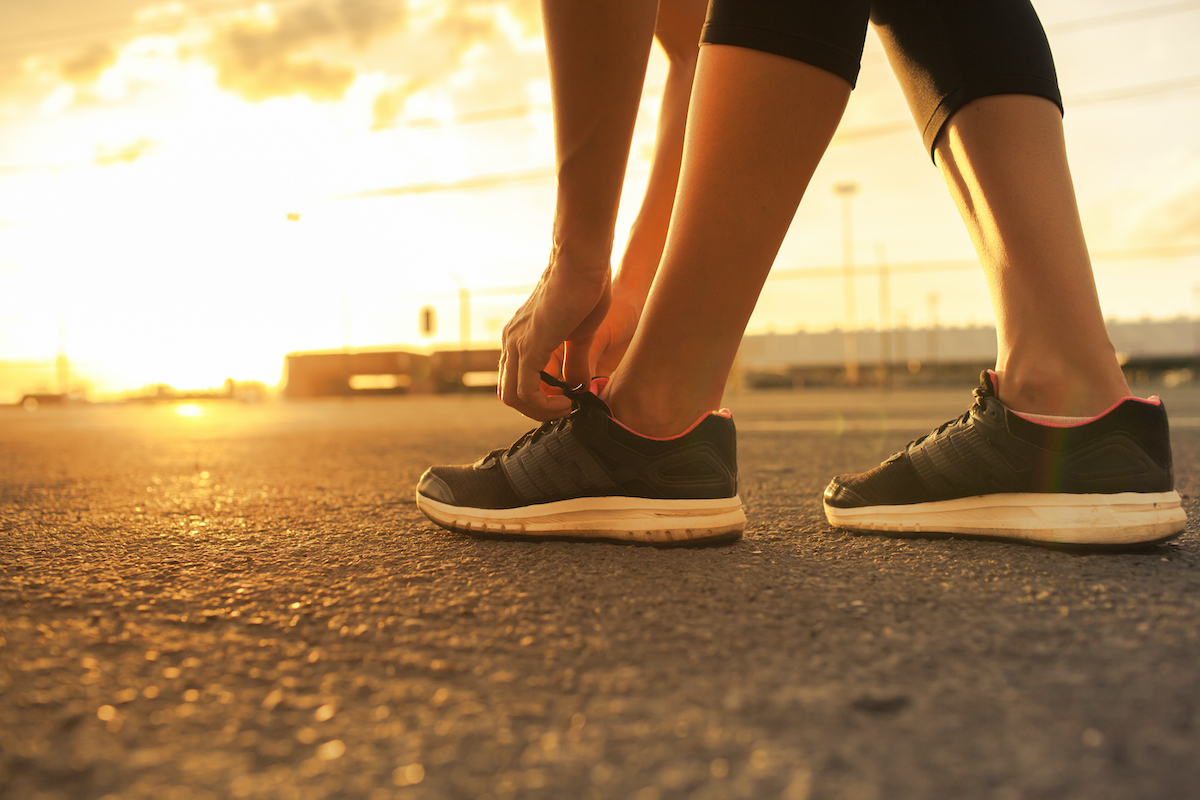 The Six-Minute Walking Test is quite simple. To complete the test, you need to walk as far as you possibly can on a hard and flat surface for six minutes. "The individual is allowed to self-pace and rest as needed as they traverse back and forth along a marked hallway," says the American College of Rheumatology.
Before and after the test, the walkers will have their heart rate, blood pressure, and oxygen levels tested.
"The test evaluates the global and integrated responses of all the systems involved during exercise, including the pulmonary and cardiovascular systems, systemic circulation, peripheral circulation, blood, neuromuscular units, and muscle metabolism," writes the American Journal of Respiratory and Critical Care Medicine, which also notes that the self-pacing component of the test is crucial for understanding a person's real-world fitness. In other words, the people doing the test aren't going all out to exhaustion.
"Most patients do not achieve maximal exercise capacity during the 6MWT; instead, they choose their own intensity of exercise and are allowed to stop and rest during the test," says the study. "However, because most activities of daily living are performed at submaximal levels of exertion, the 6MWD may better reflect the functional exercise level for daily physical activities." And for more on the benefits of walking, see here for The Secret Little Exercise Tricks That Will Extend Your Life.
To score the test, researchers simply add up the distance walked. According to the American College of Rheumatology, "healthy adults" will complete the test having walked anywhere from 400 to 700 meters.
Though it's worth noting that what's considered a "good" score may change, depending on your sex, age, or condition. "It is difficult to use normative values because of the differing methods used in studies," says the American College of Rheumatology. "An improvement of 54m has been shown to be a clinically important difference in a study of people with chronic lung disease, which is similar to the recommended criteria of meaningful clinical change of 50m based on analyses from a sample of 692 community living older adults and individuals who have survived a stroke."
So What Is a "Good" Score, Exactly?
Again, it depends on your sex, age, and whether or not you may suffer from any medical conditions. But know that 400 meters translates to roughly one-quarter of a mile, and 700 meters to roughly 4/10ths of a mile. So if you're an adult that can do roughly one to two laps around your standard track in 6 minutes, that's considered in the "norm" for a healthy adult.
Walking for a Longer Life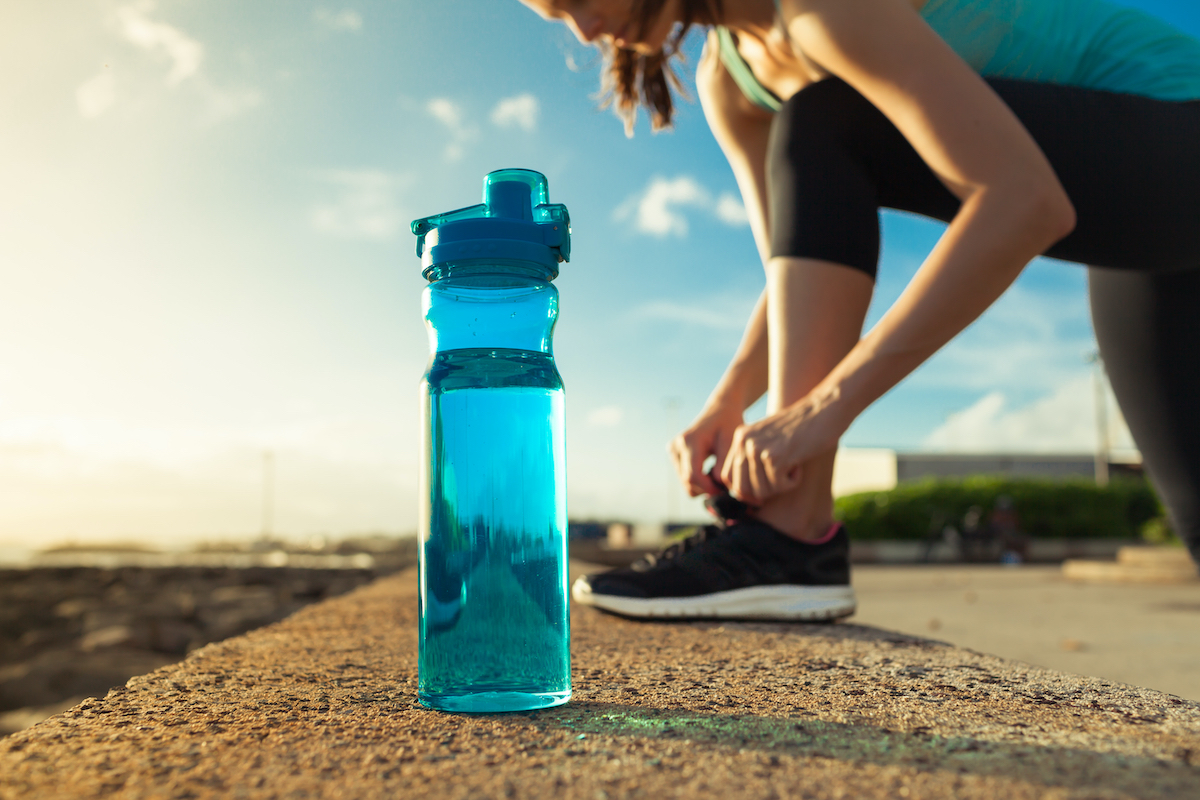 6254a4d1642c605c54bf1cab17d50f1e
It's no secret that brisk walking is associated with a longer life, and it only makes sense that those who can cover more distance in 6 minutes—without having to stop or sit—would be considered healthier people overall. As we've reported in the past, one big study published in 2015 in The American Journal of Clinical Nutrition found that those who take a brisk 20-minute walk every day enjoyed a reduced risk of death by upwards of 30%.
"Fast walkers can live up to 20 years longer," Tom Yates, Ph.D., MSc, BSc, a professor at the UK's University of Leicester, told The Daily Mail earlier this year. "It improves cardiovascular fitness, which is a measure of how efficient your heart is, and your ability to utilize oxygen, which is an indicator of fitness." And for some great walking tips, see these Secret Tricks for Walking for Exercise, According to Walking Experts.
William Mayle
William Mayle is a UK-based writer who specializes in science, health, fitness, and other lifestyle topics.
Read more about William