The #1 Ingredient That's Missing From Your Pantry, Experts Say
It's time to stock up on these heart-healthy legumes.
You're probably asking yourself, what are pulses? Pulses are the edible seeds of plants in the legume family. Pulses tend to grow in pods, and they come in a variety of different shapes, sizes, and colors—and you've probably been eating them your whole life.
Common varieties of pulses include dry beans like black, kidney, and pinto beans, as well as other legumes including chickpeas, lentils, split peas, just to name a few. Pulses have found their way into all types of cuisines because they are easy to cultivate in a range of climates and are often inexpensive to produce. But the main reason that pulses have emerged as a staple ingredient across countries and cultures? They're highly nutritious.
Pulses are one of the healthiest categories of plant-based ingredients you can find. Naturally low in fat and sodium, pulses contain no cholesterol and also pack protein, iron, potassium, and fiber. Not to mention, legumes often come with an affordable price tag as well as a low carbon footprint.
Courtesy of Meatless Monday and several expert food bloggers, here are nine recipes that can help you incorporate more legumes into your diet.
Black Bean and Farro Soup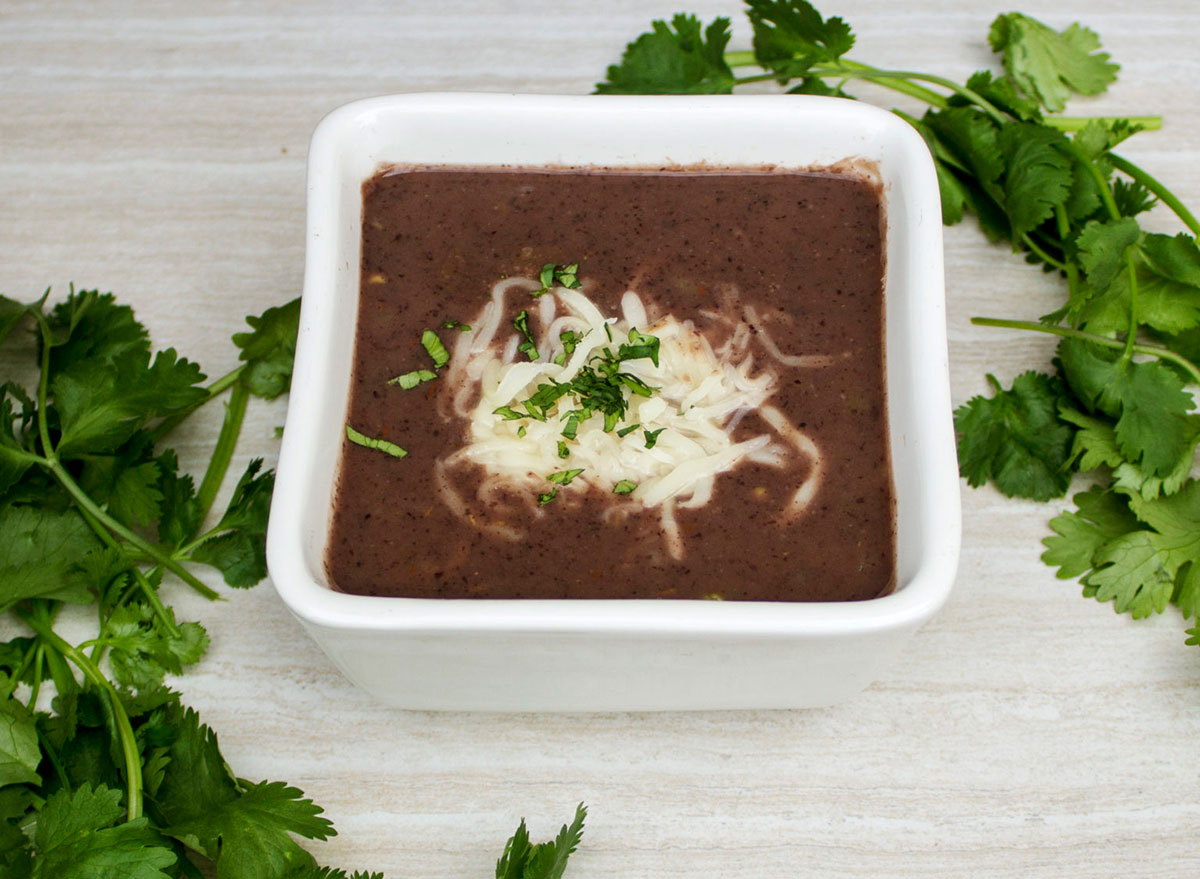 Farro is an underutilized grain that provides texture to soups and stews. Pairing farro with pulses—like in this black bean and farro soup—is a terrific way to get a well-rounded meal that's nutritious, rich, and filling.
For more, be sure to check out 7 Canned Soups to Always Leave on Grocery Store Shelves.
Black Bean Meatless Balls and Zucchini Noodles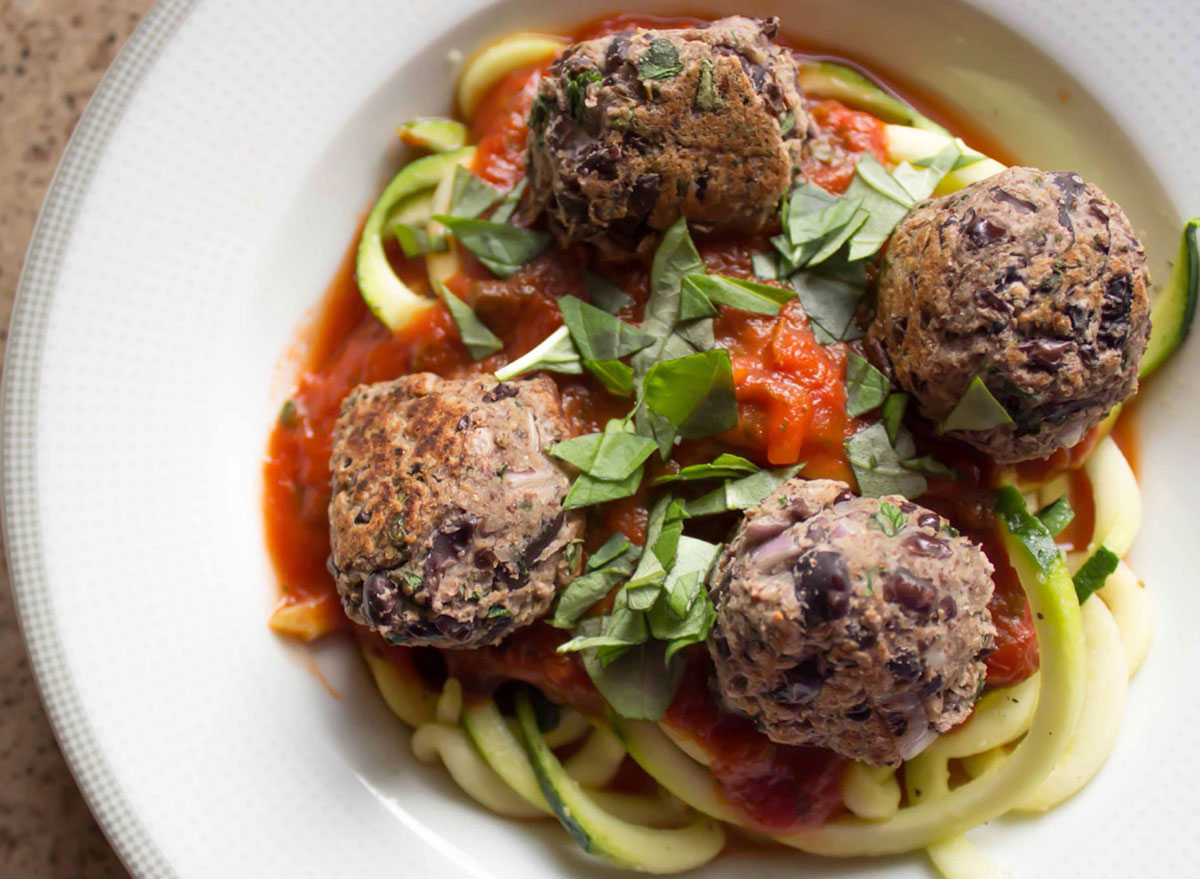 You don't need ground beef or pork to make a great meatball. These black bean meatless meatballs with zucchini noodles are made with Italian ingredients like bread crumbs, garlic, fresh parsley, and basil, and an Italian seasoning blend, and taste just as good as a classic spaghetti and meatballs.
Egyptian Kosheri Rice with Split Peas and Chickpeas
Kosheri is a classic Egyptian street food made with rice, lentils, and pasta mixed together and topped with a spicy tomato sauce, crispy onions, chickpeas, and a tangy vinegar garlic. It's a hearty and comforting dish, typically featuring lentils, but this recipe for Egyptian Kosheri Rice uses chickpeas and split peas instead.6254a4d1642c605c54bf1cab17d50f1e
With the right mixture of ingredients, the basic pea can easily be transformed into an elevated side dish. This recipe for lemon-ginger peas is a sweet, spicy, and sour mashup that pairs well with a tofu stir fry or green curry.
Moro (Dominican Red Beans)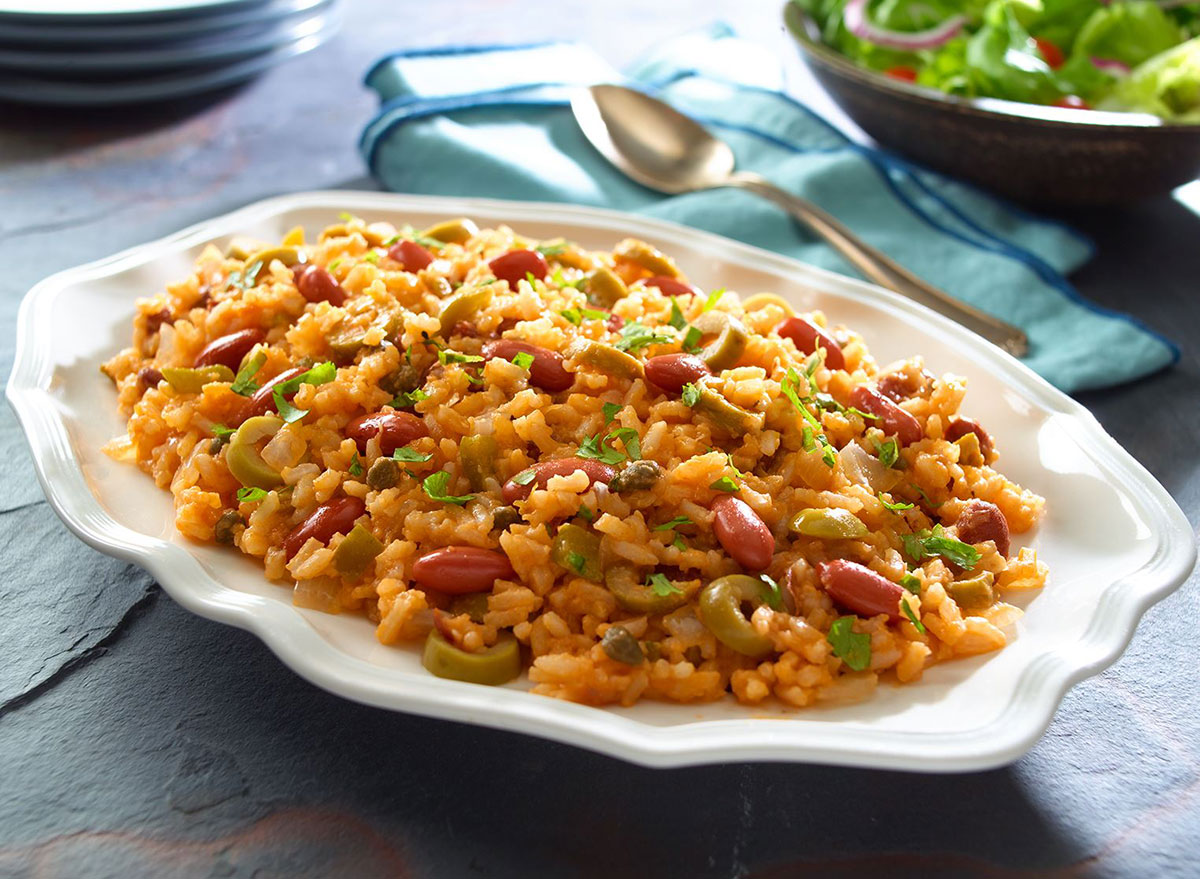 When red kidney beans are cooked together with fresh vegetables, tomato sauce, and rice, the result is one of the most typical and beloved dishes in the Dominican Republic called Moro also known as Dominican red beans. This delicious vegan rice-and-beans recipe can be served on its own or with avocado and a fresh salad.
For more, check out These 3 Pantry Staples May Soon Spike In Price, Experts Say.
Spicy Couscous and Chickpeas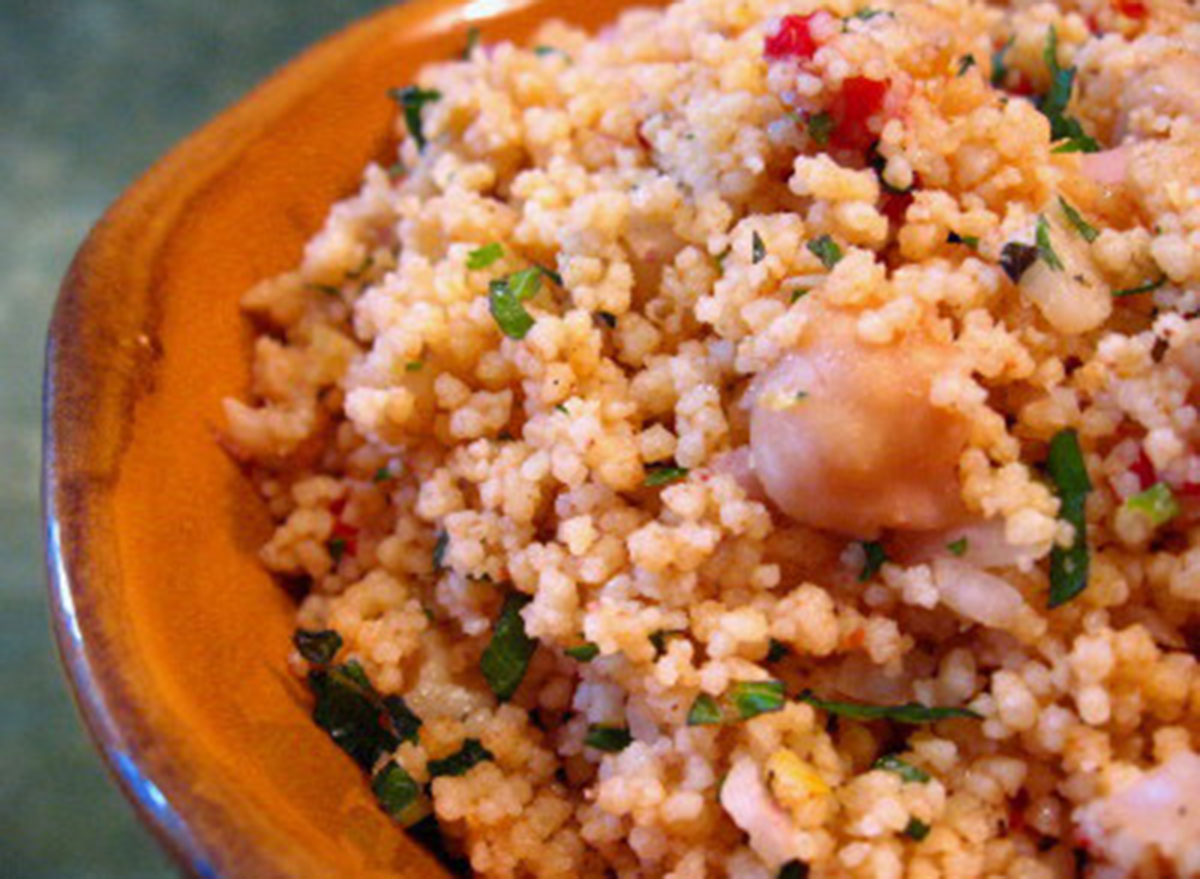 This dish of spicy couscous and chickpeas is a simple way to transport your taste buds to the Mediterranean. The combination of lemon juice, fresh mint, cilantro, shallot, garlic, tomato, and coriander makes for a complex flavor that's bright and exciting.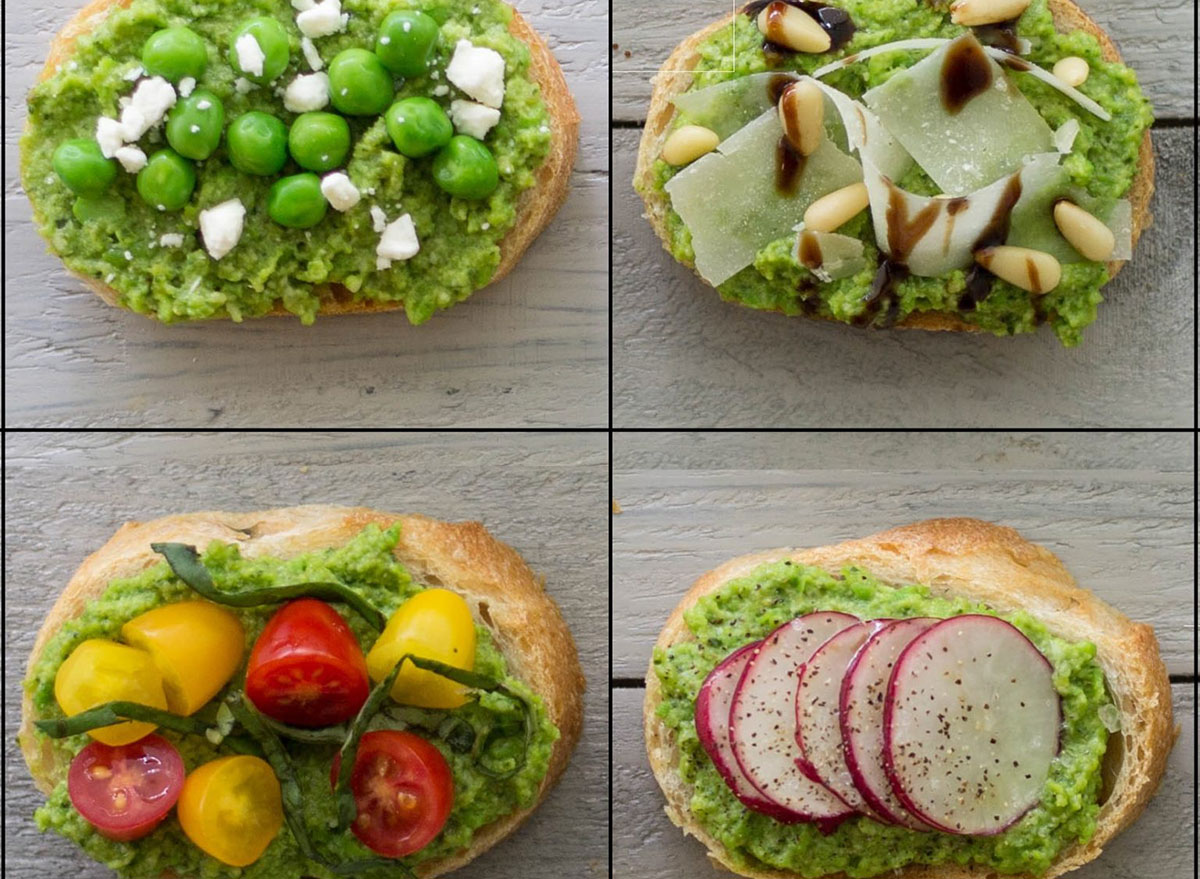 Pesto is such a versatile condiment that you can literally put it on anything—toast, pasta, black bean burgers, flatbreads—the list goes on. This version of split pea pesto gets a boost of protein from the addition of the split pea. The vibrant green color is easy on the eyes, too.
Vegetarian Black Bean Enchiladas
A simple Monday meal, these vegetarian black bean enchiladas are a definite crowd-pleaser. Prepare a dish of them in fewer than 5 minutes, and then just pop them in the oven and wait. In 30 minutes, you'll have a gooey, bubbly, delicious plant-based meal that's ready to serve.
Warm Lentil Salad with Lemon Vinaigrette
Lentils are a great addition to salad, adding a nice textured bite and pops of protein. In this warm lentil salad with lemon vinaigrette, the lentils offer a pleasant earthiness to go along with the sweet roasted root vegetables.
For more, be sure to check out 23 Healthy Mushroom Recipes for Meatless Dinners.