20 Amazing Stir Fry Recipes
Stir fry meals can make dinner a breeze. They require one pan, one cooking utensil, one burner, and minimal clean up.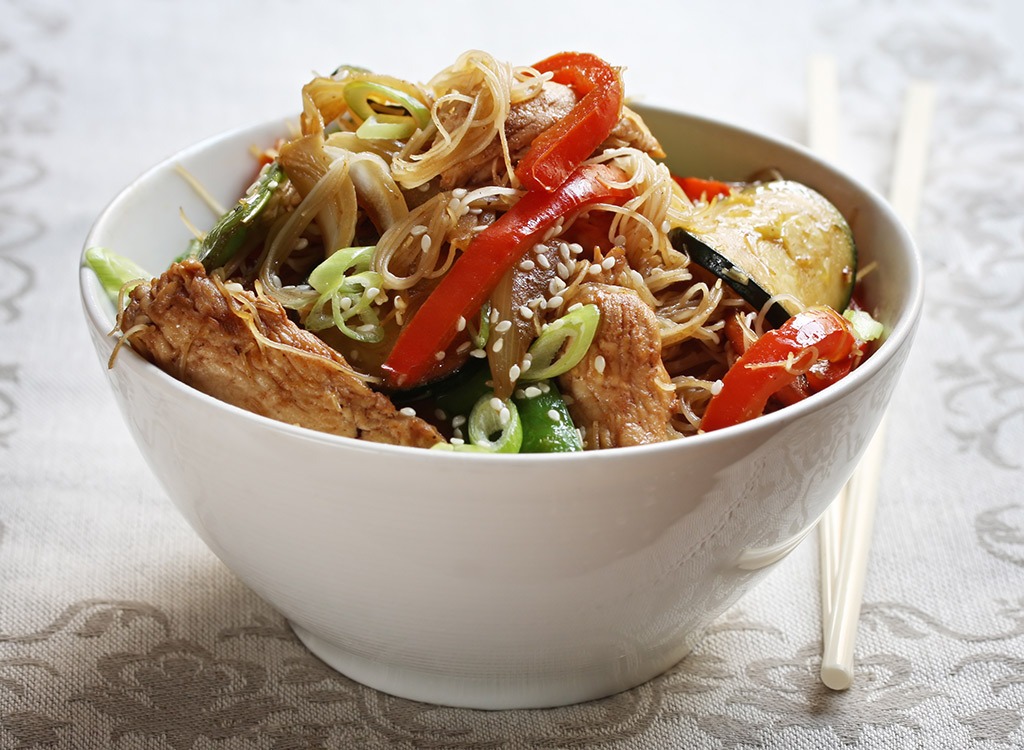 Let's get real: It's time to stop planning to make elaborate meals that you know you'll never have the energy for at the end of a long weekday. Luckily for you, the fact is that you can have an amazing, healthy meal that impresses and delights, without a ton of fuss. The recipes below are just that; they're full of wholesome, slimming ingredients that come together in minutes. Whether you prepare the fixings ahead of time or simply slice, dice, and toss them into the frying pan when you get home, a good stir fry is your go-to answer for taking the hassle out of dinner and keeping the pounds off your waistline. See which ones are your favorites below, bookmark them, and then take a look at 20 Sheet Pan Suppers for more super-easy ideas!
SAKE GINGER SALMON STIR FRY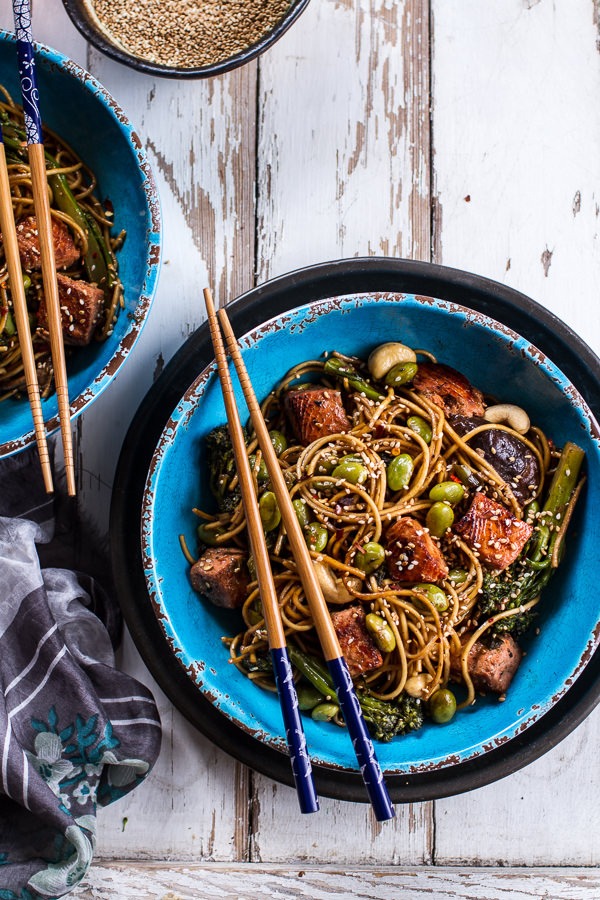 Nutrition: 322 calories, 13.8 g fat (1.8 g saturated), 414 mg sodium, 20.5 g carbs, 3.3 g fiber, 2.1 g sugar, 26.3 g protein
Aside from dishing up 74% of daily vitamin C requirements, this dish can increase post-meal calorie burn by as much as 35 percent! That's thanks to protein boasting salmon, a fish that is also rich in omega-3 fatty acids, which fight metabolism-slowing inflammation. Just make sure you go for the wild stuff. Farm raised salmon has a slew of nutritional red flags and won't help you reach flat-belly goals.
Get the recipe from Half Baked Harvest.
15 MINUTE CAULIFLOWER FRIED RICE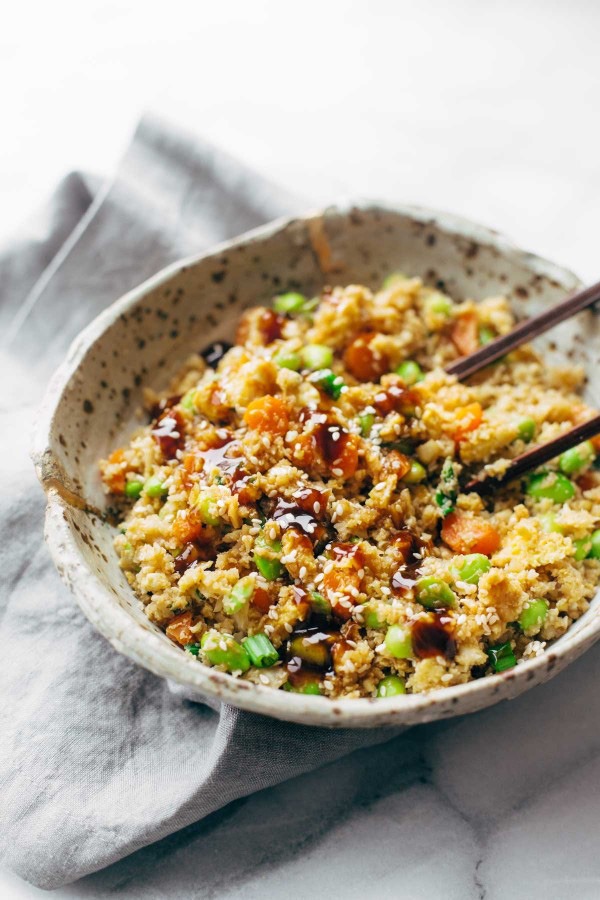 Nutrition: 192 calories, 11.6 g fat ( 1.7 g saturated), 396 mg sodium, 13.4 g carbs, 5.3 g fiber, 3.8 g sugar, 11.7 g protein
Cauliflower makes the perfect low-carb sub for spuds, pizza crust, pasta, or "fried" rice. This recipe employs edamame, "a complete protein that also contains omega-3 fatty acids, which support the healthy development of your brain, nerves, and eyes," says Chip Goehring, Board President of the American Macular Degeneration Foundation (AMDF). And research suggests that upping your intake of plant foods like edamame decreases your risk of obesity.
Get the recipe from Pinch of Yum.
COCONUT BEEF BROCCOLI RICE BOWLS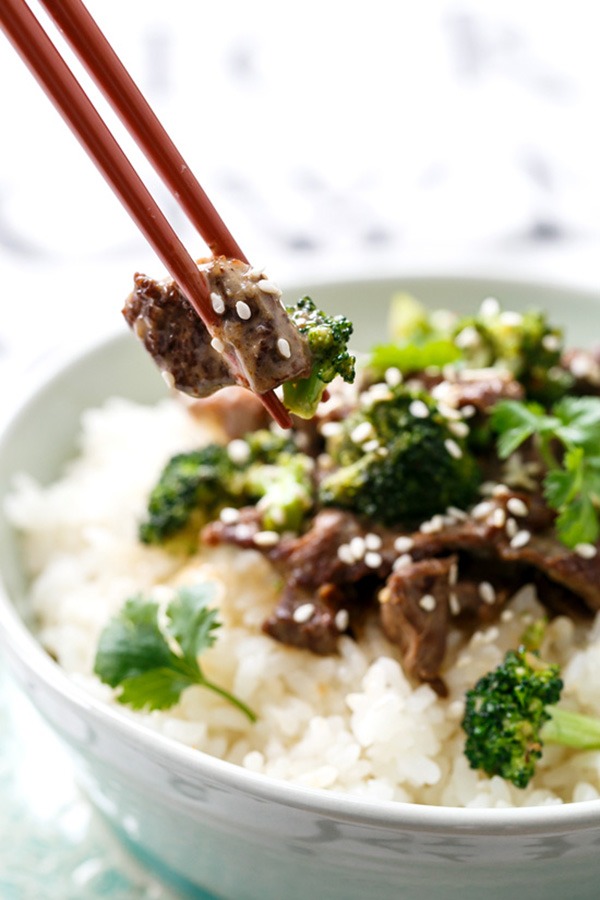 Nutrition: 564 calories, 31.2 g fat (23.5 g saturated), 268 mg sodium, 45.6 g carbs, 4.1 g fiber, 4.5 g sugars. 27.6 g protein (calculated with unsweetened coconut milk)
The fat count may seem scary, but the only thing it should be spooking is your body fat. Coconut oil, the main fat source in this dish, does everything from shrinking your waist and curb your appetite to protect your organs and preventing Alzheimer's. And when it comes to whittling your waist, no other fat has more pull, thanks to lauric acid, a medium-chain saturated fat that converts into energy. Find out more of the 20 Health Benefits of Coconut Oil.
Get the recipe from Love and Olive Oil.
SESAME-GINGER GARLIC CHICKEN BROCCOLI CARROT NOODLES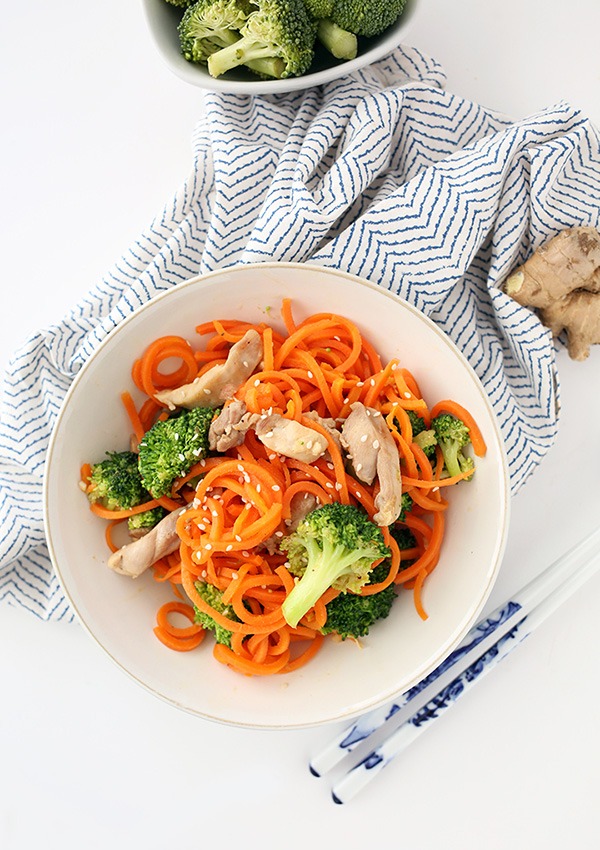 Nutrition: 276 calories, 15 g fat (1 g saturated), 352 mg sodium, 7 g carbs, 3 g fiber, 3 g sugar, 25 g protein
Carroodles? Apparently they're a thing and you want to be involved. Aside from delivering over a day's worth of vitamin C (124%) and 65% of your vitamin A quota, these noodles have 25 grams of satiating protein and just 7 grams of carbs!
Get the recipe from Inspiralized.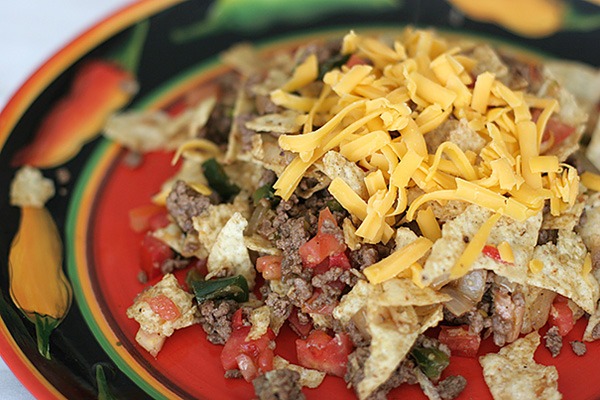 Nutrition: 481 calories, 19.9 g fat (7.5 g saturated), 371 mg sodium, 38.3 g carbs, 6 g fiber, 2 g sugar, 38.5 g protein (calculated with reduced cheese and no salt)
The right kinds of fats—like the extra virgin olive oil and full-fat dairy in this recipe—keep you fuller longer, increase your metabolism, and speed nutrients throughout your body. Whether you're trying to slim down or simply maintain a healthy weight, fat is an essential macronutrient.
Get the recipe from Taste and Tell Blog.
SWEET AND SPICY PORK RAMEN STIR FRY
Nutrition: 250 calories, 5.8 g fat (1.2 g saturated), 347 mg sodium, 32.3 g carbs, 4.2 g fiber, 9 g sugar, 17.7 g protein (calculated without ramen seasoning)
According to the CDC, we should be consuming less than 2,300 milligrams of sodium a day. One package of Ramen noodles provides 72% of that quota. Skip the seasonings and save yourself 1953 milligrams of the salty stuff with Pork Ramen Stir Fry. Bonus: It contains avocado oil, proven to lower cholesterol, quell hunger pangs, and even spot-reduce belly fat!
Get the recipe from Running to the Kitchen.
STIR FRIED VEGGIE BREAKFAST TACOS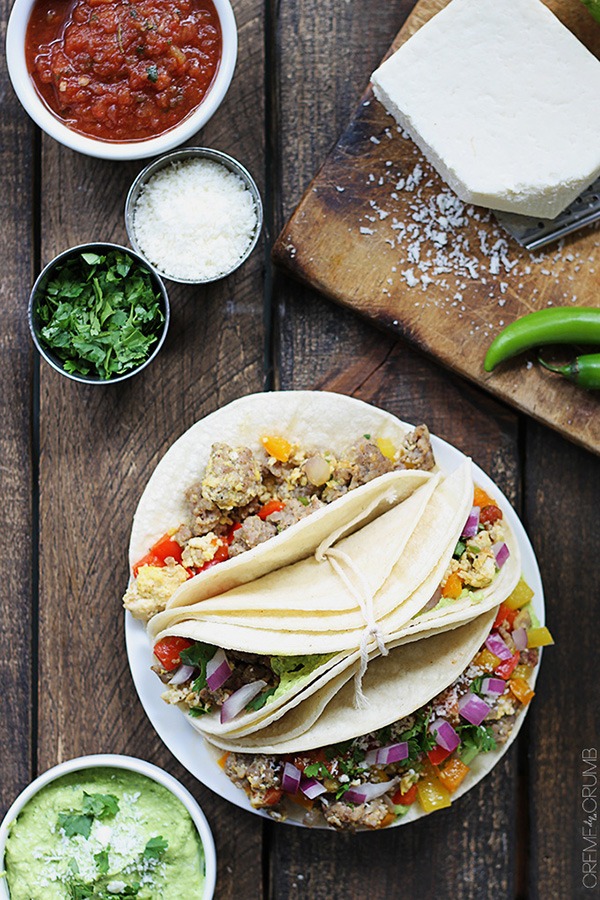 Nutrition: 298 calories, 14.7 g fat (4.2 g saturated), 116 mg sodium, 13 g carbs, 4.2 g fiber, 2.2 g sugar. 28.5 g protein (calculated with lean ground beef)
Tired of your breakfast routine? Skip the bland cereal and whip up these breakfast tacos instead! Just make sure to opt for grass-fed beef, which is naturally leaner, has fewer calories than conventional meat, and contains higher levels of heart-healthy omega-3 fatty acids. Bonus: You'll knock out 85% of daily iron recommendations and 93% of your vitamin C quota by breakfast.
Get the recipe from Creme de la Crumb.
APPLE GLAZED VEGETABLE EDAMAME STIR FRY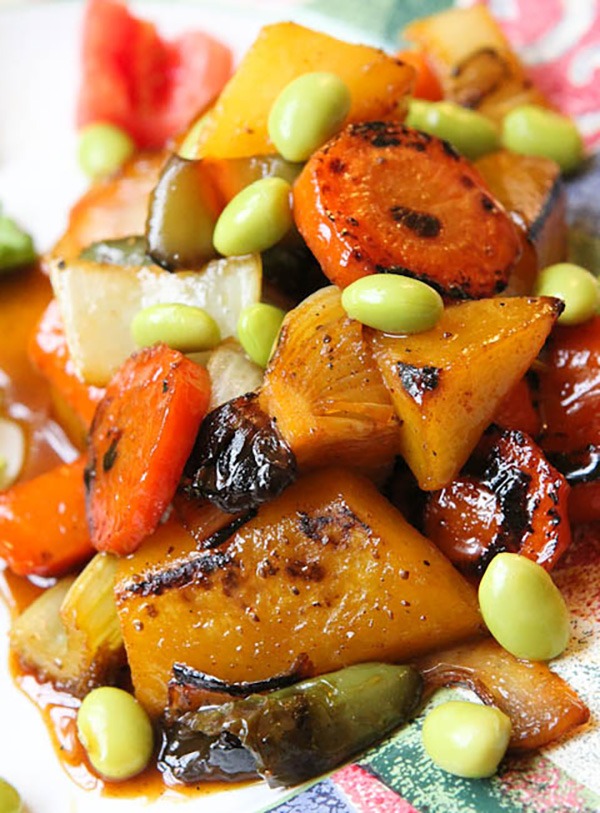 Nutrition:182 calories, <1 g fat (0 g saturated), 24 mg sodium, 36.1 g carbs, 7 g fiber, 13 g sugar, 7.6 g protein
You already know edamame is rich with heart-healthy omegas and slimming protein, but the apple cider vinegar in this recipe may also help you wiggle into your skinny jeans. In fact, according to research published in the journal Bioscience, Biotechnology, Biochemistry, some participants given ACV over a 12-week period lost more weight, body fat, and inches from their middle than participants who were given a placebo. Looking to give your diet a makeover? Check out these 40 Best Foods to Melt Love Handles.
Get the recipe from Averie Cooks.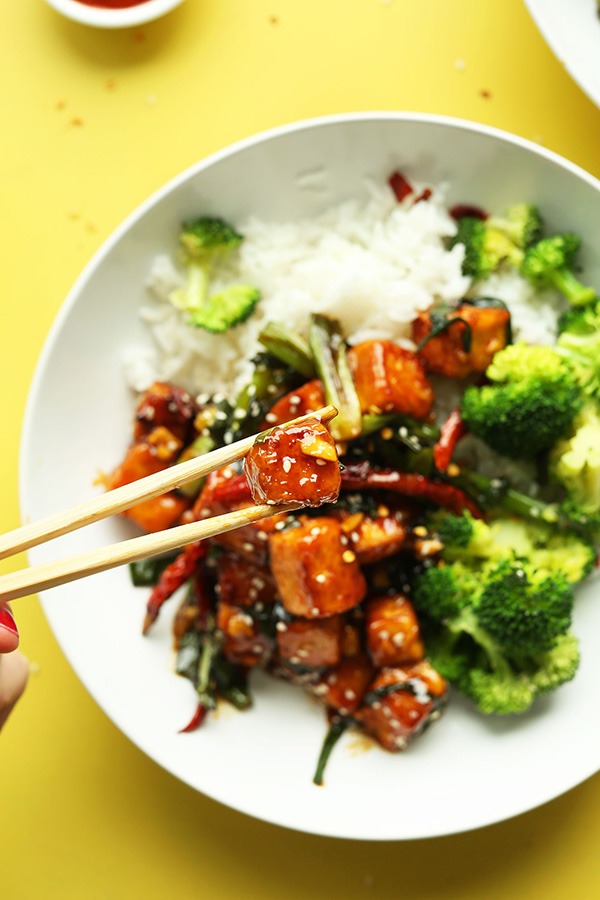 Nutrition:436 calories, 11.1 g fat (1.4 g saturated), 262 mg sodium, 73.4 g carbs, 5 g fiber, 8.9 g sugar, 12 g protein (calculated with 3 tbsp low sodium soy sauce)
With the perfect balance of spicy, sweet and savory, this recipe is a serious taste bud pleaser. And it won't ruin your diet either. In fact, it boasts calorie scorching chilies, which have been proven to reduce belly fat and suppress appetite.
Get the recipe from Minimalist Baker.
Nutrition: 269 calories, 9.2 g fat (2.6 g saturated), 453 mg sodium, 16 g carbs, 1.5 g fiber, 9 g sugar, 29.2 g protein (calculated with ¼ cup low sodium soy sauce)
BBQ steak over bell pepper noodles creates a waist-whittling, low-carb, high-protein meal. This one will fill you up without filling you out. And to discover how to get a washboard stomach in just 5 weeks, don't miss this essential list of the 5 Best-Ever Foods for Abs—Guaranteed!
Get the recipe from Pinch of Yum.
ASIAN TURKEY LETTUCE CUPS
Nutrition: 267 calories, 11.7 g fat (3 g saturated), 698 mg sodium, 13.8 g carbs, 1 g fiber, 6.7 g sugar, 25 g protein (calculated without salt)
When it comes to a six-pack friendly lunch, nothing is more convenient than lettuce boats–or in this recipe, lettuce cups. It's crazy how easy it is to make the fillings ahead of time and then pour inside lettuce on the way out the door. This mouthwatering dish calls for ground turkey, mushrooms, water chestnuts, green onions, and seasonings. To lower sodium, opt for a smaller amount of low sodium soy sauce.
Get the recipe from Recipe Runner.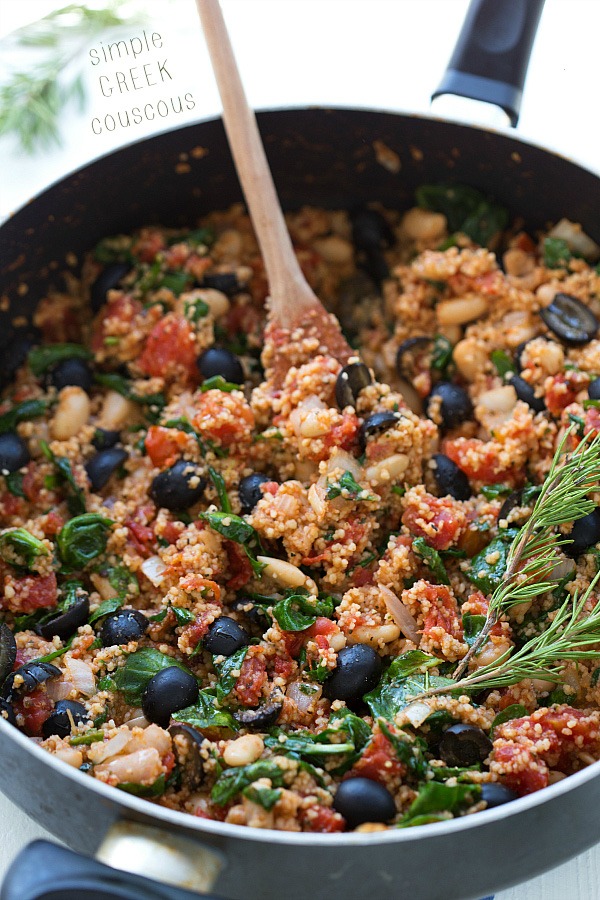 Nutrition:422 calories, 6.8 g fat (1 g saturated), 309 mg sodium, 71 g carbs, 22.1 g fiber, 2.7 g sugar, 22.2 g protein (calculated without salt)
Knockout up to 88% of the daily recommended 25-38 grams of fiber with this flat belly dish. Not only is fiber essential to a healthy gut, but it's also a powerful hunger zapper. By filling you up for fewer calories and slowing digestion, you'll remain satiated for a longer period, which can significantly aid weight loss efforts.
Get the recipe from Chelsea's Messy Apron.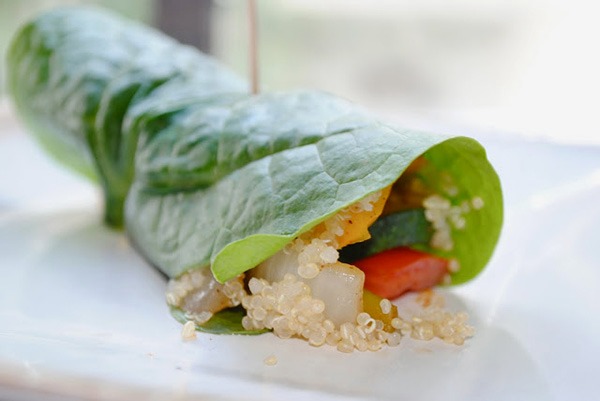 6254a4d1642c605c54bf1cab17d50f1e
Nutrition:196 calories, 6.8 g fat (<1 g saturated), 14 mg sodium, 28.9 g carbs, 6 g fiber, 5.9 g sugar, 7.2 g protein
Another waist-shrinking lettuce wrap option–this version contains quinoa, a gluten-free grain that contains all nine essential amino acids. Packed with the hunger-busting combo of 7 grams of muscle building protein and 6 grams of slimming fiber, this meal is a great option for vegans and vegetarians.
Get the recipe from Fit Foodie Finds.
Nutrition: 208 calories, 6.4 g fat (1.4 g saturated), 556 mg sodium, 42.2 g carbs, 4.2 g fiber, 3.8 g sugar, 12 g protein
Save yourself 282 calories, a whopping 2312 milligrams of sodium, and 51.8 grams of carbs when you "fry" up this Veggie Lo Mein instead of shoveling in an order from PF Chang's. Overdid it on the salt (say from ordering Chinese take out)? Try a detox water water.
Get the recipe from Well Plated.
SWEET THAI PEANUT CHICKEN GRILLED PINEAPPLE STIR FRY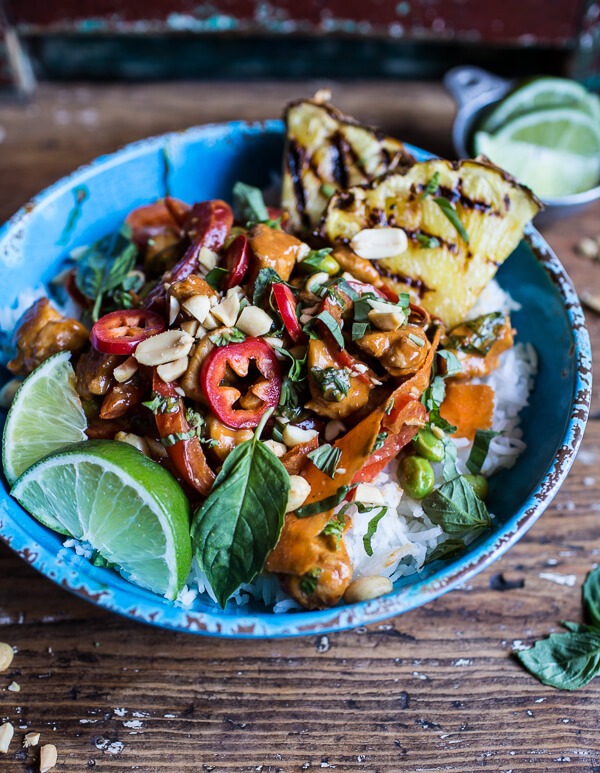 Nutrition: 290 calories, 9.9 g fat (2.2 g saturated), 739 mg sodium, 28.7 g carbs, 2.2 g fiber, 16.5 g sugar, 21 g protein
Exhausted after a long draining day at work, but still have a laundry list of things to accomplish before you hit the sheets? This stir fry just might just be the antidote. That's because it contains pineapple is one of nature's best sources of manganese, a trace mineral that is essential for energy production. What's more? It's got 21 grams of satiating protein and under 300 calories.
Get the recipe from Half Baked Harvest.
GARDEN VEGGIE STIR FRY WITH ORANGE MISO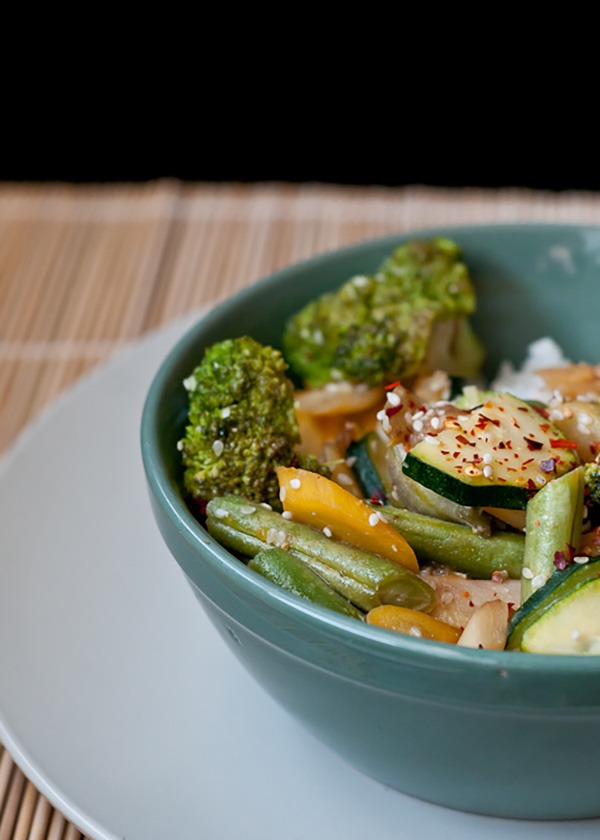 Nutrition: 325 calories, 8.6 g fat (1 g saturated), 268 mg sodium, 54.6 g carbs, 6.2 g fiber, 10.5 g sugar, 7.4 g protein
Better sore than sorry can really put a damper on your daily routine. Reduce post-exercise muscle soreness by as much as 25 percent with this refreshing dish, thanks to ginger which acts as a powerful muscle relaxant. Better yet, ginger can also stop belly bloat. Researchers attribute ginger's health benefits to gingerols, compounds that are antioxidant, anti-inflammatory, antibacterial—and anti-disease.
Get the recipe from Cafe Johnsonia.
GRILLED CHICKEN AND ASPARAGUS TART
Nutrition: 453 calories, 21 g fat (7.8 g saturated), 420 mg sodium, 24.3 g carbs, 1.4 g fiber, 2.2 g sugar, 19.7 g protein (calculated with light cream, 3/4 cup fontina cheese and no salt)
By now you know not to be afraid of fat, an essential nutrient vital to multiple bodily functions. This recipe calls for full-fat dairy and numerous studies in a 2013 European Journal of Nutrition research review found that participants who consumed more high-fat dairy products either weighed less or gained less weight over time than their counterparts who didn't consume fat-laden dairy. To start losing weight today, check out these 10 Genius Tips to Lose 10 Pounds!
Get the recipe from Real Food By Dad.
Nutrition: 160 calories, 9.7 g fat (1 g saturated), 367 mg sodium, 16 g carbs, 5 g fiber, 7.5 g sugar, 5.1 g protein
Fight off the sniffles with this zoodle stir fry packing in 130 percent of daily vitamin C recommendations. And low in both calories and carbs, this dish will also fight off the battle of the bulge.
Get the recipe from Katie's Cucina.
SPICY KALE AND COCONUT STIR FRY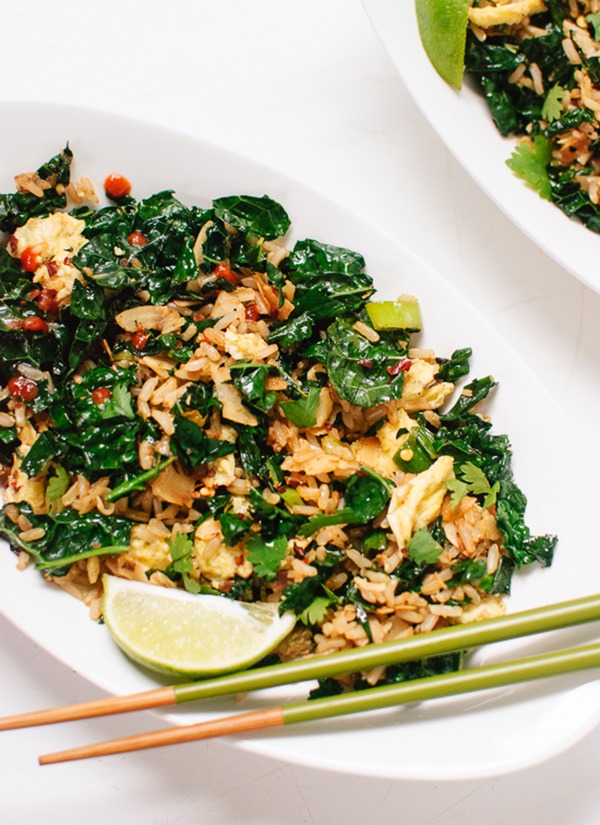 Nutrition:339 calories, 10.7 g fat (7.2 g saturated), 167 mg sodium, 53.5 g carbs, 4 g fiber, 8 g protein
Accompanying the health food staple green is a tropical oil that's composed of the medium-chain saturated fat, lauric acid, which converts into energy more easily than other types of fat. In other words, it'll actually keep you trim. And to blast even more fat—and shrink your belly in just 7 days—click here for The 7-Day Flat-Belly Tea Cleanse. Test panelists lost 10 pounds in one week!
Get the recipe from Cookie and Kate.
GARLIC KALE AND CASHEW FRIED RICE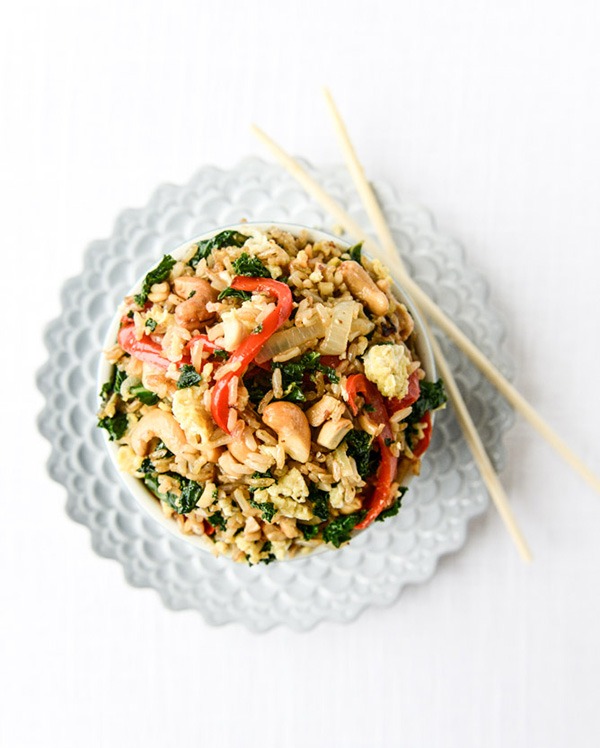 Nutrition: 320 calories, 17.1 g fat (3 g saturated), 217 mg sodium, 35.2 g carbs, 2 g fiber, 3.1 g sugar, 8 g protein
Cashews are one of the best nuts for weight loss and make a flawless addition to this flavorful dish. According to Stephanie Middleberg, MS, RD, CDN of Middleberg Nutrition, they host a laundry list of health benefits "such as helping your body relieve various conditions like constipation, insomnia, headaches and muscle cramps, as well as regulating the immune system and supporting brain function." Pair it with a lean protein for a balanced wholesome meal.
Get the recipe from How Sweet Eats.