Is a Costco Executive Membership Really Worth It?
Thinking about joining America's leading warehouse club? There are advantages to paying the higher fee.
The product recommendations in this post are recommendations by the writer and/or expert(s) interviewed and do not contain affiliate links. Meaning: If you use these links to buy something, we will not earn a commission.
Amid rising food costs and supply chain issues, it's no surprise that Americans are joining warehouse clubs like Costco in record numbers. Are you thinking about joining?  Being able to stock up on household necessities, organic produce, and holiday gifts all in one place can be quite enticing. 
Or maybe you are a loyal Costco customer who is curious about the supposed perks that come with an executive club membership.
Well, take it from me, a decades-long Costco member, and executive-level member of five years, it can be a worthwhile investment if you plan to visit Costco with regularity.
My parents had an executive membership from the get go which made sense because my dad would buy supplies from his small business and for home. As the years went on and I first moved to downtown Chicago, I would use their membership to buy paper towels and toilet paper but I never envisioned needing it for more than that. 
That would change when I had a family of my own and we moved into a bigger space. We slowly started buying more and more stuff at Costco and got our own basic membership.  The occasional paper goods and cleaning supplies run became a weekly jaunt to get eggs, fruit, and stuff to stock our freezer to feed our growing boys. It didn't hurt that Costco was less than a few miles from our house. 
With our increased usage we looked into the executive membership, something I had previously thought was reserved for, well, executives.
What are the benefits of an executive membership?
The upfront cost is currently $120 per year for the executive membership versus the $60 for the traditional membership. The executive membership comes with a variety of perks, most notably 2% back in rewards—in other words, money you can use at Costco. According to Motley Fool, the math works out that if you spend $3,000 annually, you get the additional $60 in membership money back in reward dollars.
The reward comes by check in the mail about three months before your renewal date. It's like a gift certificate. You can use it at the warehouse for regular purchases with a cashier, but it's currently unavailable to use for self checkout or Costco.com. (If you do want to use it online, you can purchase a gift card at the store with the reward check as a workaround.)
The executive-level incentives have certainly made my family more loyal to Costco. We rarely shop in bulk at any other warehouse store or even on Amazon unless it's something we can't find. Our spending certainly doesn't take us anywhere close to the maximum $1,000 reward—to achieve that, you'd have to spend around $50,000 per year—but it does pay for itself at a minimum. 
This seems to be the case with many executive-level members. "They're more loyal, they spend more, and they come more frequently," Costco CFO Richard Galanti said during a recent investor call. 
Currently, executive members account for about 45% of Costco's 68 million memberships worldwide and about 73% of the club's sales, according to the company.
How do rewards work with an executive membership?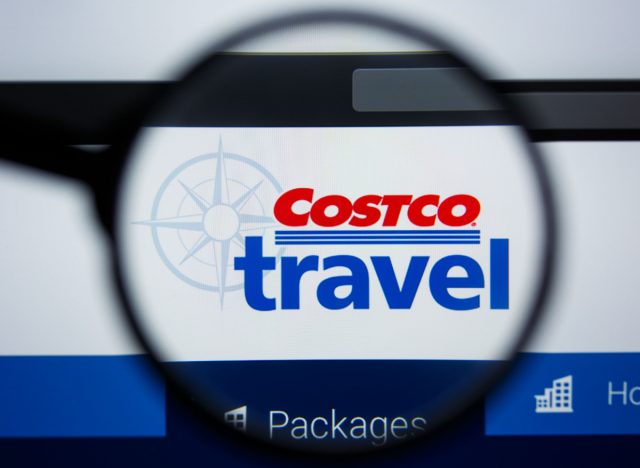 6254a4d1642c605c54bf1cab17d50f1e
When evaluating the membership, you'll want to take into account eligible purchases that count towards the 2% reward. In about half the states, alcohol isn't a valid reward purchase, and other states don't count prescription drugs. That may play into deciding if the membership upgrade is right for you.
Gas, stamps, gift cards and food court purchases aren't eligible in any state. So for those of you hoping to get a $100 kickback solely on $1.50 hot dogs, you'll have to look elsewhere. 
It is applicable on Costco travel, though, so if you are planning a big trip, it's certainly something worth looking into–you'll earn rewards quickly. You may also get additional perks on trips like resort credits or free spa treatments.
The executive membership also gives you smaller bonuses like additional discounts on insurance (car, home, pet) or car purchases. You'll also get a copy of the Costco Connections magazine. Maybe not selling points, but certainly nice-to-haves.
The nice thing is, if you find that the upgraded membership doesn't work for you, you can drop back to a traditional membership and you'll be refunded or prorated depending on when you make that decision, so there's really no harm in trying.
Samantha Lande
Samantha is a freelance writer who covers food, health, wellness and other lifestyle subjects.
Read more about Samantha