The #1 Eating Habit Jennifer Aniston Swears by To Look Amazing in Her 50s
She's really our friend for telling us her secret.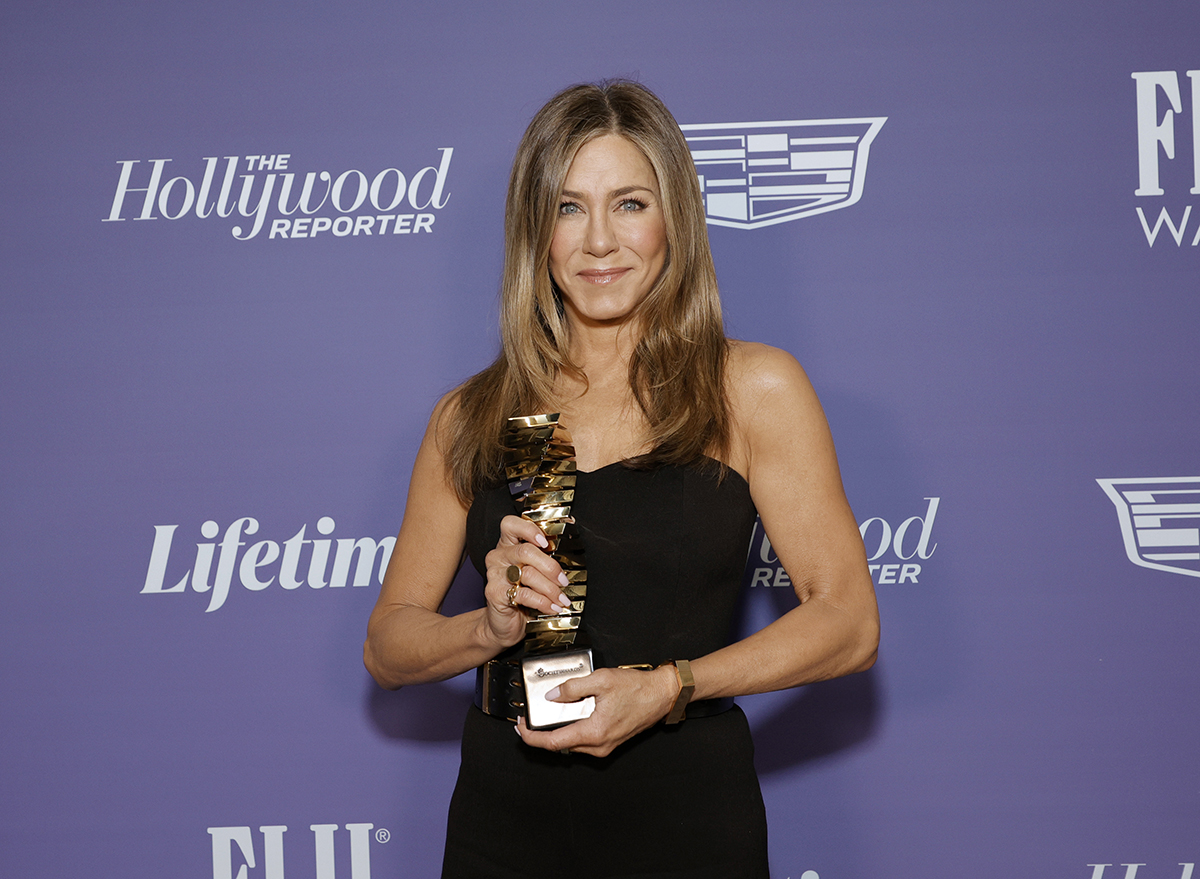 From her huge role as Rachel Green in Friends to making moves on the big screen for countless movies, Jennifer Aniston has always been known to be a beauty icon. As she aged, she only focused more on her health, giving her fans inside tips on her lifestyle regarding fitness and food.
Of course, the reputation of looking flawless throughout her entire career comes with some specifics about how she maintained her beauty, especially now that she's in her fifties. According to her interview with Shape, Aniston's motto is to find a balance between health and indulgence.
"Focus on really being good to yourself but also allow yourself the moments of indulgence," she says in the interview.
This eating habit mentality makes Aniston one of the many celebrities who don't follow a strict diet, instead allowing themselves to enjoy what they eat, even if it's just on occasion. She joins celebrities like Hilary Duff, Jamie Foxx, James Corden, and others.
It's no wonder that this eating habit helps Aniston look flawless in her 50s. That's because the opposite habit—following a restrictive diet—can do more harm than good. For example, it can lead to nutrient deficiencies and even take a toll psychologically; playing with your mind and self-confidence.
Tortilla chips have sought to be Aniston's guilty pleasure food. However, according to Shape, she also enjoys favorite treats like Vital Proteins protein and collagen bars, something she worked with the brand to create.
Although Aniston enjoys her indulgence now and then, she makes sure to stick to her healthy eating habits. Aniston has mentioned focusing on making protein smoothies, following the Zone Diet, and drinking lemon water to stay in her best shape. However, there's also one food in particular that Aniston ate for years. And just like her "well-balanced" eating motto, this food falls well into that category.
The food? A salad that Aniston made every day on the set of Friends.
In the Shape interview, Aniston mentions the popularity of the salad, and how it went viral on Tik Tok thanks to a recent interview. This salad recipe claimed to be the "Jennifer Aniston Salad" that she would make every day while filming the show.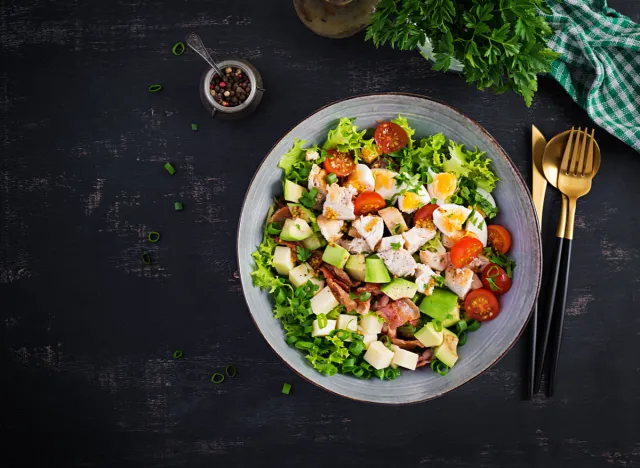 It was what they claimed to be a cobb salad, but with the addition of turkey bacon and garbanzo beans, as well as some other ingredients. Sound delicious, but as it turns out, the recipe was wrong.6254a4d1642c605c54bf1cab17d50f1e
Aniston debunked the salad trend in the interview, saying it was not being made correctly.
"I'm sorry, I feel like I'm disappointing everybody, but that's not my salad," says Aniston in her interview. "It looks delicious, but it's not the salad that I had on Friends."
Aniston says that the salad she actually ate was "totally different." Her salad consisted of a rational array of protein and nutrients. It contained healthier ingredients like shredded lettuce, chicken, egg whites, and a couple of garbanzo beans with a basic vinaigrette. However, she treated herself to adding bacon, and, on occasion, adding some pecorino cheese from a nearby Italian restaurant.
For a woman thriving in her fifties, it only makes sense that she remains at her healthiest, but still remembers to take a step back now and then. This includes not only her diet but her everyday lifestyle, which encourages her fans to follow "just letting it be what it is."
Kayla Garritano
Kayla Garritano graduated from Hofstra University, where she majored in Journalism and double minored in Marketing and Creative Writing.
Read more about Kayla