14 Best Kitchen Tools for Helping Food Stay Fresh
Make a small investment in these kitchen gadgets, and you'll extend your food's longevity and save money for years to come.
This post contains affiliate links. If you use these links to buy something, we may earn a commission.
If there's one silver lining of the coronavirus pandemic, it's that people have become much more creative. We had to learn how to stock a pantry with versatile foods that can be used in countless different dishes. We've had to figure out how to make use of the pantry staples we have to turn them into nourishing meals. And we had to get clever about buying shelf-stable groceries that surprisingly don't need refrigeration. Now, there's one more thing we can say we've mastered: finding ways to make our food stay fresh longer.
To take yet another task off your plate, all you need to do to make sure your cherished food lasts as long as it can (so you don't have to run to the grocery store again) is invest in these kitchen tools. They'll do all the heavy food storage lifting for you, from preventing your potatoes from sprouting to allowing you to finish that avocado days after you slice it open.
On top of investing in these food-saving kitchen tools, double down on your produce storage knowledge by reading up on these 30 Simple Tricks to Make Your Produce Last Longer.
Do you know how grocery stores have those misters in the produce section that come on every few minutes to gently spray a layer of dew on all the veggies? That's because keeping veggies crisp and fresh requires moisture. To mimic the same environment at home, order a set of Vejibags. These cotton bags work by dampening them and tossing in your veggies. It's that easy. This product will extend your vegetables' shelf life in a breathable and humid environment. According to Vejibag, "the slightly moist environment of the bag keeps vegetables crisp far longer than vegetables stored in a plastic bag." Another trick to keeping your vegetables fresh for longer? Make sure you start with the best food you can find by reading up on the 27 Subtle Signs You Just Shouldn't Buy That Produce.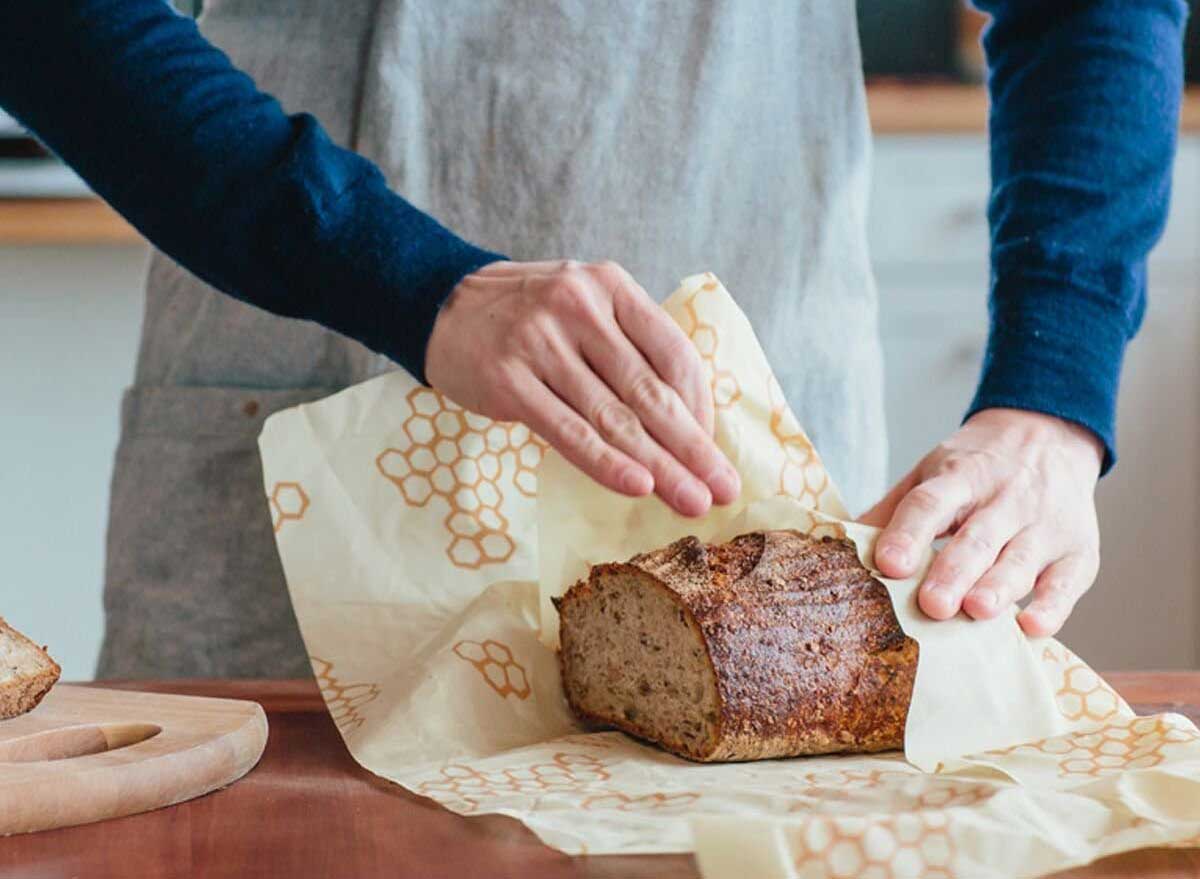 These sustainable, plastic-free wraps are handmade by coating organic cotton with beeswax, organic jojoba oil, and tree resin. Bee's Wax wraps will help your bread and other foods last longer for two reasons: (1) the beeswax has natural antibacterial properties and (2) the wrap allows your food to breathe and while preventing the outer layer from drying out. The wraps will last a year if taken care of properly; just handwash regularly and hang-dry. Bee's Wax also makes wraps specially sized for cheese, and they also come in assorted sizes that you can fold into your own sandwich wrap, use to cover bowls, or wrap produce.
6254a4d1642c605c54bf1cab17d50f1e
Quick-sprouting potatoes begone! The lower ceramic level of this bowl acts like that "cool, dark place" you've been instructed to store your potatoes, onions, and garlic. The cork lid serves a dual purpose: it has insulating properties to keep your root vegetables at a constant temperature while also absorbing extra moisture that can cause foods to spoil faster. You'll find a shallow bowl on top of the cork lid. It serves as a fruit bowl where you can keep fruits that need to breathe, like pears, apples, and avocados.
Ever need only half an onion for your recipe? Of course, you have. We all have. So what do you do with that other half? Haphazardly wrap it up in some plastic wrap and throw it into one of your refrigerator drawers with the hope that you'll remember it's there before it goes bad. For those of us who are a bit more absentminded than others, we have great news for you. You may be able to forget about that onion for longer than you're used to if you invest in a set of Food Huggers. They'll keep your onions, tomatoes, bananas, peppers—basically any fruit or vegetable—from drying out while also saving you from wasting plastic wrap. Bonus: they also double as a lid for jars that you've lost the tops for.
The simple trick that keeps avocados fresh? Store them in the refrigerator. That goes for whole avocados as well as halved avocados. But when it comes to sliced avocados, you can't just toss them in a crisper drawer. Lightly dress them with a splash of vinegar (lime, lemon, or even distilled white vinegar will d0), and then cover tightly with an Avocado Hugger. This gadget is especially useful because it seals off the avocado to any oxygen: the green avocado's enemy that causes premature browning.
The absolute best way to store coffee beans isn't in the freezer. It's on your counter, in whole bean form, at ambient temperature, with as little light and air exposure as possible. If that sounds like a lot to juggle, pawn off the work to this Airscape container. This coffee storage canister has a plunger lid that removes and locks out air and humidity. It also has a two-way valve that releases carbon dioxide to preserve freshness and flavor. Not a fan of coffee? This canister also works for grains, nuts, sugar, cookies, and seeds.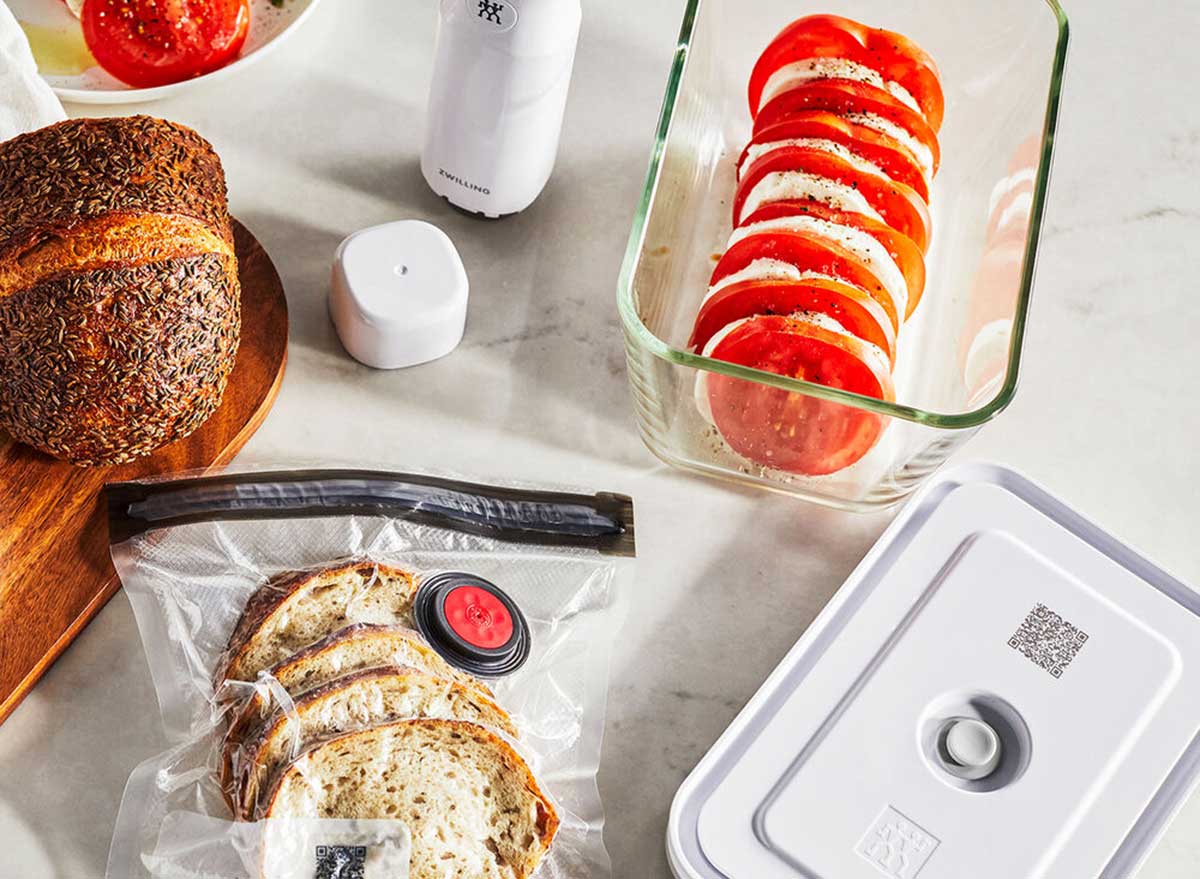 The ultimate way to keep food fresh, prevent freezer burn, and preserve flavor is to remove as much air from touching the food as possible. Zwilling claims that their Fresh & Save technology "keeps food fresh up to five times longer than non-vacuum storage methods." Use their cordless vacuum pump to suck out the air from plastic bags and glass storage containers for optimal food preservation. For the amount of money this tool will save you from preventing food waste, the 100-dollar price tag is entirely worth the investment.
This set by OXO is a classic, trusted food storage container. The lids have a suction element which makes each container airtight, keeping away any oxygen that will accelerate spoilage. We like that these containers are dishwasher safe and stackable, which makes it even easier to organize your pantry.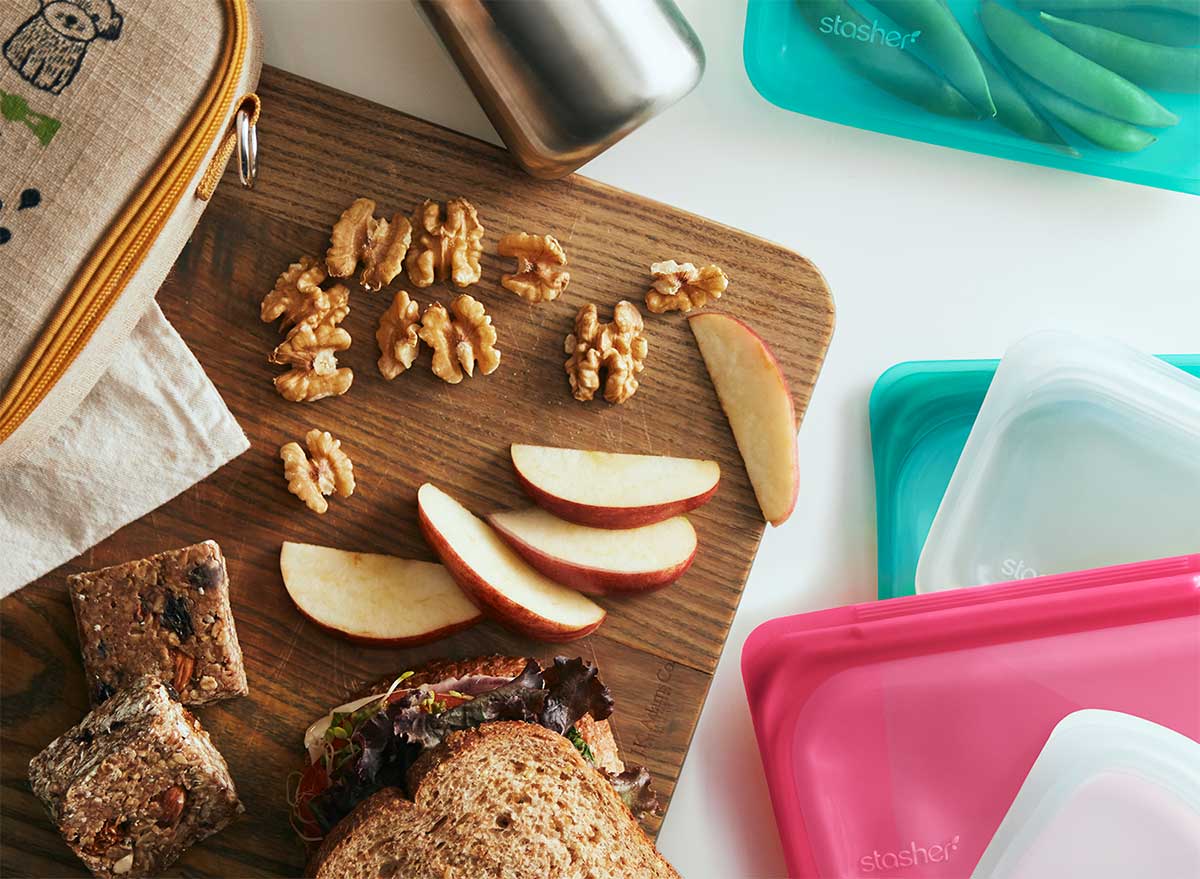 Don't let the rest of those apple slices go to waste. These silicone stasher bags aren't just the perfect substitute for plastic zip-top bags. They also come in handy for storing any and all leftovers in an airtight package. Perhaps the best part of these versatile bags is that they're microwave and freezer safe, which makes it even easier for your leftovers to be heated up for quick eating or frozen to save for later. They come in all different sizes from stand-up bags to half-gallon bags.
STAY INFORMED: Sign up for our newsletter to get the latest coronavirus foods news delivered straight to your inbox.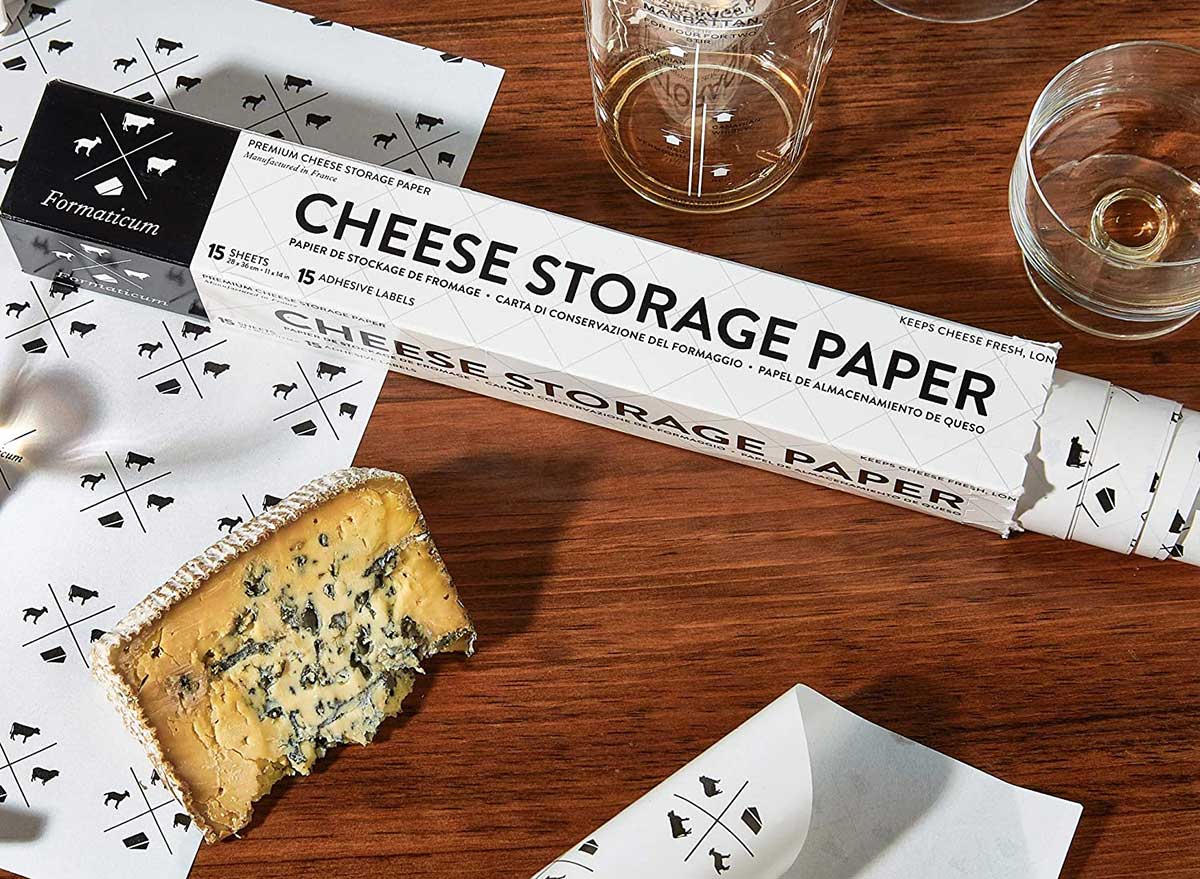 Please stop storing your cheese in plastic wrap. We're not just saying that because it's bad for the environment. (It is.) It's also because storing cheese in tight plastic is bad for the cheese for three reasons, according to Harold McGee in On Food and Cooking: trapped moisture encourages the growth of bacteria and mold; strong smells, like ammonia, will diffuse into the cheese; and plastic chemicals can migrate into the cheese. The solution? McGee suggests loosely wrapping cheese in wax paper, like this two-ply paper from Formaticum.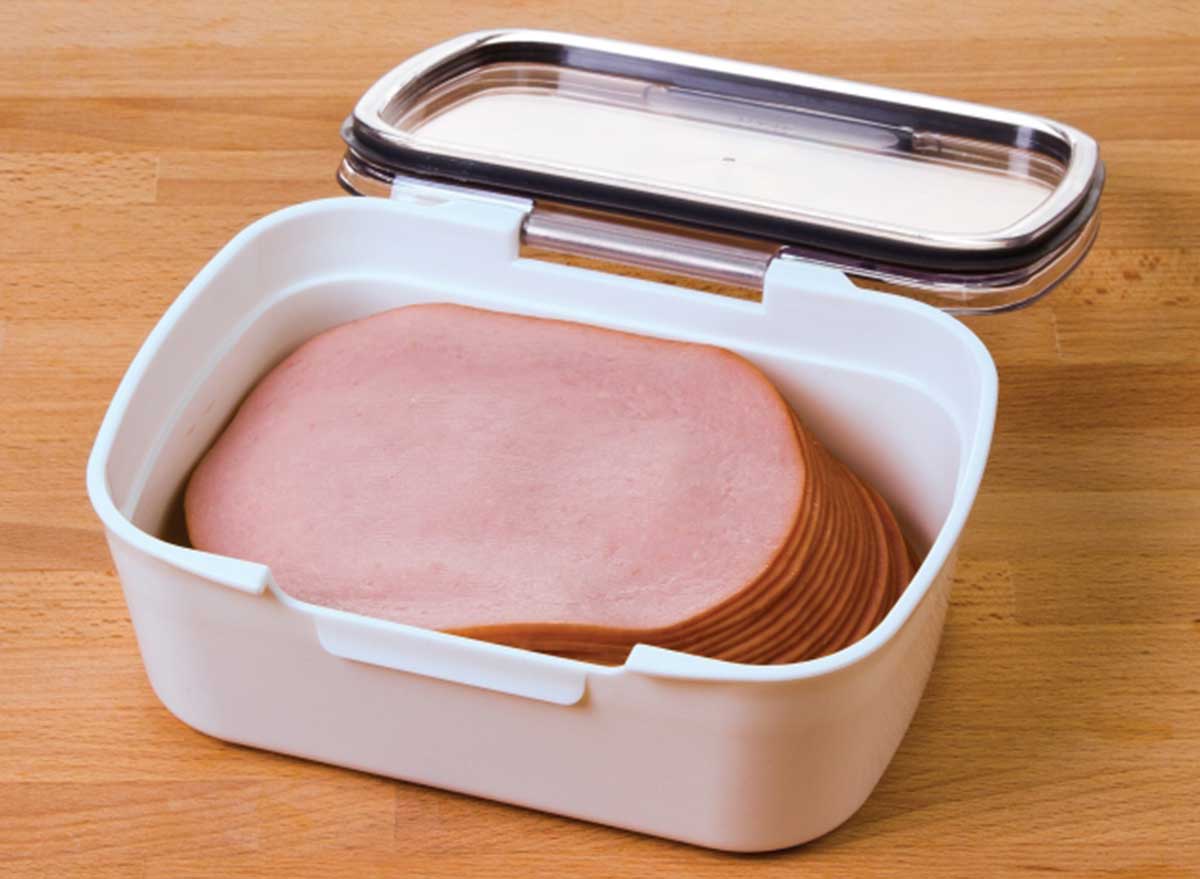 If you love buying deli meat in bulk from Costco, then you should invest in this fun kitchen gadget that will keep your food fresh for longer. You typically need to consume deli meat within three to seven days after opening. Whether you purchased your deli meat from the butcher or in a pack at the grocery store, it's best to transfer your leftovers to an airtight container to keep it at peak flavor (and to prevent any meaty flavors from wafting around in your fridge).
This handy container will keep your herbs in a humid, breathable environment so they can maintain their freshness and color for longer. The best part about this container is that you can adjust the silicone insert to the height of your herbs. So it will work for everything from long-stemmed parsley as well as short-stemmed rosemary. It's also not limited to herbs. You can also store your asparagus, scallions, and celery in this plastic tray. If you don't want to spend money on a gadget, you can also learn about The Single Best Way To Store Fresh Herbs.
Mason Craft & More Food Storage Collection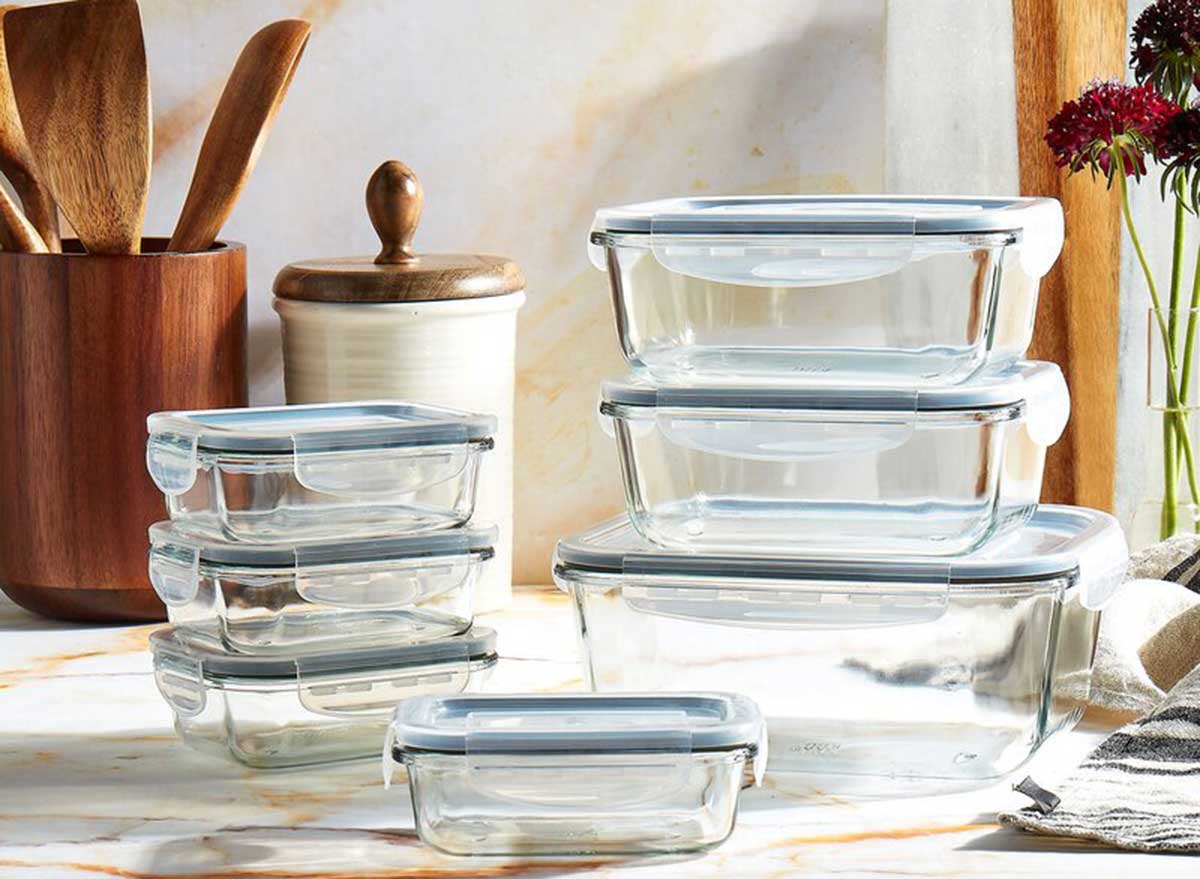 If you haven't already, you need to invest in a durable set of glass storage containers. This set from Mason Craft & More does it all: each container is freezer-safe, microwaveable, oven-safe, and dishwasher-safe. Don't let those leftovers go to waste. Simply store in one of these containers and save it in the freezer. It'll last for months longer than it would in the fridge.
DecoBros Wire Fruit Tree Bowl with Banana Hanger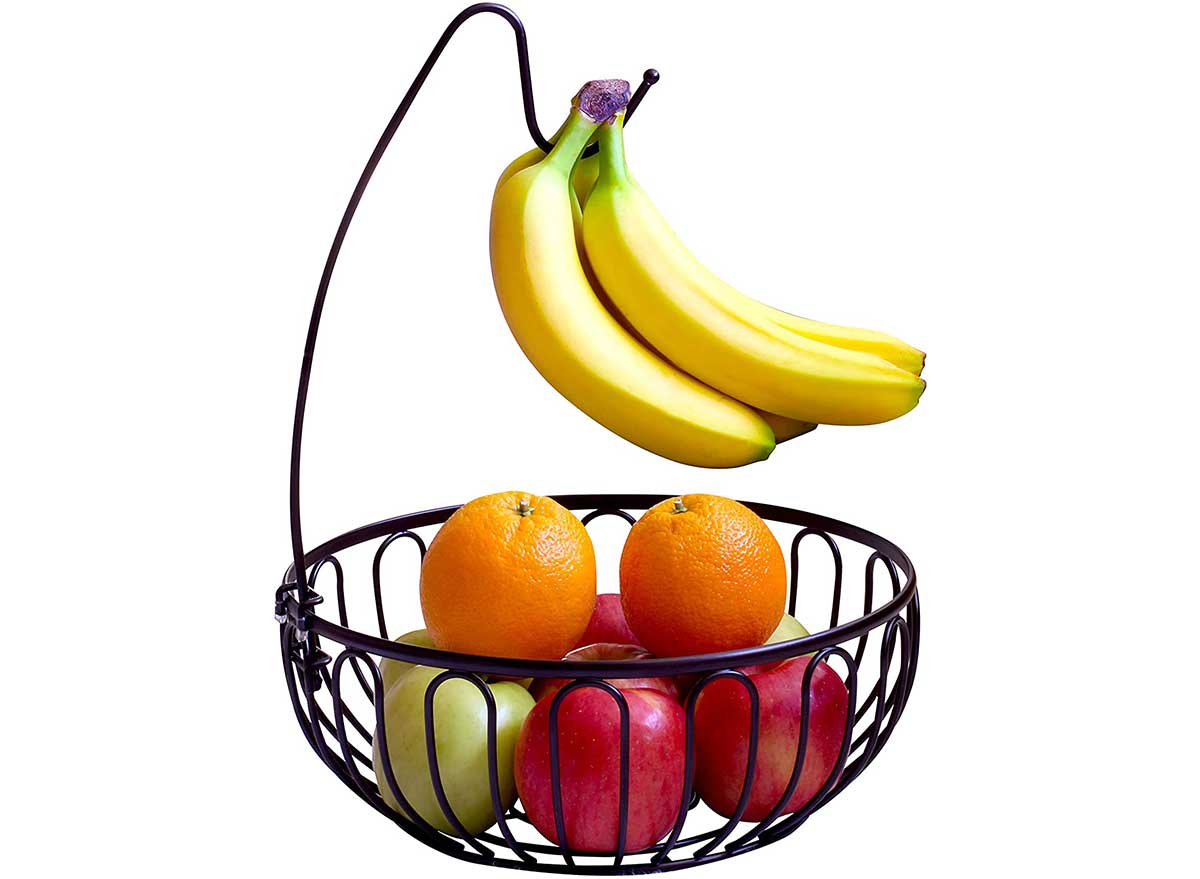 Like avocados, bananas seem to be green one minute and brown the next. While brown bananas aren't the worst thing in the world (you can use them to make the Best-Ever Banana Bread Recipe, after all), they may not serve the purpose you intended them for. To keep bananas fresh for longer, invest in a banana hanger. Bananas emit ethylene gas, which causes them (and other fruits and vegetables around them) to ripen and spoil faster. By hanging bananas on a banana stand in an open environment, it allows for fresh air movement. We like this one that also doubles as a fruit basket—might as well optimize your counter space! Have browning bananas and no desire to bake them? Store them in the freezer with our guide for How to Freeze Fresh Fruits and Vegetables Properly.
Olivia Tarantino
Olivia Tarantino is the Managing Editor of Eat This, Not That!, specializing in nutrition, health, and food product coverage.
Read more about Olivia