9 Best Low-Calorie Breakfasts for Weight Loss
These low-calorie weight loss breakfasts are smart choices to turn to.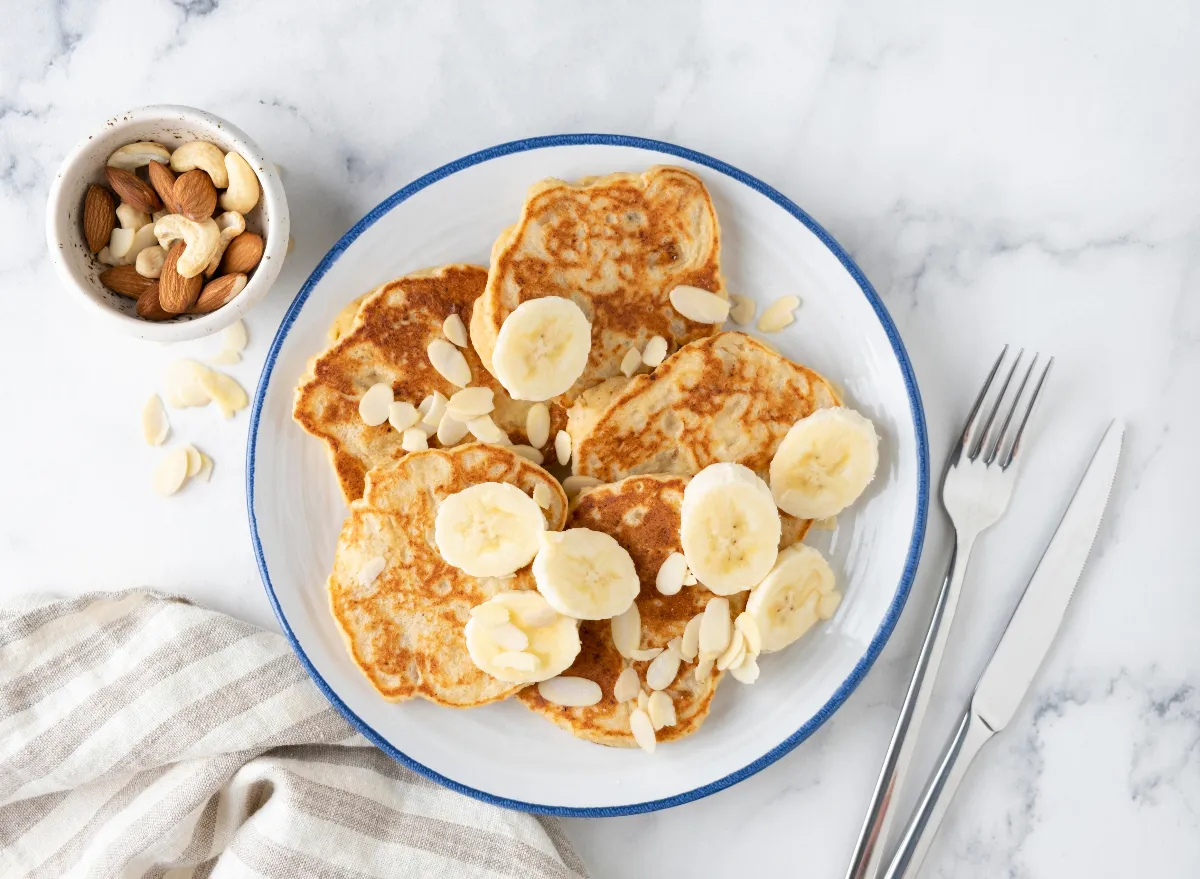 When shopping and meal planning to lose weight, it's always a smart idea to have some healthy, low-calorie breakfasts for weight loss to turn to. After all, research reveals that making breakfast part of your regular routine can keep you from becoming overweight or obese. Plus, a breakfast that's rich in fiber and protein can fill you up, helping you avoid unhealthy snacking throughout the day or overeating during your next meal. That's why we're pro-breakfast and chatted with the experts who break down some of the best low-calorie breakfasts for weight loss that don't sacrifice flavor. Keep reading to learn all about them, and get ready to make some tasty tweaks to your shopping list. And when you're finished, be sure to check out the 10 Best Weight Loss Lunches That Are 400 Calories or Less.
Veggie Omelet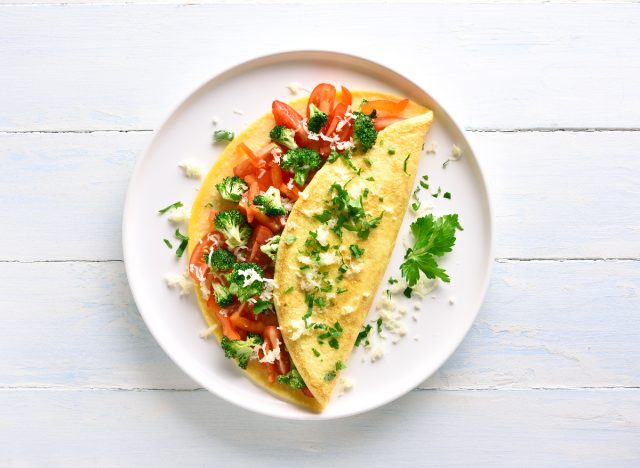 Calories: 151 calories (spinach, 7 calories; two eggs, 144 calories)
A veggie omelet is a classic breakfast for good reason. According to Melissa Mitri, MS, RD, nutrition writer and owner of Melissa Mitri Nutrition, "A veggie omelet is an excellent weight loss breakfast because you can customize it to be low in calories and high in protein—two essential elements of a weight loss meal."
All you need to do is get a small bowl ready, add a few eggs, mix them up with veggies of your choice (such as spinach, onions, peppers, or mushrooms), and then pour the mixture into a sauté pan. "Pair your veggie omelet with a side of whole-grain toast for an extra boost of fiber to keep you full and support weight loss," Mitri suggests.
Protein Oats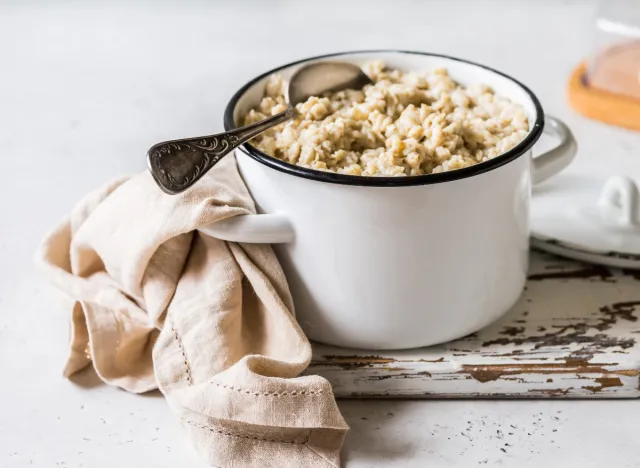 Calories: 329 calories (1/2 cup of oats, 154 calories; 1 scoop of protein powder, 175 calories)
"Protein oats, sometimes called 'proats,' are a high-protein spin on traditional oatmeal," says Mitri. "Adding extra protein to your oatmeal helps satisfy cravings and regulate blood sugar levels, promoting healthy weight loss."
Preparing proats is so simple! Just mix your go-to protein powder into your oatmeal after cooking it. Consider topping off your proats with nut butter, fresh fruit, and seeds for an additional vitamin and mineral boost.
Greek Yogurt with Berries
Calories: 134 calories (Greek yogurt, 92 calories; 1/2 cup of blueberries, 42 calories)
If you don't have time to cook, Greek yogurt with berries is a no-fuss, weight-loss-friendly breakfast option. "Greek yogurt is high in protein and low in calories, but make sure to choose an unsweetened or plain variety to avoid extra added sugars," Mitri says. "Pair your Greek yogurt with a fruit of your choice, such as my personal favorite, mixed berries."
Tofu Scramble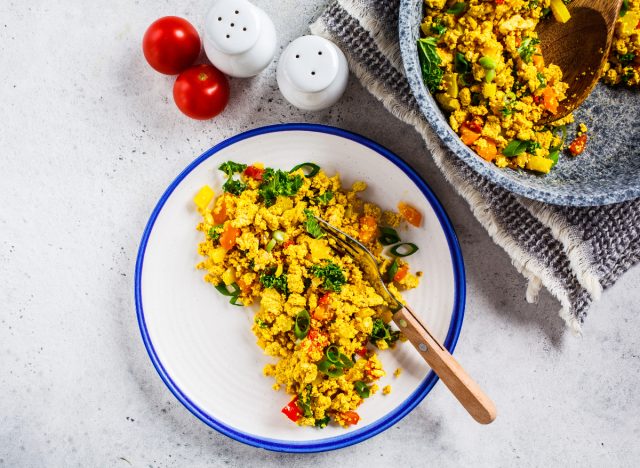 Calories: 414 calories (1 block of tofu, 405 calories; 1 tsp. of turmeric, 9 calories)
A tasty tofu scramble is an excellent vegan alternative to scrambled eggs, and Mitri says it can provide more than 20 grams of plant-based protein!
"To make a tofu scramble, crumble a block of extra-firm tofu into a pan, and sprinkle with turmeric, the key ingredient that makes the tofu look yellow. Then, add in your favorite vegetables for extra fiber and nutrients," Mitri instructs. "Turmeric is known for its anti-inflammatory properties, which are beneficial for weight loss because high levels of inflammation in your body are associated with an increase in weight gain."
Sweet Potato and Egg Hash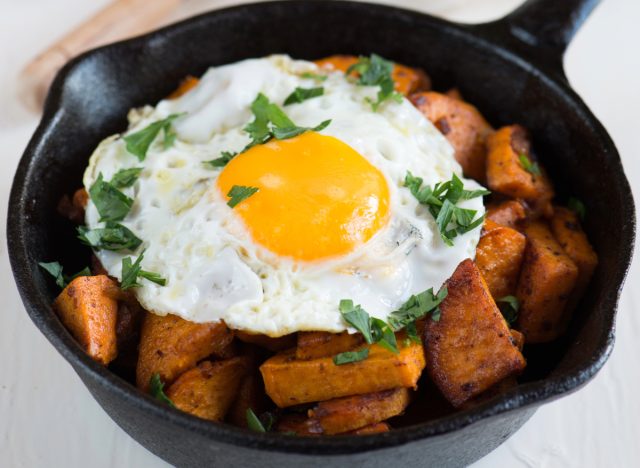 Calories: 265 calories (two eggs, 144 calories; 1 cup of cubed sweet potatoes, 114 calories; 1 cup of spinach, 7 calories)6254a4d1642c605c54bf1cab17d50f1e
A sweet potato and egg hash is a classic choice for breakfast. The best part? It doesn't contain a lot of calories, and it's full of nutrients. You can even have fun customizing your breakfast has with veggies like mushrooms, bell peppers, or spinach.
"Using sweet potatoes instead of white potatoes helps to lower the glycemic index, meaning it won't spike your blood sugar," Mitri says. "This is beneficial for losing weight and overall health."
Banana Protein Pancakes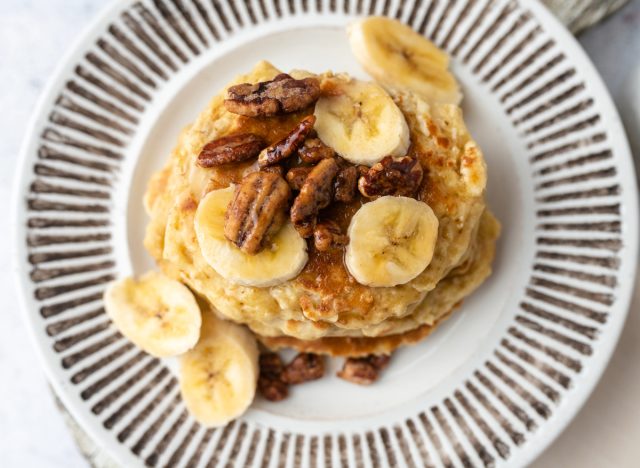 Calories: 309
These banana protein pancakes are recommended by The Nutrition Twins®, Tammy Lakatos Shames, RD, CDN, CFT, and Lyssie Lakatos, RD, CDN, CFT, who sit on our Medical Expert Board. They're seamless to whip up and only call for three ingredients—eggs, very ripe bananas, and cinnamon.
"They're a score with each naturally sweet pancake only being 132 calories with 8 grams of protein," The Nutrition Twins tell us. "Bananas add the perfect no-sugar-added, energy-boosting, fiber-rich sweetness, and they contain potassium to help counteract sodium that may be causing bloat from a salty dinner from the previous night." Consider topping off your two pancakes with 1/3 cup of nonfat Greek yogurt for a skinny total of 309 calories and 24 grams of protein, The Nutrition Twins suggest.
Get the full recipe here from The Nutrition Twins.
Simple Berry-Stuffed Egg Crepes with Grains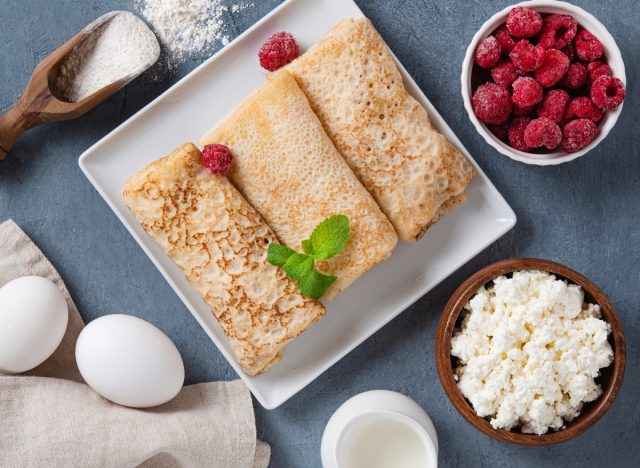 Calories: 325
If you're in the mood for something sweet yet savory and satisfying, look no further than these berry-stuffed egg crepes. "The secret to keeping this easy-to-prepare, satisfying, weight loss breakfast low-calorie is the inclusion of one whole egg and several egg whites since the whites are higher in protein but lower in calories, so they fill you up with very few calories," The Nutrition Twins explain. "Eggs have been shown to reduce body weight and food intake and to promote satiety by increasing GLP-1 hormone, the hormone that is activated by weight loss drugs like Ozempic that slows food emptying from the stomach."
To prepare these delightful breakfast crepes, stir the eggs in a bowl, and then microwave them. Use a spoon to scoop out the "crepe." Add your berries, fat-free feta, and a drizzle of honey to the center of the crepe. Fold your crepe in half, and enjoy!
Get the full recipe here from The Nutrition Twins.
Pea Protein & Blueberry Breakfast Smoothie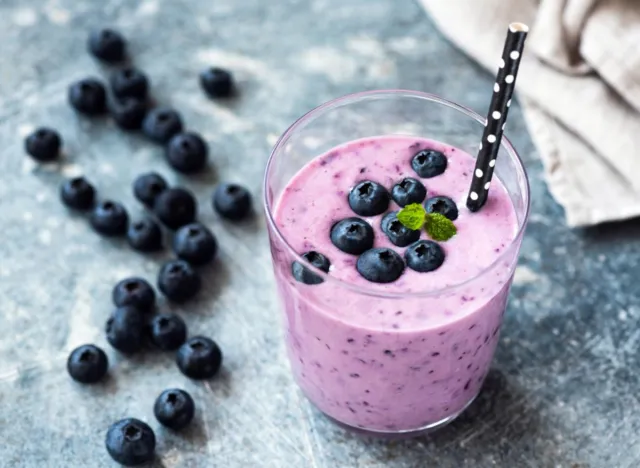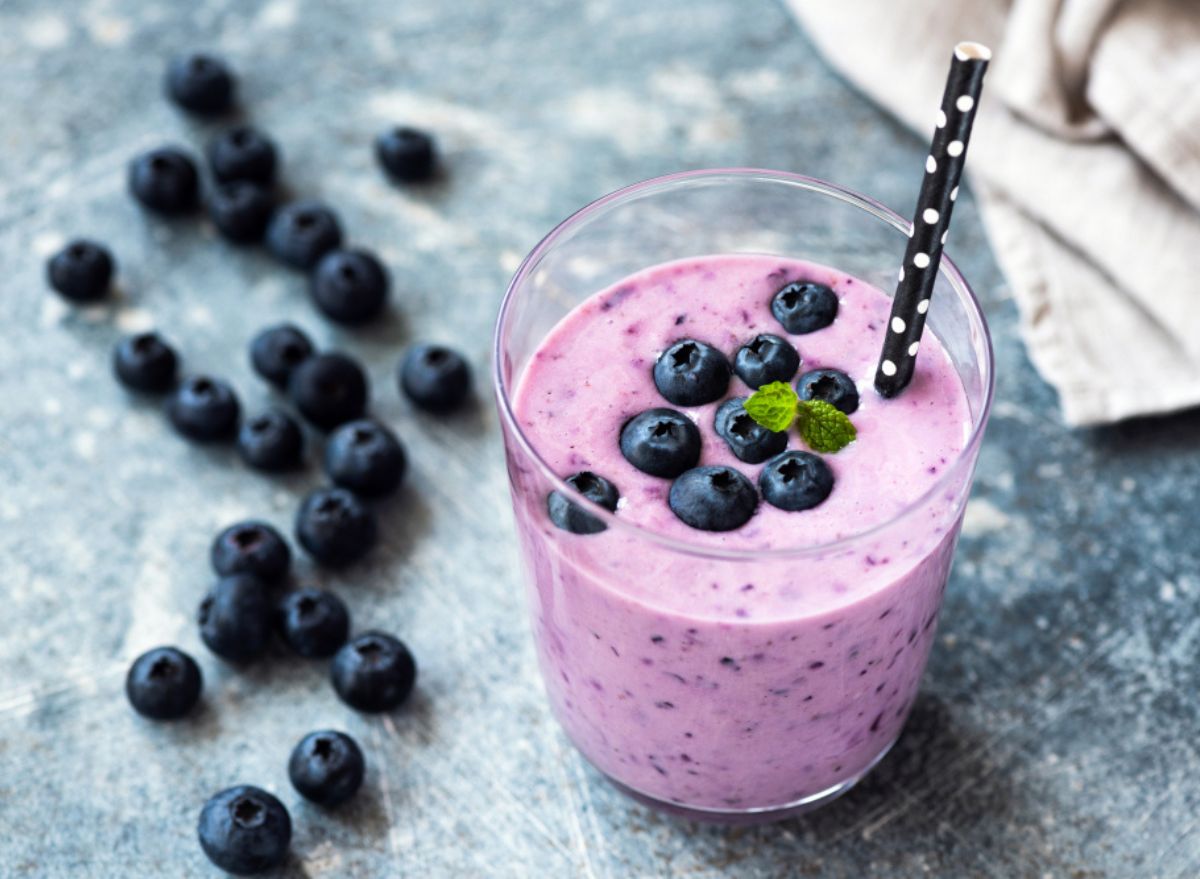 Calories: 192
Smoothies are quick, seamless to blend together, and perfect for busy mornings when you're on the go. "[They also] set the tone for a healthy day," The Nutrition Twins add. "In only 120 calories of pea protein, you get a whopping 25 to 30 grams of protein, which, combined with the fiber in the blueberries, provides staying power, so you don't end up at the drive-through an hour later. A cup of sweet blueberries is only 80 calories, so they're the perfect way to naturally curb your sweet tooth." Plus, research shows the addition of pea protein can aid in your weight loss efforts.
Get the full recipe here from The Nutrition Twins.
Cinnamon Oatmeal with Cottage Cheese
Calories: 308
In this recipe, oatmeal and nonfat cottage cheese come together to create the ultimate pairing. This cinnamon oatmeal with cottage cheese is less than 310 calories, and its protein and fiber content will set you up for satiety success. "[In addition,] the cinnamon is a natural way to add sweetness to the meal without added sugar, and cinnamon has been found to reduce body weight and belly fat, helping to prevent against obesity," The Nutrition Twins add.
Alexa Mellardo
Alexa is the Mind + Body Deputy Editor of Eat This, Not That!, overseeing the M+B channel and delivering compelling fitness, wellness, and self-care topics to readers.
Read more about Alexa
Sources referenced in this article