McDonald's New & Improved Burgers Have One Major Flaw, According to Customers
Not all customers are lovin' the burger changes.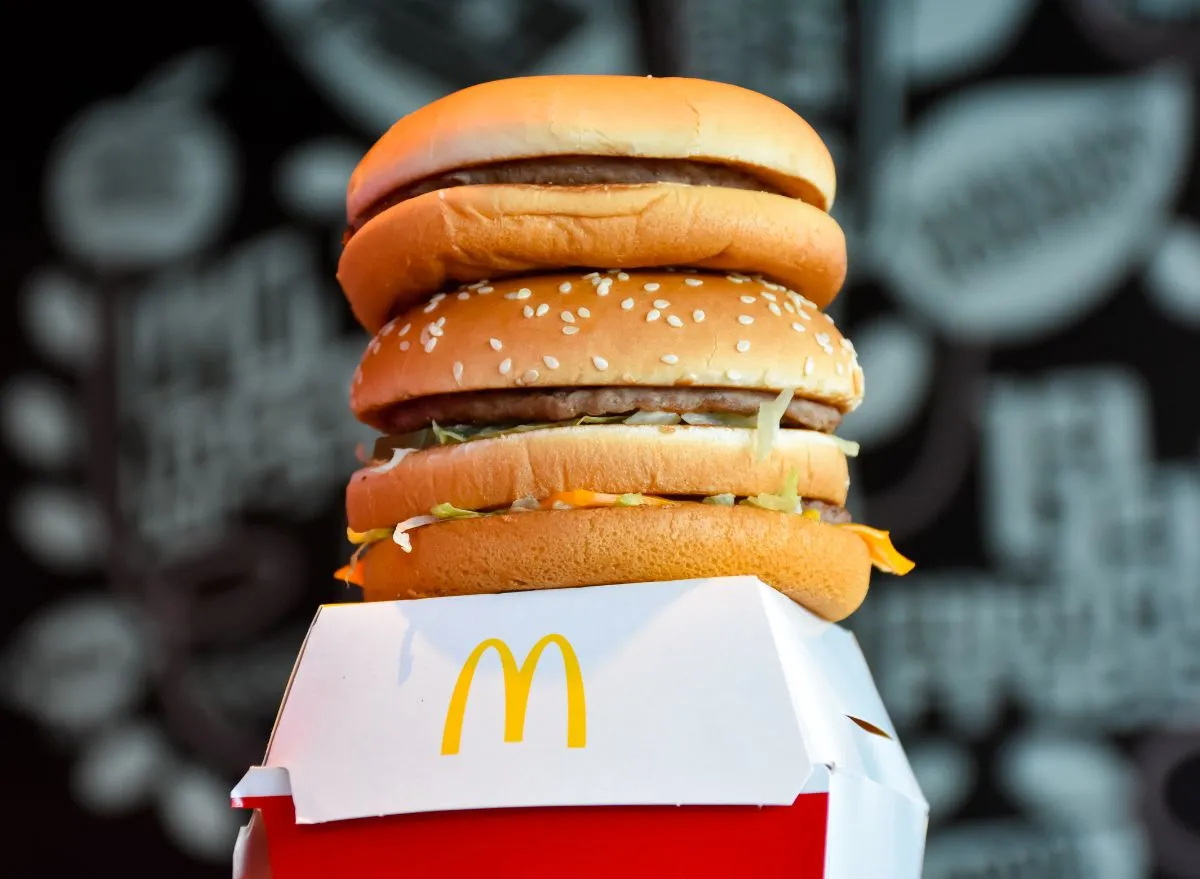 It's an exciting time to be a McDonald's fan. In the past week alone, the fast-food giant brought back its ultra-popular Spicy Chicken McNuggets, announced that it will launch its fan-favorite Big Mac sauce in dip cups, and, most importantly, unveiled some major upgrades for its signature burgers.
These upgrades include using softer toasted buns, ensuring cheese is perfectly melted, and adding more of that special sauce to Big Macs. But another change that involves cooking onions directly on McDonald's burger patties seems to be leaving an unintended bad taste in customers' mouths.
While McDonald's promises that adding white onions to its burger patties will give them a "juicier, caramelized flavor," customers who don't like onions are outraged that certain burgers will automatically come with them moving forward. 
"I hate onions, literally can't stomach them. McDonald's will be dead to me if they make this change where I am," one person commented on a Reddit post about the change.
"I guess McDonald's really doesn't want my business," another wrote on Twitter in response to the news.
The enhanced McDonald's burgers don't have onions incorporated directly in the patties, but diced onions are sprinkled on top as the burgers cook on the grill. McDonald's isn't the first fast-food brand to adopt this method. White Castle places its slider patties directly onto a bed of diced onions so they're infused with the flavor as they cook.
Still, fans are also concerned about how McDonald's burger enhancement will affect those who have onion allergies and sensitivities. Some customers suggested simply ordering burgers without the onions, but even this potential solution has not completely quelled the concerns.
One fan, for example, asked McDonald's on Twitter if it was planning to accommodate those with allergies and sensitivities by cleaning and sanitizing grills before they cook burger patties without onions. Others say they're already coming to terms with the possibility that they won't be able to eat at McDonald's anymore for health reasons due to the change.
"I have a significant intolerance to onions. They make me quite ill within 15 -20 [minutes]. So when I heard about this new recipe McDonald's is rolling out, my first thought was I won't be able to eat burgers there," a customer tweeted.
McDonald's did not immediately respond to our queries for comment. 
The chain plans to roll out the burger upgrades at all restaurants in the United States by 2024, though some markets on the West Coast are already serving the new and improved burgers. The changes will only apply to the Big Mac, McDouble, cheeseburger, double cheeseburger, and hamburger.
To help promote the upgrades, McDonald's has resurrected the beloved Hamburglar mascot for some brand-new commercials where he's back to his "old burger-snatching tricks."6254a4d1642c605c54bf1cab17d50f1e
Zoe Strozewski
Zoe Strozewski is a News Writer for Eat This, Not That! A Chicago native who now lives in New Jersey, she graduated from Kean University in 2020 with a bachelor's degree in journalism.
Read more about Zoe