McDonald's Is Launching 2 New Dipping Sauces—And One Is a Breakfast First
Get ready to dunk your Mickey D's into something new.
McDonald's fans are passionate about quite a few items on the fast-food giant's menu. Its trademarked World Famous Fries rise to the top of the list. Chicken McNuggets are another eternal fan fave, and so are the various dipping sauces that accompany them.
In fact, few things put the Golden Arches faithful in a tizzy quite like some buzzy new goop that you can dunk your nuggs or fries into. Consider the fuss over 2021's limited-edition Cajun and Sweet Chili Sauces that came with the BTS meal, or the brief return of the sensational Szechuan Sauce in 2022.
Soon, customers will have two brand-spankin' new sauces to soak up. McDonald's announced today a pair of debut dips coming to restaurants in early October.
"These are cult classics—guaranteed," said chef Jerome Grant, a member of McDonald's culinary advisory council, during a tasting event showcasing the new sauces in New York City. Grant, operator of the Filipino-inspired pop-up Mahal BBQ in Washington, D.C., described the new fast-food offerings as "high-end-restaurant-quality sauces."
First up, the new Sweet & Spicy Jam is billed as the chain's "first-ever breakfast-inspired dipping sauce." Chef Mike Lingo of McDonald's menu innovation team described it as a take on Southern-style pepper jam. The zippy red sauce gets its spicy kick from Sichuan and cayenne peppers, with an added kiss of apple cider vinegar. Lingo said the pungent jam was specifically designed to slather on breakfast sandwiches like McDonald's Bacon, Egg & Cheese Biscuit: "It's got a lot of sweetness, sugar, acid—all these fun elements that are really going to play well with that biscuit."6254a4d1642c605c54bf1cab17d50f1e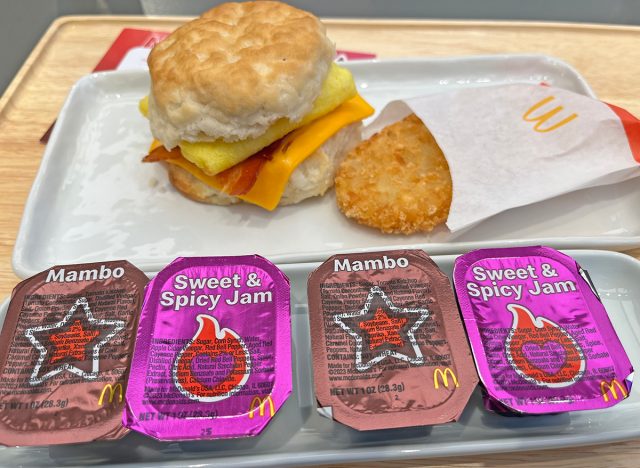 The other newcomer is McDonald's Mambo Sauce, inspired by the regionally famous sweet-and-tangy topping native to the Washington, D.C., area. If you've ever ordered chicken wings from a D.C. carry-out joint, then you probably know about mambo sauce, aka mumbo sauce. You may have also spotted bottled versions of the special sauce at your local supermarket.
"Ours is a little different," Lingo said, noting the McDonald's version has "a little more kick" than the typical "barbecue-esque" D.C. standby. "It's not hot hot, it's more of a spice flavor," added Grant, who also raved about the fast-food product's viscosity. "It looks great, and when you dunk your nugget into it, you just see it coat that thing perfectly."
Grant and Lingo visited mumbo sauce hotspots like Howard China in Northwest D.C. while developing McDonald's version. "This is something that folks have always talked about. If you go to D.C., you've got to get mumbo sauce," said Grant. "McDonald's highlighting our culture and actually allowing me to be a part of it and help push it out to the world, that's been an amazing experience."
Grant predicted that McDonald's Mambo would resonate well, even with D.C. partisans.
McDonald's isn't the first major fast-food chain to put out a version of the national capital's indigenous condiment. KFC previously offered a mambo-style sauce at select locations in 2021.
"We get inspiration for the food our fans love by exploring the incredible tastes and flavors found in communities across the country," said Tariq Hassan, McDonald's chief marketing and customer experience officer, in a press release. "Sweet & Spicy Jam and Mambo sauce live at the intersection of flavor and culture—pulling from decades of rich food history and tradition in local restaurants and home kitchens, and bringing the delicious spice, sweetness and kick of heat we know today's customers are craving."
Both sauces will be available to McDonald's customers at participating restaurants for a limited time, starting on Oct. 9.
Though the official announcement from McDonald's came this morning, food influencer Markie Devo revealed the new sauces on social media a day earlier, complete with a photo of the sauce packs allegedly leaked by a McDonald's employee. Devo's post on Instagram racked up over 2,700 likes and generated numerous comments, ranging from "wowowowow these sound great" to "what's mambo?" Devo and several commenters also included references to the infectiously catchy 1999 pop song "Mambo No. 5."
The new sauces are only the latest additions to McDonald's menu this fall. The chain recently brought back its popular Spicy Chicken McNuggets, as well as its seasonal Pumpkin Spice Latte, albeit only in select markets.
Chris Shott
Chris Shott is the Deputy Editor covering restaurants and groceries for Eat This, Not That!
Read more about Chris