I Tried 9 Microwave Popcorns & The Winner Was Cheap, Crunchy & Not Too Sweet
Your options are endless when it comes to microwave popcorn these days, but which brand tastes the best?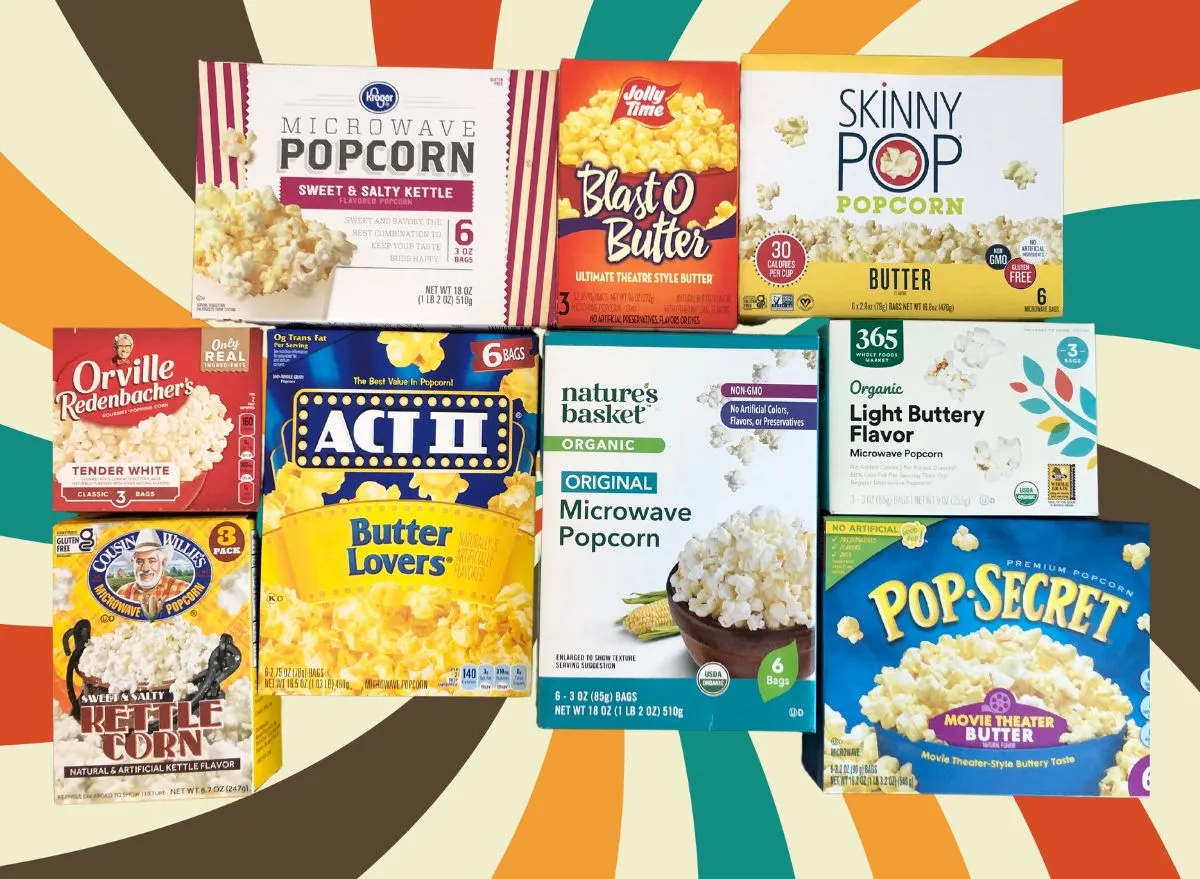 The product recommendations in this post are recommendations by the writer and/or expert(s) interviewed and do not contain affiliate links. Meaning: If you use these links to buy something, we will not earn a commission.
There's no other snack food that lures you in quite like popcorn. Whether you're attending a sporting event, meandering about a county fair, or seeing a movie at the theater, its presence is always felt and is quite enticing.
Just the process of popping popcorn is a production in and of itself. The kernels dance about and go off with a bang as they finally sprout into final form. Pieces then spill over and collect in mounds, just waiting to be eaten. But, the most irresistible part is the smell. Whether it's buttered popcorn, kettle corn, or even caramel corn, the aroma of this fiber-packed snack has the power to sweep you right off your feet and into the concessions line.
But, what happens when people want to experience this feeling and taste at home? This is certainly possible, and there is actually evidence that people have been popping corn for thousands of years. However, at-home popcorn making became much easier and more widespread in the early 1980s with the introduction of microwave popcorn. Ever since this snacking breakthrough, companies have been as busy as popcorn on a skillet, working to ensure their unique product gets a seat on the shelf.
Out of the medley of popcorn options currently available, I wanted to find out which brands really know their stuff, and deliver a product that is airy, slightly salty, and positively addicting. I gathered up a few long-standing brands like Orville Redenbacher, as well as some newfound favorites, and ensured my microwave was plugged in and ready to go. So, get your red and white striped bags ready, and let's dive into the buttery and sweet findings to unveil the true king of microwave popcorn.
365 Organic Light Buttery Flavor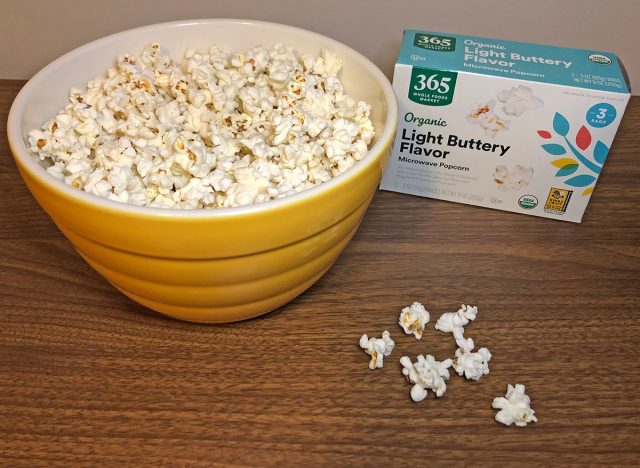 PER 1 CUP POPPED
: 30 calories, 0.5 g fat (0 g saturated fat), 45 mg sodium, 5 g carbs (<1 fiber, 0 g sugar), <1 g protein
Whole Foods' 365 brand is a treasure trove of pantry staples, frozen products, beverages, even dietary supplements, and more, all of which meet high standards in terms of both ingredients and sourcing. Among these items you'll find a line of organic microwave popcorn, which I found in a Light Buttery Flavor, priced at $2.79 for three bags at my local market. The product does, in fact, keep things clean and simple with just four organic ingredients: popcorn, expeller pressed palm oil, salt, and natural flavor. Customers can also choose between a full Buttery Flavor or one with no oil or salt added.
The Look: Alabaster and bare–the light butter does not expose itself. Pieces are a tad small and also did not want to be released from the microwavable bag. It took some crunching and finagling to convince all the popcorn to fall into my bowl.
The Taste: Dry and bland. The kernels are crunchy, but it's like munching on air that simultaneously sucks the moisture from your mouth. I think the butter and salt are just a myth because I didn't notice much of either. I would hope that maybe the brand's Buttery Flavor does it a little better.
Nature's Basket Organic Original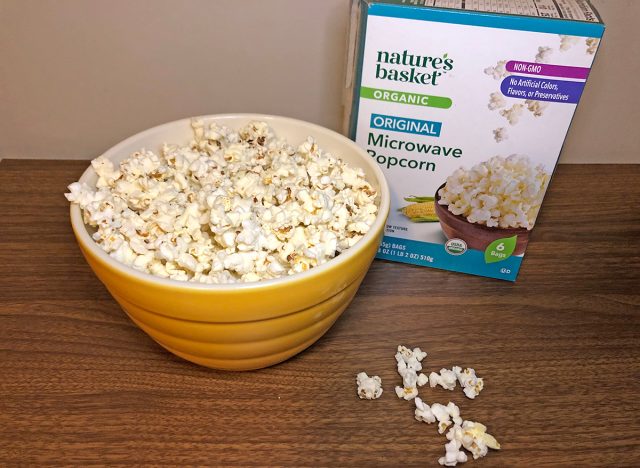 PER 1 CUP POPPED
: 25 calories, 0.5 g fat (0 g saturated fat), 65 mg sodium, 5 g carbs (<1 fiber, 0 g sugar), <1 g protein
Nature's Basket is to Giant Eagle what 365 is to Whole Foods. In other words: the house brand. But, since Giant Eagle locations are confined primarily to the Midwest, the brand's products aren't as widespread or well-known. Luckily, here in Columbus, Ohio, I'm in close proximity to a store, and was able to snag a six-pack box of the Nature's Basket Original Microwave Popcorn for $5.99. It's organic, non-GMO, and consists of just yellow popcorn, palm oil, and salt. For those looking to spice things up a bit, the popcorn also comes in an alternate butter flavor.
The Look: Cream colored with the slightest tint of yellow. Overall, it's not very inspiring and I wasn't all that enthusiastic to try it. The bag did offer the highest volume of popcorn, though. Popped kernels jumped out of the bag and almost had me reaching for a larger bowl.
The Taste: Flat and even stale in spots. The popcorn's appearance is very telling and my gut feeling was definitely right on this one. There is a teensy bit of salt on some pieces, but not all. So, the rest resolves to just something to crunch on and fill you up—and it definitely will with the amount that was popped.
Pop Secret Movie Theater Butter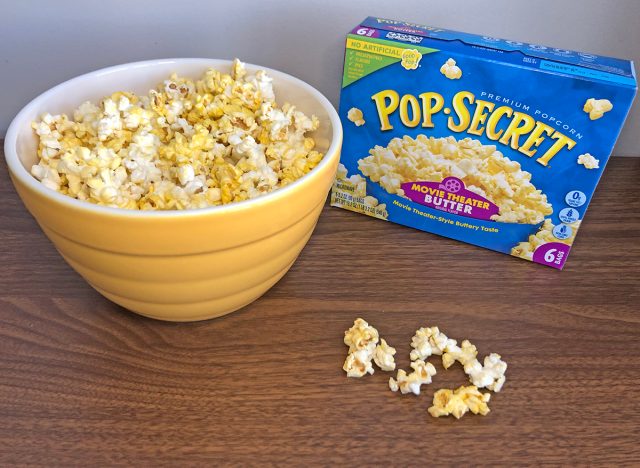 PER 1 CUP POPPED
: 30 calories, 2 g fat (1 g saturated fat), 65 mg sodium, 3 g carbs (0 fiber, 0 g sugar), 0 g protein
This is one secret which has not been kept under wraps. In fact, customers all across the country are likely familiar with the Pop Secret name, as it is sold at gobs of major retailers including Walgreens, Target, and CVS. You can also find it at Kroger, which is where I picked up a $5.29 box containing six bags of Movie Theater Butter Popcorn. If butter isn't a cream-of-the-crop flavor in your opinion, the brand also has a few options which lean more towards sugary rather than savory, including Kettle Corn and Sweet & Crunchy Caramel Corn.
The Look: More ivory white than dark yellow since the butter is not very well distributed. And, some pieces were even a little burnt. The bag is also smaller than others. But, it came out of the microwave absolutely bursting and dripping with oil. Maybe that's where all the missing butter went!
The Taste: Lackluster for a "movie theater butter" popcorn. But, what it lacks in butter it does make up for in salt. So, none of my bites were completely devoid of flavor. I also didn't get a lot of crispness from the popcorn, and some pieces even tasted stale despite being fresh from the bag and still warm. The few corn bits which were burned slightly didn't help either, making Pop Secret a very middle-of-the-road option.
RELATED: I Tried 8 Frozen Pot Pies & 2 Brands Were Tough to Beat6254a4d1642c605c54bf1cab17d50f1e
Skinny Pop Popcorn Butter
PER 1 CUP POPPED
: 30 calories, 1.5 g fat (0 g saturated fat), 45 mg sodium, 4 g carbs (1 fiber, 0 g sugar), 0 g protein
If you didn't know that Skinny Pop is also now sold in microwavable form, you're not alone. The brand unveiled its guilt-free, pre-popped bags of popcorn in 2010, a collection which now includes the original flavor, plus seven different seasoned options like White Cheddar, Twist of Lime, and Sea Salt & Pepper. And, in 2017, it decided to throw its hat in the microwavable ring, thus extending its product line and reach.
For six bags of the butter-flavored microwaved variety, I paid $6.79, and was hopeful it would live up to Skinny Pop's flagship product.
The Look: Jumbo-sized pale yellow flakes (the popcorn industry's term for a popped bit) with loose kernels floating around. I don't know how the popcorn grew to the size it did, it almost appeared to be genetically modified or something. I would also give the bag a 0 out of 10 rating. It ripped in the wrong area, sending popcorn flying through the air and leaving me to cut open the remainder.
The Taste: Salty but light on the butter. You would think a product labeled "butter" and with yellow coloring all around its box would have a more pronounced flavor. Alas, it does not. A few pieces not only didn't taste like butter, but they alternatively exhibited a strange corn husk taste. Unfortunately, I think I will be sticking to Skinny Pop's original popped form in the future.
Act II Butter Lovers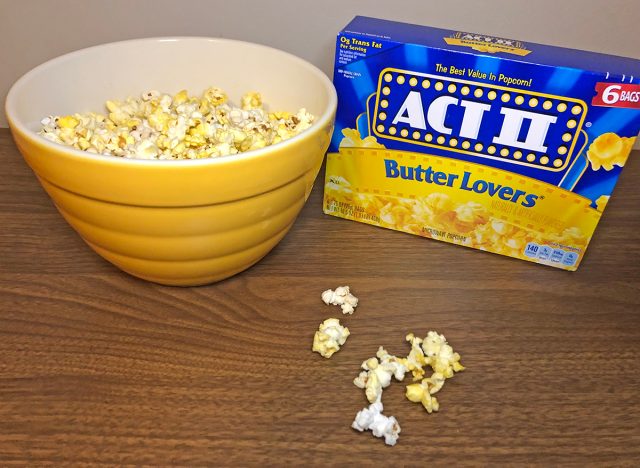 PER 1 CUP POPPED
: 25 calories, 1 g fat (0.5 g saturated fat), 45 mg sodium, 3 g carbs (<1 fiber, 0 g sugar), <1 g protein
Act II really plays into the whole movie theater angle of popcorn with its marquee sign logo and the colored film strip running across each box. This was a favorite in my household growing up—specifically the Butter Lovers variety—but it took me until now to learn that the brand actually used to be called Act I. It didn't level up to its new name until 1984 after microwavable popcorn bags were developed and the company released its ingenious new shelf-stable and non-refrigerated product.
Over the years, Act II has debuted multiple buttery spinoffs, kettle corn, a fat-free popcorn, and even a Hot & Spicy rendition which shares the same color as Flamin' Hot Cheetos. Just for the nostalgia factor, I stuck with the flavor I know best, and the cost of admission to the Butter Lovers club was $4.39 for six packets, or just 73 cents per bag. I guess the brand didn't lie when it claimed to be "the best value in popcorn."
The Look: A mix of both canary yellow and off-white pieces. The amount of buttered popcorn offsets the non buttery flakes, but it's still less colored than I seem to remember. Additionally, the bags may come at a low cost, but they also came with the least amount of popcorn, leaving lots of extra room at the top of my bowl.
The Taste: Nothing showstopping. It's both light on salt and low on butter for a "Butter Lovers" product. There's a decent natural flavoring on the pieces which have been largely untouched by the butter. But, everything is a little dense without that big satisfying crunch—especially once it has cooled down significantly. So, I don't think I'm completely closing the curtain on this childhood fave, but there are certainly other brands which I think deserve more praise and spotlight.
Jolly Time Blast O Butter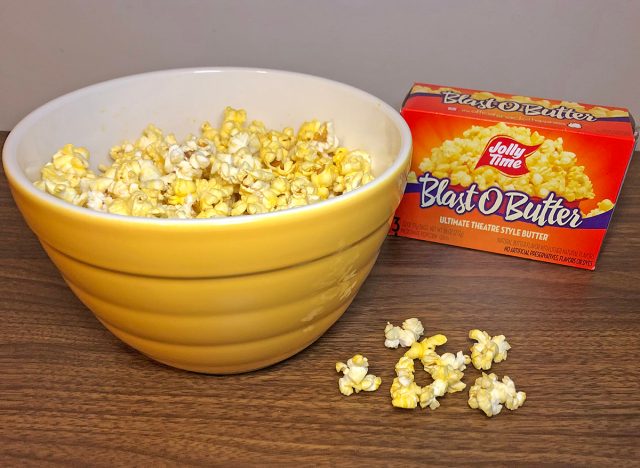 PER 1 CUP POPPED
: 45 calories, 3 g fat (1.5 g saturated fat), 95 mg sodium, 4 g carbs (<1 fiber, 0 g sugar), <1 g protein
As I was perusing my local Kroger's popcorn selection, which is rather extensive, this brand popped into my view. It's one I had never tried or even noticed before, but figured with a name like Jolly Time, how could it possibly be bad? The goofily named Blast O Butter flavor also stuck out to me, so that's the option I reached for at a cost of $3.99 for 3 bags.
Upon some further research, I also discovered that the brand has been the self-proclaimed "Official Snack of Happiness" for almost 110 years now, with the Smith family at the helm. And, in addition to Blast O Butter, Jolly Time also peddles its Simply Popped better-for-you popcorn, standard Crispy 'n White, and gourmet flavors like White Cheddar, Kettle Corn, and Mallow Magic, featuring melt-on marshmallow packets. I was sad to learn this last delectable choice is not sold at stores in my central Ohio area, so I just might have to put in an online order soon.
The Look: The best butter showing I have seen in a while. Almost every single piece came out of the bag glistening with fat and donning a sunflower yellow hue. This was the first bowl to really make my mouth water.
The Taste: Fresh and definitely blasted with butter. But, it's not overly buttery to the point where it feels oily or it gushes into your mouth upon each bite, like it does sometimes at the theater. Even cooled off, the popcorn was tasty. My only complaint was that because of the butter, some pieces did become a little more chewy rather than crispy and airy. Overall, though, it's a small price to pay and something that is to be expected.
Orville Redenbacher's Tender White
PER 1 CUP POPPED
: 35 calories, 2.5 g fat (1 g saturated fat), 60 mg sodium, 3 g carbs (0 fiber, 0 g sugar), 0 g protein
Orville Redenbacher has been a familiar face in the world of popcorn for decades, always sporting his iconic eyeglasses, suspenders, and polka dot bowtie. It's said that Orville and his business partner Charles Bowman perfected the formula for light and fluffy popcorn in 1965, and that's the same recipe snack lovers have been chowing down on ever since.
But, the company hasn't earned the status of #1 brand in microwave popcorn, kernels, and oils in the U.S. without some diversification of its portfolio. Popcorn flavors under the Orville Redenbacher name include buttery options ranging from light to Ultimate Butter, kettle corn, low calorie SmartPop!, and a Naturals line which gets back to basics with just a few simple ingredients like sea salt. You can also buy just kernels and oil, or spice things up with Orville's popcorn seasonings. I opted to keep things classic with a batch of the Tender White Popcorn, which includes gourmet white corn and butter flavor. Three bags are included in the $3.49 box.
The Look: Almost fluorescently white. None of the pieces were burned in the microwave and there were also barely any surviving kernels—maybe just one or two stragglers.
The Taste: Surprisingly yummy given its pale coloring. It is definitely both light and fluffy, as promised, and gives off a perfect level of crunch. The microdoses of salt and butter help to bring out its natural flavor, and make it dangerously addicting. For a very basic style of popcorn, this one hits it out of the park. It seems like Orville was doing it right nearly 60 years ago, and I bet his other varieties elevate this recipe even more.
Cousin Willie's Sweet & Salty Kettle Corn
PER 1 CUP POPPED
: 35 calories, 2 g fat (1 g saturated fat), 30 mg sodium, 17 g carbs (3 fiber, 0 g sugar), 2 g protein
If Orville Redenbacher is the friendly grandfather of microwave popcorn, then Cousin Willie is his distant and more bucolic farmer relative. Both Orville and the Sieg family behind Cousin Willie's got their starts in Indiana, and both operate under the same goal: to share the best tasting and fluffiest popcorn with the world.
Cousin Willie's is sold under the Ramsay Popcorn Co. along with wholesale popcorn products. According to its website, the company sells about 50 million pounds of popcorn every year within the U.S. and in over 20 other countries. Cousin Willie offers standard microwave popcorn flavors like butter and white cheddar. But, also has a few tricks up his sleeve with the addition of spicy hot butter and Taco Fiesta popcorn flavors. The brand's Sweet & Salty Kettle Corn box with three bags for $2.79 was the option which caught my eye, and what I decided to indulge in for this taste test.
The Look: Deceptively starch white. Based on first glance, I would guess this popcorn has no flavor whatsoever. But, as soon as the kettle corn aroma hit my nostrils, I was instantly transported to a county fair or festival.
The Taste: Light and subtly sweet. The sweet receptors on my tongue perked up as I chewed, but the sugary notes (actually provided by the sugar substitute sucralose) are not overdone. It's the perfect amount to keep you coming back for more. I will say the saltiness didn't stick out to me, but that's just a minor blip in my opinion.
Kroger Sweet & Salty Kettle
PER 1 CUP POPPED
: 30 calories, 2 g fat (1 g saturated fat), 30 mg sodium, 4 g carbs (1 fiber, 0 g sugar), 1 g protein
I will admit to being a frequent Kroger shopper, and more often than not, I am reaching for the Kroger store brand items–not Private Selection or Simple Truth, but the more basic, generic products. And they rarely steer me wrong. I was hoping this would continue to be the case with the brand's Sweet & Salty Kettle-style popcorn. It also comes in Original Butter, Movie Theater Butter, and 94% Fat Free, and is quite the bargain. I paid just $2.99 for six bags, or just under 50 cents each—much less than other name-brand options.
The Look: Almost interchangeable for Cousin Willie's, but with slightly smaller flakes. It once again looks unseasoned and essentially flavorless. But, it popped really well with hardly any leftover kernels.
The Taste: Crisp and sugary with a pinch of salt. I think the first words out of my mouth were, "This one's really tasty." It doesn't go too heavy on the sweetness and offers the perfect amount of savory to balance it out. Each handful delivers a nice crunch and continues to satisfy even after it has cooled down to room temperature.
This kettle corn and Willie's are both very similar, and both options I would gladly pop and eat again. But, at nearly half the cost, Kroger is the surprising, undisputed winner.