16 Old-Fashioned Food Terms You'll Only Hear In The Midwest
From "booyah" to "bumpy cake," Midwesterners have a food lingo all their own.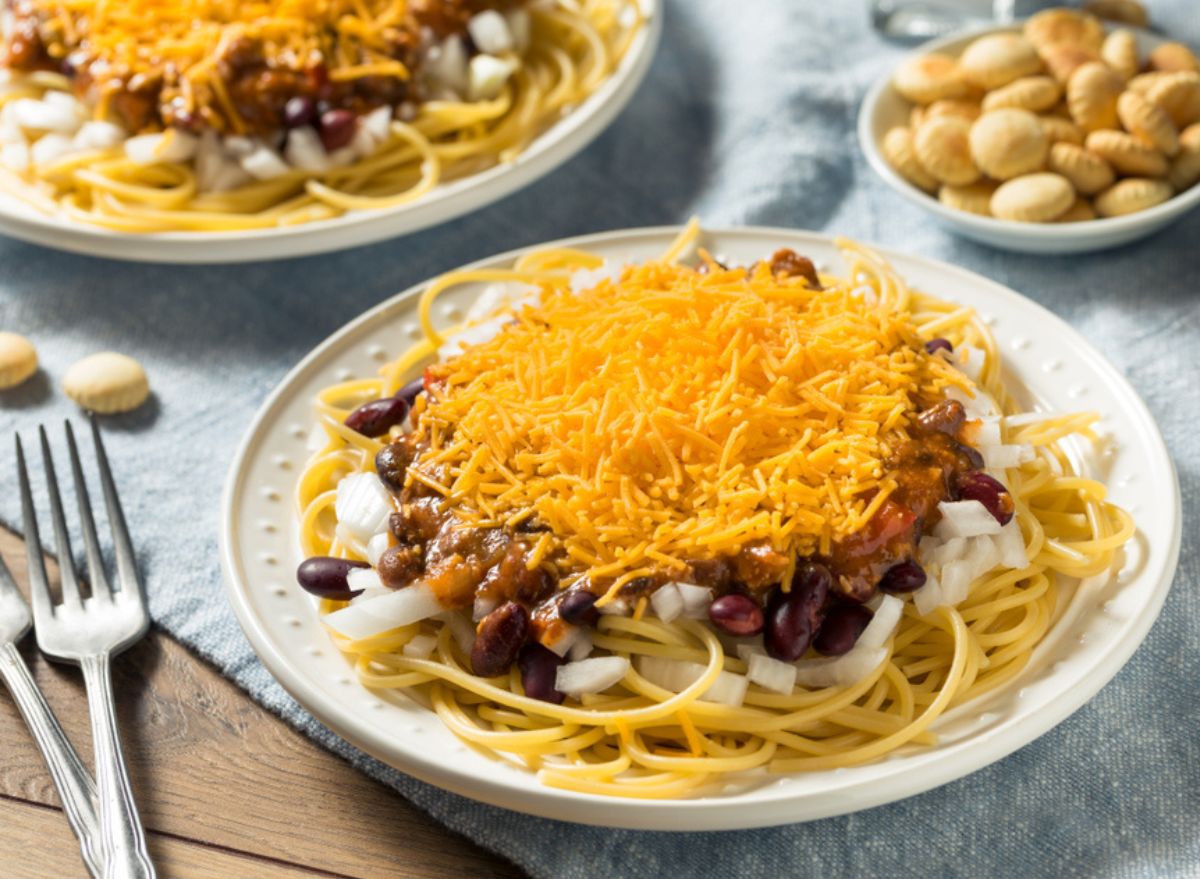 Just the word "Midwest" brings to mind images of dairy farms, the Green Bay Packers, and a whole bunch of rich, decadent dishes. Whether you're familiar with buckeyes or have indulged in a Juicy Lucy before, many of the Midwest's most well-known and scrumptious foods also have the most inventive names. I mean, where else could you order a horseshoe sandwich?
If you're curious as to how Ozark pudding came to be or would like to learn more about the origins of "bumpy cake," then read ahead.
Here's the behind-the-scenes look at some of the most iconic and old-fashioned foods you'll only find in America's Heartland. And don't miss 20+ Old-Fashioned Midwestern Desserts to Try.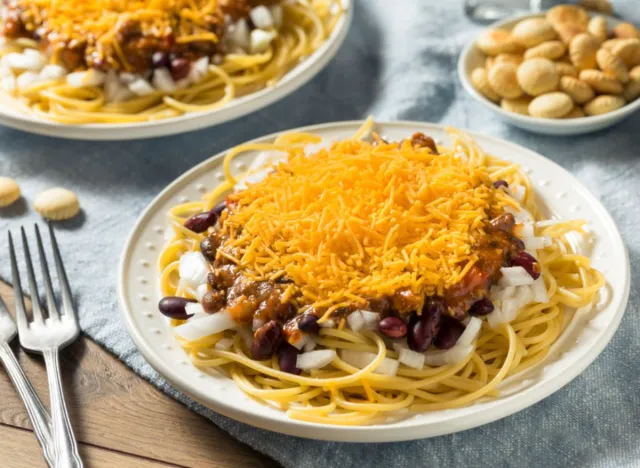 Cincinnati chili is made like typical chili with ground beef and spices, but it traditionally has a sweeter note to it with the addition of cinnamon and sometimes chocolate. But the difference from Texas chili doesn't stop with a dash of sweetness, Cincinnati chili is also served over spaghetti. Technically, when it's served with spaghetti it's called "2-way," explained The Washington Post. Cheese, onions, and red beans can be added, with all four being called "5-way."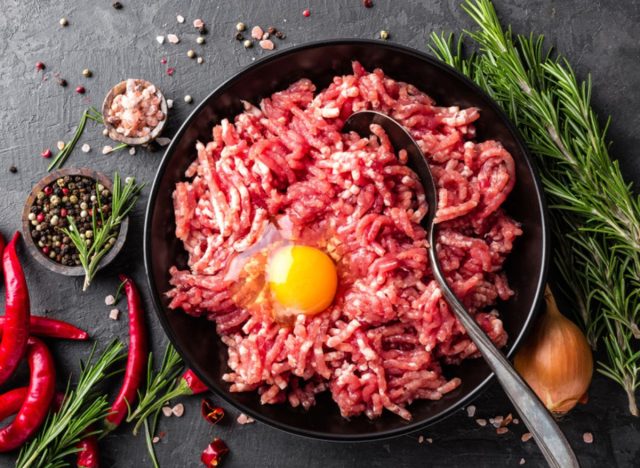 Don't worry, there were no tigers harmed in the making of this iconic Midwestern dish. A mixture of ground beef, raw egg, and seasoning that's commonly served on crackers, Tiger meat (or "South Dakota steak tartare") is a unique snack that was popularized by German and Russian immigrants and is big in states such as Wisconsin and South Dakota.
Named after the Ozark region in Missouri, this dry fruit custard made with nuts is a Midwestern delicacy that's often served as a sweet treat after meals. Ozark pudding became especially well-known in the 1950s when President Truman revealed it was his favorite dessert.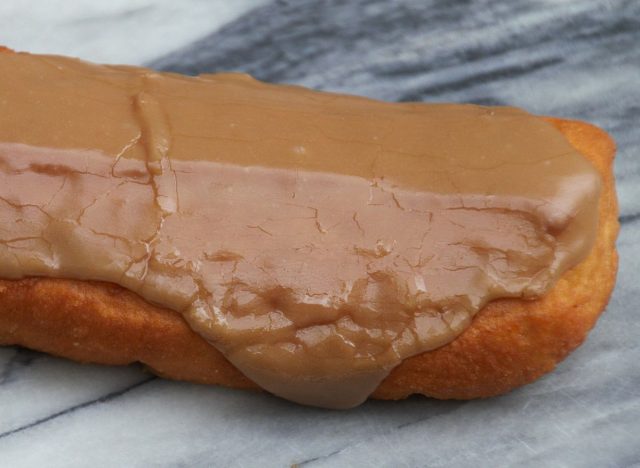 No boring donuts here! "Long John" is the unexpected name Midwesterners use to describe a large, rectangular donut filled with cream or custard and then topped with cake icing or glaze.
Don't expect to find this sweet treat just anywhere though–it's mostly popular in places such as the Midwest, Texas, and parts of Canada.
Ham salad is the Midwest's take on traditional tuna salad and features minced canned ham, pickle relish, and mayonnaise. The lunchtime staple became incredibly popular in the 1920s when people started to make their midday meal at home. It's especially beloved in the Upper Midwest in places like Minnesota and Michigan.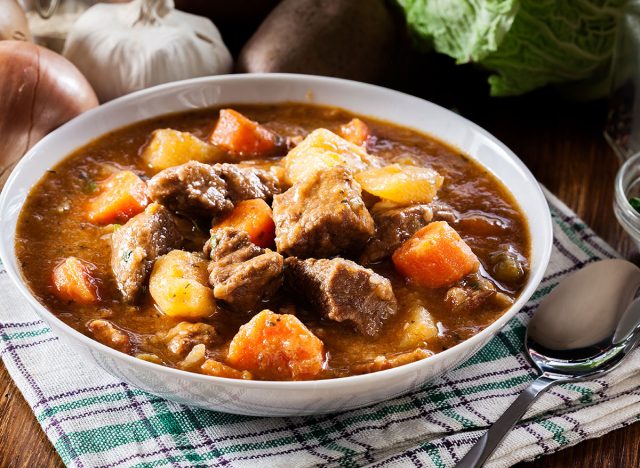 According to the Oxford Dictionary, the word "booyah" is used to express joy, but did you also know it's a common dish in the Midwest? Made with meat, vegetables, and seasoning, this thick stew can take up to two days to make.
Some people believe that the name "booyah" may have been derived from the word "bouillon," which is used sometimes to make the base of this dish.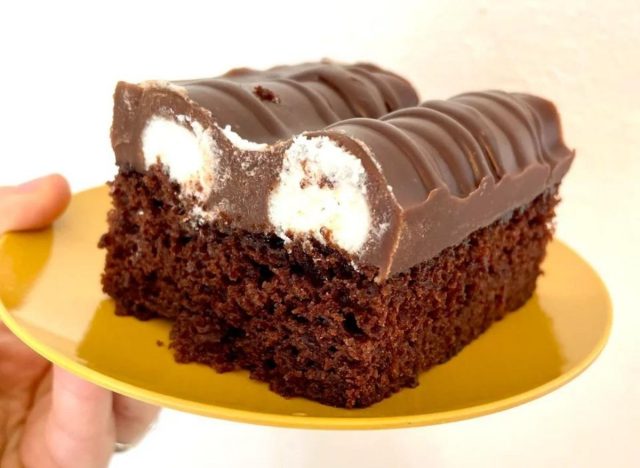 The name "bumpy cake" may be a bit off-putting, but we can assure you that this cake is delicious. Created in the early 1900s by Michigan-based Sanders Chocolate Company, this decadent treat is made using chocolate devil's food cake topped with "bumps" of buttercream and then enrobed in chocolate ganache. This classic Detroit dessert is perfect to serve for birthdays or during the holiday months.
If you love burgers, then you have to head out to the Midwest to try a Juicy Lucy. This delicious twist on the American classic features a thick burger patty stuffed with melted cheese and dates all the way back to the 1950s.
Although two bars have declared that they are the creators of this tasty dish, you can expect to find variations at many different restaurants and bars throughout the Midwest.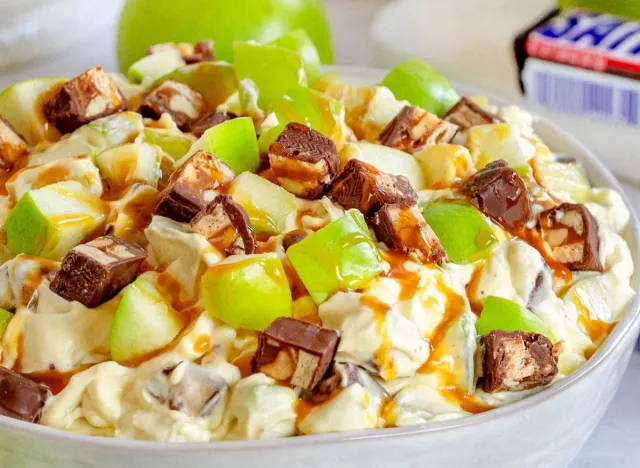 Here are two words you never thought would appear next to each other: "Snickers" and "salad." Made using chopped-up Snickers bars, sliced Granny Smith apples, whipped cream, and pudding, this unique dish is often enjoyed at potlucks and parties in the Midwest.
It joins other traditional Midwestern dessert salads, such as Ambrosia, cookie salad, and Watergate salad. Although its origins are not totally clear, some people believe that it's a Midwestern rendition of the Norwegian dish, "rommegrot."
If you're a fan of skewered meat, then chislic may just become your next go-to. Made using deep-fried meat that's seasoned and served with toothpicks, this easy-to-make recipe is often served with hot sauce, seasoned salt, or ranch dressing.
Many people believe that chislics was introduced to the Midwest by John Hoellwarth, an immigrant who came to South Dakota from Crimea in the 1870s.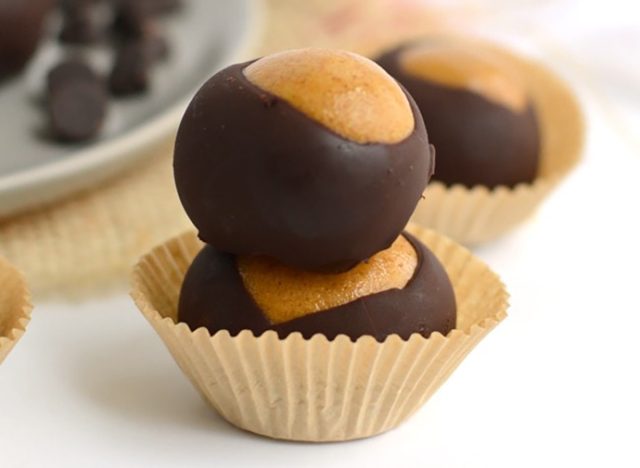 No list is complete without the incomparable buckeye. Made using peanut butter fudge and chocolate, this treat is especially well-known in Ohio. In fact, it's named after the poisonous nut of the Ohio buckeye tree, which is the state tree.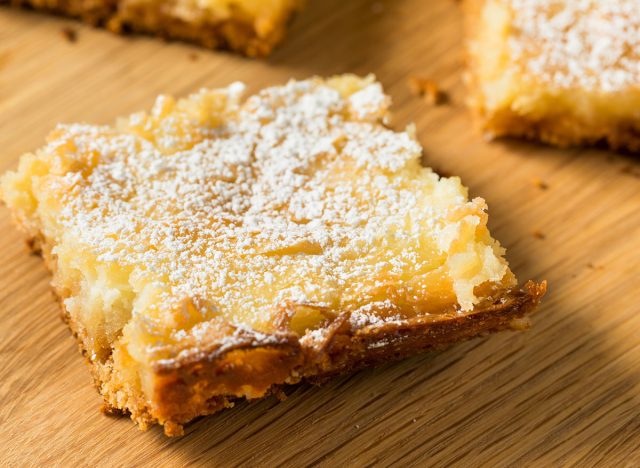 For nearly 100 years Midwesterners have been indulging in gooey butter cake, a dense dessert made with butter, sugar, cake flour, and eggs, and topped with powdered sugar. People often enjoy this rich cake—which was accidentally created in the 1930s by a St. Louis German-American baker—with coffee or tea.6254a4d1642c605c54bf1cab17d50f1e
Pasta is delicious, but have you ever tried toasted ravioli? Made using deep-fried ravioli, this beloved appetizer was created by two Italian-American St. Louis restaurants: Mama Campisi's and Charlie Gitto's.
According to legend, a ravioli was accidentally dropped into a deep fryer by Mama Campisi's chef, Chef Fritz, which then resulted in the creation of this delicious twist on an old classic.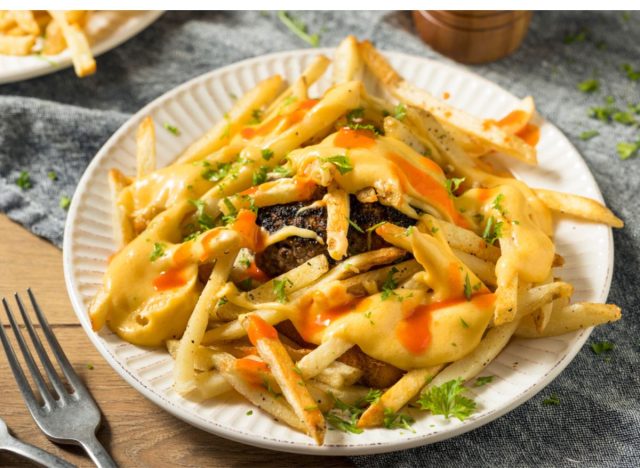 In reality, the horseshoe sandwich (thankfully) has nothing to do with horseshoes. Made with two pieces of toasted bread topped with hamburger meat and french fries, then smothered in cheese, this tasty sandwich has been a Springfield, Illinois staple for over a century. It was created in the 1920s by chef Joe Schweska at the Leland Hotel,—the most famous hotel in the city at the time.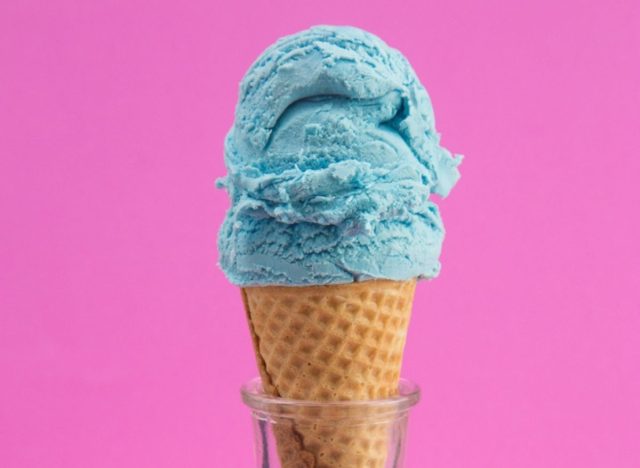 Known as a Midwest must-try, Blue Moon is a "Smurf-blue" ice cream that goes all the way back to the 1950s. Although a few different places claim that they created the "original" Blue Moon ice cream, many accredit the unique flavor to Bill Sidon, the chief flavor chemist at an old Milwaukee flavoring company called Petran Products in the 1950s.
Each ice cream shop that sells this flavor keeps its recipe a secret, so no one knows exactly what Blue Moon is made of. Some swear it tastes just like almond extract, while others think it has more of a citrusy vanilla flavor. And those are all the old-fashioned foods terms you'll only hear in the Midwest!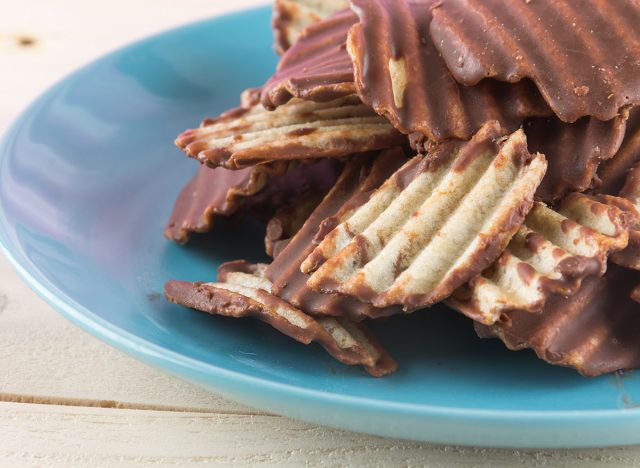 Chippers are basically chocolate-covered potato chips, that were invented in North Dakota. The best place to get these salty-sweet delights is at Carol Widman's Candy Company, where they were first made popular.
A previous version of this article was originally published on July 27, 2022.