7 Most Underrated Restaurant Chains, According to Chefs
Are there some favorites you might be sleeping on?
When it's time for a quick bite or a celebratory dinner, Americans often head to their local chain restaurant. Usually, it's for ease, convenience, familiar flavors, and potentially lower prices.  Texas Roadhouse and Olive Garden were recently called out in the 2023 Technomic Top 500 Chain Restaurant Report as the highest-performing restaurant chains in 2020. But these two well-known chains represent just a fraction of the many chain restaurants in the U.S.
Some of the best steakhouses and high-end restaurants in many towns and cities are chains, like Del Frisco's, Bonefish Grill, and PF Changs. Whether you're traveling and looking for a reliable meal, just need something quick to eat, or want to order a childhood favorite, chain restaurants usually deliver the goods in a reliable way. But, there are a number of smaller chains that serve great food and are seriously underrated because they don't always hit the national news like these big names.
We spoke with chefs around the country to find out which chain restaurants they frequent and what they love about their underrated favorites. Read on for the chef's take on the best chain restaurants that should be on your radar.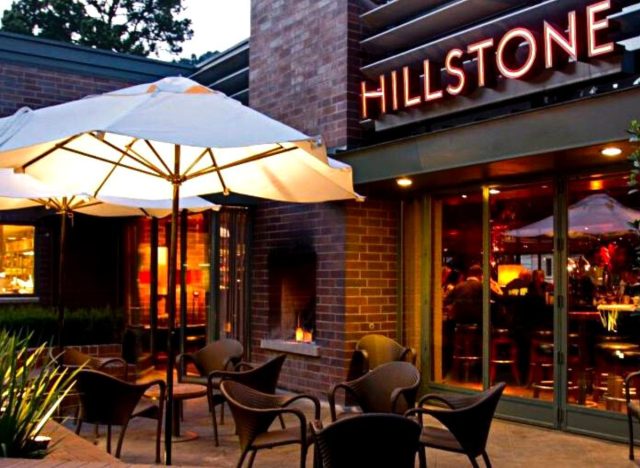 This chain, which has a befuddling number of different names, delivers for Chef Michael Serpa of the Serpa Hospitality Group, which includes Boston restaurants Little Whale, Select Oyster Bar, and Atlántico.6254a4d1642c605c54bf1cab17d50f1e
"My favorite chain restaurant is Hillstone and the other names it goes by (Palm Beach Grill, Houston's, Honor Bar, etc.)," Serpa explained. The restaurant group has offerings around the U.S., some with different names, but all complement the unique character of the location. 
"Their menu is always solid with plenty of options for a mixed group, it's open for lunch, the wine list is good, the dining rooms are always nice, and I've always had great service there," says Serpa. "I've been to several locations over the years, but I miss the one in Faneuil Hall that closed a few years back!" 
With over 80 locations around the country, chances are you've been to a Yard House, which is bartender Sebastian Hovian's pick for the best chain for their deep beer list.
"I'm a fan of Yard House! Their beer selection is particularly impressive, with over 100 taps of draft beer from around the world which is not common for a national restaurant chain," says Hovian. "They also feature a mix of classic and creative cocktails as well as a highly-curated wine list."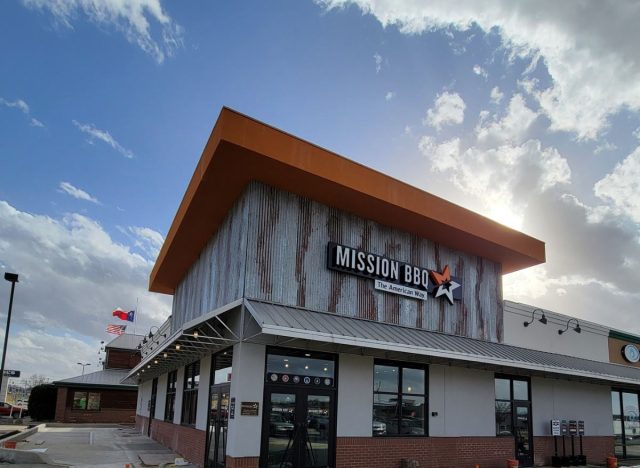 If you're looking for great food at a good price, celebrity chef Huda Mu'min loves this BBQ chain. 
"When I think about chain or fast food restaurants, Mission BBQ always comes to mind, no matter where I am in the United States; their food is consistently good, fair priced, and they offer delicious and seasonal menu items served with a side of friendly and quick customer service," explains Mu'min. "My favorite and most recommended dish is the unexpected but deliciously executed smoked turkey sandwich with tangy Alabama white barbecue sauce. Served on a toasted bun piled high with tender smoked turkey breast, with crisp lettuce and ripe tomatoes upon request, this sandwich is darn good, as the menu suggests."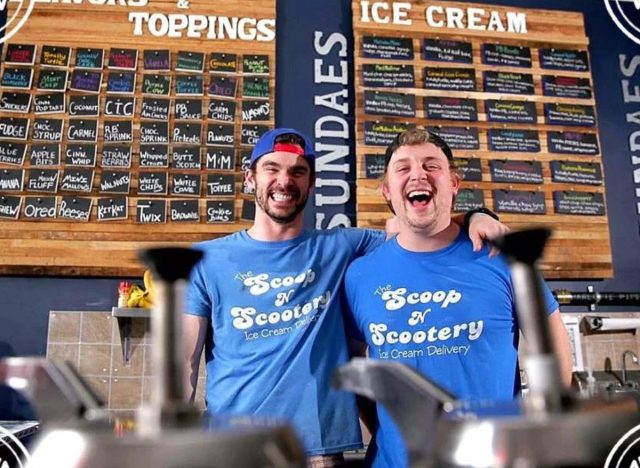 Chef Sarah Wade of Stillwater in Boston is passionate about this small local ice cream chain.
"One of my fave ice cream chains is Scoop N Scootery. These are hands down some of the best ice cream sundae combos I've ever seen or had and they deliver until 2 am!" she says. "I love the combos and the names.  The product is homemade and fresh.  I also love that the sizes are beyond huge.  The 'medium' could feed a small family!  My go-to is the Granddaddy—black raspberry ice cream, chocolate chip cookie bites, Oreos, and whip."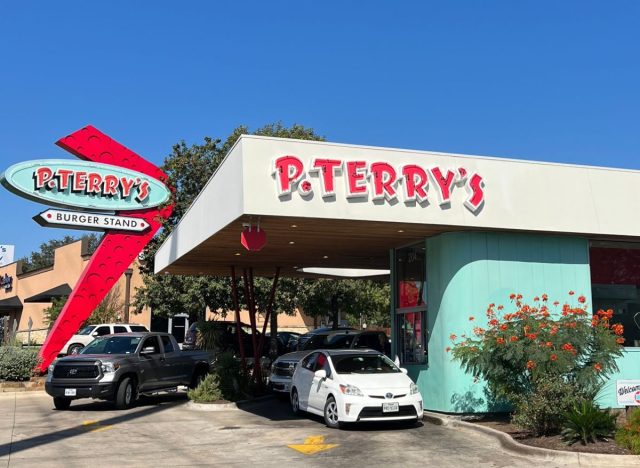 You may not have heard of fast-casual chain P. Terry's, but the chain is a Texas favorite for its fresh, all-natural, beef and chicken and trans-fat-free french fries, and they won over Minnesota-based Chef Kam Talebi of Butcher's Tale. 
"I visited Austin, Texas a while back and discovered the greatest fast food burger in the country. It is part of a chain in that area, and I'm not certain if they are in other cities or states," Talebi told us about his experience. "But, P. Terry's has an amazing burger. Unlike other chains, they don't skimp on the toppings, and the thin patties are cooked perfectly. The fries are crispy little fresh-cut shoestrings, and they tout the fact that their food is all-natural. Just wish that they would expand nationwide!"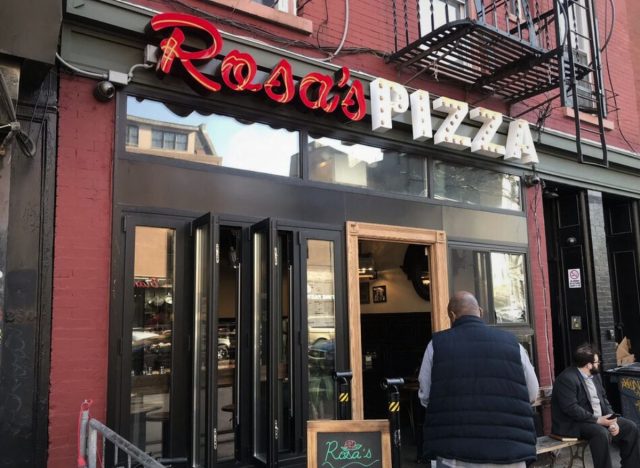 Recipe developer and Chef Jessica Chantilly, sings the praises of a local, family-owned pizza chain. "Rosa's Pizza is a family-owned and operated pizzeria with four locations throughout Queens and Brooklyn," she says. "The pizzeria is named after their mother, Rosa. Each location is owned and operated by brothers. Their standout menu item is their upside-down Sicilian pizza that rivals some of the best slices in NYC."
What's an upside-down pizza? Chantilly explains, "The upside-down Sicilian pizza is uniquely prepared where cheese is added first, followed by the sauce which gives the pizza a distinctive and delightful flavor profile that's incredibly hard to resist. The thick, fluffy crust acts as the perfect base for the rich layer of cheese that melts beautifully into the crust, which is then slathered with a zesty tangy tomato sauce."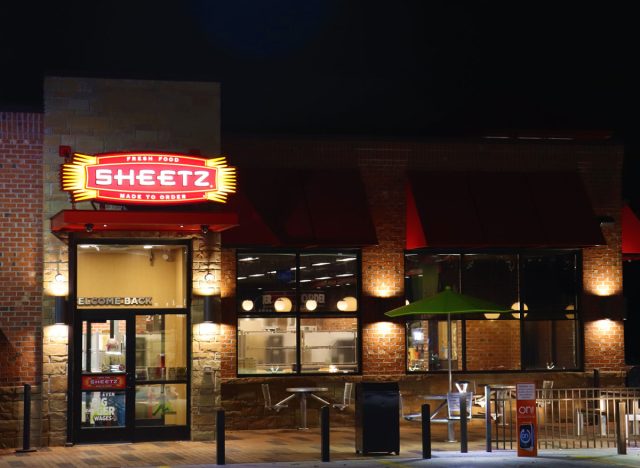 If you're not from the East Coast, you may not be familiar with this convenience store chain that has a surprisingly good sandwich bar situation that celebrity chef Duff Goldman takes advantage of whenever possible. Goldman told Yahoo that he loves the "bizarrely huge beverage selection and the meatball sub," he raved. "I like the way the sauce melts into the bread and it gets all saucy and doughy."
Tanya Edwards
Tanya Edwards is a seasoned food and health journalist, who has held roles at Yahoo Health as Managing Editor and at Food Network as Programming Director.
Read more about Tanya