10 Signs You're at a Top-Quality Steakhouse, According to Chefs
Sure the sides are great, but it's all about that sizzling steak.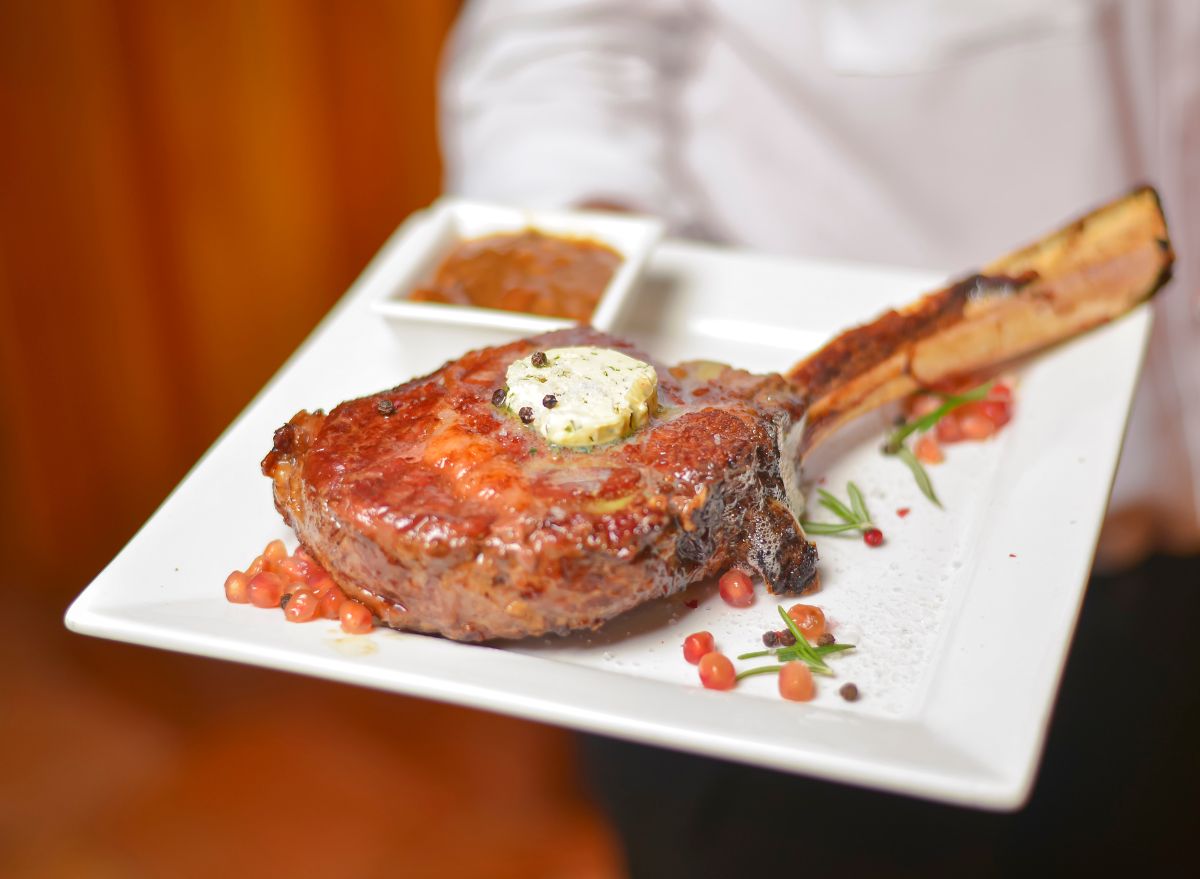 When you approach a steakhouse, there's nothing quite like that moment when the smell of sizzling, juicy steak hits your nose and you get ready to put down 8, 12, or even 24 ounces of prime meat. We love steakhouses, and with chains like Outback Steakhouse, Ruth's Chris, and Texas Roadhouse numbering into the hundreds—along with independently owned steakhouses in most cities and towns—the options have never been better.  
Of course, with so many options, it can be overwhelming trying to figure out where your dollars are best spent. To make it easier, we talked to the country's top steakhouse chefs for tips on how to sniff out the best quality steakhouses. Hint: the smell of the spot is very important! 
"As a chef at Smith & Wollensky, I have had the privilege of working in some of the finest steakhouses in the world. One thing I have learned is that there are several telltale signs of a truly great steakhouse," says Chef Brian Doyle, director of culinary development at Smith & Wollensky.
When chefs walk into a steakhouse all their senses are tuned for the signs that it offers the best quality meats and sides. Here's what they look for: 
High-quality meats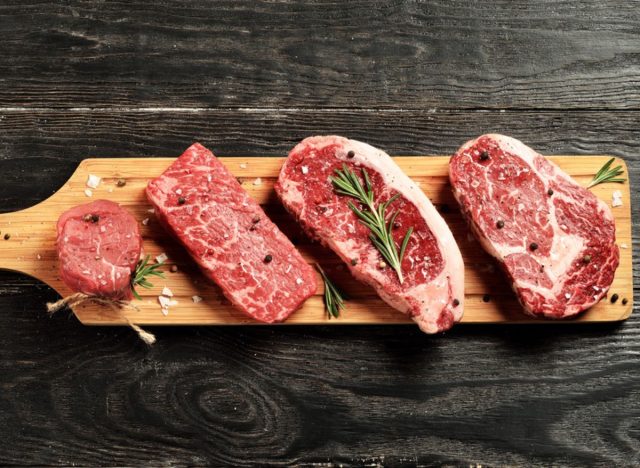 This is the most important element of any steakhouse meal. Doyle explains that a great steakhouse will go above and beyond to ensure its customers are getting the best cuts available.
"When I walk into a new restaurant, one of the first things I look for is the quality of the meat being used. A great steakhouse will use only the finest cuts of meat, such as USDA Prime or Wagyu beef, and will have a team of highly skilled butchers who are dedicated to ensuring that each steak is cut and prepared to perfection," Doyle explains. 
He continued, emphasizing that great steaks are 'make or break' for a high-quality steakhouse, "The quality of the meat is crucial to the success of a steakhouse, and a great steakhouse will go to great lengths to ensure that their customers receive only the best." 
Variety of cuts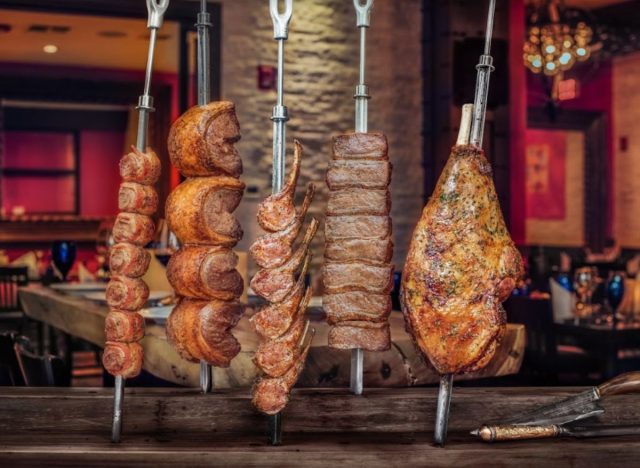 Everyone has a favorite cut, whether it be ribeye or filet mignon, and you probably want to avoid a steakhouse that doesn't offer at least the top cuts for variety, Doyle explains. 
"If you're on the hunt for a great steak, there are several things to look for that can indicate you're in for a treat," Doyle said. "First, check the menu to see if the restaurant offers a variety of cuts, ranging from ribeye and filet mignon to porterhouse and T-bone." 
According to Doyle, offering a variety shows knowledge on the part of the staff, saying, "This variety shows that the restaurant takes their steak seriously and has a deep understanding of the different flavors and textures that each cut offers." 
The menu highlights the ingredients
Luis Mata, chef and CEO at Meat N' Bone and The Wagyu Bar in Miami, notes that "some of the best meals I have had have been in smaller, family-owned rinky dinky restaurants" with great menus.
"I judge a restaurant by its menu. If they are not talking about the source of their food with pride, that means they do not care for quality ingredients. This pertains especially to steaks and especially if the menu lists anything above a USDA Choice steak.  Looking at the names of farms/programs, the "grade" of the Wagyu steaks, and even the choice of steaks says a lot," Mata explains. 
In-house aging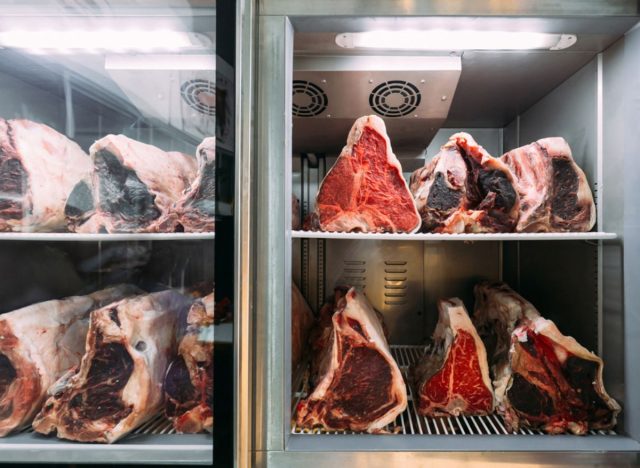 Another important factor is dry aging in-house, says Doyle, as it allows the steakhouse to control how the flavor and texture are achieved, "At Smith & Wollensky, we take pride in our dry-aging process, which is done in-house. We use only the finest USDA Prime beef, which is dry-aged for a minimum of 28 days to achieve the perfect flavor and texture."
This attention to detail means the proprietor cares about the product they're selling you, Doyle explains, "This ensures that the steak is tender and packed with flavor. Overall, a combination of a varied menu and in-house dry-aging process is a good indicator that you're in for a great steak." 
Presentation matters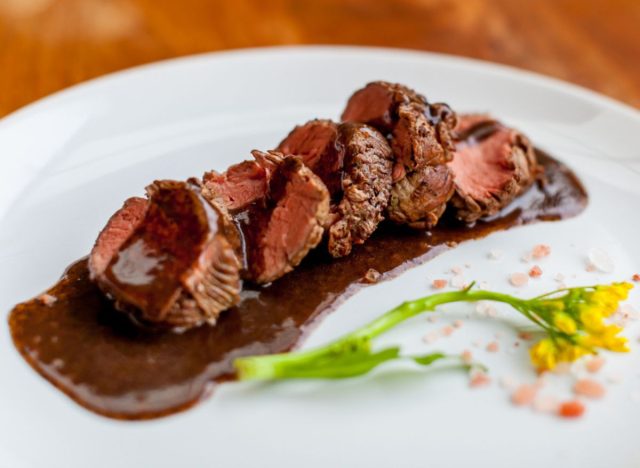 Celebrity Chef Huda Mu'min, who has competed on Food Network's Cutthroat Kitchen, eats with her eyes first. "A great steak has a distinct look when it arrives at your table," she says. "It says I'm here with its beautiful sear marks, subtle dusting seasoning, or salt charred into the meat."
That wood fire smell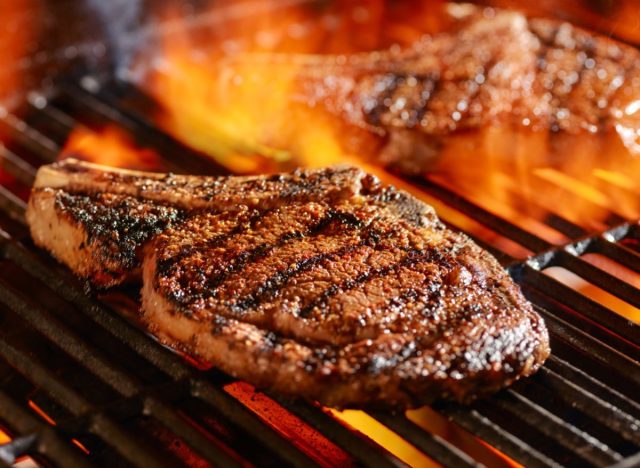 The smell of juicy steaks sizzling can be intoxicating, and Matthew St. Peter, the executive chef of Toscana Chop House in New Hampshire looks for that first. "The first thing that hits me when I go to a steakhouse is: How does it smell when I get out of the car or through the front door? Can you smell more than the grilled steaks? If you can smell hints of wood fire you know you are about to encounter a peak experience with the combination of the flavor of the grill and the meat," he says. 
He's not the only one who feels this way, Executive Chef Seadon Shouse of Halifax in New Jersey, agrees, saying, "When you walk into a steakhouse and you can see chefs cooking on a wood burning fire and you can smell the dry-aged steaks cooking, I immediately think the quality will be great. I also look for a dry aging chamber in the restaurant—if they age their own steaks, that means they then cut their own steaks so chances are it will be good."
Great energy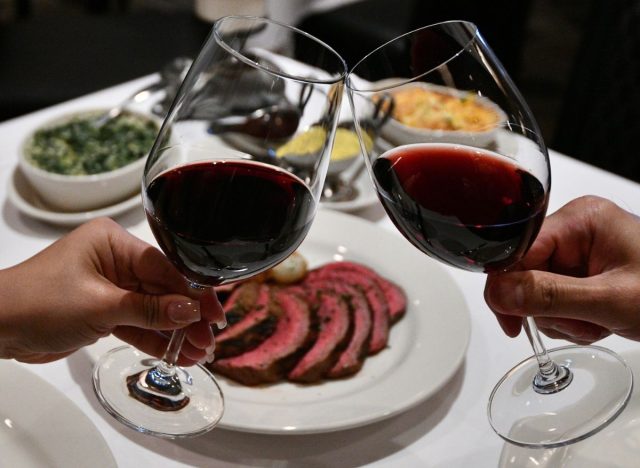 The vibe of a place is important, not just at a steakhouse, but at any restaurant where you're spending your money. People don't just go out for the food, they go out for the experience, says Chef Scott Kampf at Union Sushi and Steak in New York. 
"To be honest, my perspective doesn't change if it's a steakhouse or really any kind of restaurant.  I am looking for 'an energy'," says Kampf. "An energy that you can practically taste it's so powerful. The room exudes it and it comes from a great energetic staff providing great aromatic food, cocktails that you can taste from afar, and purposeful, orchestrated service to an excited group of guests who are practically salivating with excitement for their evening." 
The lighting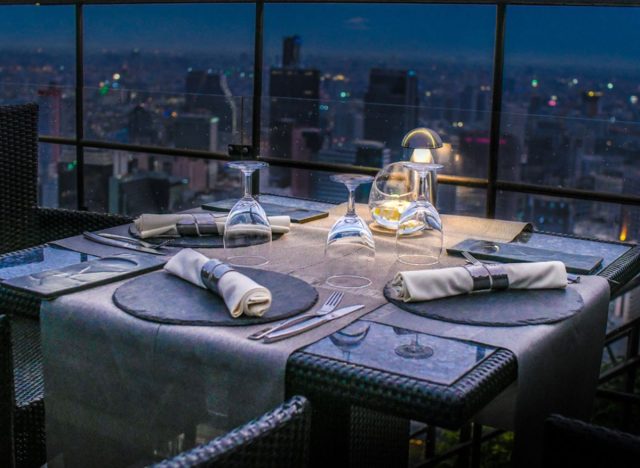 Mood is important, too, says Chef Scott Conant of The Americano, Atlanta's Italian-inspired steakhouse, "The first thing I notice in any restaurant when I walk in is the lighting. Is it flattering for guests? Is it too dim or dark? For me, lighting is hands down the most important design feature in a restaurant—it can mask imperfections or expose too much.6254a4d1642c605c54bf1cab17d50f1e
The staff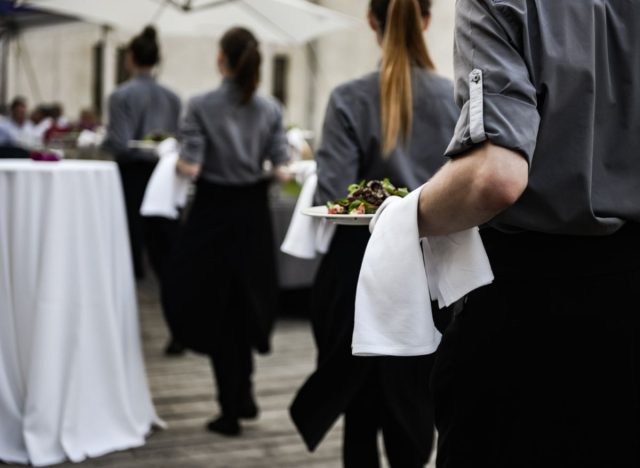 Conant, also wants the serving staff to be top-notch, explaining, "The second thing that catches my attention is how well-groomed the staff is. Uniform of uniformity, no white socks with black shoes and black pants type of thing. It's all about first impressions so polished and cared for is always the goal."
Tanya Edwards
Tanya Edwards is a seasoned food and health journalist, who has held roles at Yahoo Health as Managing Editor and at Food Network as Programming Director.
Read more about Tanya