I Tried 6 New Trader Joe's Items & These Were Worth the Hype
The grocery chain continues to impress.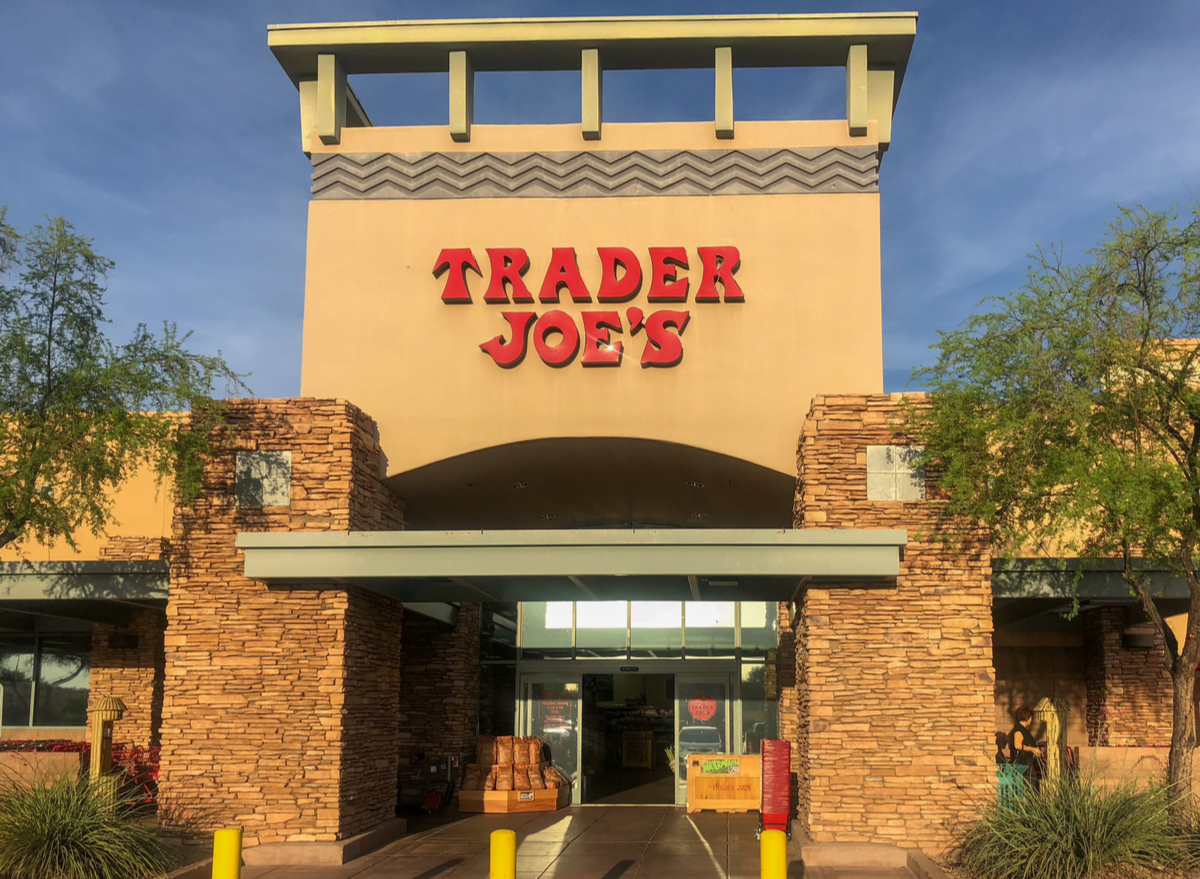 The product recommendations in this post are recommendations by the writer and/or expert(s) interviewed and do not contain affiliate links. Meaning: If you use these links to buy something, we will not earn a commission.
Trader Joe's customers are well-known for their enthusiasm for the grocery chain. While some shoppers share entire product hauls on social media, others will offer their opinions—often in passionate language—on specific items they've tried. Regardless of how one showcases their connection to the grocer, one sentiment remains clear: people love Trader Joe's.
It's no secret that the element shoppers arguably appreciate the most about the neighborhood grocery store is its ever-evolving assortment of items. TJ's keeps customers engaged by not only launching intriguing products, but also by bringing back old ones, which sometimes have new and improved recipes.
As customers continue to rave about TJ's newest items, I decided to try them out for myself to see if they lived up to their fanfare. On my latest Trader Joe's run, I grabbed several new and returning products, ranging from snacks and sweets to savory dips. Here's what I thought about each one, which I ranked in descending order of what I liked the best—not the easiest feat.
Honey Wheat Pretzel Sticks – $2.49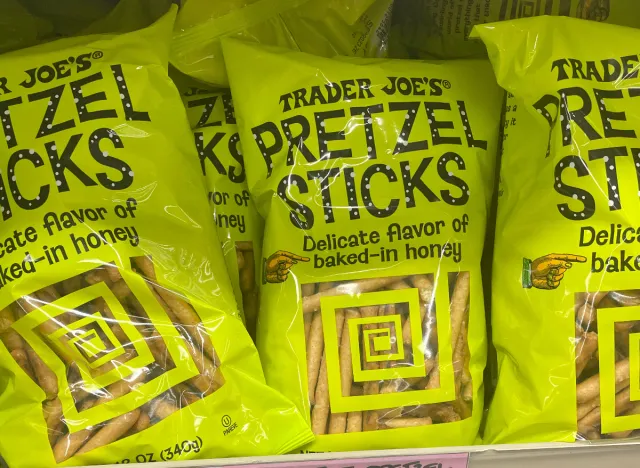 Three months ago, a Reddit user announced the impending discontinuation of Trader Joe's Honey Wheat Pretzel Sticks, disappointing many fans. The grocery chain is now selling the product in different packaging with a slightly different recipe. While the old recipe listed honey as the second ingredient, the new one has it as the sixth ingredient following cane sugar and brown sugar—the latter ingredient not included in the original pretzels.
While I was unable to compare the two products side by side, I remember the original item being slightly saltier. I suppose this makes sense because the older variety had 290 milligrams of sodium, while the new pretzels have 140 milligrams of sodium. The updated product has a pleasant sweetness to it, while the saltiness mainly comes from the outside of the pretzel, which is lightly speckled with salt. Although I will definitely be finishing this bag, I think I prefer the original version.
Mee Krob Snackers – $2.99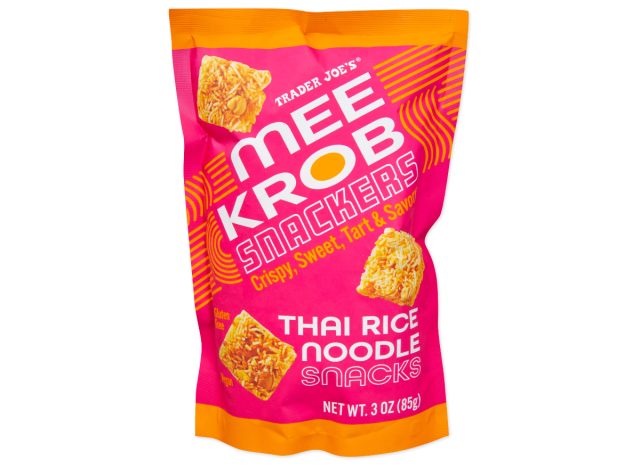 This new crunchy snack was inspired by the Thai dish Mee Krob, which is made with thin, crispy rice noodles tossed in a sweet and sour sauce. To transform this dish into a snack, TJ's supplier combined deep-fried rice noodles with pieces of fried garlic, fried shallot, and cashews. Then, these ingredients got coated in a sauce made with tamarind paste, vinegar, chili sauce, lime juice, and sugar.
I've read a lot of positive commentary on this new item, so I knew I had to give it a try. The packaging describes these gluten-free, vegan snackers as "crispy, sweet, tart, and savory," all of which I found to be accurate descriptors. These Thai rice noodle snacks are packed with flavor and have distinctive notes of lime, as well. While it was a bit greasy, overall, I enjoyed this snack and now feel extra compelled to try the Thai dish that inspired it. Still, there are other products I enjoyed more.
Crunchy Chili Onion Hummus – $3.99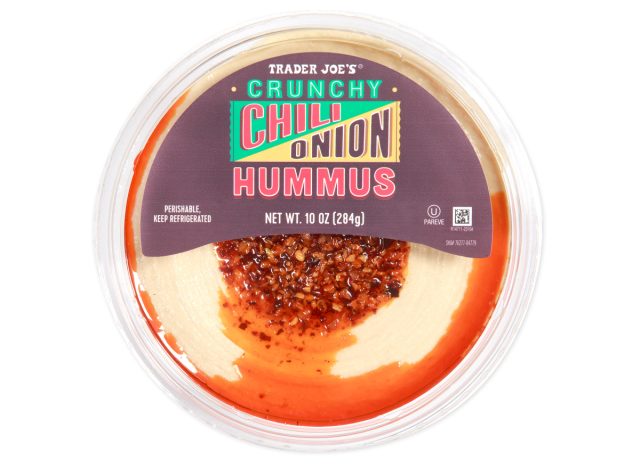 I love hummus, and I'm a big fan of TJ's Crunchy Chili Onion, so when I saw this product in my local store, I knew I had to snag it. Sold in 10-ounce containers, this hummus features a generous scoop of Trader Joe's Crunchy Chili Onion in the center of the dip, with some of the red-orange oil seeping to the edges of the container. This popular condiment is made with a blend of dried onions, dried garlic, dried red bell peppers, crushed chili peppers, dried toasted onions, and sea salt.
The hummus itself is delightfully creamy, while the Crunchy Chili Onion provides a spicy kick that isn't too overpowering. My go-to Trader Joe's hummus is the plain organic variety, but opting for this item instead was a welcome addition to my usual grocery list. However, since I already have Crunchy Chili Onion in my kitchen, I think I'd just make this dip myself.
S'mores Ice Cream – $3.79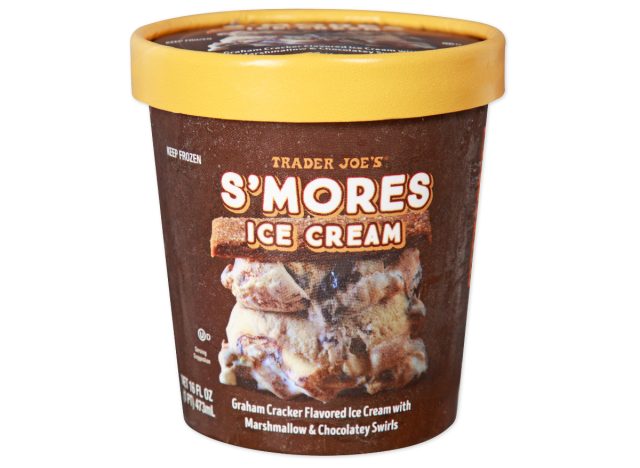 As an ice cream fanatic, I was most excited to try this new TJ's item. The frozen treat consists of graham cracker-flavored ice cream with marshmallow and chocolatey swirls. Contrary to the product's description, however, the ice cream actually had chocolate chunks in it rather than chocolate "swirls."6254a4d1642c605c54bf1cab17d50f1e
Although I initially thought this flavor was a bit too sweet for me, as I continued to eat it, the more I enjoyed it. The graham cracker-flavored base really shines through and the marshmallow swirls and chocolate chunks are delicious additions. But as someone who likes texture in my ice cream, I would have loved to see some more chunks, perhaps of graham crackers, in it.
In the latest episode of the "Inside Trader Joe's" podcast, Tara Miller, TJ's vice president of marketing, revealed that a previous tasting panel iteration had graham cracker pieces in it, but they became "so soggy." So, it looks like adding graham crackers to this ice cream flavor will have to be a DIY kind of thing for now.
Coffee & Dark Chocolate Joe-Joe's – $3.49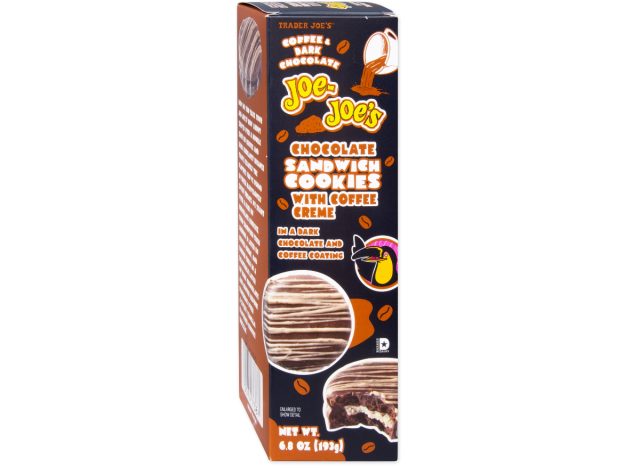 When it comes to desserts, my number one favorite flavor combination is chocolate and coffee, so I was thrilled to see this spring release. Each sandwich cookie is filled with a layer of coffee cream, coated in dark chocolate, and finished with a vanilla-flavored coffee drizzle that has speckles of what I presume are ground coffee beans.
The coffee and dark chocolate combination is well-balanced, as the sweetness of the chocolate complements the slight bitterness of the coffee. While I'm rarely one to eat just a single cookie, there was a heaviness to this chocolate-covered variety, so I was satisfied after eating just one. An even better snack would be harder to put down.
Roasted Red Pepper Hummus – $3.49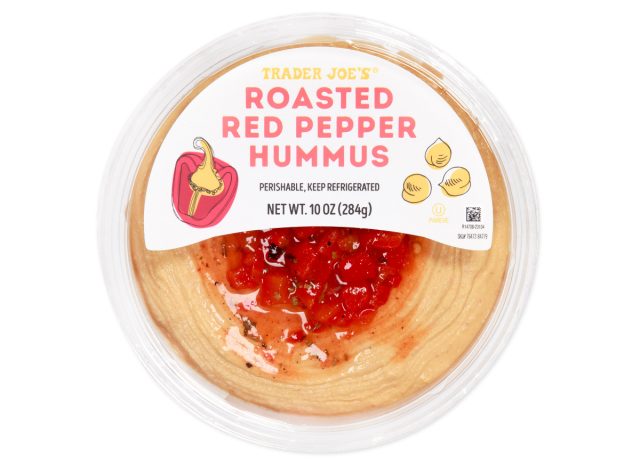 After recently discontinuing its Roasted Red Pepper Hummus, TJ's brought the dip back, but now, it's slightly different. The previous version was a creamy hummus, which Matt Sloan, Trader Joe's vice president of marketing, described as a "homogenized, blended thing" in the latest episode of the "Inside Trader Joe's" podcast. The new version is now topped with what Sloan calls a "roasted red pepper relish of sorts."
While I haven't tried the earlier iteration of this hummus, I thoroughly enjoyed the new one and have been eating it as both a dip and sandwich spread. The roasted red peppers give the hummus some sweetness and tanginess, presenting a balance of flavors. If I had to pinpoint one new Trader Joe's item that I would, without a doubt, purchase again, it would be this one.
Brianna Ruback
Brianna is a staff writer at Eat This, Not That! She attended Ithaca College, where she graduated with a degree in Journalism and a minor in Communication Studies.
Read more about Brianna