This Is America's #1 Favorite Trader Joe's Snack
The list includes beloved crunchy and salty bites—and maybe even a sweet one or two!
It goes without saying that Trader Joe's has it all. Though the grocery chain maintains a roster of products with their own cult followings, it continues to drop innovative new releases. Thanks to the 12th Annual Customer Choice Awards, we now know what Trader Joe's snacks are the most popular across the U.S.
This year's winner for America's #1 Favorite Trader Joe's Dessert was one you may know, because it's a frequent first-place finisher. Meanwhile, the #1 Favorite Trader Joe's Item overall beat out incredibly popular items like Cauliflower Gnocchi and Everything But The Bagel Seasoning.
But the #1 favorite Trader Joe's Snack may surprise you—read on to find out its identity! And to get the latest grocery store news delivered right to your email inbox every day, sign up for our newsletter!
Runner-up: Bamba
Peanut paste, corn grits, palm oil, and salt are the only four ingredients in this favorite snack. They're made for Trader Joe's in Israel, where Bamba reigns supreme—it's the country's best-selling snack.
"First, the corn grits are 'popped' under high pressure, turning them into long rope-like lines of white, puffed, unflavored 'Bamba,'" the grocery chain says about its recipe. "Next, the Bamba is cut into peanut-sized nuggets and air-baked for 20 seconds in a drying chamber, which gives it an even crispier texture."6254a4d1642c605c54bf1cab17d50f1e
Finally, these snacks are drenched in even more peanut butter. With all that nutty goodness, it's impossible to imagine why this snack wouldn't finish in the top five! For more on what to get on your next trip here, check out The Best Trader Joe's Foods of 2020.
Runner-up: Chili & Lime Rolled Corn Tortilla Chips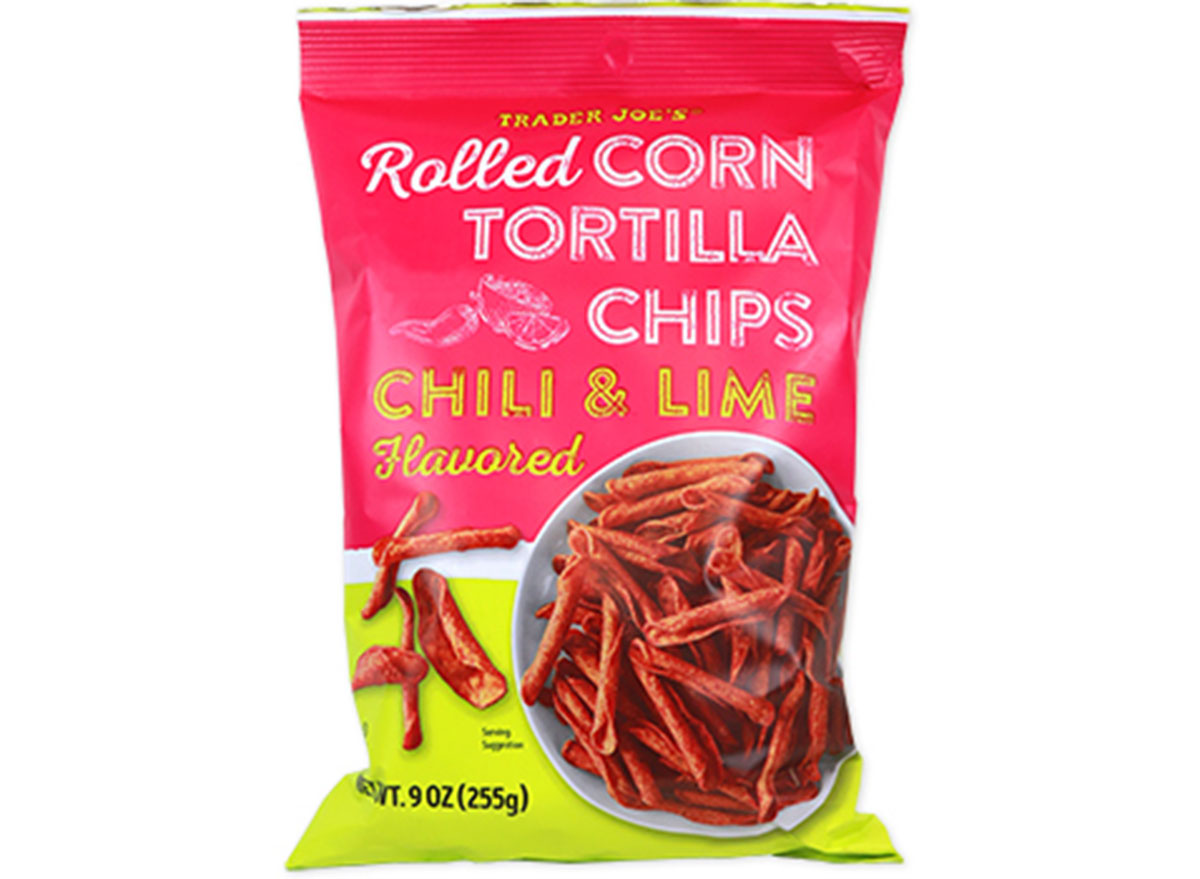 This snack is not only loved by Trader Joe's customers but also the Crew—it came in second on the list of their favorite snacks in the store. According to a Fearless Flyer post, they feature ground and fried corn mesa, plus chili and lime seasoning. That's all, folks!
TJ's says it "didn't get too silly with the chili—[the chips] pack just the right amount of heat to keep you coming back for more." Clearly, they know what they're talking about!
Related: 15 Trader Joe's Frozen Foods Recipes You Need to Try
Runner-up: Plantain Chips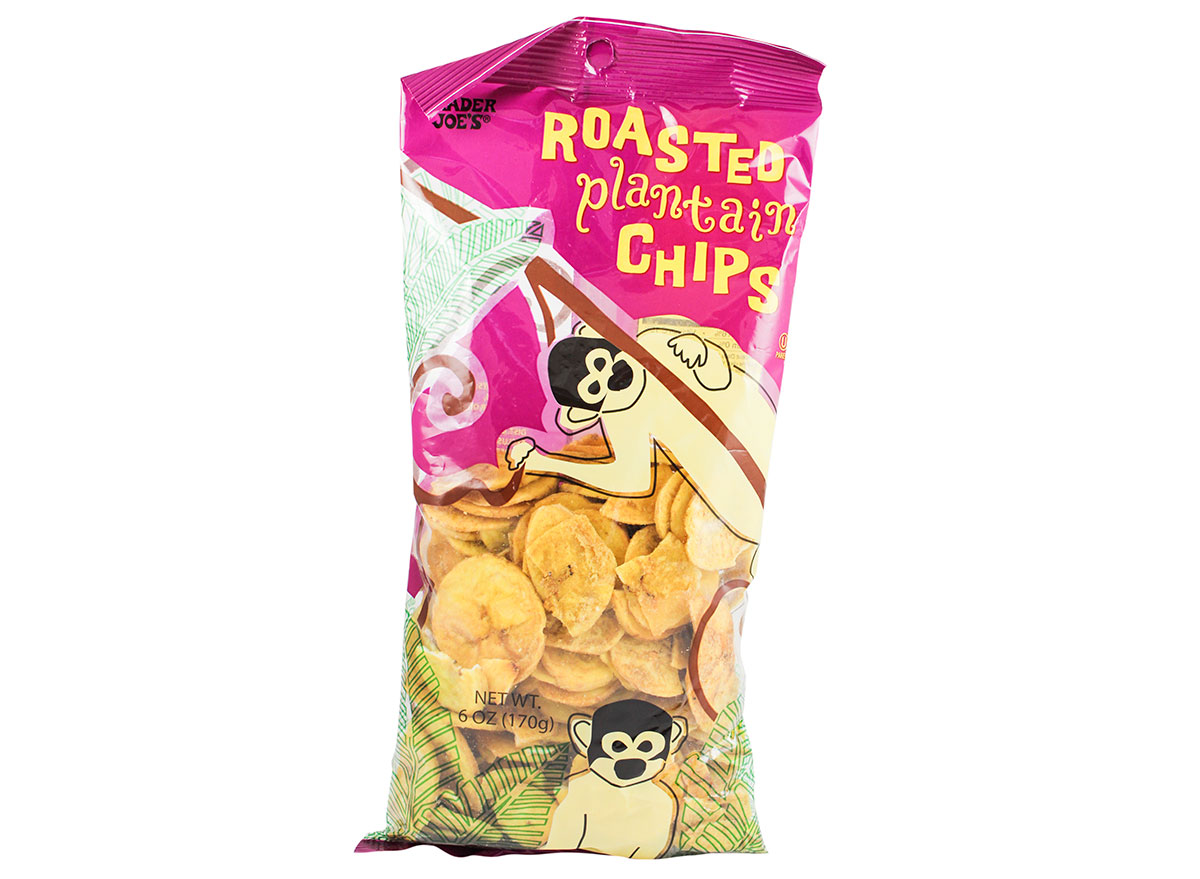 "Our Plantain Chips come from Peru, where the plantains are picked when they're just ripe enough to be slightly sweet," Trader Joe's says of this fan-favorite snack. "They're sliced and cooked in sunflower oil, then dusted with salt. They eat like sort-of-sweet, thick-cut potato chips, but with less fat than typical potato chips."
This Peruvian product is technically a fruit, so it's a healthier option to stock up on over these 15 Chips to Always Leave on Grocery Store Shelves. (Speaking of, there's even a new Dark Chocolate Drizzled version.) For more healthy swaps, check out the 21 Trader Joe's Products That Are Dietitian-Approved.
Runner-up: Organic Corn Chip Dippers & Organic Elote Corn Chip Dippers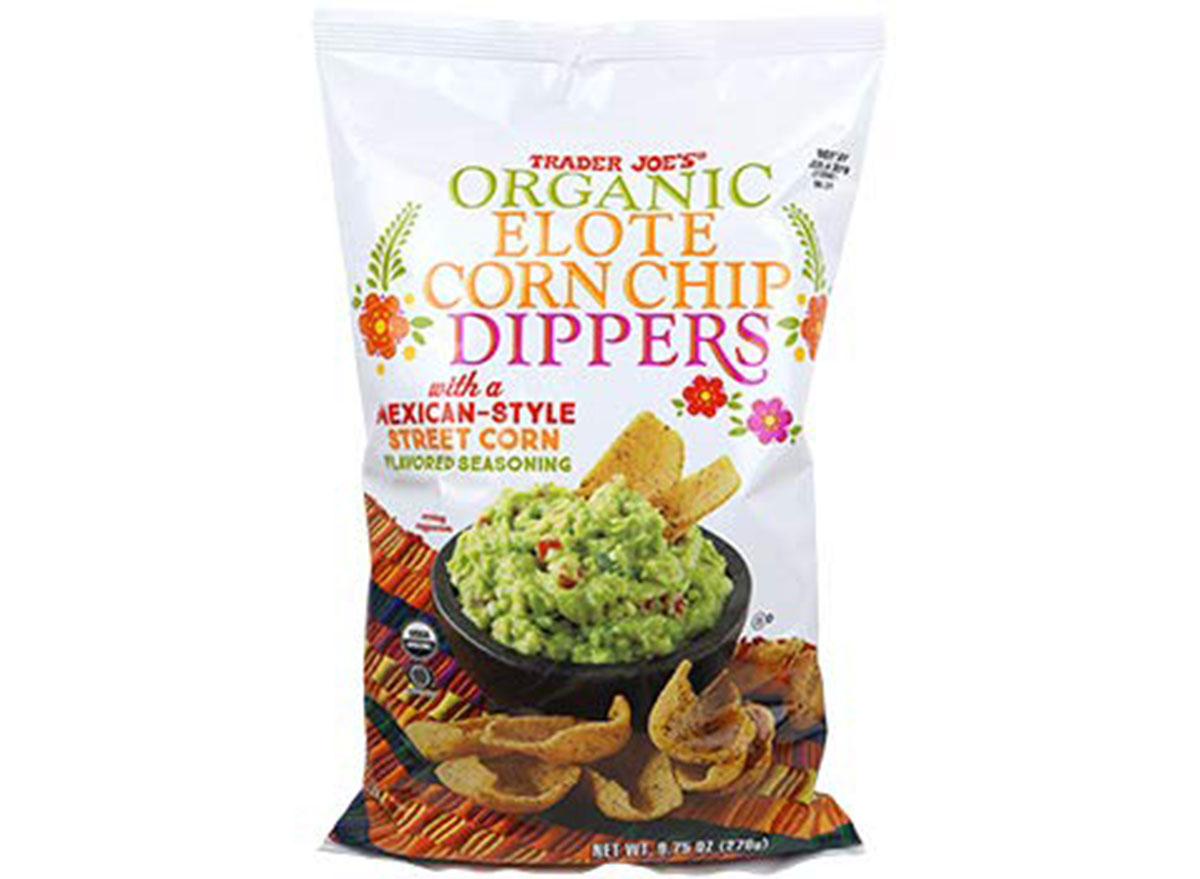 When you snack on TJ's Elote Corn dippers, clean-up is a breeze! You won't dirty up any silverware if these chips are on the table, because they allow you to scoop guac or salsa straight from the bowl. The original version of these chips are made with only three ingredients—organic corn, organic sunflower oil, and sea salt—while the Elote Corn version adds a chili-lime kick.
Related: 15 Chips to Always Leave on Grocery Store Shelves
And the Trader Joe's Dessert voted #1 by customers is…
Salted Peanut Butter Filled Pretzel Nuggets
You may not be surprised to see this snack as the winner in this category! At least, Trader Joe's isn't.
"Year after year, these salty snacks are voted a customer and Crew favorite," the chain says.
The pretzels are a traditional grocery staple made in Pennsylvania and sold in 1-pound bags, which means there's enough for your entire family to enjoy.
Though the salted version takes the cake here, the unsalted version is also beloved by many. Maybe it'll make the top five list of the favorite Trader Joe's snacks next year! In the meantime, do you ever wonder why your cart is full, but the total isn't as high as other grocery stores? This is why Trader Joe's is so cheap.
Amanda McDonald
Amanda has a master's degree in journalism from Northwestern University and a bachelor's degree in digital journalism from Loyola University Chicago.
Read more about Amanda