We Tried 7 Boxed Red Wines & This Is the Best
Why pay more for a bottle when a boxed wine is just as good?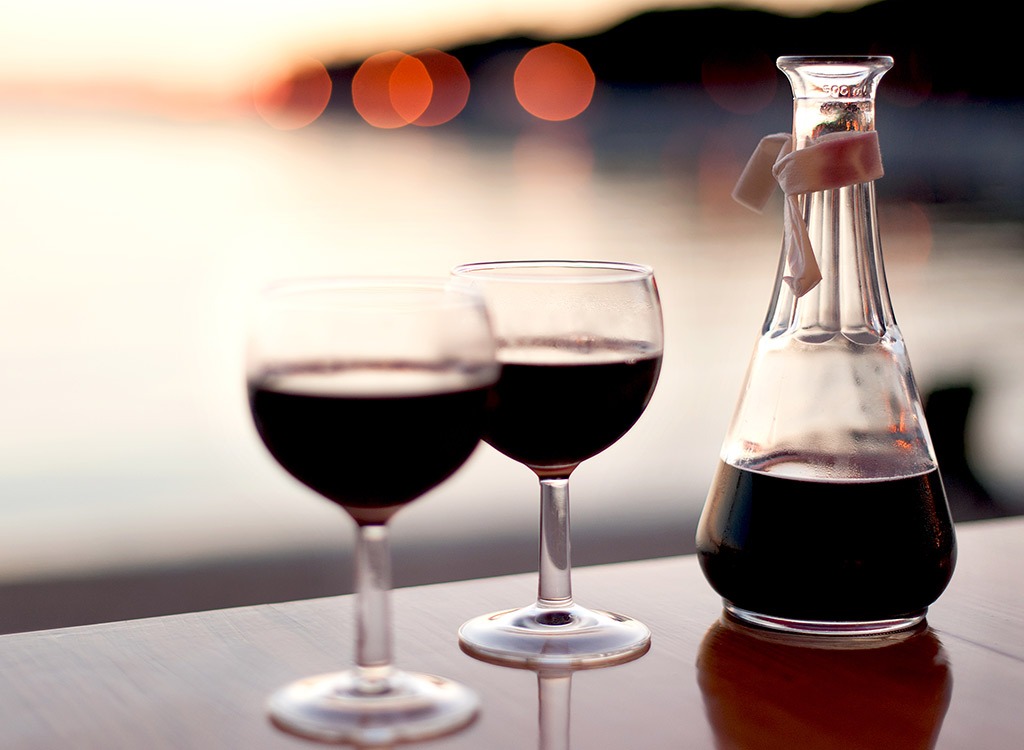 Boxed wine has been around since the 1980s, but has spiked in popularity over the past few years as people look for easier ways to store and drink wine, as well as be more eco-conscious. In fact, more people are turning to boxed wine after realizing the quality of wine is the same as what's in the bottles, and it's way easier to let family and friends pour themselves a glass right out of the fridge without the need for a corkscrew.
In the name of science, we tried seven different boxed wines to see which one is the best. To start, I narrowed down this search for boxed wine to only include red wine, which is consistently the most Googled wine across the United States, according to a Google Trends search. Then, once  I was at the liquor store, I tried to pick options that I knew would be readily available in most grocery stores. After gathering a few friends—because who wants to drink alone—I broke open the boxes and we started tasting.
This is the official ranking of seven of the most popular boxed red wines. If you prefer a canned wine, we've got a list of the 17 best canned-wine brands that you should try. Cheers!
Franzia Merlot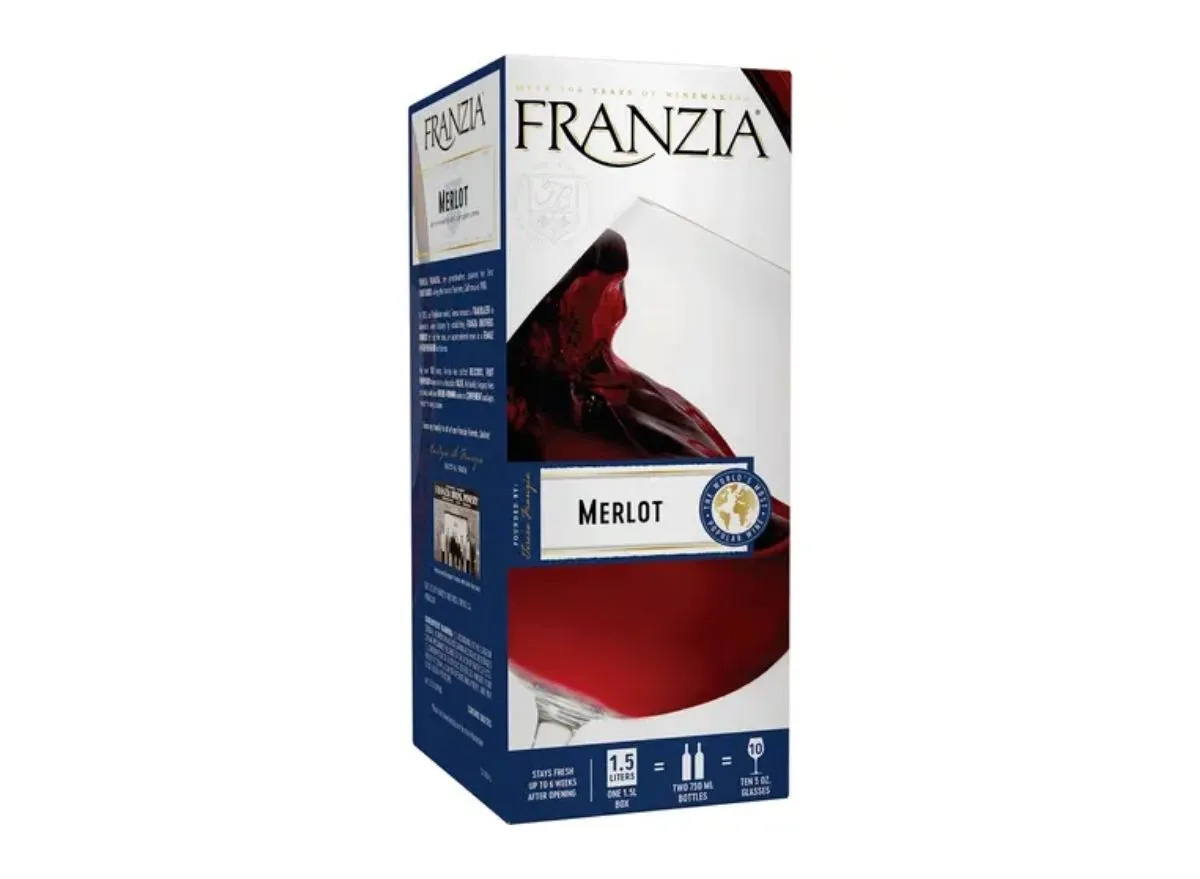 Franzia Merlot was the worst of the wines that we tasted, but that doesn't necessarily mean it was bad. The brand is known for its cheap wine and that's kind of what this tasted like. There were no discernible flavor notes, it just tasted like a run-of-the-mill red wine. We would serve this at parties after people started drinking, or use it in recipes like mulled wine or sangria, but overall, this was not a "just pour it in the glass and enjoy" wine. We found this at Total Wine for $5.49.
For more exclusive taste tests and food news, sign up for our newsletter.
Black Box Red Blend
The Black Box Red Blend moved around a lot while we were making our list. After the first tasting, it was a middle-of-the-pack wine, but after a few more sips it slipped to spot six. The wine had distinct dark berry and spice notes that we thought would have gone well with rich foods like steak or a dark chocolate cake, but just to drink on its own was a little aggressive for our palette. A 30-liter box of Black Box can be yours for $20.99 at Total Wine.
Bottle to Box Cabernet Sauvignon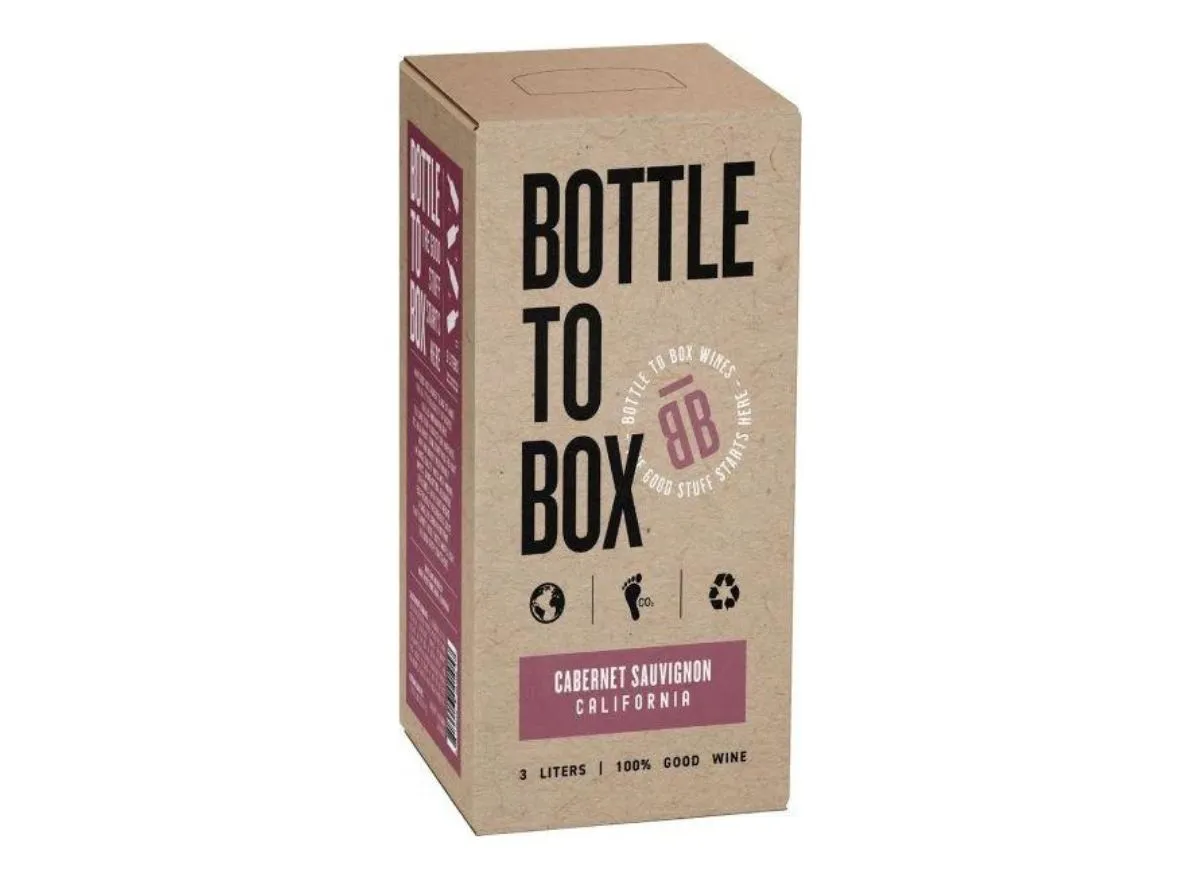 If you're looking for a very dry wine, Bottle to Box's Cabernet Sauvignon is the one to get. The wine has notes of blackberry and cocoa, without being overly assertive. One thing we noticed during our taste test was that this wine didn't give us that back of the throat puckering sensation that the previous two wines gave us, which we were thankful for. While this would be better with food, we liked it on its own enough to finish the ounce or so that was in the glass. This 30-liter box can be your starting at $14.99 on Winedeals.com.
Woodbridge by Robert Mondavi Cabernet Sauvignon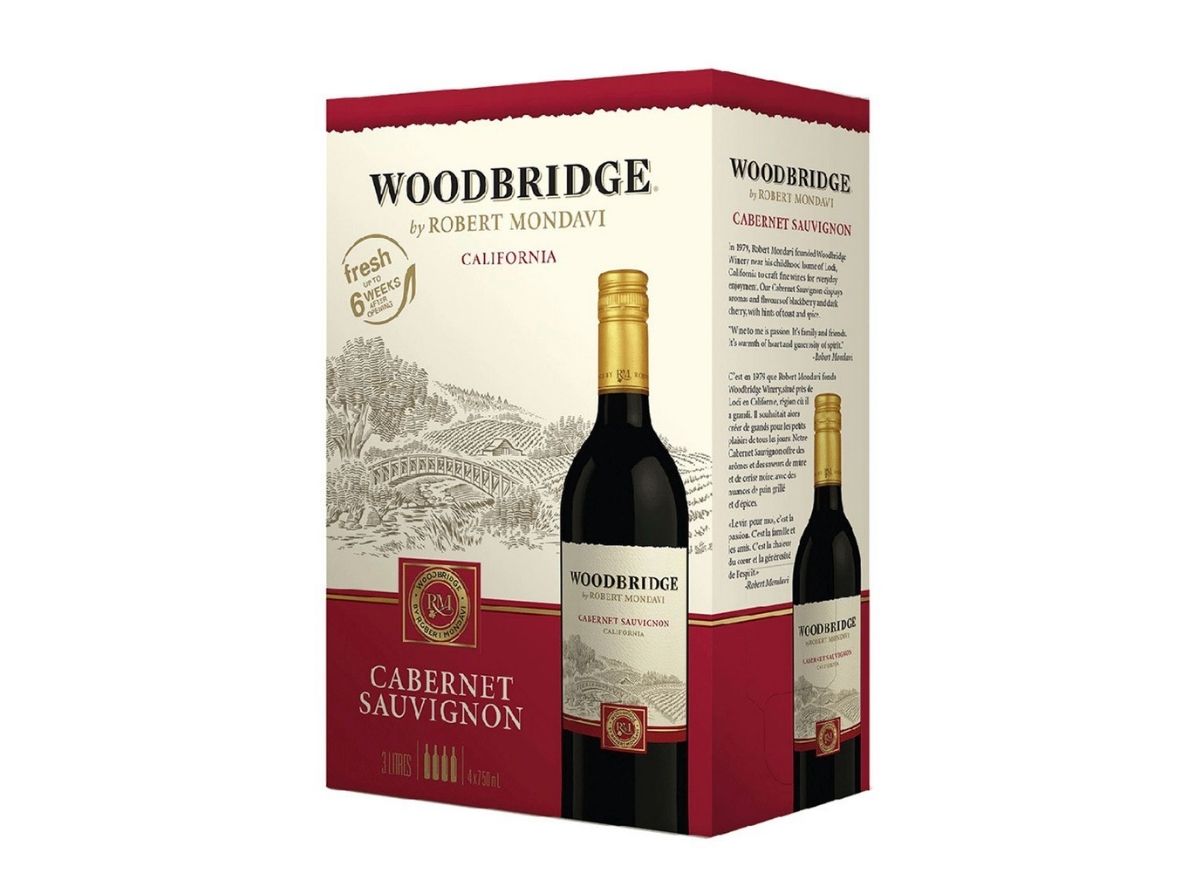 Just missing out on the top three is Woodbridge by Robert Mondavi Cabernet Sauvignon. The wine had a full body and we loved the smell of the wine as it was opening up in the glass. The wine featured notes like dark caramel and berries without being overly fruity. We enjoyed this by itself and didn't feel the need to have any food with it to help cut the acidity as we did with some of the other wines we tasted. We spotted it at Kroger for $22.99.
RELATED: How Much Wine Is in Your Food After You Cook It? An Expert Weighs In
Robert Mondavi Private Selection Cabernet Sauvignon
Making it into our top three is Robert Mondavi Private Selection Cabernet Sauvignon. The wine is full and robust without being overly dry or oaky where it needs to be enjoyed with food. It had a noticeable oak and berry finish, but after each sip, the oaky taste left us wanting more. This is a wine we would put out with a charcuterie board and let our friends and family serve themselves knowing that it would be well-loved by most people. We found this across the web starting at $23.99 for a 1.5-liter box.
Bota Box Cabernet Sauvignon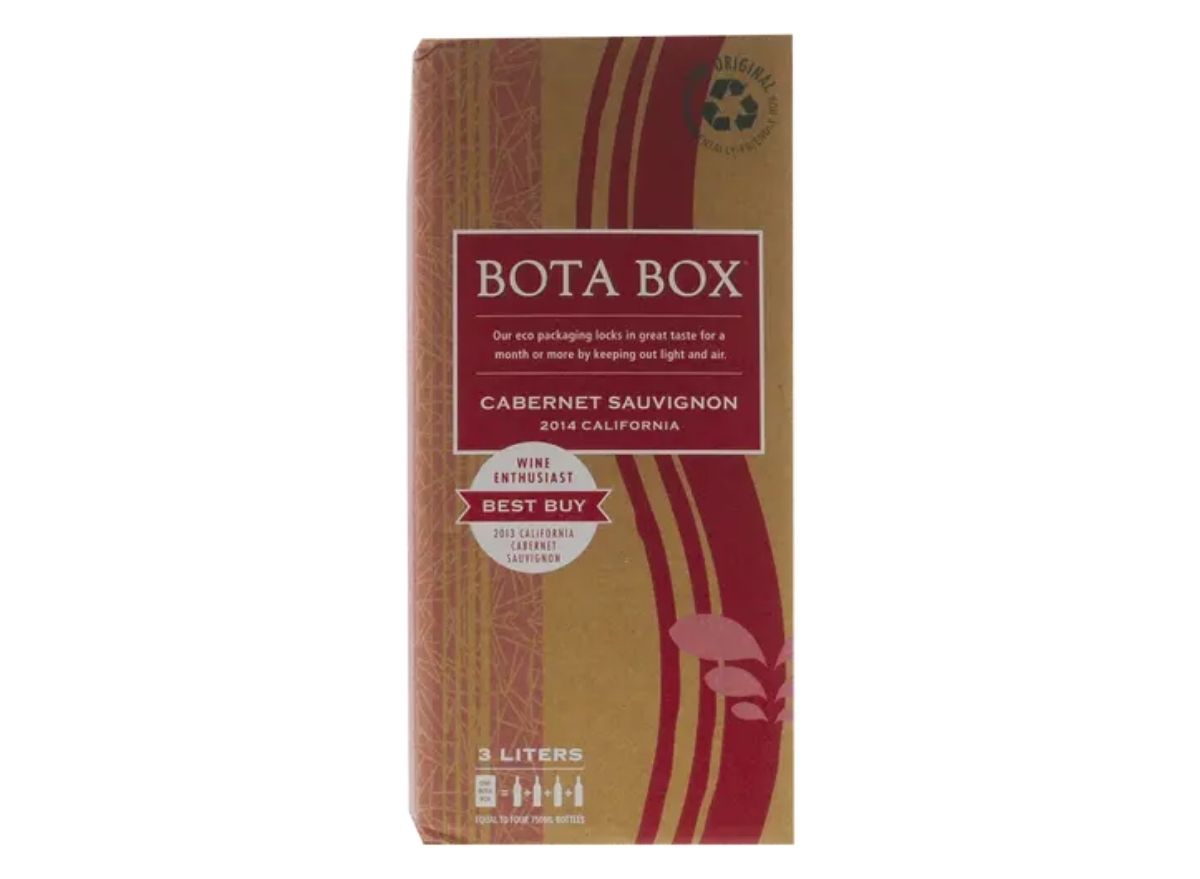 6254a4d1642c605c54bf1cab17d50f1e
Bota Box Cabernet Sauvignon is the wine we're reaching for when we're watching a movie with friends or family, hanging out on the back porch in the evenings, or simply just craving a glass of wine. The wine is lighter bodied than most of the other wines on our list, which makes it ideal for pouring a glass and enjoying it by itself. We loved the slight cherry notes that didn't become overly fruity or sweet. a 3-liter box of this wine can be yours starting at $19.99!
Barefoot On Tap Cabernet Sauvignon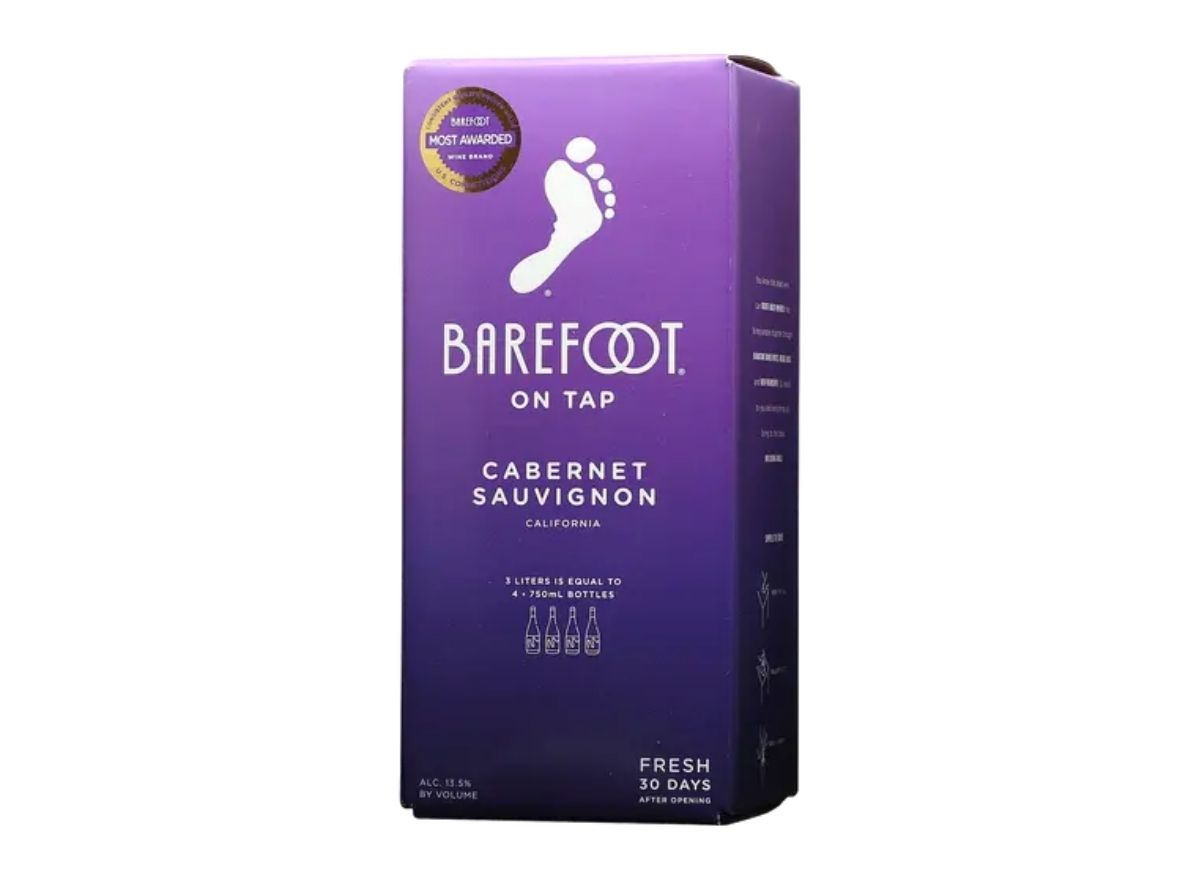 Barefoot wines are known for being drinkable and accessible to anyone no matter what type of wine they like. That's especially true of the Barefoot On Tap Cabernet Sauvignon, which is our number one boxed red wine. The wine has notes of dark berries and vanilla, which makes the wine hearty enough to cut through food or flavorful enough to drink on its own. The smooth taste makes this a top contender, not only for boxed wine but for less expensive wines overall. Total Wine has a 3-liter bottle of this starting at $19.99.
Read more:
The Best Red Wine to Buy Right Now, Say Experts
One Major Side Effect of Drinking Red Wine, Says Study
Megan duBois
Megan duBois is a travel and lifestyle journalist with bylines across the internet and in print at Delish, Conde Nast Traveler, Travel + Leisure, Yahoo Lifestyle, and more.
Read more about Megan