The #1 Best Cereal for Weight Loss, Dietitian Says
If you're wondering whether you can eat cereal and still lose weight, a nutrition veteran shares some tips.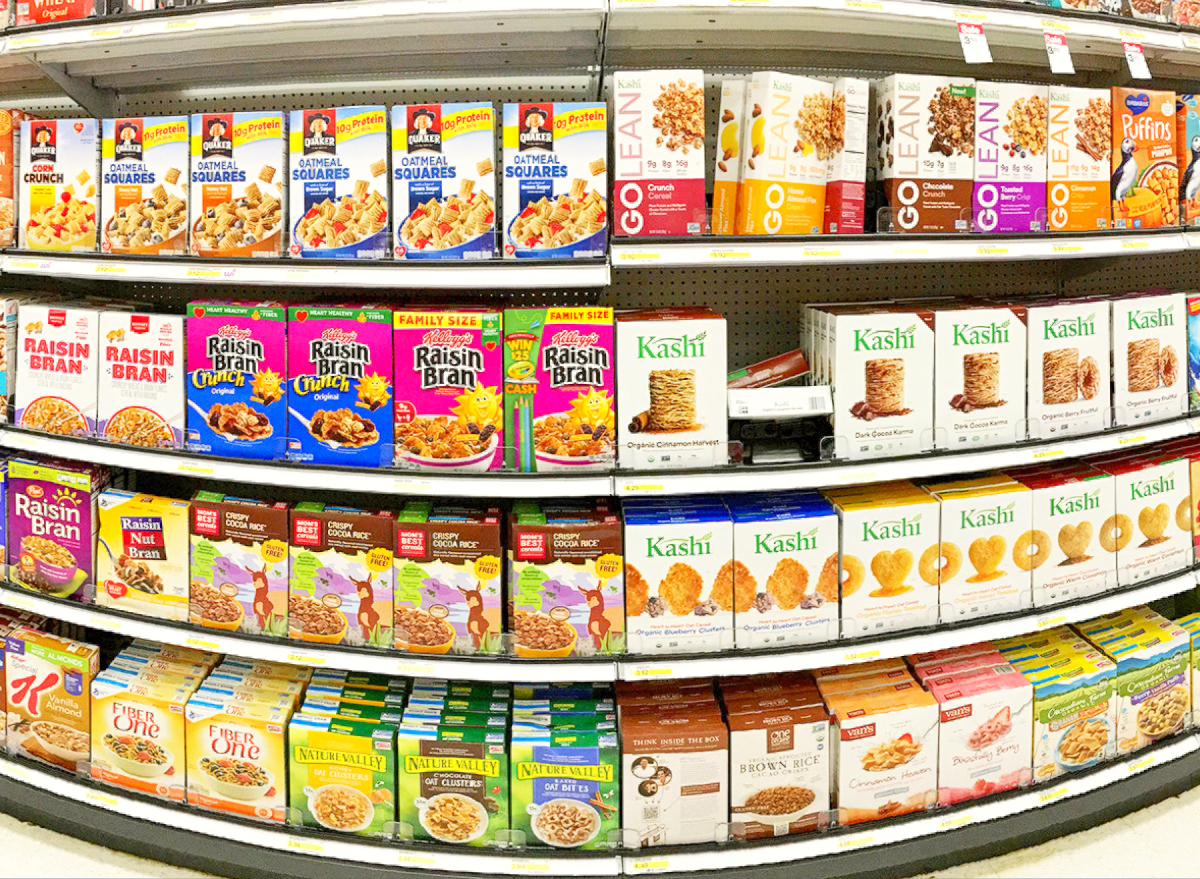 It's natural to believe that simply avoiding the old-school, sugar-coated, candy-colored cereals popular in decades past is a smart way to steer toward something healthier. But when it comes to healthy cereal, it's easy to be deceived.
In my 30 years as a dietitian, virtually all of my clients have been hoodwinked into thinking that seeking out a cereal package with phrases like "Multi-grain," "With real fruit!" or "Low sugar" means they're choosing a weight loss-friendly cereal. However, when I put cold cereal nutrition facts in perspective for them, it's often an a-ha moment.
If you're like many of the people I've worked with, cereal can be super confusing because when it's high in healthy content (like fiber or protein), it's often also high in something less healthy, like sugar. So there's rarely a strict good or bad choice.
To make it easier for you to navigate the cereal aisle, especially if you're interested in trimming down, I've analyzed nutrition information from major cereal brands that are marketed to be the healthiest. If your goal is weight loss—or even if you want to keep your sugar consumption in check—you'll probably find this scoop on popular boxes enlightening.
Keep reading for the truth about popular "healthy" cereals and what they're really doing for your weight-loss goals. And, for more food insight likely to make you think, read The #1 Worst Drink for Your Liver, New Study Says.
How much sugar in cereal is a lot?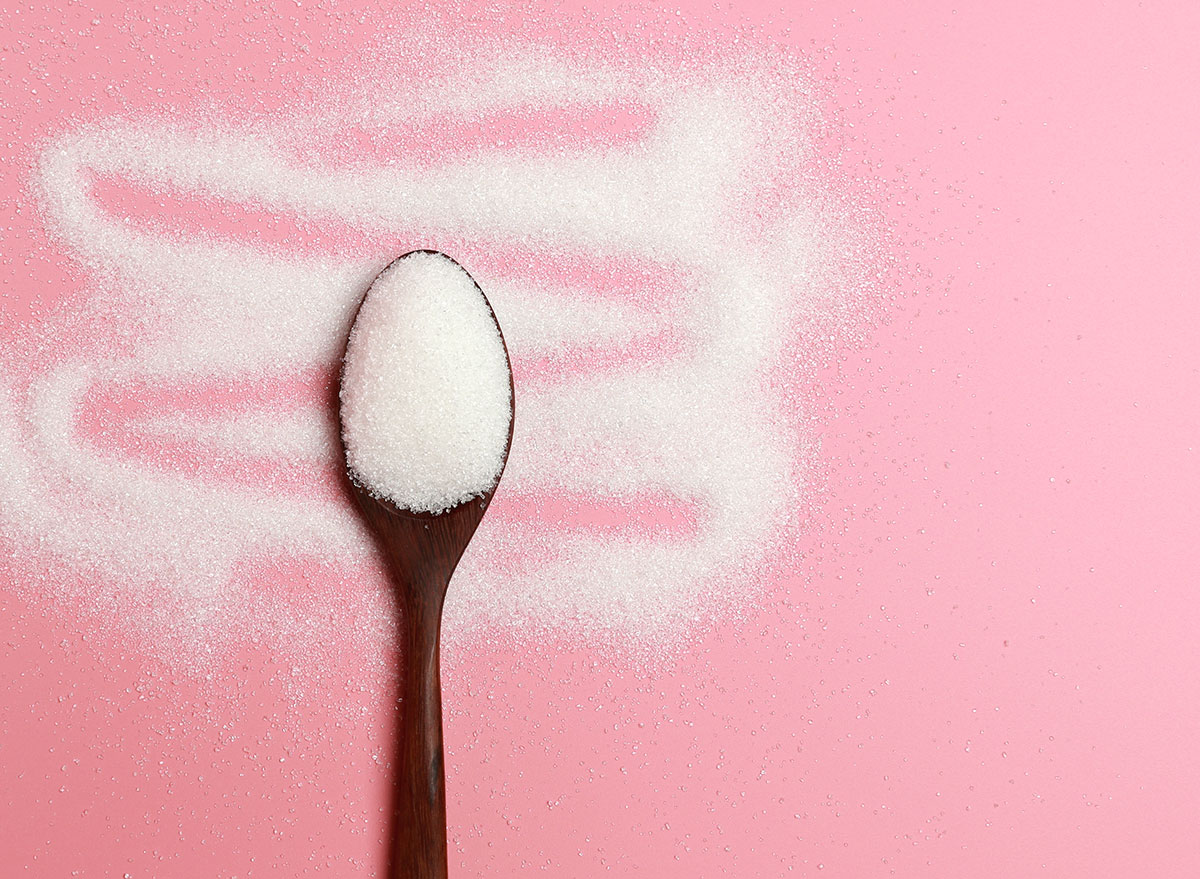 A rule of thumb for understanding how much sugar is in your cereal is to know that four grams is equal to one teaspoon. For context, a cup of Fruity Pebbles cereal contains 12 grams of sugar, which is equal to pouring three teaspoons of sugar into a bowl.
When you think of it this way, you may be more likely to think twice before you go for those sweetened cereals.
Use this guide to rate the sugar in your cereal:
very low – less than one gram
low – four grams or less (equal to one teaspoon or less)
medium – up to eight grams (two teaspoons)
high – up to 12 grams (three teaspoons)
very high – more than 16 grams (which is four teaspoons)
Related: Sign up for our newsletter for the latest health and food news!
The roles of carbohydrates and fiber in cereal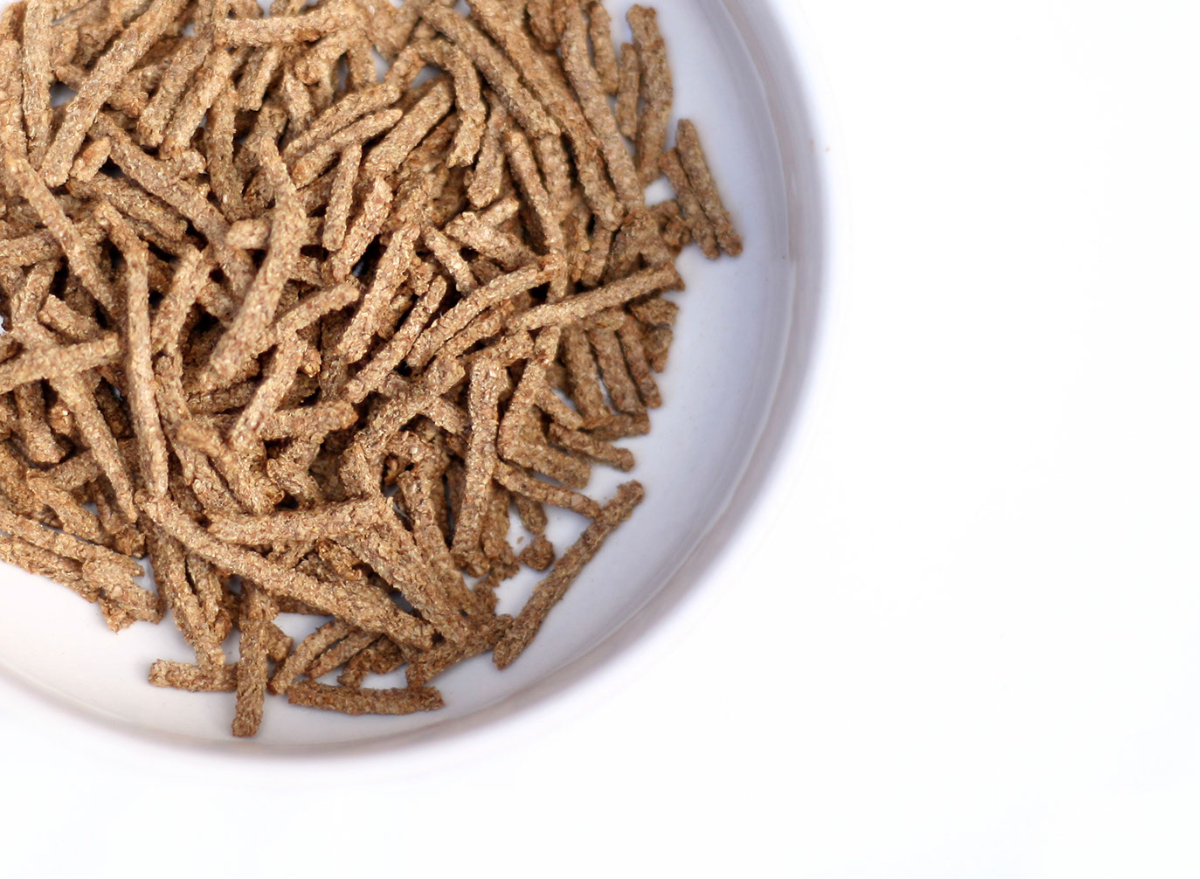 Carbohydrates may come from any source: Added sugar, honey, syrup, fruit, grains, and more. If you're trying to lose weight, it's important to understand that no matter what the carb source may be, all carbohydrates eventually convert to blood sugar. If the body doesn't expend that sugar through physical activity, it will be stored as fat. That doesn't make all carbohydrates bad—but getting plenty of movement is something to factor in.
Another weight-loss advantage that you might not be aware of is that for cereal containing fiber, you can subtract the grams of fiber from the grams of sugar to understand how much sugar your body is actually taking in. If Post Raisin Bran contains 48 grams of total carbohydrates and nine grams of dietary fiber, the amount converting to blood sugar will be 39 grams. This is because fiber goes right through the digestive system to do its job as roughage, and doesn't get converted to blood glucose.
Here's what I like about Cheerios…
For your health in general, Cheerios are a solid option. Most Cheerios varieties are made with whole grain oats. Oats are high in soluble fiber and have an antioxidant, anti-inflammatory compound called avenanthramide, which is only found in this one food. No wonder so many people love it.
The downside of Honey Nut Cheerios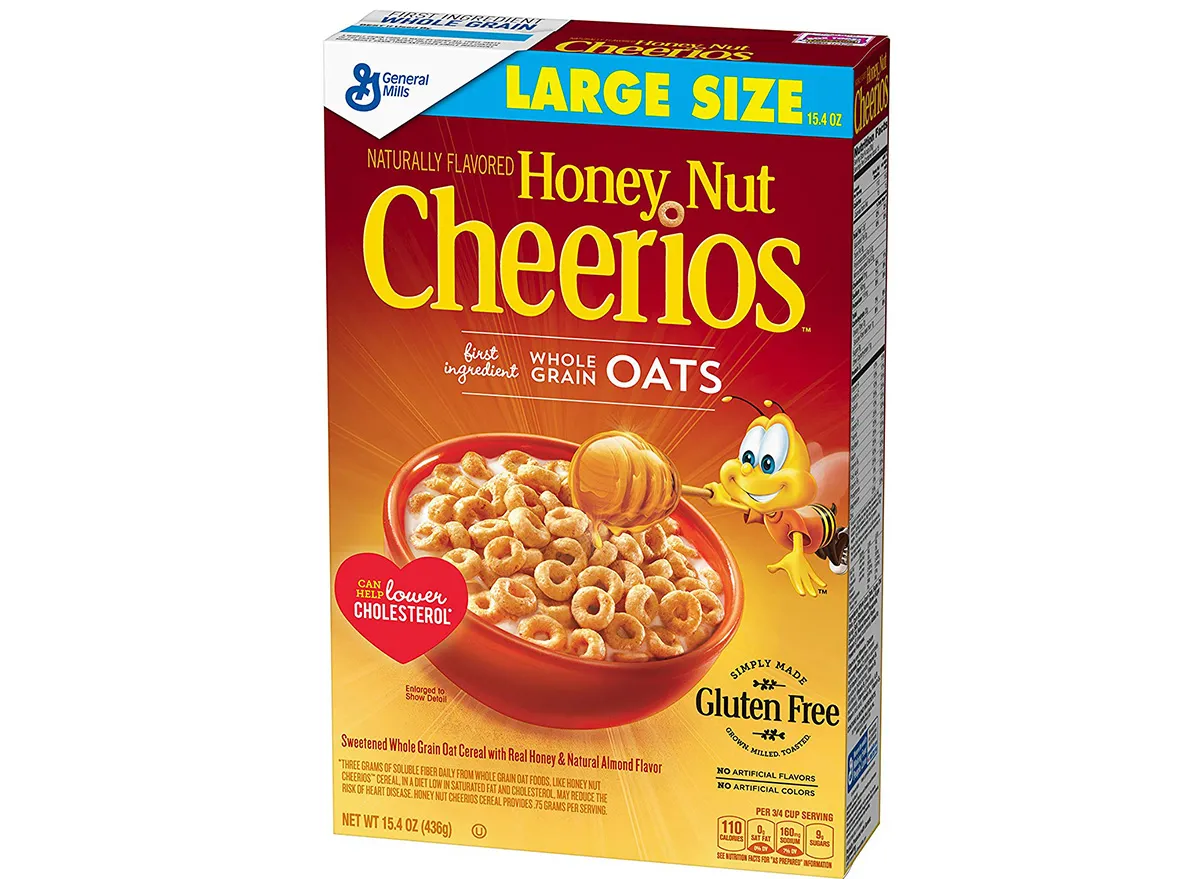 6254a4d1642c605c54bf1cab17d50f1e
Per 1 cup
: 140 calories, 2 g fat (0 g saturated fat, 0 g trans fat), 0 mg cholesterol, 210 mg sodium, 30 g carbohydrates, 3 g fiber, 12 g sugars (12 g added sugar), 3 g protein
Specifically, clients have asked me about the sugar content in Honey Nut Cheerios. I explain that this cereal contains three types of sugar: White sugar, honey, and brown sugar syrup—which are all just different types of sugar with similar calories. So, altogether, one cup of Honey Nut Cheerios has three teaspoons of sugar.
It's important to understand that even when a cereal brand promotes that it's sweetened with honey, honey is sugar. Whether it's white sugar, brown sugar, corn syrup, maple syrup, or honey… they all raise your blood sugar.
What about Multi Grain Cheerios?
Per 1-1/3 cup
: 150 calories, 1.5 g fat (0 g saturated fat, 0 g trans fat), 0 mg cholesterol, 150 mg sodium, 32 g carbohydrates, 3 g fiber, 8 g sugars (8 g added sugar), 3 g protein
Many consumers believe "multi grain" means more fiber, but this isn't the case. Multi Grain Cheerios have the same amount of fiber (three grams in a cup) as Honey Nut Cheerios and original Cheerios.
Now, watch what happens when we compare Multi Grain Cheerios to original Cheerios…
Original Cheerios are, in my opinion, the healthiest Cheerios
Per 1-1/2 cup
: 140 calories, 2.5 g fat (0.5 g saturated fat, 0 g trans fat), 0 mg cholesterol, 190 mg sodium, 29 g carbohydrates, 4 g fiber, 2 g sugars ( 2g added sugar), 5 g protein
Check the labels and you'll see Multi Grain Cheerios have eight grams of added sugar, and original Cheerios have just two. This puts Multi Grain Cheerios in the medium-sugar category, while original Cheerios are low sugar.
Plus, look which has higher fiber! One serving of original Cheerios has 40% more fiber than a serving of Multi Grain Cheerios.
Now, here's the deal with Shredded Wheat
Per 1-1/3 cup
: 210 calories, 1.5 g fat (0.0 g saturated fat, 0 g trans fat), 0 mg cholesterol, 0 mg sodium, 49 g carbohydrates, 8 g fiber, 0 g sugars (0 g added sugar), 7 g protein
Another decent recommendation for a weight-loss cereal is Spoon Size Shredded Wheat Original. It contains nothing added: No sugar, no salt, and no fat. One cup contains six grams of natural fiber and five grams of protein. If you're looking for the ultimate wholesome cereal, this is it.
What about Frosted Mini Wheats?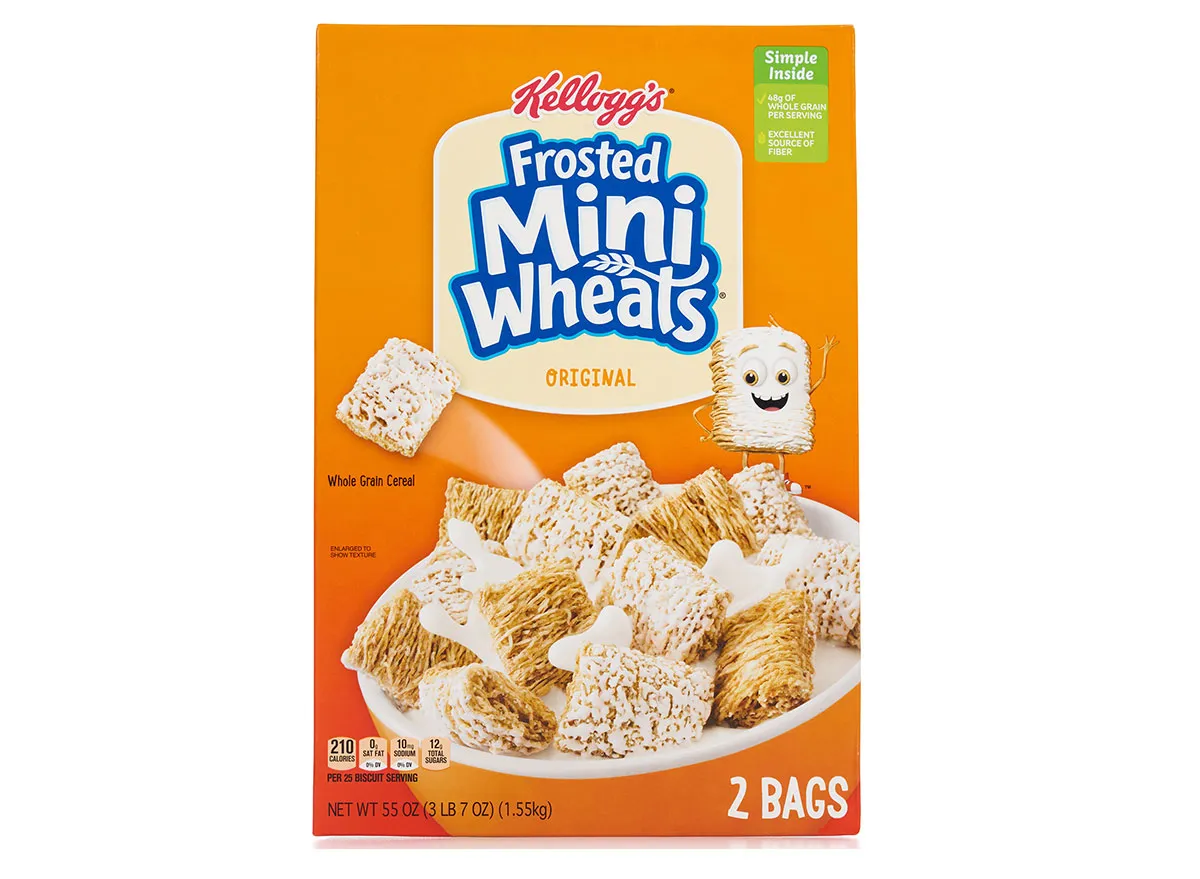 Per 60 g, or about 25 biscuits
: 210 calories, 1.5 g fat (0.0 g saturated fat, 0 g trans fat), 0 mg cholesterol, 10 mg sodium, 51 g carbohydrates, 6 g fiber, 12 g sugars (12 g added sugar), 5 g protein
Over the years, I've had a lot of clients ask me whether Frosted Mini Wheats are as healthy as Shredded Wheat. My answer? As you might guess, Frosted Mini-Wheats aren't exactly as healthy. One cup is covered in 12 grams of sugar—that's three teaspoons. For this reason, Shredded Wheat is the better choice between the two if you're trying to lose weight.
Special K's pros and cons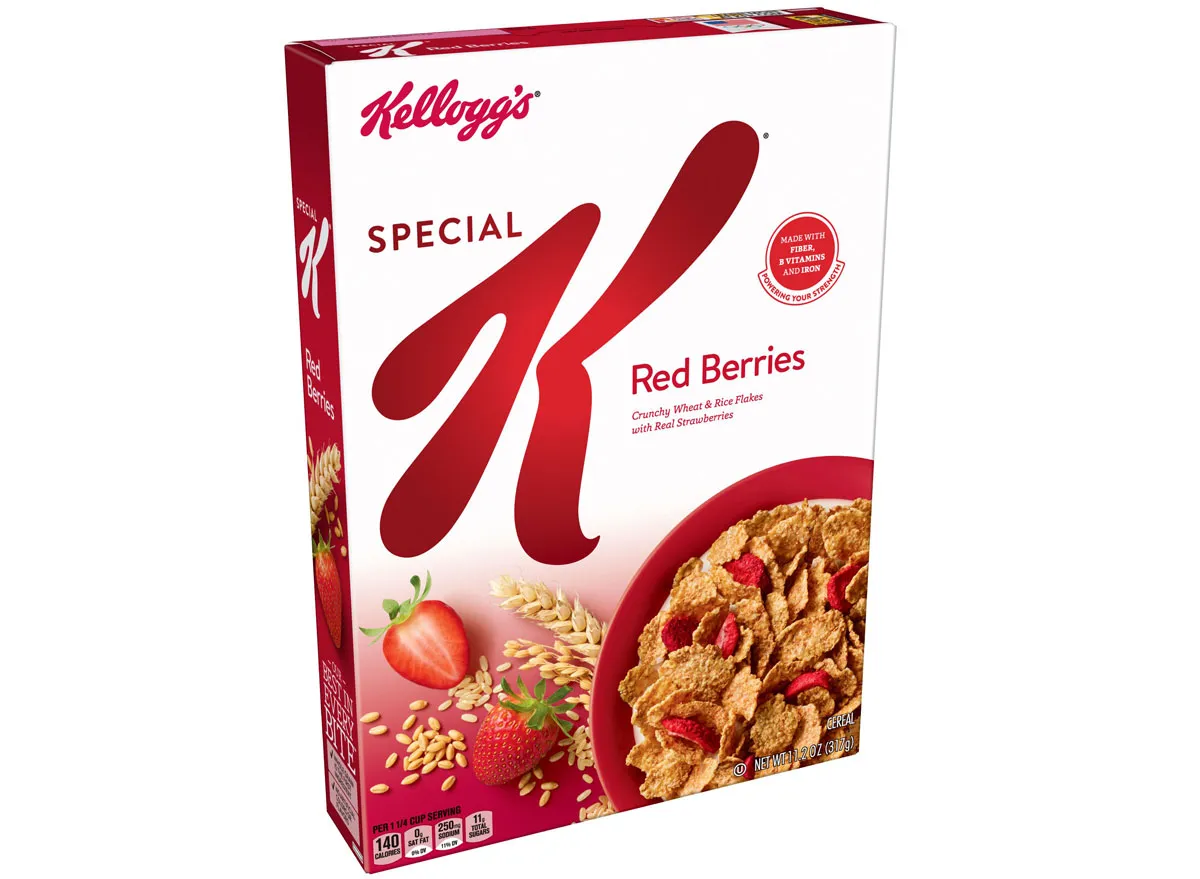 Per 1 cup
: 140 calories, 0.5 g fat (0.0 g saturated fat, 0 g trans fat), 0 mg cholesterol, 250 mg sodium, 34 g carbohydrates, 3 g fiber, 11 g sugars (10 g added sugar), 3 g protein
You might think adding real fruit makes a cereal more nutritious… but again, it's often not. For example, Special K Red Berries is not a more nutritious cereal with freeze-dried strawberries added, because the cereal is sweetened with brown sugar and syrup. In one cup of this pick, there are eight grams (that's two 2 teaspoons) of added sugar.
However, Like Cheerios, Special K cereals are low-fat.
Which Special K cereal is best for weight loss?
Per 1 cup
: 210 calories, 1.5 g fat (0.0 g saturated fat, 0 g trans fat), 0 mg cholesterol, 260 mg sodium, 39 g carbohydrates, 5 g fiber, 8 g sugars (8 g added sugar), 15 g protein
My recommendation among Special K cereals is Special K Protein. There are 11 grams of protein per cup, almost equal to the protein content in two eggs. This is also a great choice for iron, as it provides 75% of your daily intake and is a good source of fiber with five grams. Even though it has one-and-a-half teaspoons of sugar added per cup, it still rates as a good all-in-one cereal.
Kashi GO's protein bonus, explained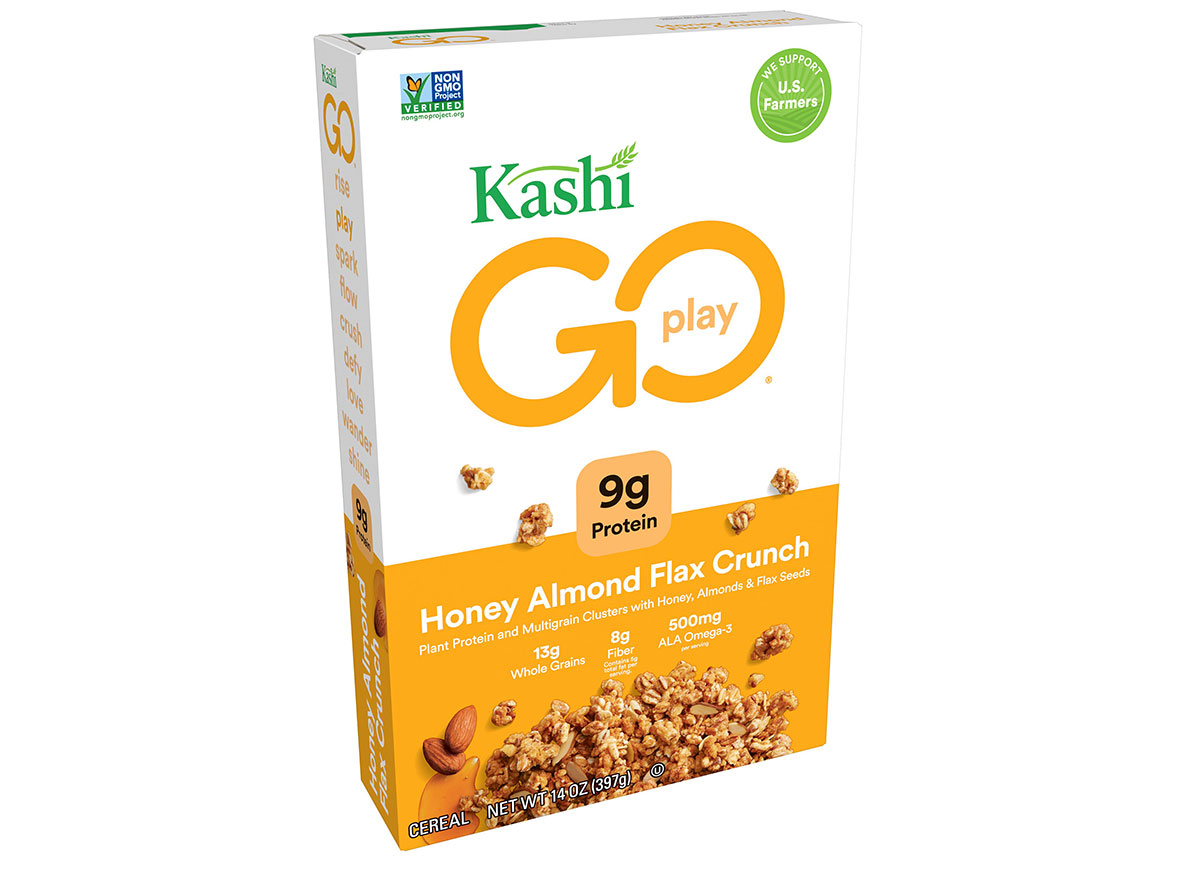 Per 3/4 cup
: 200 calories, 5 g fat (0.5 g saturated fat, 0 g trans fat), 0 mg cholesterol, 140 mg sodium, 34 g carbohydrates, 8 g fiber, 12 g sugars (10 g added sugar), 9 g protein
Some clients ask me: "Do I need protein in my cereal?" I often tell them it's unnecessary. While cereals marketed for their relatively high protein content have become a trend in recent years, it's useful to beware that many high-protein cereals also have more sugar.
On its own, higher protein doesn't necessarily make these cereals better at helping you get leaner. Kashi GO Lean Honey Almond Flax Crunch has protein equal to two eggs, but it also packs on more fat and calories compared to Kashi GO Lean Toasted Berry Crunch, plus more sugar.
It does have high protein from the almonds, though that also gives it higher fat—so if you're looking to shed weight, that's just wisdom to keep in mind.
If you want protein with your breakfast cereal, choose a low-sugar cereal and have one serving of protein—that's around seven grams—on the side. Examples of foods with this amount of protein are one egg, or one-quarter cup of sliced almonds.
My favorite Kashi GO pick…
Of the Kashi GO Lean cereals, my pick is Kashi GO Lean Original for its lower calories. It has 10 grams of protein (more than one egg) and 10 grams of fiber, which is half the daily fiber for women and about a third of daily fiber for men. It has a Medium sugar rating with six grams, or one-and-a-half teaspoons, of added sugar.
If the idea of a "lean" cereal calls your name, one of my favorite alternatives is a simple bowl of original Cheerios. (And if you're looking to get lean, read Want a Lean Body for Good? Adopt These 4 Exercises ASAP, Trainer Says.)
My final suggestion for the cereal that's best for weight loss
And the answer is—the cereal you like, just in smaller amounts. What's most important is that you eat breakfast, because this helps with maintaining long-term healthy weight.
Here's an idea: Start with one cup of one of the very-low or low-sugar-added cereals such as Spoon Size Shredded Wheat, Cheerios Original, or Special K Original. If you like, add one tablespoon of whole nuts or seeds and half a cup of fresh berries or sliced fruit. Top with your favorite milk or milk substitute. Enjoy!
For more, continue:
Author's Note: For those with allergies, special food needs, or health problems, please contact your medical adviser prior to consuming any new food product.
Karen Graham, R.D., C.D.E.
Karen has worked as a Registered Dietitian and Certified Diabetes Educator for almost 30 years and has counseled over 5,000 clients, helping them to overcome challenges and make positive lifestyle changes.
Read more about Karen