We Tasted 8 Fast-Food Kids' Meals & This Is the Best
This is the spot you should take your kids for the best-tasting cheeseburger.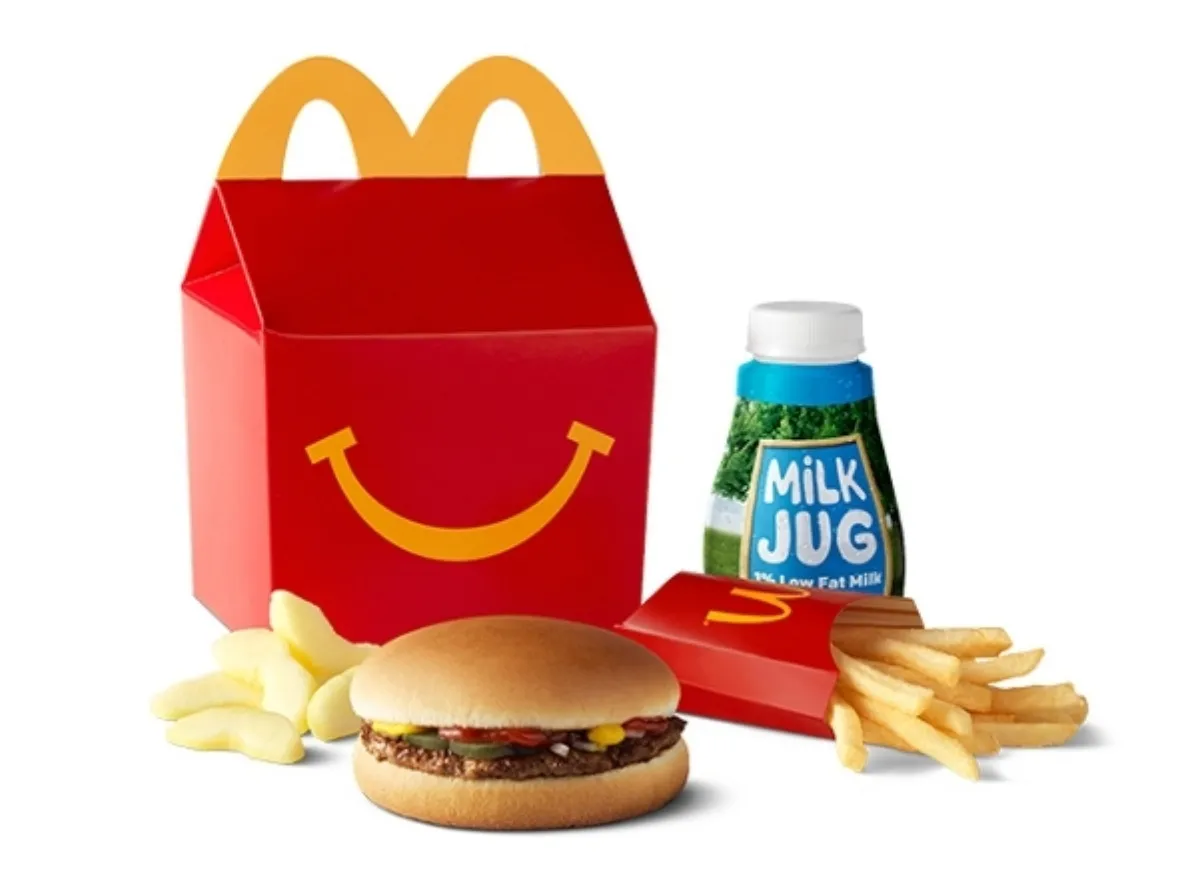 It's a common enough scene to many a harried parent: the kids are screaming; they're tired and hungry. You don't recognize them anymore, but since they're your kids and you care about their health (and don't want them hopped up on sugar), you can't just feed them a Snickers. You need a solution… fast. Placation, thy name is the fast-food kids' meal.
But not every fast-food enterprise has a designated kids menu, portioned to their size and budgeted to fit yours. Not all of them include toys or dessert, and some of them may offer so many options, you need to drive up with a game plan. But how can you determine which fast-food cheeseburger kids' meal is the best for your child without having ever, well, tasted it?
To keep things as true to the restaurant's intention (and parental preference) as possible, I went to every open fast-food chain in the area that offered traditional, pre-set cheeseburger meals specifically outlined as part of a kids' menu. I then ordered a cheeseburger kids meal, however, their default burger comes, fries as a side, and milk. For the one chain that made every burger custom, I stuck to what seemed to be the most common formula. The meals were then evaluated based on those components and on what was delivered, accurate or not, to show the most true-to-life ordering experience.
What we tasted:
Burger King Cheeseburger King Jr.
Burger King Double Cheeseburger King Jr.
Culver's ButterBurger Cheese Single Kids' Meal
Dairy Queen Cheeseburger Kids' Meal
Hardee's Star Pals Cheeseburger Kid's Meal
McDonald's Happy Meal
Sonic Hamburger Wacky Pack with Cheese
Wendy's Kids' Cheeseburger Meal
Here are your options—and what ought to come with each meal—ranked. And if you're looking for a quick bite for you skip the 8 Worst Fast-Food Burgers to Stay Away From Right Now.
Sonic Hamburger Wacky Pack with Cheese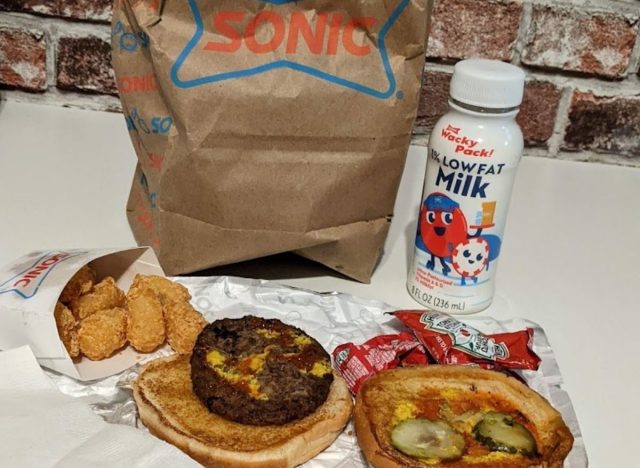 The Presentation
Oof, where to even start here? As you can see from the picture, this is not at all what a typical kids' meal should look like. But then again, the 25 minutes it took to order and receive this wildly inaccurate meal is also not what fast food should feel like, much less one named Sonic. I'd have gone back for a re-taste as I ended up doing with DQ if not for the fact that there was no tiebreaker needed here. This meal would not be redeemable with cheese, fries, toy, nor a special bag—all of which were supposed to be present and none of which were.6254a4d1642c605c54bf1cab17d50f1e
The Burger
The dry, slightly rubbery meat was unquestionably a very junior "Jr. patty," barely covering up three-quarters of the bread. And yes, I do mean bread. It may be bun-shaped, it may have been toasted, but no amount of toasting could have saved it from tasting like the heel of common white bread loaf, with that slightly metallic, dark flavor and flake-off texture. More than the pittance of mustard and ketchup could have helped, supporting the nice, sharp pickle, but there wasn't enough to reconstitute the main ingredients.
The Sides
While the hot and crispy tots I was given were a unique offering and I appreciated the availability, they had a weird chemical after-smell. Again, not a typo—it tasted fine, but left a lingering chemical aroma on your breath, kind of how Checkers' cooking oil does. The texture was fantastic and ketchup goes a long way to clean out the feeling. I'd imagine, cooked in the same oil, their skinny fries might suffer the same problems. Alternatively, you can opt for Tree Top applesauce in a pouch. The milk was their own brand: 8 ounces of ultra-pasteurized 1%, bottled in plastic. It was oddly sweet, though, making the available Minute Maid from-concentrate apple juice box perhaps a safer choice for kids who are off-put by novelty.
Wendy's Kids' Cheeseburger Meal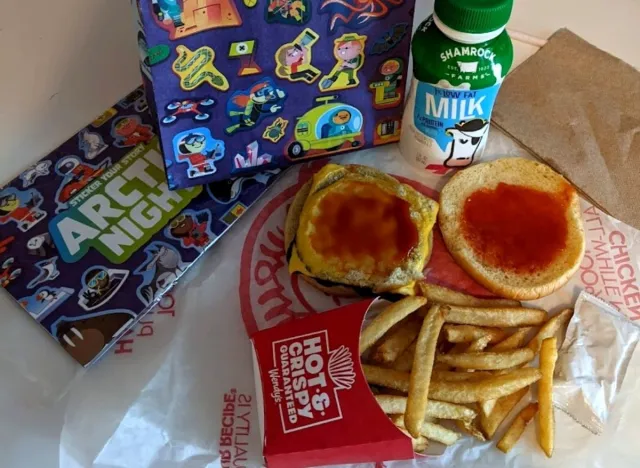 Presentation
Having worked at Wendy's as a teen, I was interested in seeing if the kids' meals had changed since those days. At first glance, it seemed to be the same, with the toy, a napkin, and a straw pre-packed in the bag as evidenced by their placement at the bottom. Wendy's typically does their own thing with the "toys," eschewing licensed items; in this case, it was a game card with two generously big sheets of stickers, perfect for time-consuming road trip play after the meal.
The Burger
Unfortunately, the cheeseburger itself has been downgraded and stripped of all but the bare minimum. All it had was cheese and ketchup, while a decade ago, it came with pickles and onions, too. The junior patty was skinny and warm but not hot; it was firm and minimally seasoned, its meat flavor overshadowed by the American cheese, which was not fully melted but still rich. The bun wasn't toasted, but it was warm, fresh, kept its shape, and felt more prominent than the meat. This disproportionate bread-to-everything-else ratio made it kind of a chore to finish; there just wasn't anything very exciting about it.
The Sides
The fries that came with it were thick and salty with crispy edges and soft insides, stuffed in a chicken nugget-sized container and for once, filled to the brim. Their website suggests you can ask for apple slices, but none were offered. Seven ounces of Shamrock brand 1% milk in a bottle came with the meal; you can opt for Simply Orange juice as well. In all, this felt like a school cafeteria cheeseburger meal, with not much to it and nothing to get excited about.
Burger King Cheeseburger King Jr.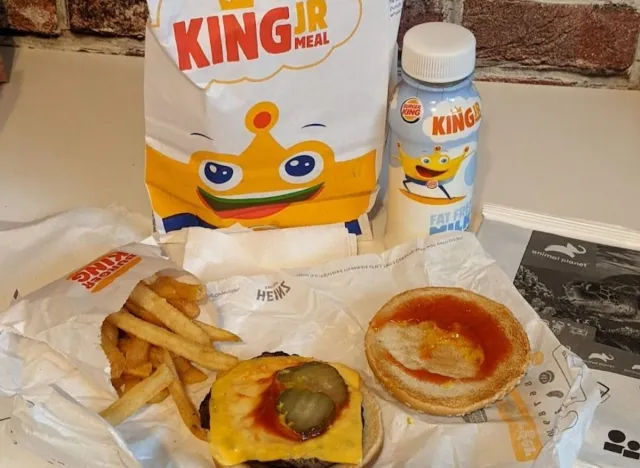 The Burger
There's no mistaking a BK burger for anything but a BK burger, its signature flame-kissed smokiness doing wonders to elevate otherwise mediocre meat. The patty was well seasoned and clearly charred, toeing the line toward dryness but not quite overstepping, with only partially melted cheese to ease it.
The Presentation
However, as a whole package, the King Jr. conducted itself like a prince. It gave off block party barbecue vibes, reinforced by the untoasted but fresh, firm, and slightly sweet petite sesame-seeded bun. It was a tidy little package, just a smidge larger than slider-sized, and tied together with mustard, ketchup, sour pickles for neat, satisfying bites.
The Sides
The fries left more to be desired; they're thicker than the extra-crispy ones of my own childhood Burger King kids' meals. They retained a noticeable fried-at-home oiliness in that it tasted like oil, not grease or chemicals. You can get Mott's unsweetened applesauce instead, if you like, but it's not openly offered.
The milk was 30 cents more, an ultra-pasteurized nonfat iteration that tasted like both traits; Simply Orange juice and an unnamed brand apple juice are your other traditional alternatives. As for the accompanying toy, they also went the sticker route, supplying an Animal Planet-licensed cardboard activity kit and "sunglasses" that were too big for the kiddie bag and handed off separately.
Hardee's Star Pals Cheeseburger Kid's Meal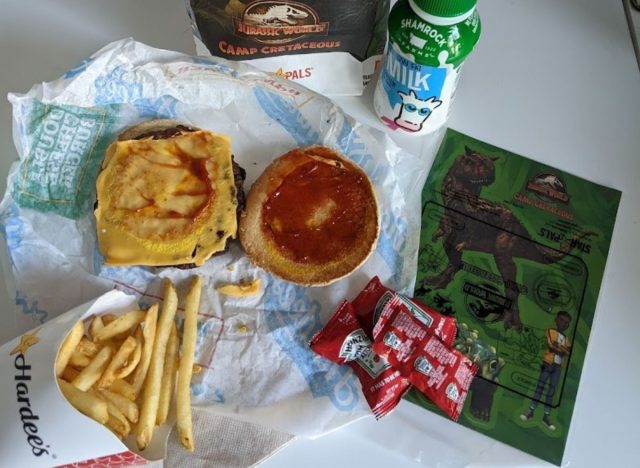 The Burger
Finally—a cheeseburger kids' meal that even an adult can call a meal! The burger patty was slightly bigger than the regular-sized toasted sesame-seeded bun, and had delightful crispy edges that made up for the interior being dry. This burger tasted like real meat, salty with a tinge of iron, and enough of both to make you need the extra ketchup packets they throw in the bag. They hide the pickles (stop laughing!) on the bottom and put the ketchup and mustard on top, over the nondescript unmelted cheese, which was bland enough that I honestly wouldn't have missed it. This and the generic, dry, and none too fresh-tasting bun that was kind of hard to get through were the weak points in what was otherwise a very good neutral burger that was pretty filling and enjoyable for its textures.
The Sides
As for sides, your only option at Hardee's is their skinny skin-on fries, so it's a good thing that they're done well and in a way that will appeal to kids used to cafeteria fries. They're crunchy on the outside with some soft, smushy parts (kind of like Wendy's old fries) and fresh-tasting, free from excessive grease. Best of all, the size is closer to a small, even partially filled up as it was. The milk was the same 1% Shamrock brand as offered by Wendy's, but came with a ten-cent upcharge they won't mention, whereas the chocolate version is interestingly not additional.
The Presentation
Hardee's, too, opted to make their prize stickers, and matched their bag to the Jurassic Park theme, which means you can look toward partnerships with movie and entertainment brands as opposed to more generic toys.
McDonald's Happy Meal
The Presentation
Mickey D's banks on lifelong loyalty, and they start 'em young with the most well-crafted package on the market, clearly investing significantly more funds into licensing and packaging than any one of their competitors. It's hard not to love the box with its M-shaped handles. The details that haven't changed since I used to beg my own mother for Happy Meals. They still partner with immediately recognizable brands for straight-up toys, like the current Mario Kart ones—another brilliant marketing move as kids demand to come back to spin that wheel in hopes of collecting them all. All of it was tucked away in such good order that one could even imagine that it was done lovingly. The milk is Disney for the kids, and the apple juice is Honest Kids for the parents. So happy? Yes. But full? Maybe not.
The Sides
Portion size is where it loses points because this is less a kids' meal than a toddler's meal. The 1% milk tastes much fresher than the other ones, doesn't have that cloying ultra-pasteurized flavor, and is in a bottle thoughtfully designed for smaller hands to grip. However, it is an ounce less than the standard, and the fries are in a Lilliputian flat cardboard sleeve that could easily be mistaken for a children's playset prop. You can get peeled apple bites instead (they gave me both, by accident), but that baggie is still a micro-mini.
The Burger
The burger is just as expected: warm, familiar, and distinct with its watered-down diced onions, sour pickles, and a splash of ketchup and mustard. The meat was a little chewy, the toasted and steamed bread spongy, and cheese melted, all of it going down fast and easy—perhaps all the better to speed to the main point of this kit, which is clearly the happy over the meal.
Burger King Double Cheeseburger King Jr.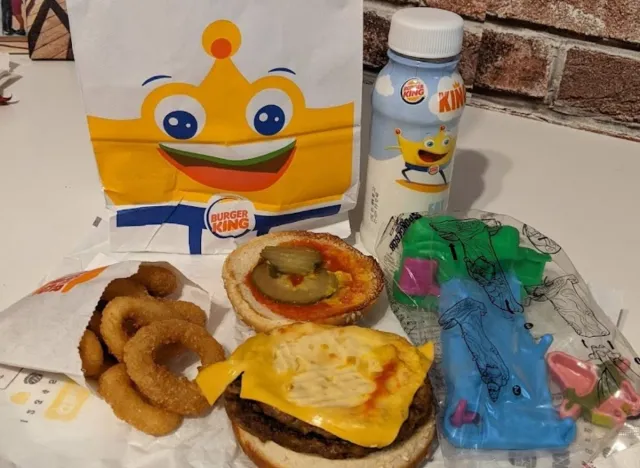 The Presentation
If the kids' meal at McDonald's is geared toward tiny tots, the double version of the King Jr. is built for bigger ones. And the fact that BK gives you an intermediate option before graduating into adult meals is a thoughtful detail. I went to a different location than the single for this one, and was pleased to see that the same tidy, careful assembly applied to the double as everything was stacked to center.
The Burger
You lose some of the flame-broiled char flavor in the extra meatiness, and some cheese notes since it's laid on top instead of between the patties. That would have helped it melt and open up. However, the flavors throughout remain assertive, with the pickles, mustard, and ketchup cutting in to add acid and moisture. Not that the bun needed too much support, though. Solid as the lightly toasted sesame bun was, firmly able to hold everything together, it was still fresh and soft and in perfect proportion to the fillings.
The Sides
Because I'd already tasted the fries, I went for the onion rings this time, which were heavily breaded and kind of flavorless, unless you count grease as a flavor. The other differences between this and the Cheeseburger King Jr. meal tested, however, were not of my own doing. This one came with Simply Heinz ketchup packets, which uses real sugar instead of corn syrup in its formulation, and a Spongebob Squarepants physical toy as opposed to Animal Planet activity kit, signaling a changeover in theme and breadth of type.
Dairy Queen Cheeseburger Kids' Meal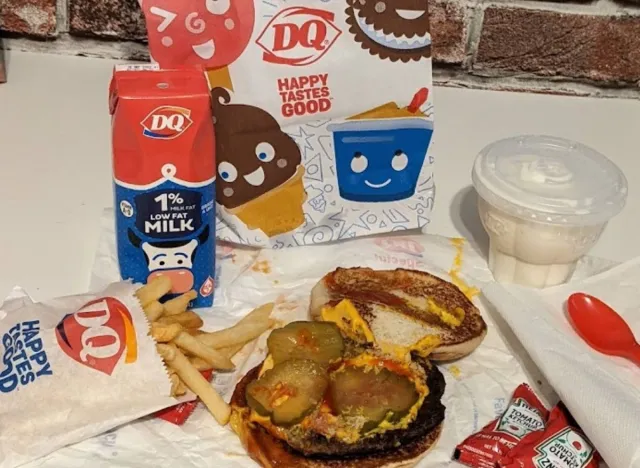 At Sonic, they forgot my cheese. They did the same at DQ. For authenticity of experience, I would have left it at that and tested only the first attempt. However, the cheeseburger kids' meal was good enough that I had to make it apples to apples (even though I ordered none throughout this experiment) to make sure it got its rightful billing … and wouldn't you know it, the messy, melty cheese did propel it several spots up!
The Burger
The advantage it started with, even before it was festooned with gooey, creamy American, was in its size and its bun. The latter was absolutely delightful, a pleasant dip into grown-up premium sandwich territory, all plush, soft, brioche-like, and toasted sweet. With jagged, misshapen edges that gave the meat the crisped borders of a smashed patty, it took up the entire excellent bun, plus a slight lip for slips. It was evenly topped with thick-cut, bold pickles that were kind of hard to bite through—an awkwardness easily forgiven since there was, for once, plenty to take its place. The generosity of the chips is why the burger's first impression veers in that direction, but the cheese is what smooths it all out. It's a little too lightly sauced and seasoned, but that's nothing the included ketchup packet can't fix.
The Sides and Presentation
The type of fries they serve are akin to Wendy's before they went thicker-cut and natural; they're fluffy, crispy, and clean-tasting, free of extra oil. For even less oil, you can opt for a banana or Musselman's unsweetened applesauce pouch, but unless you ask for it, you'll be getting their very good fries. The milk was 1% in a TetraPak, which kids who drink Horizon might find familiar. An extendable straw that punches through the foil seal is included for easy sipping and minimal spilling, but parents looking for juice will have to be satisfied with applesauce. Finally, instead of a seasonal toy, they tempt young'uns with a cup or cone of their signature vanilla soft-serve, which I—and parents tired of stepping on, throwing out, and putting away tiny toys and paper goods—consider a more than fair trade-off.
Best Overall: Culver's ButterBurger Cheese Single Kids' Meal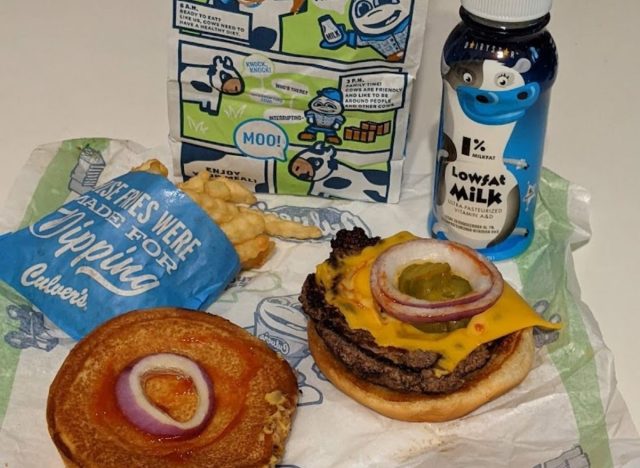 The majority of the brands put up a fair fight, but the quality of Culver's cheeseburger kids' meal made it no contest to award them the #1 spot. The other chains are more ubiquitous and accessible, and their kids' meals can be as much as $2.50 cheaper, but if quality is tantamount to hoopla, seek out a Culver's if you can.
The Burger
The name of the burger gives away what makes it special. You might think it just means they butter the bun, and that's all they cop to on their website … but the flavor on the fresh-pressed and seared patty, cooked by a "grill master," might beg to differ. I kid you not when I say that my eyes lit up from the unmistakable steak-able flavor of the meat. I recalled to mind butter-bathed beef, thanks to crispy charred edges that extruded juicy fat that ran clear from its pink-tinged center.
Every burger is made custom and as you order; I forgot to ask for mustard (native New Yorker that I am) but got ketchup, pickles, and onions to match the standard. Red onion was the default, but sauteed is also an option (note to self). The pickles were crinkle cut and extra sour, reminding me of Roy Rogers' salad bar pickles, and held in uneven place by strongly cheesy American. All of it was wrapped together with care on a soft, sweet toasted bun that was so delicious, I accidentally noted it twice.
The Sides
The fries—also crinkle-cut—were partners worthy of the burger: fresh fried golden, simultaneously crunchy and fluffy, and simply salted. The thickness of them helped them hold onto their temperature, and even packed as densely as they were, they didn't get soggy on the drive home. You can opt for Mott's unsweetened applesauce instead, or save the sweets for chocolate milk or Mott's apple juice. The white milk I got was a standard 8 ounces of reduced-fat ultra-pasteurized. But like DQ, you once again have two options for dairy instead of a toy.
The Presentation
Culver's kids' meal bags are printed with two coupons on the seam: one that you can collect ten of to redeem for a kids' meal or prize a la Dave & Buster's, and another for a custard scoop that you can redeem now or later. This gives kids (or you) the flexibility to come back for a treat on another day instead of scarfing down your meal before dessert melts or ruining their appetites with dessert first. This also gives parents the option to bring the kids back as a structured treat, drawing out the novelty…and gives Culver's a repeat customer, if the burger didn't already make you one.
Su-Jit Lin
Su-Jit Lin is a food and lifestyle writer whose work has been featured in Real Simple, HuffPost, and more.
Read more about Su-Jit