The 5 Best Nuts for Anti-Aging, According to Dietitians
Munch on these tiny, nutrient-packed powerhouses to look and feel better.
When it comes to foods that you should eat to stay young, nuts are a great option. "As part of an overall balanced diet, nuts can be a nutrient-dense addition to a lifestyle eating pattern that may help those seeking foods to feel and look younger," Lexi Endicott, RD, LD, CCMS, tells Eat This, Not That!
Endicott, who works with To Taste, a culinary nutrition education and consulting company, explains: "Due to their variety of vitamins, minerals, and antioxidants, low glycemic load, fiber content, protein makeup, and healthy fat profiles, nuts can be an especially healthful replacement to snacks and ingredients that work against anti-aging, such as chips, pretzels, candies, sodas, and crackers."
Granted, there are some nuts that are better than others if what you're aiming for is anti-aging effects. In fact, when we asked experts about the five best nuts to keep you looking and feeling younger, these were their top choices:
Almonds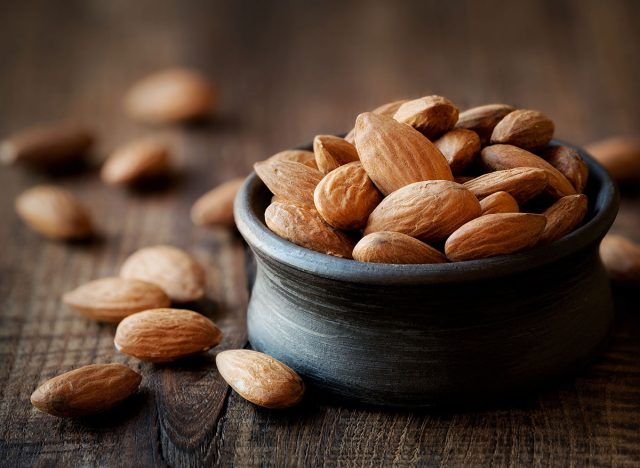 "Almond nuts are an excellent source of vitamin E, which may protect the skin from UV rays damage, retain skin moisture, and help to repair skin tissue," says Victoria Glass M.D. of the Farr Institute. "All these attributes play a part in getting healthy and radiant skin that may appear younger."
Related: Sign up for our newsletter to get the latest healthy eating news!
Walnuts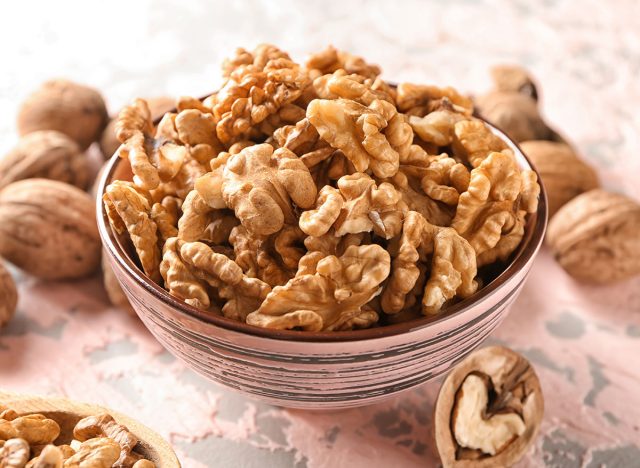 Dr. Glass was also among the experts who chose walnuts, saying that they "contain anti-inflammatory omega-3 fatty acids that may help with keeping the skin a glow and strengthen skin membrane."
"Walnuts represent one of the most important sources of polyphenols—pedunculagin, an ellagitannin," adds Kristina Žalnieraitė, a registered and licensed dietitian and the Head of Nutrition & Wellness at Kilo Health. "These polyphenols have a high antioxidant and anti-inflammatory bioactivity that has a positive impact against disease initiation and progression, including cancer, cardiovascular, and neurodegenerative diseases."
Related: The #1 Best Nut to Reduce Inflammation, Says Dietitian
Pistachios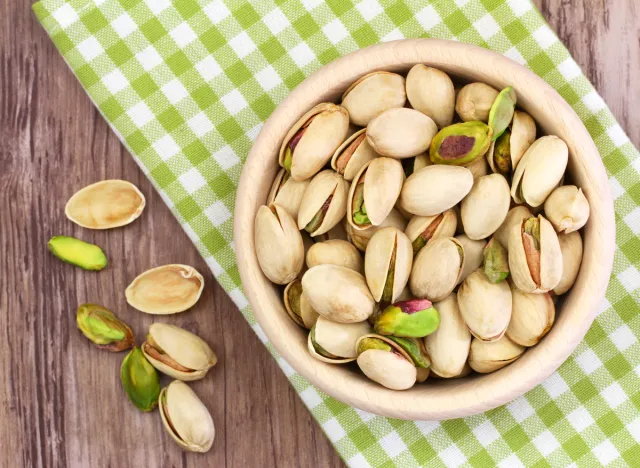 "Pistachios have a high content of polyphenols and flavonoids, which are important contributors to the antioxidant and anti-inflammatory effects," says Žalnieraitė. "Due to their high content of bioactive compounds, pistachios are known as the top 50 foods in total antioxidant capacity."
Susan Kelly, a registered dietitian nutritionist with Pacific Analytics, adds: "The antioxidants present in pistachios also help with acne reduction and protect your skin from cellular damage."
Cashews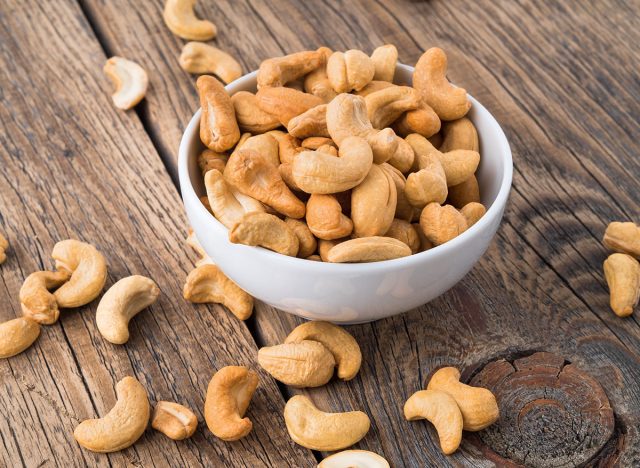 "Raw cashew nut kernels were found to possess appreciable levels of certain bioactive compounds, along with a huge variety of vitamins, minerals, amino acids, phytosterols, and a generous content of fiber," says Žalnieraitė. "This is associated with reducing the risk of cardiovascular disease and mortality, and a decreased risk of metabolic syndrome and diabetes. Moreover, some scientific studies have shown that these nuts might improve mental health, and increase bone mineral density."6254a4d1642c605c54bf1cab17d50f1e
Related: The #1 Best Nut to Eat, Says Dietitian
Brazil Nuts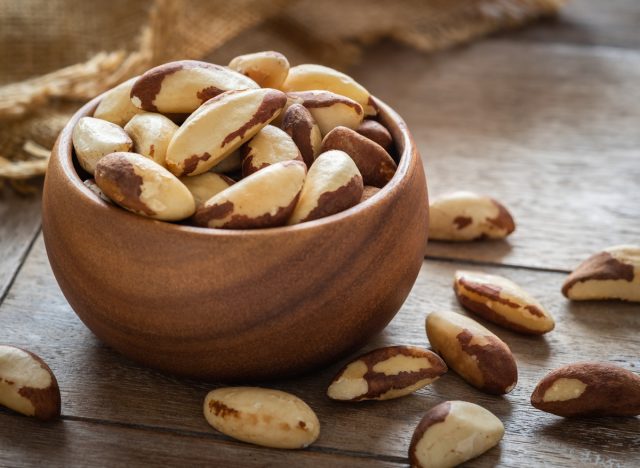 "Loaded with omega-3 fatty acids and selenium, Brazil nuts boost your skin's elasticity and reduce inflammation linked with acne," according to Kelly. Beyond that, Brazil nuts "also have glutathione that ensures the regeneration of your skin, improves elasticity, and prevents wrinkles."
To find out more about the best nut options, be sure to read 6 Best Nuts for Weight Loss.
Desirée O
Desirée O is a freelance writer who covers lifestyle, food, and nutrition news among other topics.
Read more about Desirée