The Best Protein Bars for Weight Loss, According to Dietitians
Experts say these are the protein bars that can help you in your weight loss journey.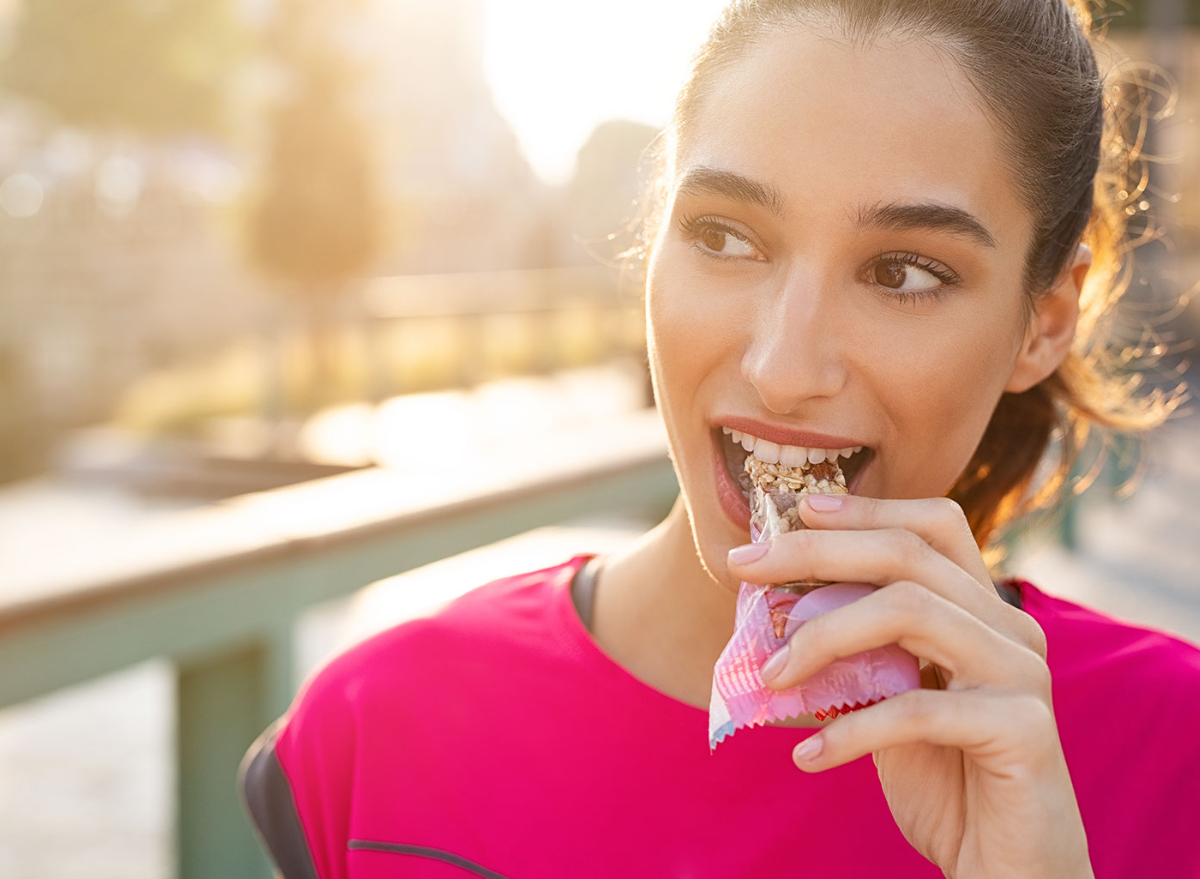 This post contains affiliate links. If you use these links to buy something, we may earn a commission.
For those on the journey of pursuing their personal weight loss goals, it's well known how hard the in-between meals time is. Having a spinach and egg omelet, crunchy kale salad, and grilled chicken dinner is easy, but what happens when you're starving in the afternoon and your only option is the vending machine at your office's breakroom? Those easily-available crunchy, fried snacks and sugary candies are no friend to dieters because they're seriously lacking in digestion-slowing, metabolism-building macronutrients like healthy fats, fiber, and protein. Healthier snacks, like high-protein snacks, can support your weight loss by helping you feel full for longer and much more.
Higher-protein diets have been linked to weight management, appetite regularity, and a decreased risk of health problems like cardiovascular disease. In other words, making sure we get enough protein is crucial to our health goals, especially as we enjoy our favorite holiday cookies this year.
If you're in a bind with a busy schedule and having trouble getting enough protein in your daily diet, protein bars can be a great addition to your pantry. They're affordable, easy, and great to take with you. And they can help you have more energy throughout the day.
Here are some of the best protein bars for weight loss, according to a few expert dietitians. And for more healthy eating tips, make sure to check out The 7 Healthiest Foods to Eat Right Now.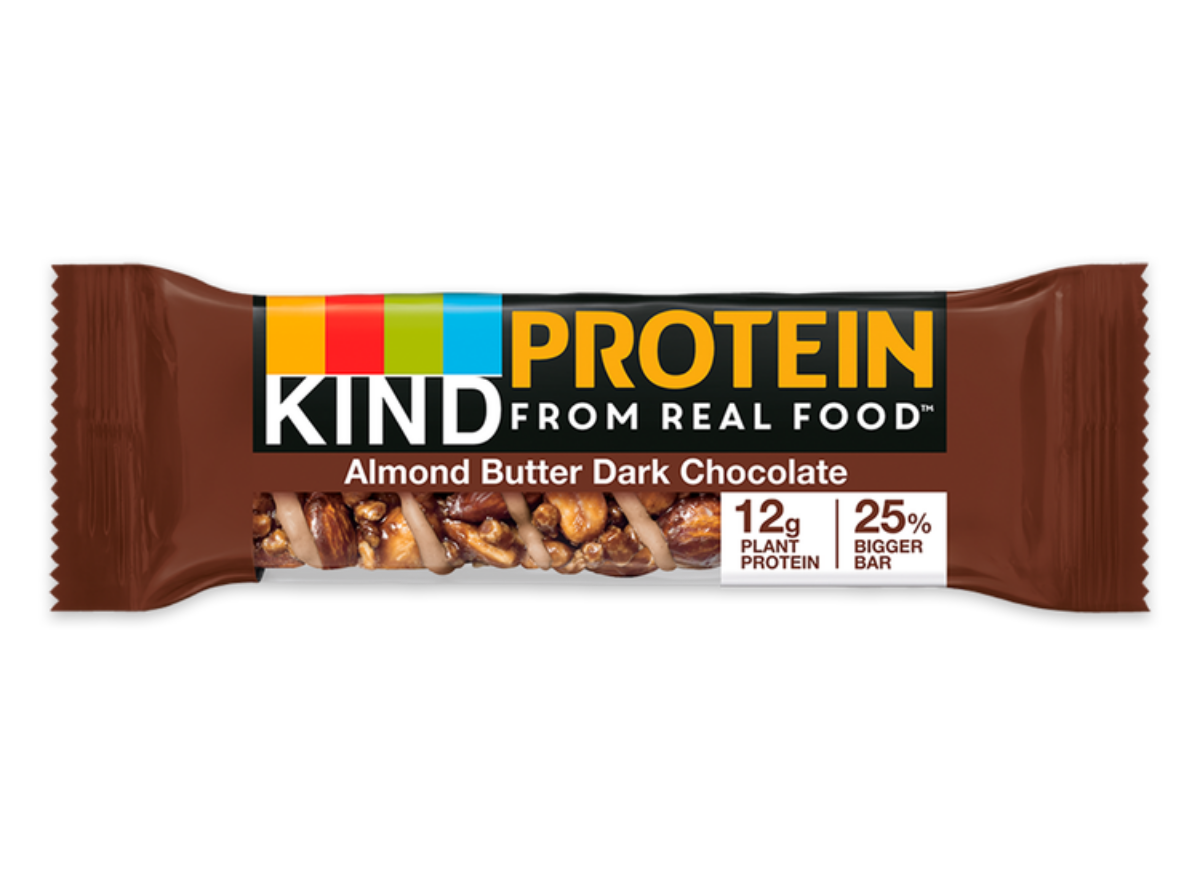 "I love these bars because you actually feel like you ate something! With 240-250 calories, 6 grams of fiber, and 12 grams of protein per bar, these bars are satisfying and filling. Plus, they taste great! They are a great "in-between" meals snack, which ultimately will help you be less hungry at the next meal." – Amy Goodson, MS, RD, CSSD, LD author of The Sports Nutrition Playbook
:ratio Toasted Almond Bar
"Full of almonds and pumpkin seeds, this crunchy bar is one of my favorites! With 12 grams of protein, 3 grams of fiber, and less than 1 gram of sugar per bar, this bar helps you feel satisfied for hours. As a dietitian that loves crunch, this bar satisfies taste and texture!" – Goodson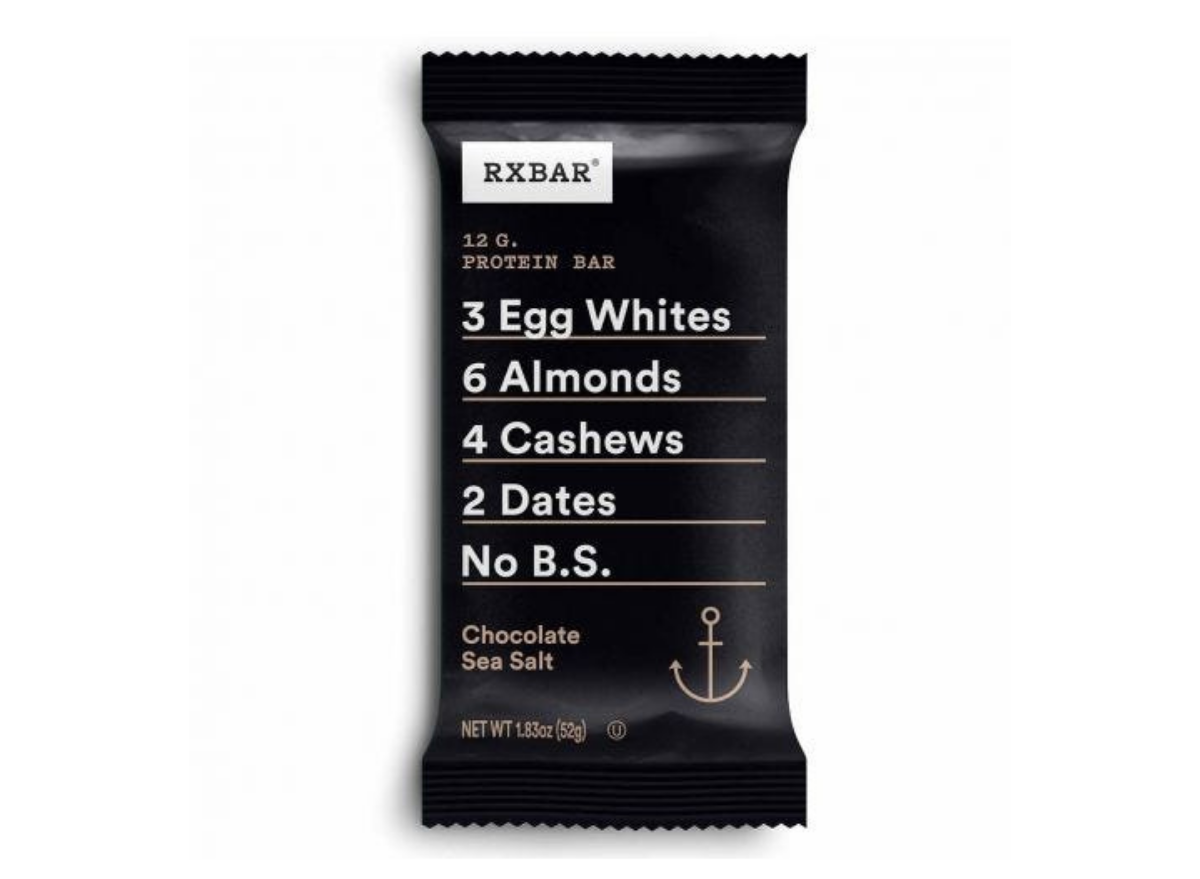 "With 12 grams of protein, 3 grams of fiber, and minimal ingredients, the RXBAR is one of my favorites! It uses medjool dates as natural sweetener, which also contain fiber, plus nuts and egg whites. They are gluten-free and Kosher, so great for lots of eating preferences. These are sure to help you feel satisfied." – Goodson
6254a4d1642c605c54bf1cab17d50f1e
"Built bars are not only delicious, but are super healthy and great for weight loss. What I like most about these are that most of their flavors have 17g of protein and only 3g of fat, and they all taste like a treat. And most of their bars are super low in calories as well." – Courtney D'Angelo, MS, RD, author at GoWellness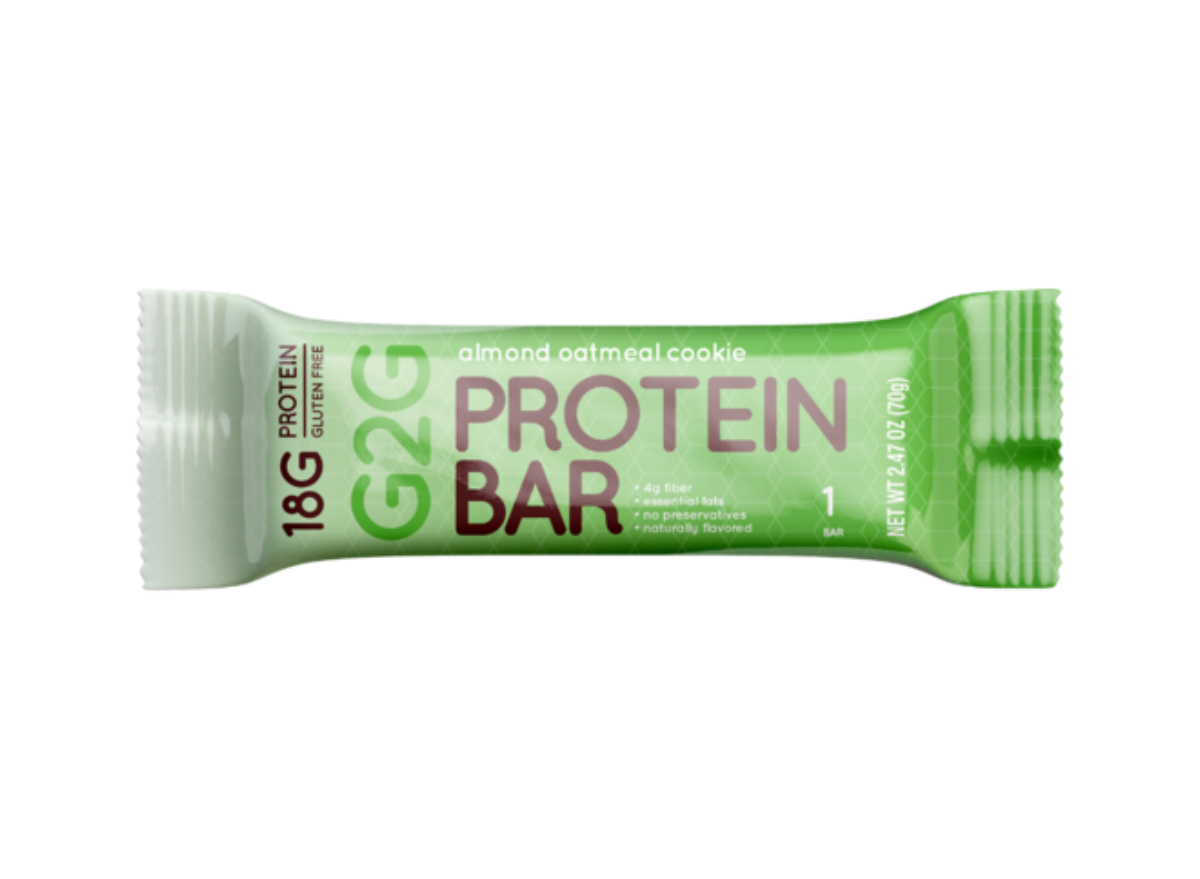 "G2G bars have a little bit more calories and added sugars than Built Bars, but they are still one of the healthier protein bars out there because of their fresh ingredients.There are 18g of protein in them, which is great for helping you feel full for a long period of time after eating them. G2G bars are gluten free and have no refined sugar." – D'Angelo
"Healthy Eating On The Go protein bars are made with natural ingredients, low in sugar, and high in protein, which makes them an excellent candidate for protein bars that help with weight loss. Their Peanut Butter protein bar is made from natural peanut butter, raisins, and raw almond. Almonds have been shown to lower blood sugar levels and are very high in vitamins and protein. All together, this bar has 15g of protein, 210 calories, and 5g of fiber." – D'Angelo
"Allulose is a rare sugar that gives foods the same taste and texture of table sugar without the added calories (0.4 calories per gram of allulose compared to 4 calories per gram of sucrose, or table sugar). These bars lean on allulose to give a sweet taste with less than one gram of added sugar. Increased sugar intake is linked to body weight gain, so finding a bar that is low in sugar that actually tastes good can help with weight management goals." – Lauren Manaker, MS, RDN, author of The First Time Mom's Pregnancy Cookbook and Fueling Male Fertility
"The Perfect bars are made with 20+ organic superfoods and loaded with plant-based protein while satisfying a major sweet tooth at the same time. These contain no preservatives and are a great and easy food to sneak in some protein mid-day." – Manaker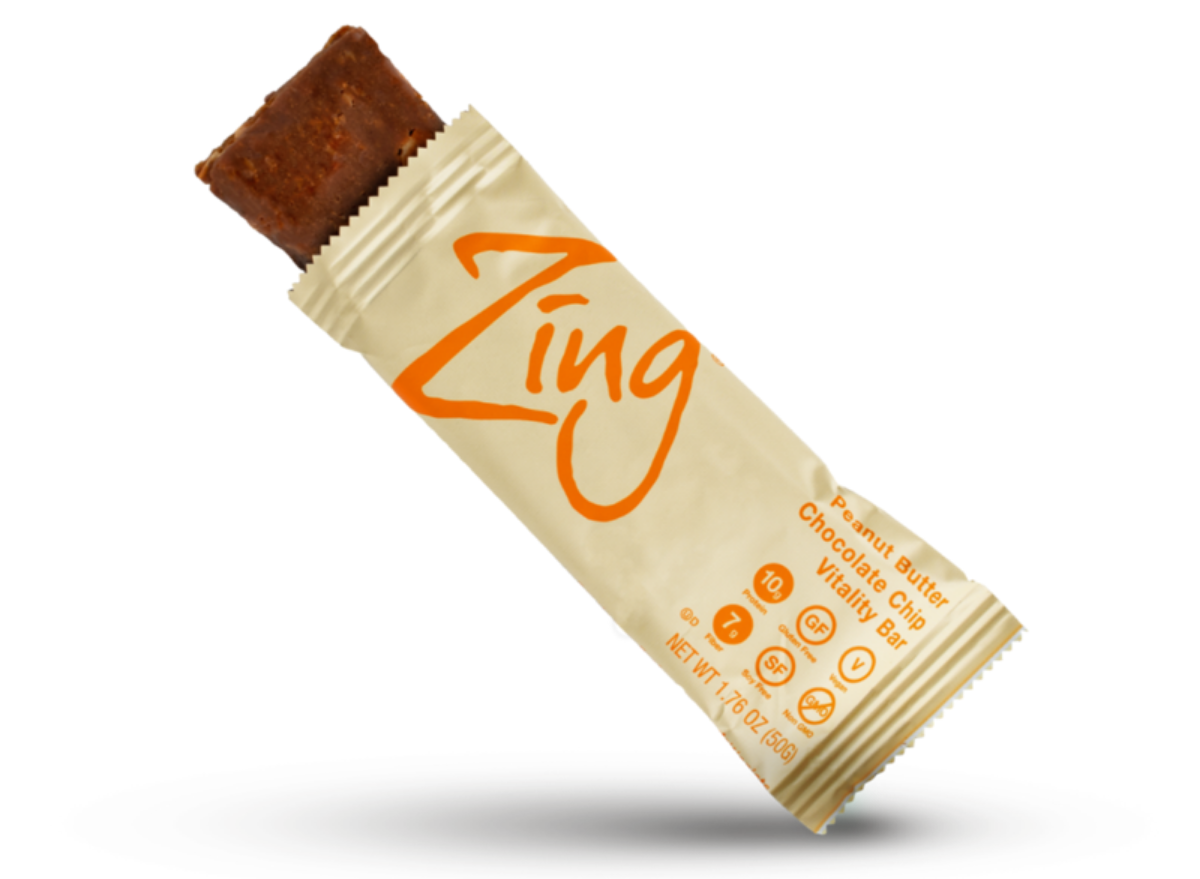 "Free from dairy and soy, these bars contain plant-based proteins, prebiotic fiber for gut health, and antioxidants for a balanced and nutritious bar that is great for on-the-go eating." – Manaker
"This bar has 7 grams of plant-based protein along with 3 grams of fiber for some serious staying power. And most importantly, these bars taste great!" – Manaker
Read these next:
Side Effects of Giving Up Protein Bars, According to Science