The Best & Worst Menu Items at In-N-Out, According to Nutritionists
High levels of sugar and salt lurk in the chain's most delicious items.
In-N-Out arguably serves the best fast-food burger in the country. But as delicious and craveable as those West Coast staples are, one look at the chain's menu reveals that "healthy" isn't really represented on the menu. And that includes the not-so-secret secret menu the chain has become known for.
However, there's no reason not to enjoy In-N-Out on occasion, especially if you're on the West Coast as a visitor—you don't want to miss out on the experience. To help you understand the nutritional truth behind your order, we've consulted dietitians Trista Best and Lyssie Lakatos, who helped identify the absolute unhealthiest items, as well as the lightest options on the menu. And don't miss The 8 Unhealthiest McDonald's Burgers of All Time.
The Worst Menu Items at In-N-Out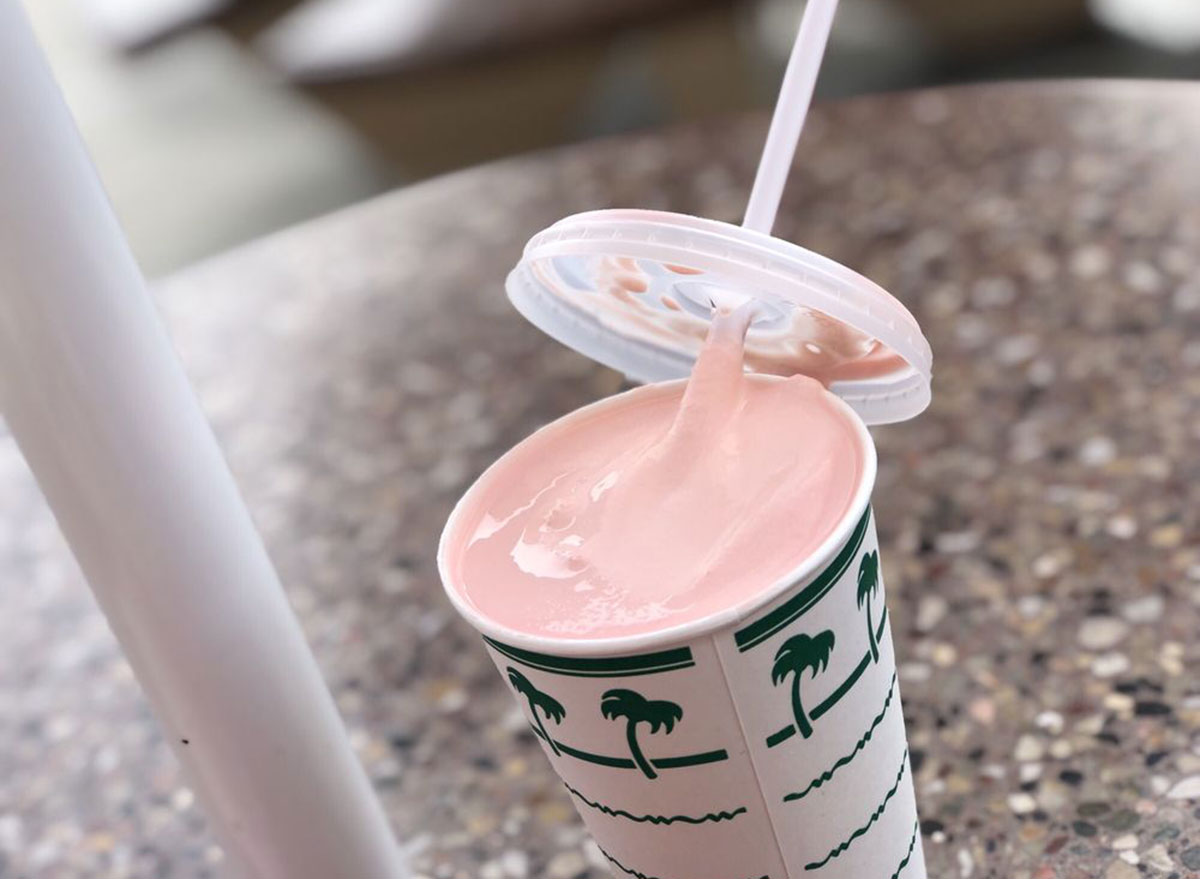 PER SERVING
: 590 calories, 24 g fat (15 g saturated fat, 1 g trans fat), 310 mg sodium, 114 g carbs (0 g fiber, 100 g sugar), 8 g protein
"The Strawberry Shake is not only a worst menu item, but it is also at the top of the list of worst shakes on their menu as well," says Best. "The sugar is double the amount found in the vanilla option and two-thirds of what's found in the chocolate shake. Plus it essentially has as many calories as an entire burger on the menu," she explains. Definitely avoid this one!
PER SERVING
: 580 calories, 28 g fat (18 g saturated fat, 1 g trans fat), 400 mg sodium, 84 g carbs (<1 g fiber, 65 g sugar), 10 g protein
While the chocolate shake isn't as bad as the strawberry one, it's still one of the worst options. Why? It contains a whopping 65 grams of sugar, which is the equivalent of several average-sized glazed donuts.
"While it's difficult to find the ingredients listed, it's fair to assume that most of the sugar is added sugar, possibly from chocolate syrup and ice cream, both of which could cause a sugar high and a subsequent crash," says Lakatos. And for a shake, the saturated fat is pretty high, too.
In-N-Out's Double-Double Burger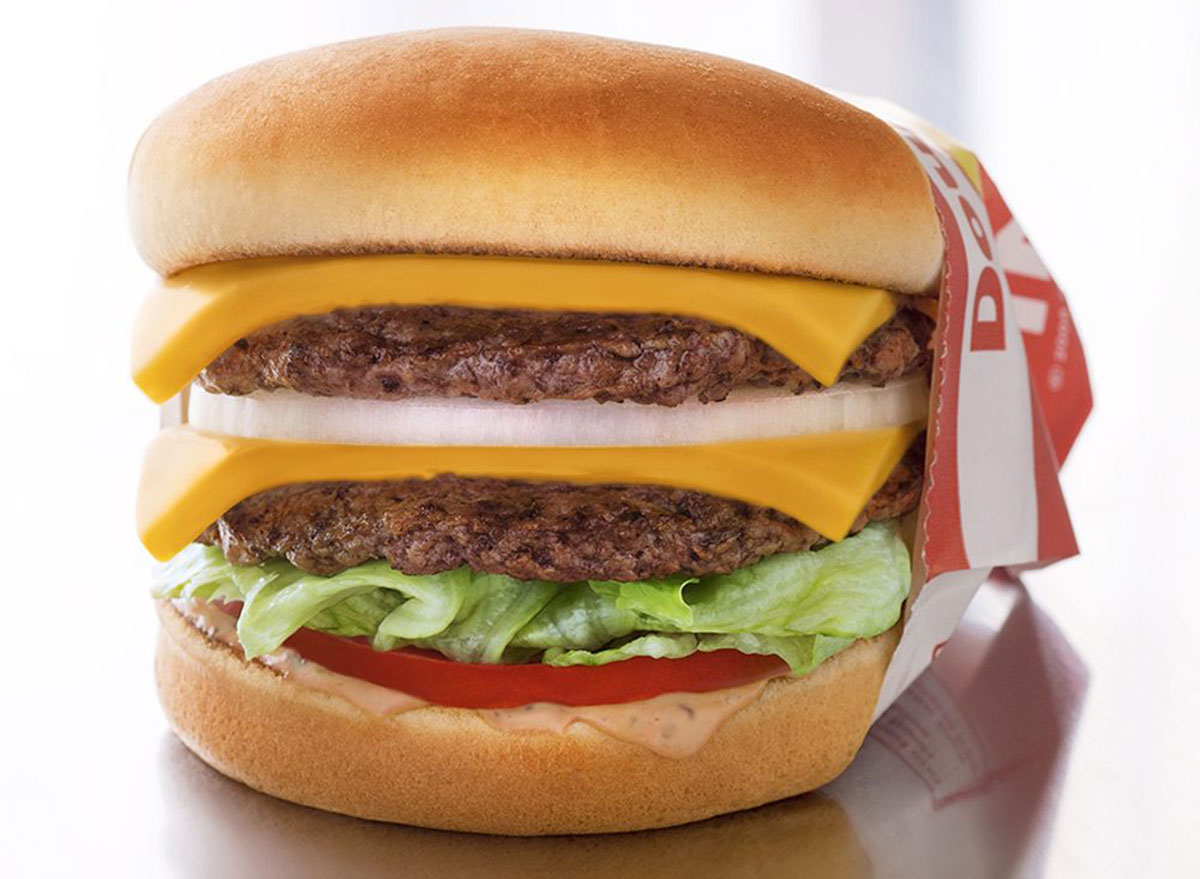 PER SERVING
: 670 calories, 41 g fat (18 g saturated fat, 1 g trans fat), 1,440 mg sodium, 39 g carbs (3 g fiber, 10 g sugar), 37 g protein
Essentially the chain's version of a double cheeseburger, the Double-Double comes with two burger patties and two slices of American cheese. "Ultimately, this burger has doubled the ingredients with the highest amount of saturated fat, reaching 41 grams total and 18 grams of saturated fat," says Best.
An especially concerning component of this burger is the 1 gram of trans fat. "While a single gram doesn't sound too bad, it is. This seriously harmful synthetic fat was banned in 2018 by the FDA," she adds.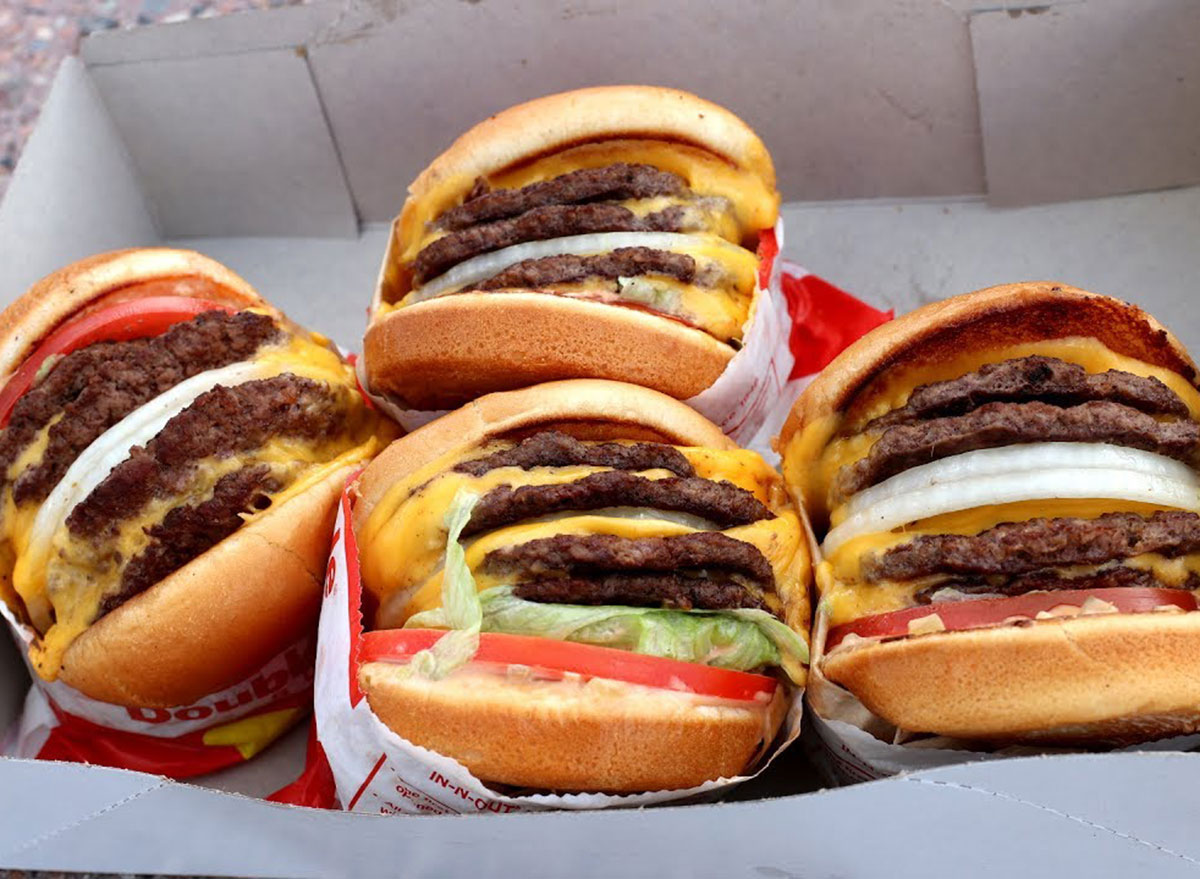 PER SERVING
: 1,050 calories, 69 g fat (34 g saturated fat, 2 g trans fat), 2,320 mg sodium, 39 g carbs (3 g fiber, 10 g sugar), 67 g protein
At 4 patties and 4 cheese slices, this burger has way more meat and melty cheese than anyone really needs to be satisfied. It also provides nearly as many calories as an average woman needs for an entire day—and that's before you add fries and a soda!
"Just one of these burgers wipes out more than your daily allotment for fat and saturated fat and with 2,320 milligrams of sodium, is way over the daily recommended sodium intake ideal for most adults," says Lakatos. Those with high blood pressure should stay far away from this one.
The Best Menu Items at In-N-Out
Protein Style Hamburger With Onions
PER SERVING
: 240 calories, 17 g fat (4 g saturated fat, 0 g trans fat), 370 mg sodium, 11 g carbs (3 g fiber, 7 g sugar), 13 g protein
The Protein Style Hamburger is by far the lightest burger on the menu. It ditches the refined, carb-loaded bun and comes wrapped in lettuce, which is a great vehicle for slashing calories and carbs but keeping the protein in check.
Plus, the salt is in check, too. "Compared to many of the loaded burgers that easily have more than the maximum recommended levels of sodium, this burger has one-sixth of that, with a modest 370 milligrams," says Lakatos. So, it's a real winner.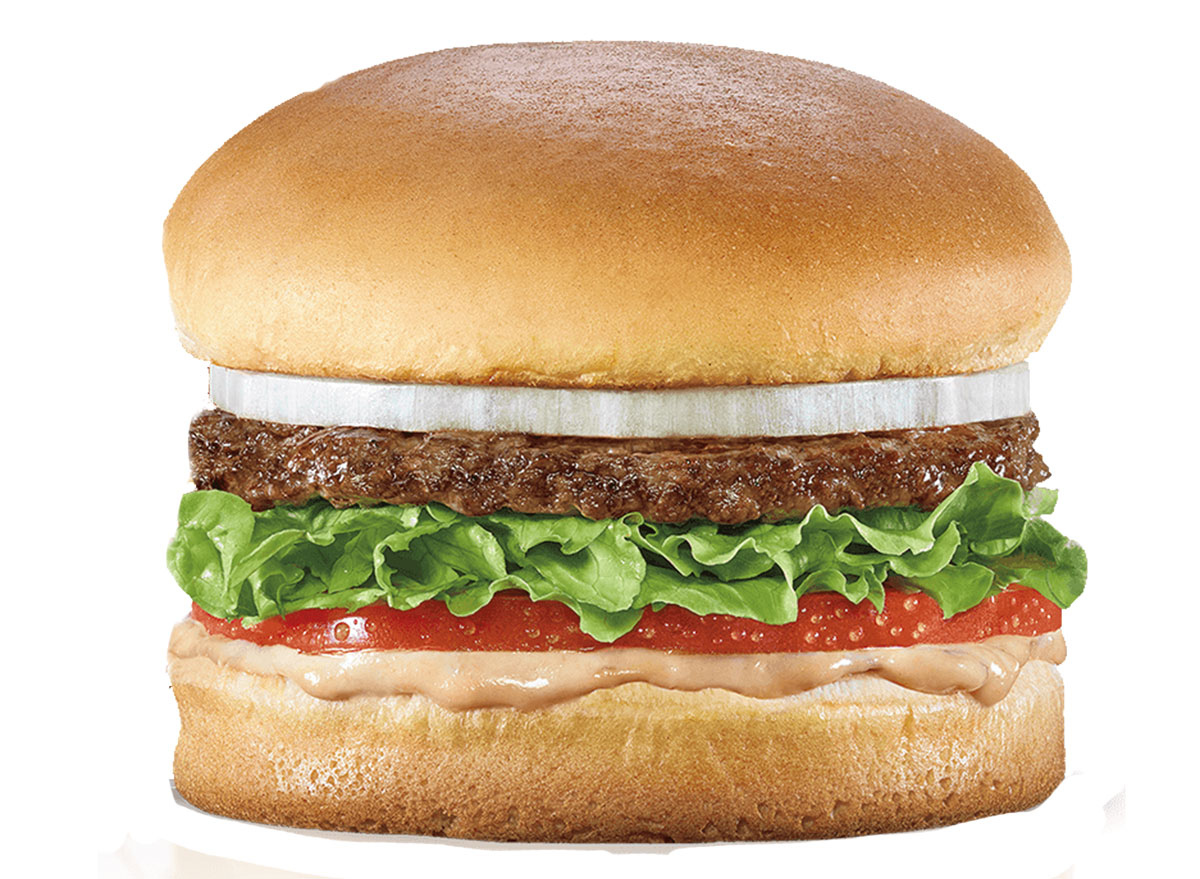 PER SERVING
: 390 calories, 19 g fat (5 g saturated fat, 0 g trans fat), 650 mg sodium, 39 g carbs (3 g fiber, 10 g sugar), 16 g protein
This is the perfect option for anyone who just wants a simple burger in between a bun. A bit of onions goes a long way in providing flavor at a low caloric cost, and can even provide some anti-inflammatory and immune system benefits.6254a4d1642c605c54bf1cab17d50f1e
Lakatos agrees this is a pretty simple, light item. "There aren't too many toppings to spike the fat, calories, sugar, and sodium here, and you're getting 16 grams of protein to help keep you full and satisfied until your next meal," she says.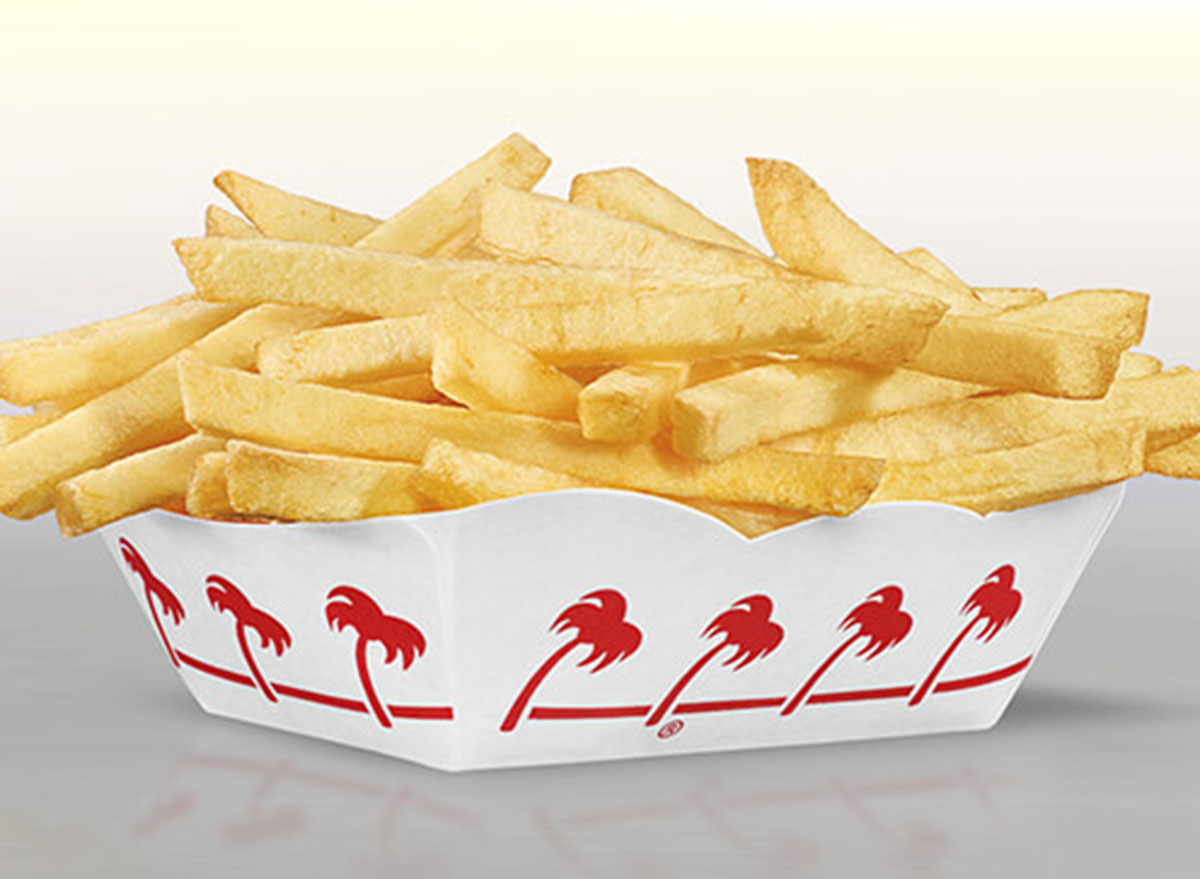 PER SERVING
: 370 calories, 15 g fat (1.5 g saturated fat, 0 g trans fat), 250 mg sodium, 52 g carbs (6 g fiber, 0 g sugar), 6 g protein
"It is shocking to write french fries as an item to be considered best on a menu, but for In-n-Out Burger this is one of the better options, as a serving of fries at this restaurant is slightly less than 400 calories and is surprisingly low in sodium at just 250mg," says Best.
Pair it with the protein-style burger or enjoy it on its own as a snack with a healthy, low-sodium hot sauce or ketchup. Just don't go crazy with that salt shaker!
For more, check out the 108 Most Popular Sodas Ranked By How Toxic They Are.
Isadora Baum
Isadora Baum is a freelance writer, certified health coach, and author of 5-Minute Energy.
Read more about Isadora