10 Biggest Fast-Food Launches of 2021
From fan-favorites to industry game changers.
When 2022 arrives in a matter of days, it will be pulling up into a new frontier of fast food. The state of the industry is simply not where it was a year ago, when fast-food giants were forced to conform to the new, COVID-centric consumer world. And while they moved adeptly in some ways and less so in others, when it comes to menu innovation, most brands pulled out all the stops.
Major players rolled out significant updates to their menus this year. Some were iconic limited-time offers, and others were lasting changes that will transform the customer experience for years to come. But regardless of their tenure, these new items shook up the status quo in a big way.
We rounded up the 10 biggest fast-food launches of 2021–the ones that were talked about for months, made social media waves, and maybe even converted a few non-believers.
For more, check out 9 Fast-Food Chains That Are Phasing Out Dining Rooms.
McDonald's Crispy Chicken Sandwiches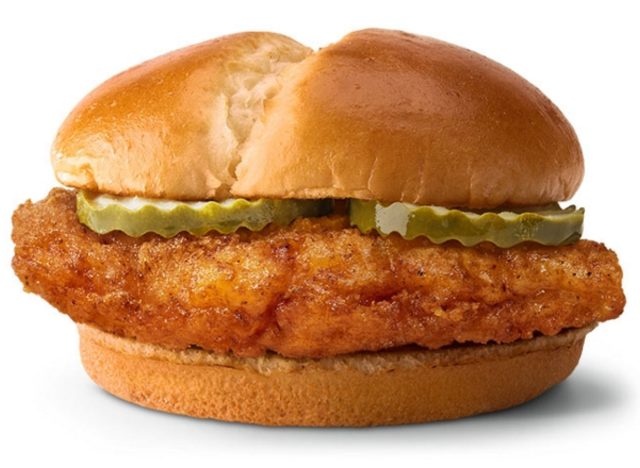 The launch of this sandwich in February was unequivocally the biggest fast-food event of the year, if not the decade. McDonald's finally delivered on the promise of an upgraded fried chicken sandwich with the Crispy, the Deluxe, and the Spicy—the three different versions made with their juicier-than-ever new chicken patty. Despite some mixed reviews, the new items ultimately triumphed, boosting the chain's sales and igniting another round of the chicken sandwich wars.
Popeyes' Fish Sandwich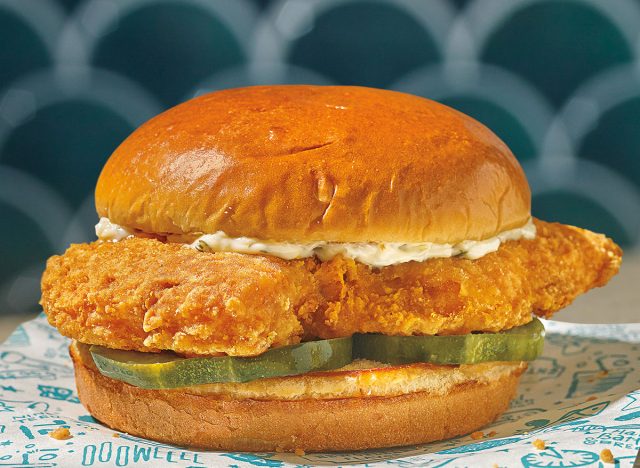 Popeyes seems to be immune to failure. The chain's chicken sandwich was legendary long before bigger competitors even set foot into the ring. And this year, its first-ever fish sandwich lived up to the same high standard. Launching just in time for Lent, Popeyes' Cajun Flounder Sandwich was quickly crowned the best of the fast-food fish sammies, with one food critic writing that it was "the rare fish sandwich that actually tastes like something."
Although it's not currently swimming on the Popeyes menu, it's very likely to make another appearance during 2022's Lenten season.
Popeyes' Chicken Nuggets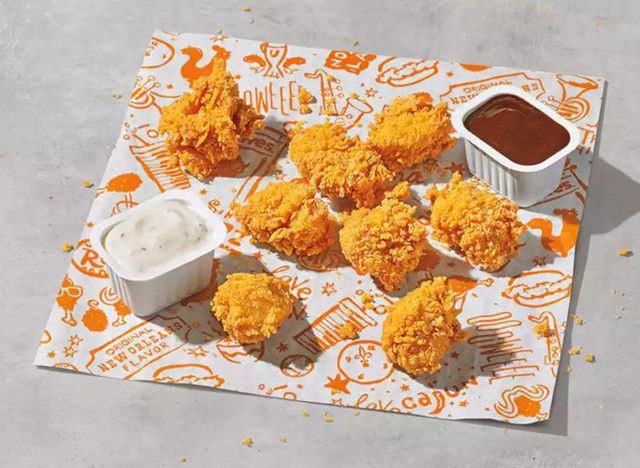 It seems strange that the Louisiana Kitchen didn't have chicken nuggets on the menu before this summer. As experts in all things chicken, Popeyes was set up for success when launching this simple but ubiquitous menu addition. And success they found. According to the company execs, the nuggets have attracted a new demographic to the chain—kids and families. While it'll be really hard for any item to beat the initial success of the chicken sandwich, Popeyes simply had to fill that nugget-shaped void in its menu to truly be complete.
Taco Bell's Crispy Chicken Sandwich Taco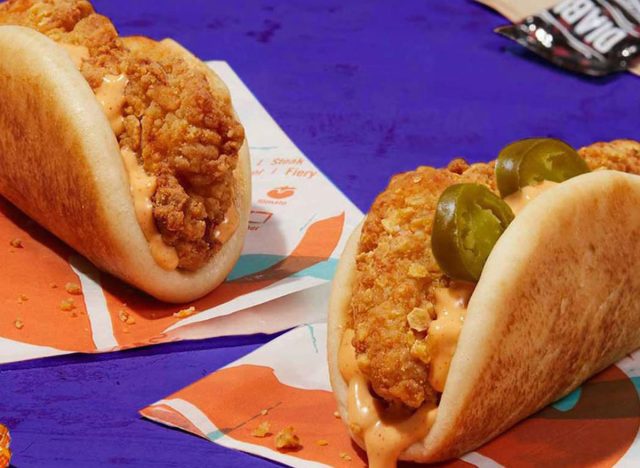 A Tex-Mex brand to its core, Taco Bell had to be strategic to successfully enter the chicken sandwich wars. But that didn't stop them from getting in on the fun at some level. The chain rolled out its rendition of a chicken sammy in September to rave reviews. The taco-slash-sandwich hybrid, and its spicy twin, were made with a thick, bready "taco shell" wrapped around a piece of fried chicken slathered in chipotle sauce, and went for only $1.49. Unfortunately, this limited-time item left the menus a few weeks later.
Pizza Hut's Detroit-Style Pizza
Pizza Hut tried something new and different this year. Hopping aboard a pizza trend sweeping the nation, the chain launched its own version of Detroit-style pizza in January. The company proudly touted the care and attention that went into the development of this famous regional pie, saying its development team spent a year perfecting everything from sauce to crust. Unfortunately, fans of traditional Detroit 'za did not approve, taking to social media to absolutely blast the menu item.
But it looks like the naysayers were simply a vocal minority—the item turned out to be a hit, selling out weeks ahead of schedule. It was so popular, in fact, that the chain decided to bring it back for the second round in August.
Subway's Full-Menu Revamp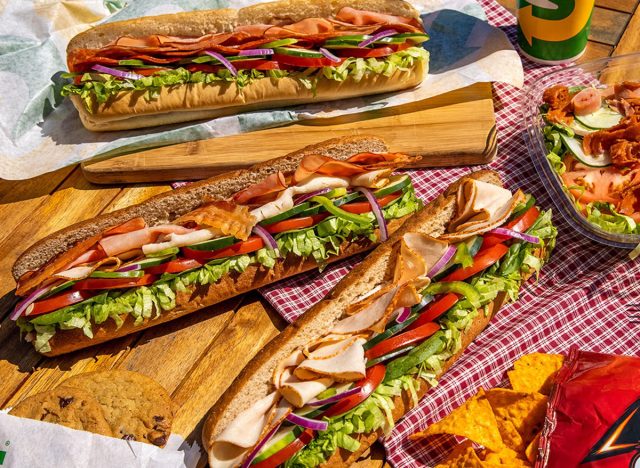 After suffering from a battered reputation for most of the year, Subway made a bit of a show of revamping its entire menu this summer. In what the company called the "biggest update in brand history," its bread recipe and protein options were improved and several new toppings and sandwiches launched. While the refresh certainly boosted the chain's sales—so much so that the company expects to exceed its annual sales target by more than $1 billion—some insiders have called this another shallow attempt at damage control. In fact, the new sandwich creations were said to be "as vile as the old ones" by one journalist who conducted a taste test.
Starbucks' Oat Milk Drinks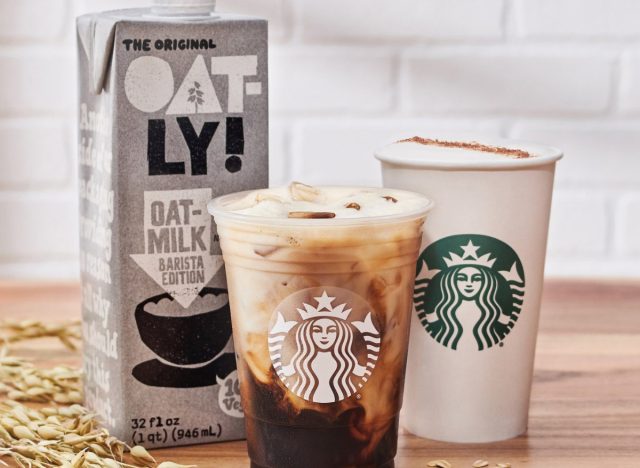 One of the biggest upgrades to take place on the Starbucks menu this year was the addition of the alternative milk of the moment. The chain added oat milk to its permanent selection of non-dairy options at the beginning of March, but before the end of the month, the popular base for plant-based lattes was nowhere to be found. Shortly after America's largest coffee chain began selling Oatly's oat milk at its 15,000 nationwide locations, the supply of it dwindled due to high demand and supply chain issues. Luckily, its availability has leveled off since.
Chipotle's Smoked Brisket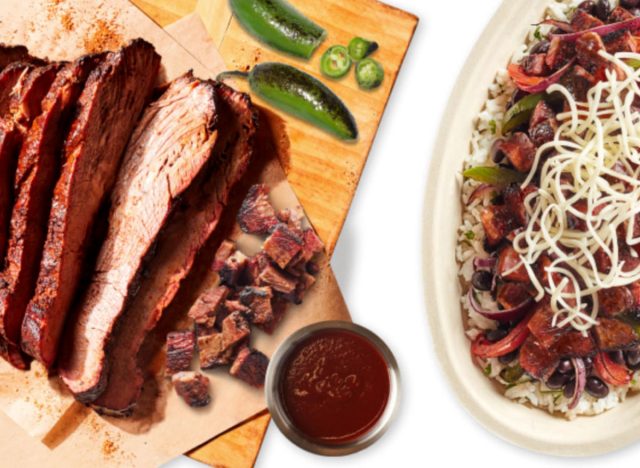 Chipotle is one of those brands that has such a lock on what it does, it probably doesn't even need to innovate. However, that hasn't stopped the chain from launching an exciting new protein this year. The Smoked Brisket hit the menus in September and everyone seemed to have an opinion about it. While it received mixed reviews (the word "dry" was thrown around a lot), it ultimately sold out after just a couple of months–much sooner than expected.
Burger King's Ch'King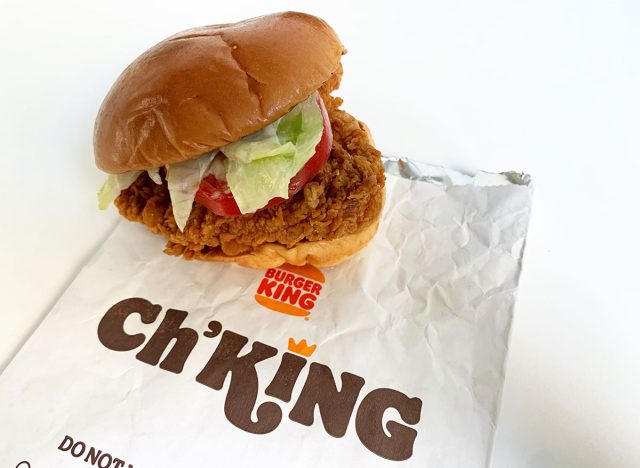 When Burger King launched yet another crispy chicken sandwich in June, the scene was rife with fried chicken and expectations were low. Maybe that's why the Ch'King ended up being the dark horse that it was. In a sea of new chicken sandwiches, the Hand-Breaded Crispy Chicken Sandwich from BK actually garnered some attention and received rave reviews by several fast-food critics.6254a4d1642c605c54bf1cab17d50f1e
Wendy's New Fries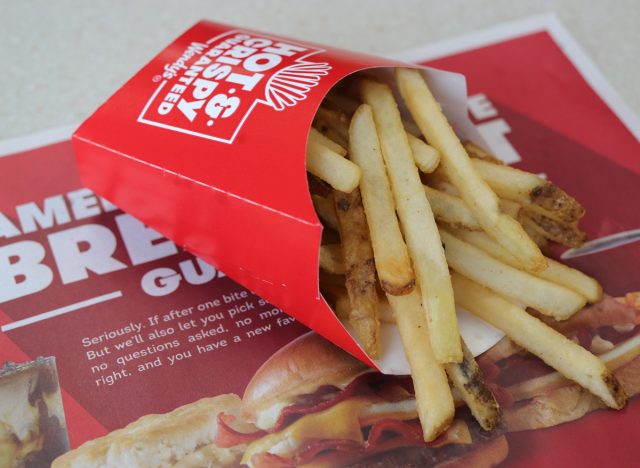 When America's second-largest burger chain upgrades its number one side, it's fast-food industry's front-page news. Wendy's got scientific with this innovation, rolling out a specially-engineered fry that is literally designed to be "hot and crispy every time." The chain was so confident in its revamp that it even offered to replace any hot and crispy fry order that was anything but 100% hot and 100% crispy free of charge. And it worked! The fries, apparently, outperformed McDonald's in a nationwide survey.
For more, check out the 108 Most Popular Sodas Ranked By How Toxic They Are.