Eating Risks to Avoid Right Now, According to the CDC
Don't let these easy-to-make mistakes put your health—or the health of others—in jeopardy.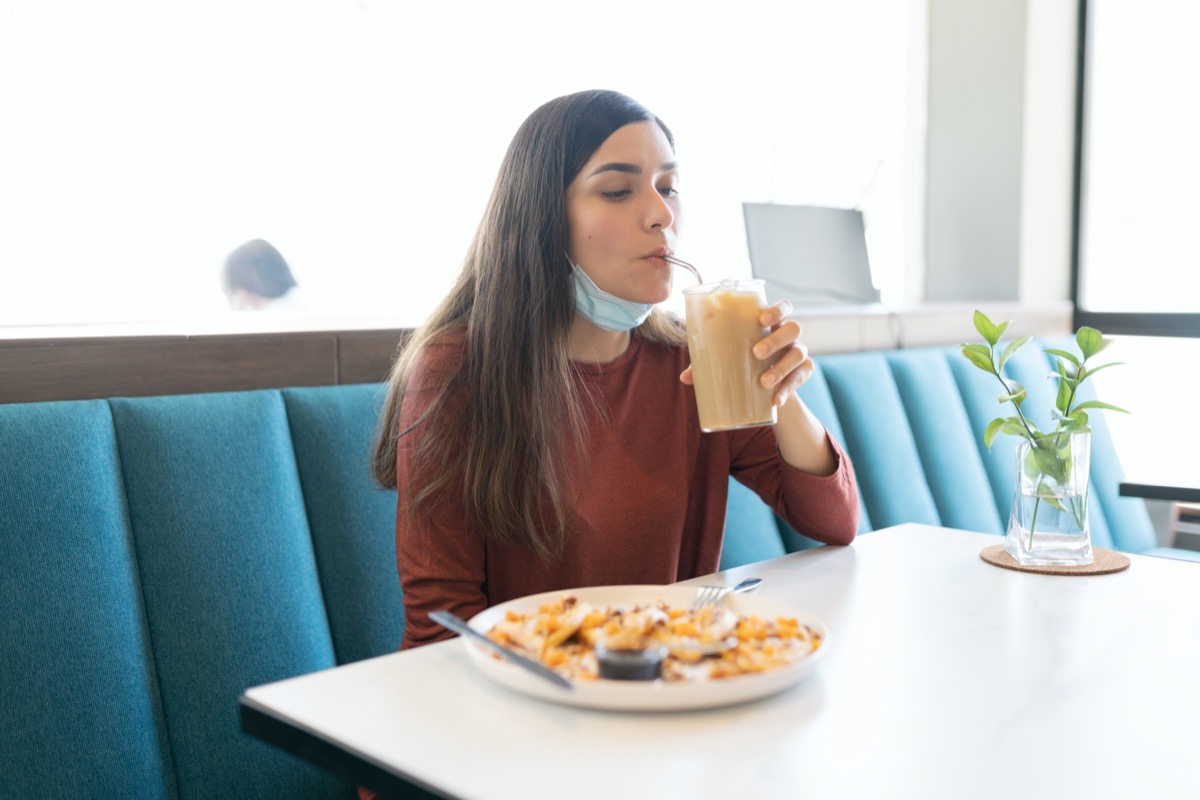 COVID-19 has indelibly changed the way we do practically everything, from how we see friends and family members to how we grocery shop.
However, when it comes to eating, the rules often feel unclear. Can you safely take your mask off at a restaurant? Should you scrub down your groceries before bringing them inside?
Fortunately, the Centers for Disease Control and Prevention (CDC) have outlined clear guidance for which eating risks you can't afford to take right now while coronavirus cases are still rampant across the country. Avoiding these risks will help you protect yourself and others, whether you're cooking a meal at home or venturing out to a restaurant. And for more ways to protect yourself, check out The One Vitamin Doctors Are Urging Everyone to Take Right Now.
Disinfecting certain types of food packaging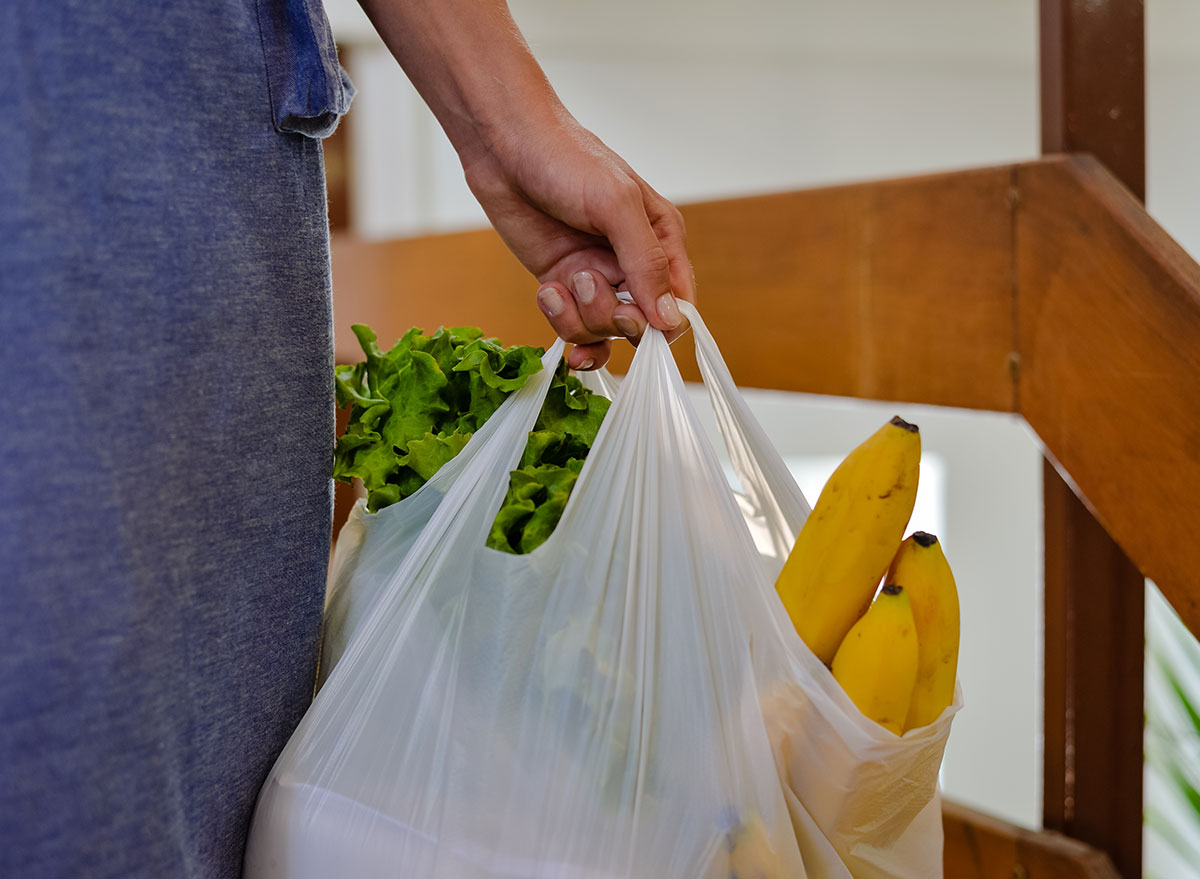 Disinfecting food packaging may have been standard practice during the early days of the pandemic, but the CDC actually cautions against doing so with certain types of materials now.
"Do not use disinfectants designed for hard surfaces, such as bleach or ammonia, on food packaged in cardboard or plastic wrap," the agency recommends. And if you want to make smarter choices while you're shopping, check out these 15 Foods That Should Never Be On Your COVID Shopping List.
Washing produce with chemical cleaners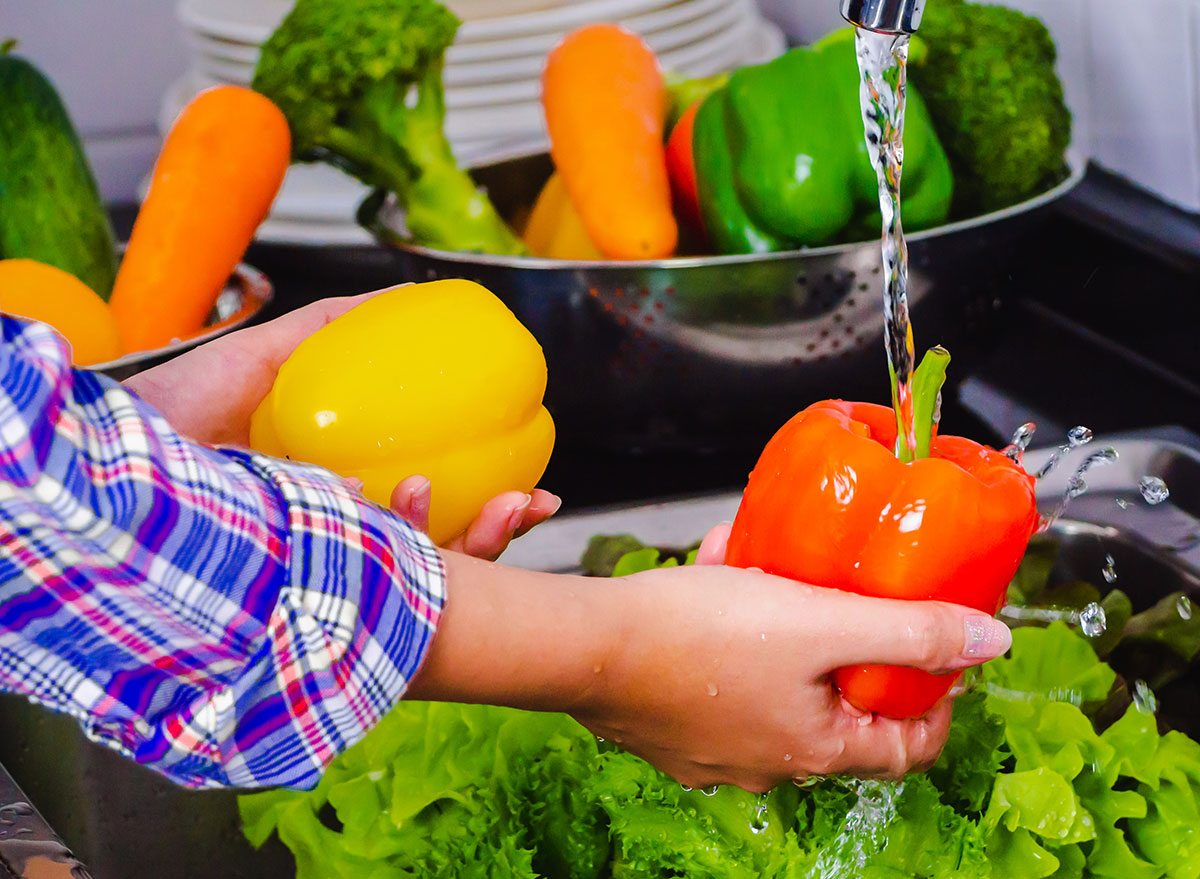 Even if you rinse your food thoroughly afterward, you could be taking a major risk if you're using cleaning products on anything you plan on eating.
The CDC cautions against washing those fruits or veggies with "soap, bleach, sanitizer, alcohol, disinfectant or any other chemical."
Using alternative cleaning methods on produce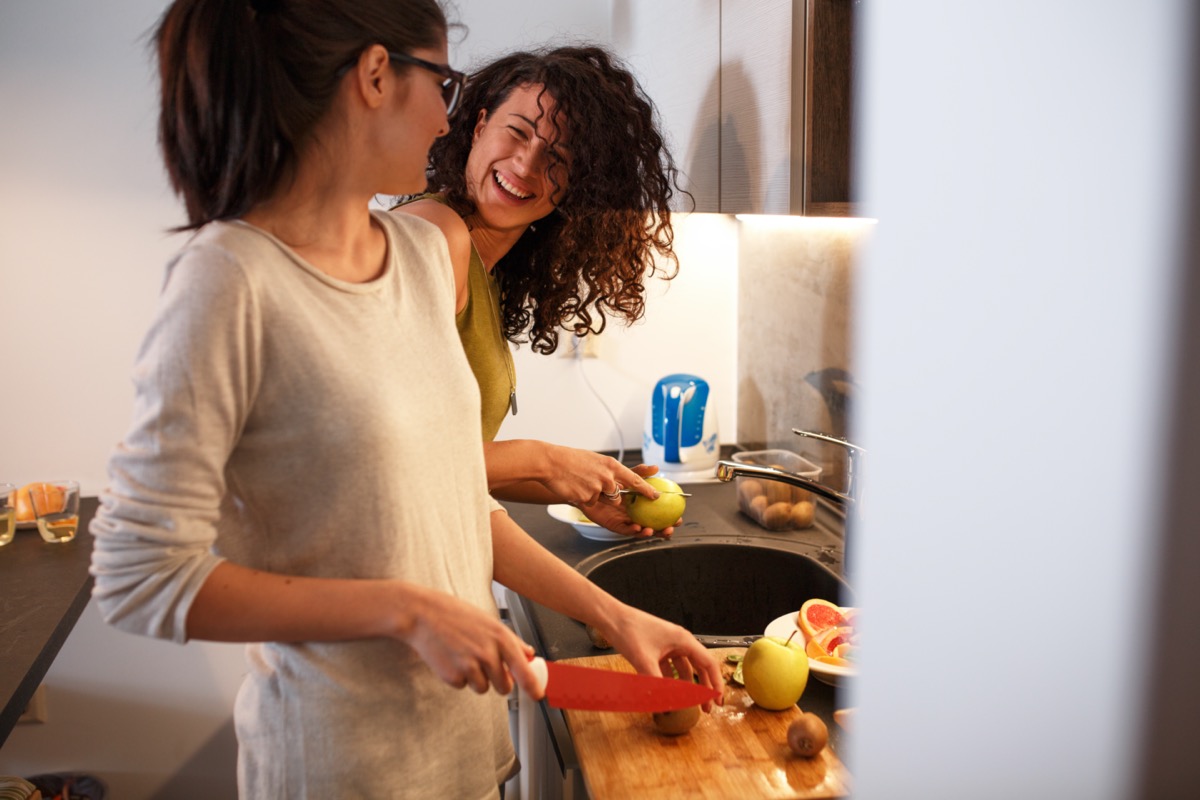 However, if you're opting for a natural cleaner to kill potential contamination on your fruits and vegetables, you may be wasting your time.
"Salt, pepper, vinegar, lemon juice, and lime juice have not been shown to be effective at removing germs on produce," the CDC explains. But if you want to protect yourself from COVID through foods in your diet, don't miss These Foods May Weaken COVID, According to Science.
While the weather may be a bit chilly to dine al fresco in many parts of the U.S. right now, the CDC still recommends avoiding crowded indoor spaces—especially those in which people are going maskless, like restaurants and bars.
The CDC recommends getting food to go whenever possible to lower the risk of catching COVID associated with eating indoors. If  you want the restaurant experience, "Look for seating options that are outside and have proper ventilation of outdoor air, such as tents that have open doors or rolled-up sides." And if you want to boost your wellbeing, check out these 5 Healthy Eating Habits to Fight COVID-19, According to the WHO.6254a4d1642c605c54bf1cab17d50f1e
Taking off your mask as soon as you're seated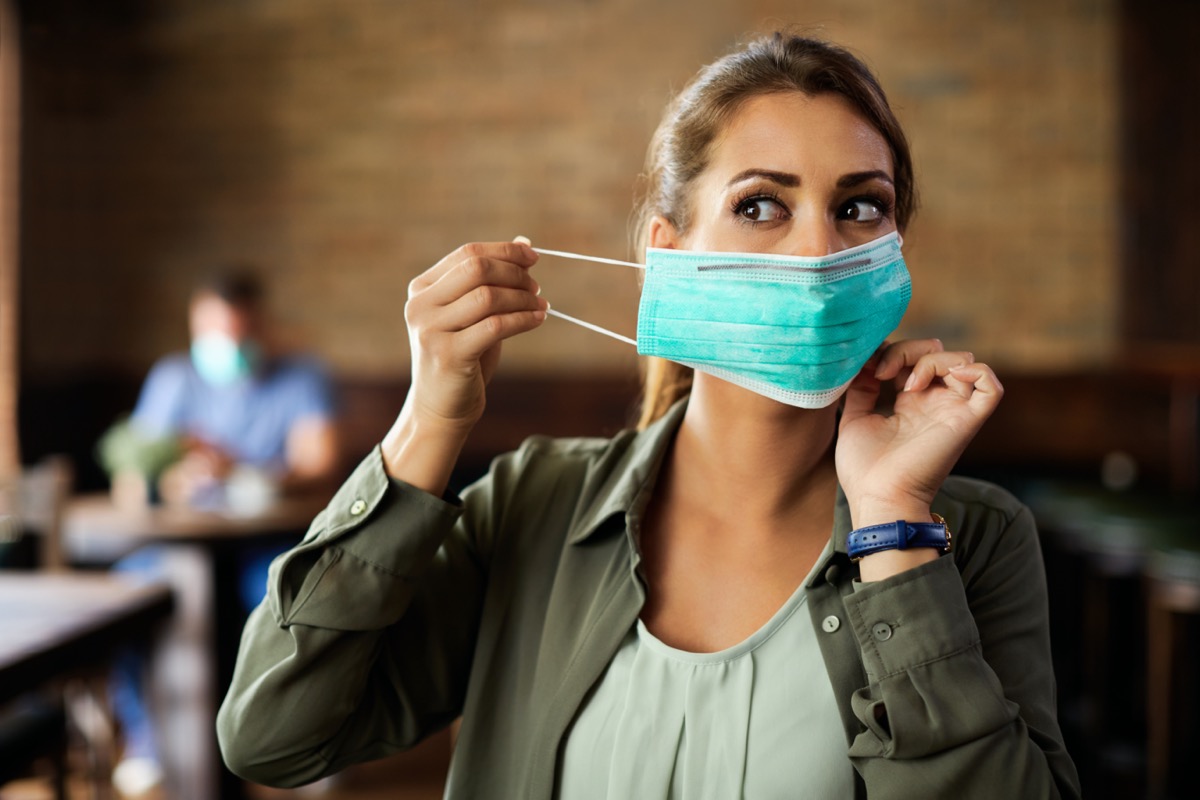 Wearing a mask may not be the most enjoyable experience, but that doesn't mean you should take yours off the second you're seated at a restaurant—whether you're eating indoors or out.
"Guidelines should require both staff and patrons to wear masks while not eating or drinking," the CDC recommends.
Using printed menus or communal condiments
While the CDC admits that catching COVID from a contaminated surface is "not thought to be a common way that COVID-19 spreads," the agency still recommends limiting contact with potentially-contaminated surfaces—including communal restaurant menus—whenever possible.
If you want to play it safe, "Check if menus are available online or via an app for safer ordering." Similarly, the agency recommends asking for individual condiment packets to avoid contact with a container that may not have been cleaned since the last person touched it. And if you want to play it safe, Mayo Clinic Warns About Going to These Places Even If They're Open.
Going to restaurants when they're crowded
If you're eager to have a meal away from home, try to do it at a time when you won't be elbow-to-elbow with others.
"It's safest to visit when fewer people are at the restaurant or bar," says agency guidance.
There's no denying that alcohol can lower your inhibitions, which is why the CDC recommends keeping your drinking to a minimum if you're dining outside of your home.
"Consuming alcohol may make you less likely to follow COVID-19 safety measures," the agency explains.
Lingering after you're done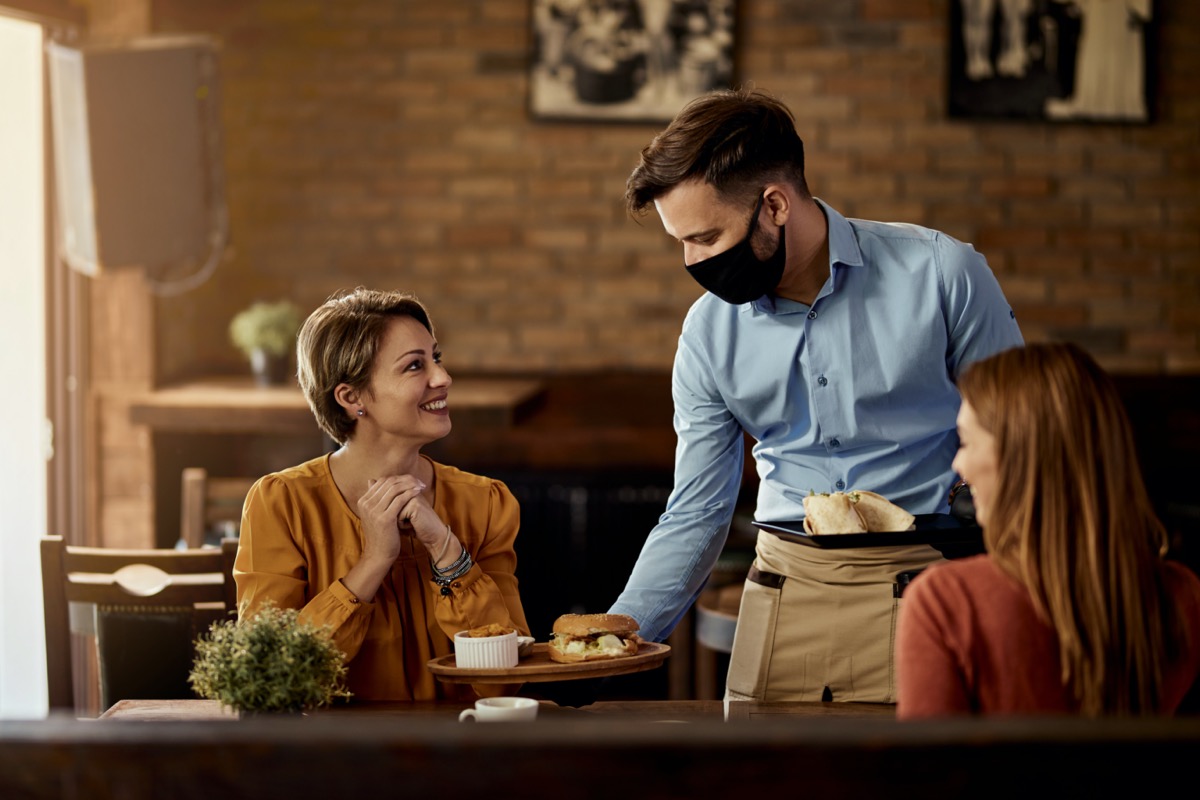 The days of spending hours hanging out at a restaurant or bar after your meal is done may return at some point, but for now, keep those meals short and sweet.
"The longer you stay, the more you increase your risk," the CDC says. And for more activities to avoid, check out these 5 Places You Shouldn't Go Even If They're Open, According to a COVID Expert.
Sarah Crow
Sarah Crow is a senior editor at Eat This, Not That!, where she focuses on celebrity news and health coverage.
Read more about Sarah