Costco Is Expanding Its Bakery Selection Right Now
There are 4 new or returning treats ready to be taken to cookouts, pool parties, and other gatherings.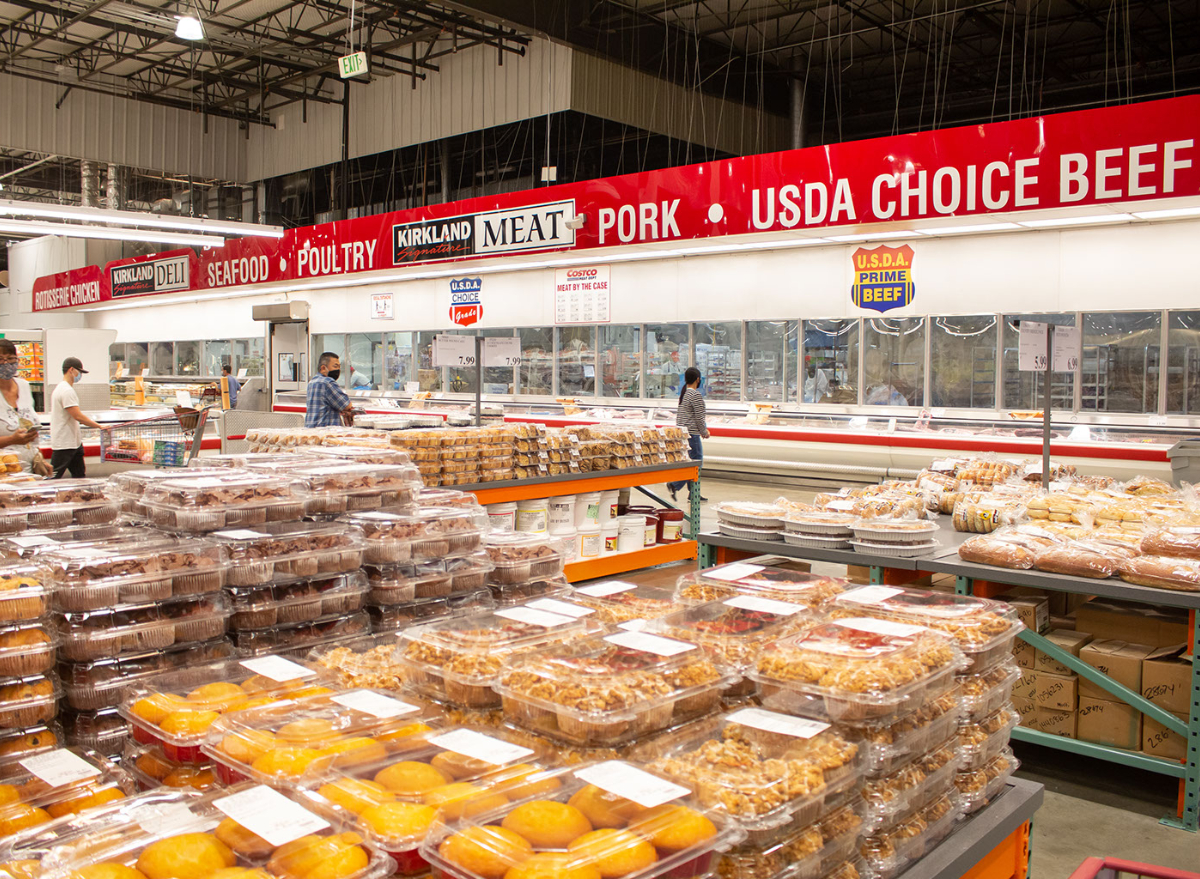 With seasonal changes comes different weather, seasonal produce, different holidays, and new or returning bakery items at Costco. This section of each warehouse is a favorite among members and always keeps them on their toes as to what will be available during the next trip.
With Summer right around the corner, members are sharing sightings of four treats for sale right now. One is an international delight not found in many warehouses in the U.S., while a few others are either an old favorite or a classic treat with a surprising size. Keep reading to find out!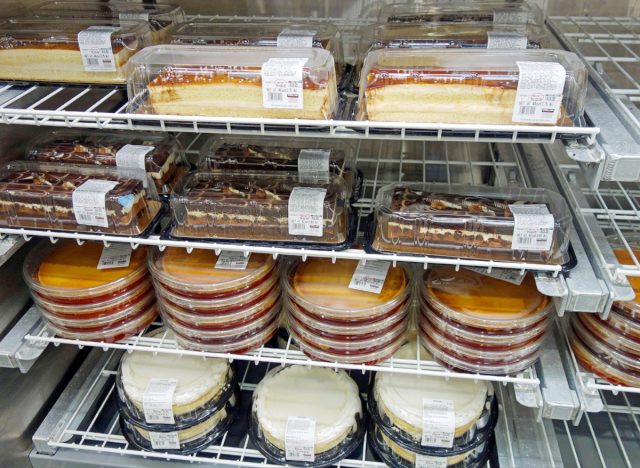 There are 40 Costco warehouses in Mexico but this traditional dessert is making its way stateside, according to members. Instagram account @Costcoaisles spotted a 3-pound Caramel Flan in a warehouse in the Bay Area of California recently.
A few commentators say that it's only found in Mexico locations, but the post clearly shows it becoming available further north. The price tag shows $12.99 for the treat, complete with a sweet egg custard and rich caramel poured over.
There's no word on whether this trend is continuing, but we'd like to petition Costco to bring the crepes found in the French warehouse bakeries to the U.S. next, please!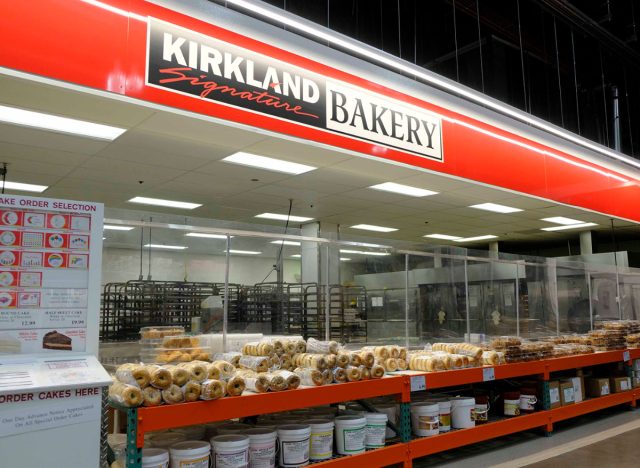 These mini, cinnamony treats haven't been in the warehouse bakery since last fall, but have shown up from coast to coast lately. Instagram account @costcosisters was one of the first to see them earlier in May and posted about the large selection of packs of six for their fellow Costco members to see.
Each mini cake is around half a pound in size, and a pack contains six, making it an easy dessert for any backyard BBQ that happens in the coming weeks. Slice them in half for even more to go around.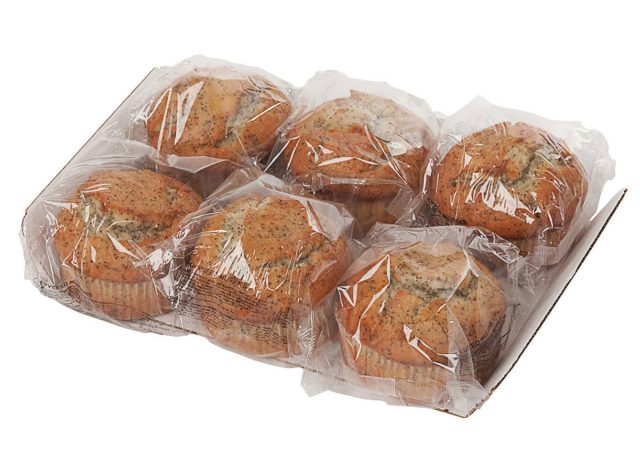 The muffin table in the bakery section always has a fun assortment of flavors, but one of the long-lost favorites is back in time for all the Summer fun that is coming up. The Almond Poppyseed Muffins were thought to be discontinued due to a long hiatus but were spotted recently in warehouses in late April. Instagram account @cotcohotfinds saw them and immediately alerted their followers.
As usual, two packs of six muffins are $8.99. If you're looking to impress some long-time Costco members, show up with these. However, they are not the only old-school foods available again. Here are 4 Nostalgic Grocery Store Favorites Coming Back to Shelves Soon.6254a4d1642c605c54bf1cab17d50f1e
Mini All American Chocolate Cakes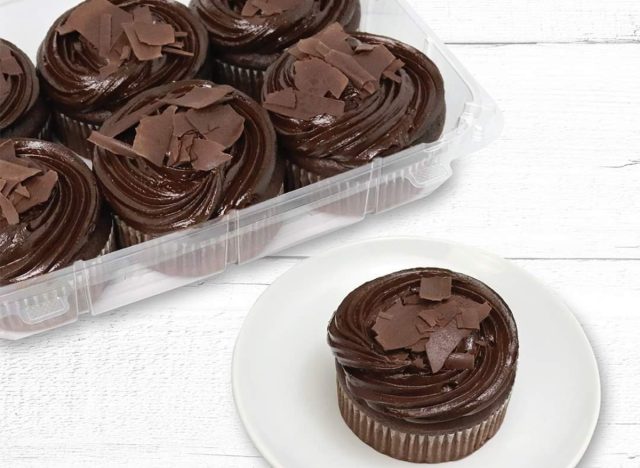 The All American Cake disappeared from the Costco bakery in 2020—along with the combo pizza, samples, and, of course, toilet paper. However, they eventually came back in the Summer of 2021 with a twist. The mini version has now come and gone a few times in the last year, with the most recent return starting just a few weeks ago. Instagram account @costcobuys spotted the six-pack for $7.99 must to the delight of other members.
"It's back at my warehouse too but I walked away slowly," one joked.
Like a few of the other Costco bakery items available right now, this is another shareable dessert fit for pool parties, cookouts, and Memorial Day gatherings. Sharing is caring with these "mini" cakes, as they can easily be split into two so more people can share in the triple chocolate treat.
These aren't the only options, though—Costco Just Brought Back This Beloved Frozen Treat For Summer.
Amanda McDonald
Amanda has a master's degree in journalism from Northwestern University and a bachelor's degree in digital journalism from Loyola University Chicago.
Read more about Amanda