Costco Just Brought Back One of Its Worst Bakery Items
The seasonal bake weighs a massive 5.5 pounds.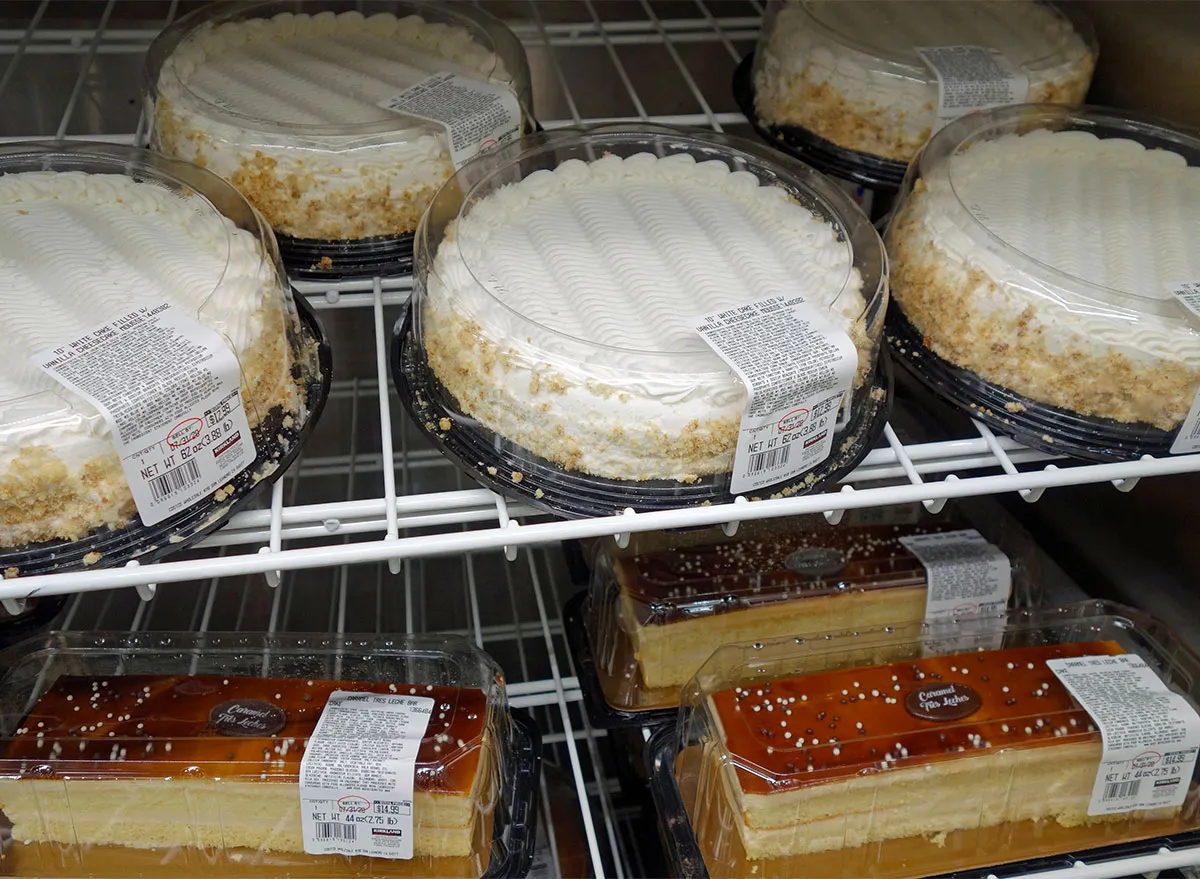 At the beloved Costco bakery, the desserts typically come in one size—giant. Among the sweet treats likely available at your local warehouse right now are 3.88-pound White Cakes with Vanilla Cheesecake Mousse and 4.25-pound Key Lime Pies. (In case you were wondering, the latter cuts into 16 slices.)
As enormous as these pastries may be, none holds a finger to the Strawberry Topped Cheesecake. With the fruity topping included, this seasonal bake weighs in at a massive 5.5 pounds. So don't forget to use both hands if you pick one up!
Instagram user @costcodeals recently spotted this item at the bakery, and most of the commenters were excited to hear it was back for another season. At the same time, one Costco member challenged others to resist the temptation to pick one up. "Don't do it people!" they wrote. "Last year I ate at least half this thing by myself! Trying to treat my body better and stay away!"
Indeed, the original version of Costco's cheesecake was recently called the "worst Costco bakery item" by Lauren Manaker, MS, RDN, LD, CLEC. Manaker is the founder of Nutrition Now Counseling, the author of Fueling Male Fertility, and a member of the Eat This, Not That! Medical Expert Board.
"There is no doubt that strawberry cheesecake is one of the most satisfying and delish things to eat in the world, at least in my humble opinion," Manaker tells Eat This, Not That!. "But many versions of cheesecake are loaded with saturated fat and added sugars—two factors that make this dessert not the best choice when it comes to supporting overall health."
One slice of the OG cheesecake has 420 calories, so it's safe to expect the strawberry variety to have even more. But when a craving hits, a craving hits—and Manaker suggests that you don't ignore it.
"Eating larger-than-life food can sometimes be a fun activity, but I suggest considering portioning your slice in half after you snap that social media pic and saving the rest for another day," she says. "You absolutely won't feel deprived if you cut your portion in half, but you will save yourself a slew of calories, added sugar, and saturated fat."
According to an unverified MyFitnessPal entry, one slice of the Strawberry Topped Cheesecake has 440 calories, 31 grams of fat, 37 grams of carbs, 28 grams of sugar, and 370 milligrams of sodium.
To get all of the latest Costco news delivered right to your email inbox every day, sign up for our newsletter!
For more Costco news, check out:
Amanda McDonald
Amanda has a master's degree in journalism from Northwestern University and a bachelor's degree in digital journalism from Loyola University Chicago.
Read more about Amanda