The #1 Worst Costco Bakery Item, According to a Dietitian
It has 5x the amount of fat you're supposed to eat in a day.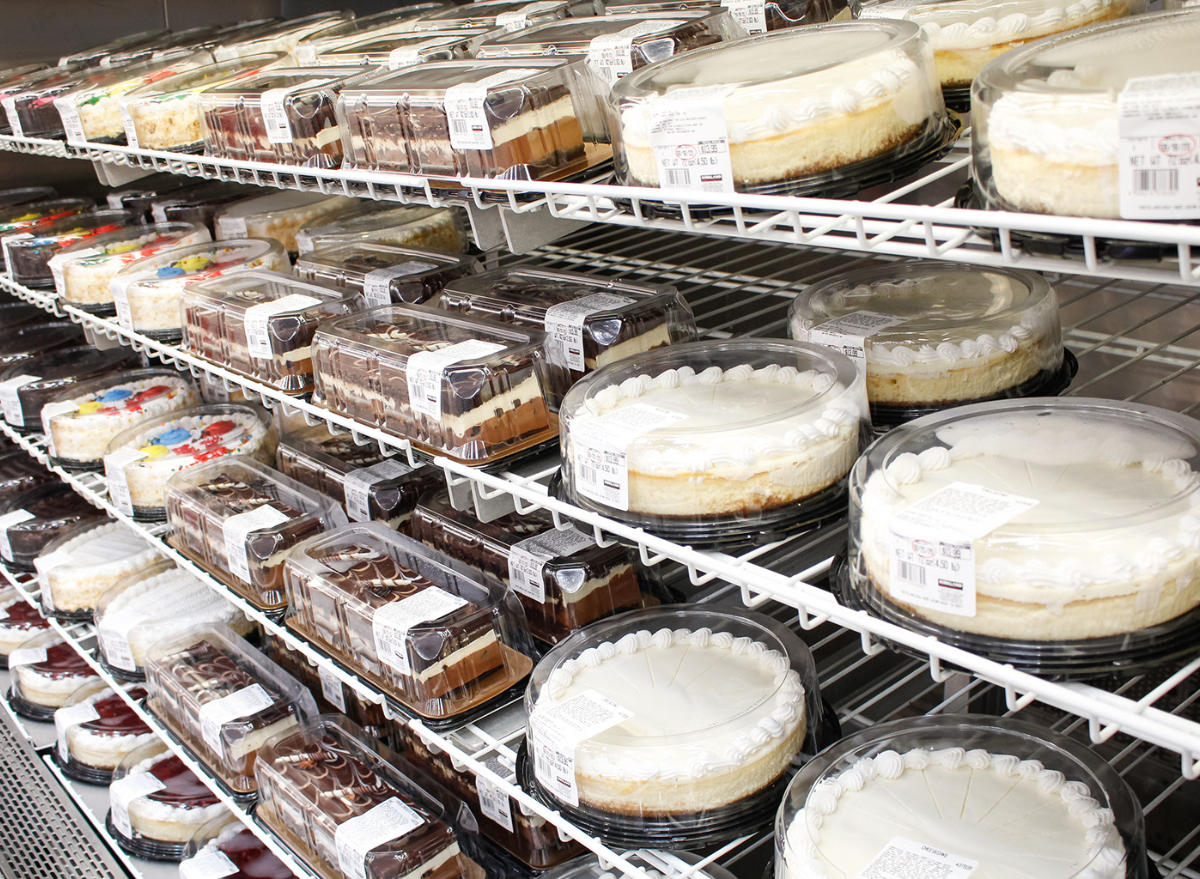 It's difficult to name an item in Costco's bakery section that members don't find completely delicious. Unfortunately, tastiness doesn't always mean healthy, and there are many bakery treats at the warehouse that fit this bill.
The sweet treats on sale at the bakery are seasonal, so before we talk about the overall unhealthiest pick, let's take a look at some of the items available right now. For more information about what shouldn't be on your next grocery list, here are the Costco Foods You Should Always Avoid, According to Nutritionists.
Seasonal bakery favorites like the "grown-up Poptarts" are back.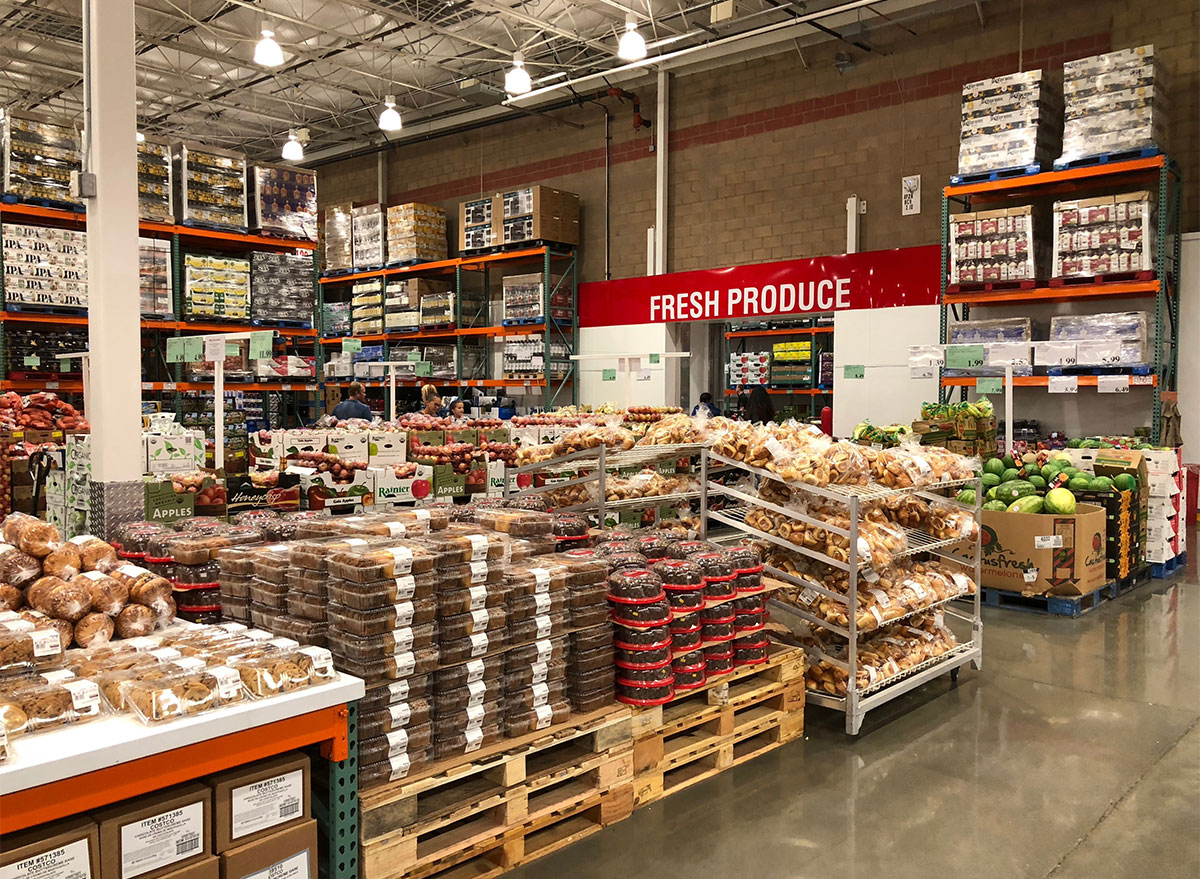 Not only is the weather heating up but so is the fresh summer fruit! Berries are juicy and ripe right now, meaning the Raspberry Crumble Cookies (aka "grown-up Poptarts") at Costco are on display at the bakery. A 12-pack only sets you back $8.99, which comes out to about $0.75 a cookie. While that's a bargain for your wallet, it's not a deal for your health.
One cookie has 320 calories, 40 grams of carbs, 17 grams of fat, 21 grams of sugar, and 2 grams of protein. In total, that amounts to about 5 teaspoons of sugar per cookie—and eating this much of the sweet stuff can lead to serious health issues.
The same goes for the Cinnamon-Pull-Apart rolls.
News broke back in October of 2020 that Cinnamon-Pull-Apart rolls were being discontinued, and some Costco members were devastated. However, this treat made a comeback earlier this year. Fans have called them "amazing," "bliss," and "delicious" (but also a "calorie bomb").6254a4d1642c605c54bf1cab17d50f1e
Indeed, one roll has 250 calories, 35 grams of carbs, 10 grams of fat, 16 grams of sugar, and 4 grams of protein. Luckily, 12 come in one tin, so they're super easy to share! They're also not the worst item in the Costco bakery section . . .
Related: To get all of the latest Costco news delivered right to your email inbox every day, sign up for our newsletter!
The oversized muffins aren't great, either.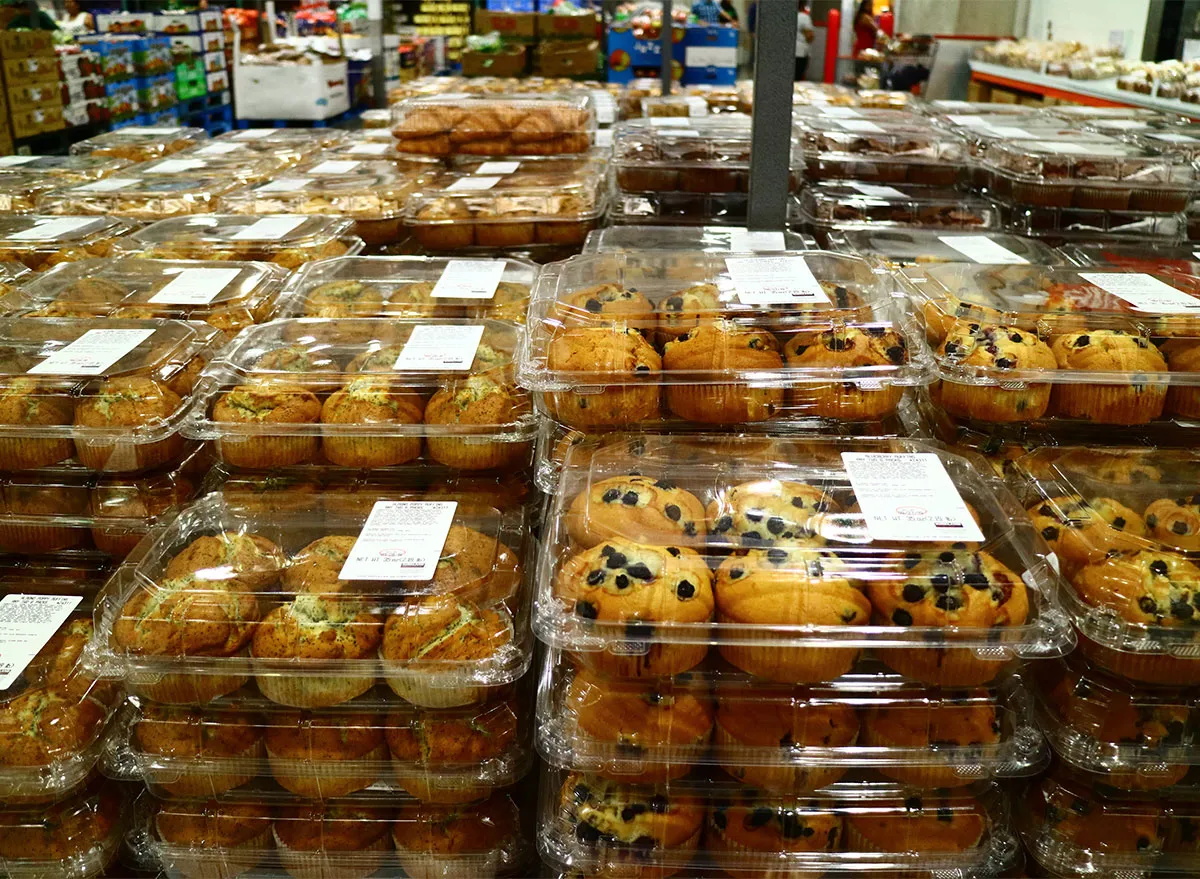 "The problem with oversized muffins is that having larger-sized packages and actual items increases how much you actually eat," registered dietitian and owner of the food blog The Oregon Dietitian Megan Byrd told Eat This, Not That! last year.
One blueberry muffin alone has 580 calories, 68 grams of carbs, 30 grams of fat, and 34 grams of sugar. That's like eating five Oreos. Imagine that being your breakfast! If it is, then you'll likely experience these side effects throughout the day.
The #1 worst Costco bakery item is . . .
. . . the cheesecake! One slice has 420 calories, 34 grams of carbs, 29 grams of fat, 18 grams of saturated fat, 27 grams of sugar, 330 milligrams of sodium, 115 milligrams of cholesterol, 6 grams of protein, and 1 gram of fiber.
As Lauren Manaker MS, RDN, LD, CLEC, founder of Nutrition Now Counseling, author of Fueling Male Fertility, and member of the Eat This, Not That! Medical Expert Board, explains:
Of course, most baked goods are chock-full of fat and sugar, but the plain cheesecake contains way too many of both to be considered a good-for-you choice.

While eating certain fats is an important part of an overall healthy diet, experts recommend limiting saturated fat intake, as eating too many of these fats is linked to an increased risk of outcomes like heart disease and stroke. The American Heart Association recommends that, for a 2,000 calorie diet, people should not exceed around 13 grams of saturated fat per day in their diet. And one slice of this cheesecake contains 18 grams of this fat—5 grams more than what the max is!

And when it comes to added sugars, the new Dietary Guidelines for Americans suggest that no more than 10% of people's calories should come from these sugars. So, for a 2,000 calorie diet, that would mean no more than around 50 grams of added sugars should be eaten every day.
Manaker says the cheesecake is her favorite. If it's also your favorite, try slicing a serving in half for a more sensible treat.
For more information on how to shop smarter at Costco, check out:
Amanda McDonald
Amanda has a master's degree in journalism from Northwestern University and a bachelor's degree in digital journalism from Loyola University Chicago.
Read more about Amanda