7 Popular Fall Items Costco Already Has On Shelves
Leaves are dropping, and so are the fall items at the warehouse in your neighborhood.
The sleigh bells are ringing at Costco already, are you listening? Probably not, since the Holiday season is still over three months away. But, if what you really want to hear is trick or treat and the crunch of leaves under your feet, then you're in luck, because it looks like the middle of autumn inside each warehouse.
Several popular fall food and household items have been spotted by Costco members and posted to social media, which we've rounded up here. Keep reading to see which fall finds you can scoop up at Costco now, and for more ideas of what to buy during your next trip, here are 6 New Costco Items Customers Are Absolutely Loving Right Now.
Pumpkin Pie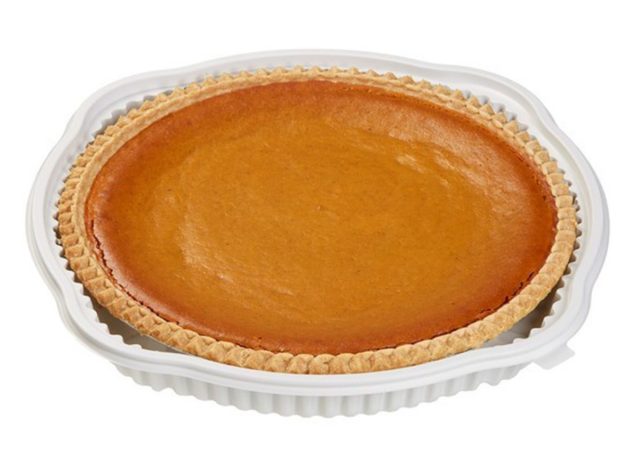 It's an iconic dessert for the entire fall season—and despite what the calendar says, it's already pumpkin pie time at Costco warehouses. The Kirkland Signature Pumpkin Pie is available in the bakery section as of early September. Instagram account @costcobuys posted about the addition recently, which is huge in size and also one of the cheapest bakery items at $6.99.
Related: To get all the latest Costco news delivered right to your email inbox every day, sign up for our newsletter!6254a4d1642c605c54bf1cab17d50f1e
Reese's Peanut Butter Pumpkins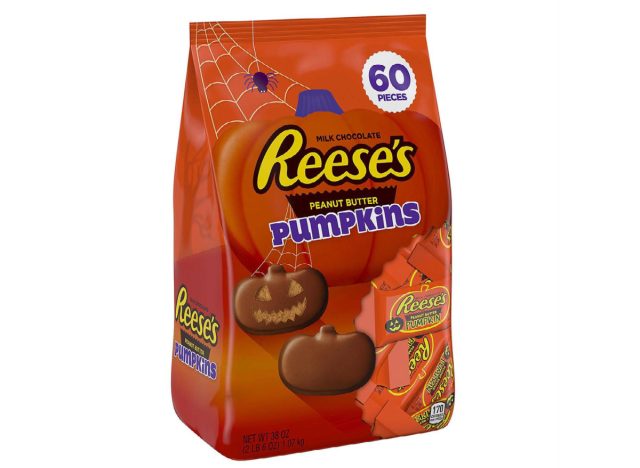 Stocking up on Halloween candy ASAP is easier than ever right now because Costco has a 60-piece bag of this beloved treat in warehouses… and it's less than $9, according to @costcobuys.
It's never too early to start preparing if you want to be the spookiest and most popular house on the block on Oct. 31.
Decor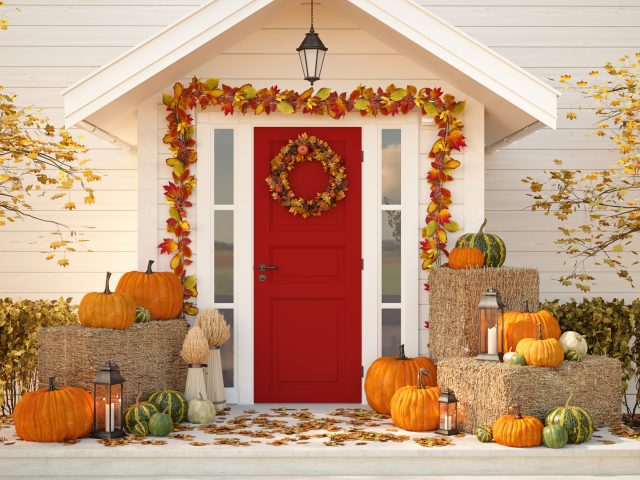 America's largest warehouse chain isn't just the go-to place for fall foods—members can get everything needed to transform your house into a pumpkin patch with all kinds of decor. From wreaths that @costco_empties found for $39.99 to "newly dead" newlywed skeletons @costco_doesitagain recently spotted for $139.99, Costco has it all.
Related: 8 Things You'll Never See at Costco Ever Again
Apple Pie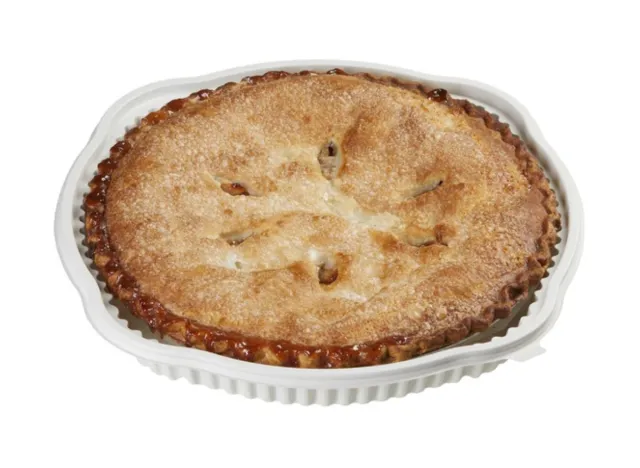 There are several apple-stuffed bakery items at Costco each fall, but this one is hands down the largest. The Apple pie is already available to purchase for $9.99, which is quite a steal if picking the apples (at an orchard or the grocery store) and making one yourself isn't in the cards.
Instagram account @costco_empties found it in the warehouse just as the calendar changed from August to September.
Costumes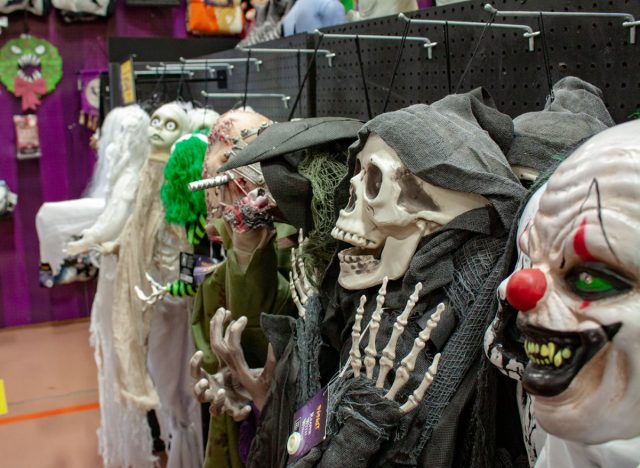 Again, Costco is a big place, and that means there are more fall items to get besides pies and candy. While the big night is still a few weeks away, if the kids are in need of Halloween costumes—you guessed it—Costco members can get some when they pick up their weekly groceries. Princess dresses were recently spotted by @costcodeals and feature a bunch of favorite characters like Rapunzel and fairies.
Pumpkin Streusel Muffins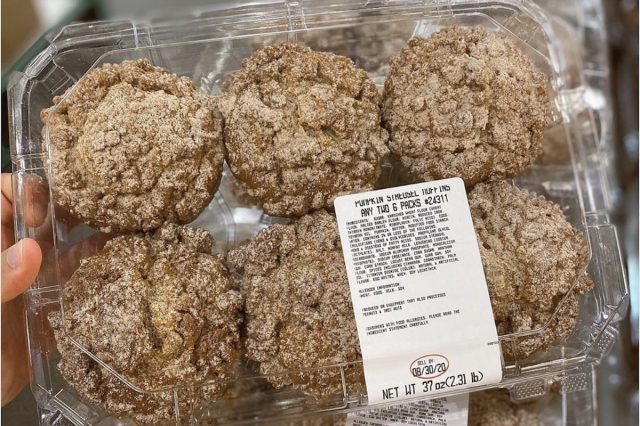 Labor Day has come and gone, and so have the warm mornings we had all summer. When breakfast time is cool and crisp outside, Costco has a treat that will warm you up: Pumpkin Streusel Muffins.
Instagram account @costcobuys posted about them in late August, but know that they are pretty big—and therefore, have quite a bit of calories, fat, and sugar. Slicing one up and enjoying it a little at a time is a great way to avoid a sugar rush later. For more on this, here are The Best & Worst Muffins at Costco—Ranked!
Candles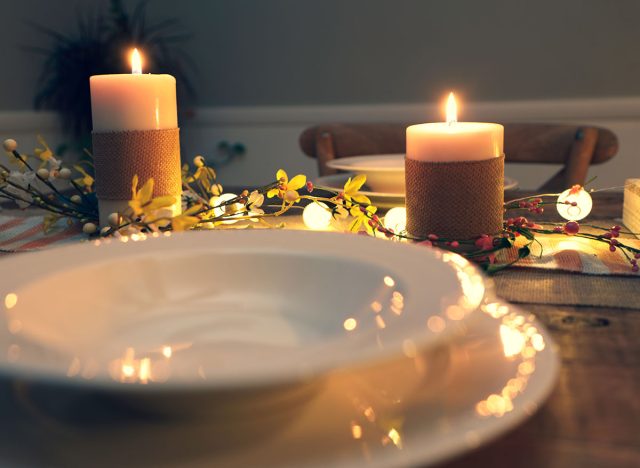 Warming up a Pumpkin Pie or Pumpkin Streusel Muffin will definitely make the house smell like fall, but you can also evoke the same scents with Costco's four-pack of Bellevue soy candles, according to @costco_empties. Scents like Chai Cardamom, Vanilla Butter, Ocean Moss, and Blackberry Sage will last the whole season—and each only costs around $5.
For more news about what's happening at your local warehouse, check out:
Costco Just Made This Change to Its Food Court Condiments

Costco Majorly Marked Down the Price of This Beloved Summer Beverage
Amanda McDonald
Amanda has a master's degree in journalism from Northwestern University and a bachelor's degree in digital journalism from Loyola University Chicago.
Read more about Amanda