This Surprising Eating Habit Is Now The Best for Slimming Down—And It's Easy
With this diet, you can still follow your cravings and make it your own.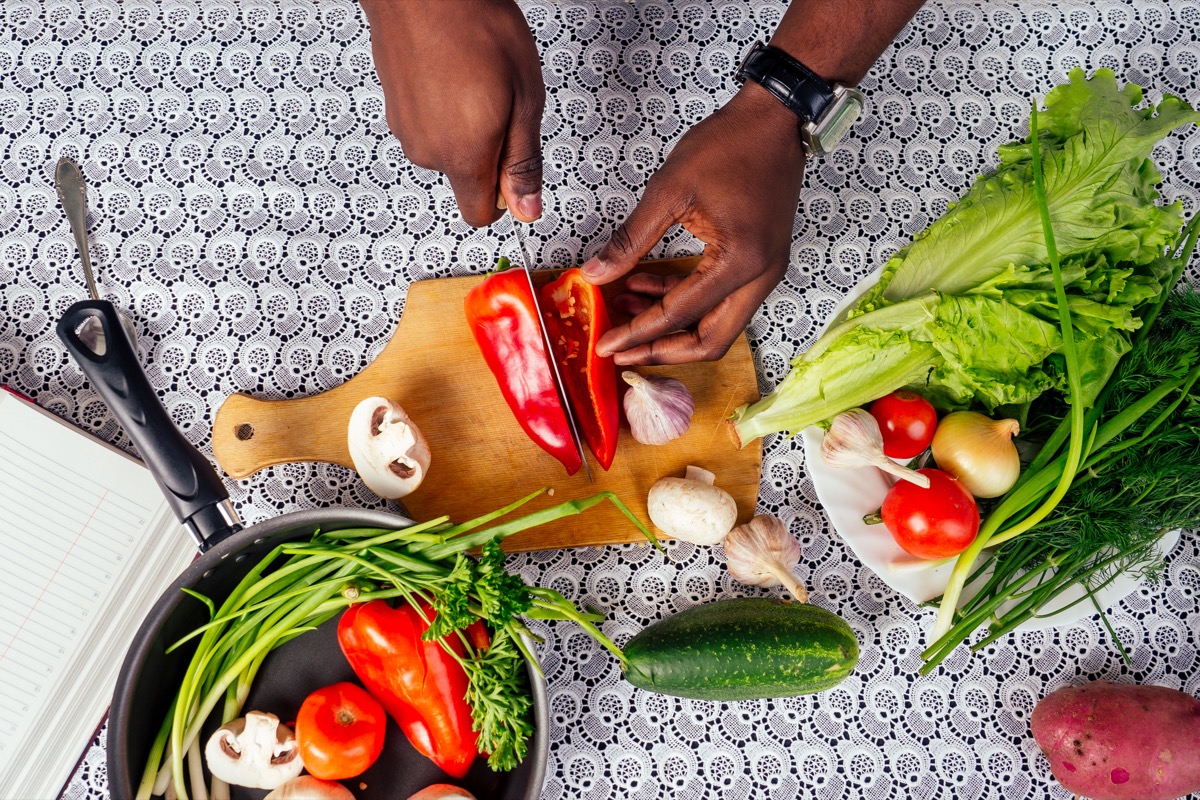 There's good news on the horizon for those who may be trying to lose weight this year. According to the newly released report on the Best Diets in 2022 from US News, you can achieve weight loss in a flexible, non-restrictive way.
This is because the report's winner for the Best Weight Loss Diet for 2022 is the Flexitarian diet, an easier and more usable version of a standard vegetarian diet.
We wanted to learn more about what it's like to follow the Flexitarian diet and its health benefits, so we talked with expert Kim Rose, RD for food tracking app Lose It!.
"Living Flexitarian is enjoying low-calorie plant foods and the occasional animal protein, which still allows you to see changes in your weight, so this dietary option is a total win-win," says Rose.
What is the Flexitarian Diet?
If you follow a vegetarian diet, you most likely avoid eating meat at all times. The Flexitarian diet is similar, but it takes a more flexible approach. Essentially the individual on this diet would eat mostly plant-based items, with meat-based products on occasion.6254a4d1642c605c54bf1cab17d50f1e
In her book, The Flexitarian Diet, Dawn Jackson Blatner says that a diet largely consisting of plants with smaller portions of meat can help lower risk of heart disease, cancer, and diabetes.
If you're someone who wanted to try this diet, Rose suggests stocking up on certain foods. "You'd want to make sure you have plenty of whole grains, fruits, vegetables, beans, legumes, nuts, and seeds, because these are all high in fiber, low in calories, and do many wonderful things for the body such as keeping you full for a longer period of time and helping with satiety."
Not only does this diet allow for more fiber and more feelings of satiety, which both help significantly with weight loss, but it allows for more freedom and less restriction.
"Let's face the fact that diets can be hard to maintain, which is especially true if you're advised to avoid specific foods or food groups in order to lose weight," says Rose, "and cravings from this restriction can lead to the overindulgence of the very foods you were trying to avoid."
She concludes with this: "Instead of holding out, you may find greater success losing weight using a Flexitarian diet because it provides the best of both worlds, allowing you to eat a vegetarian diet on the days you desire to, and eat animal protein on the days you're craving it."
For more healthy tips, read these next: