5 Fast-Food Chains Opening Unique Drive-Thru Locations
These brands are all about the digital, contactless future.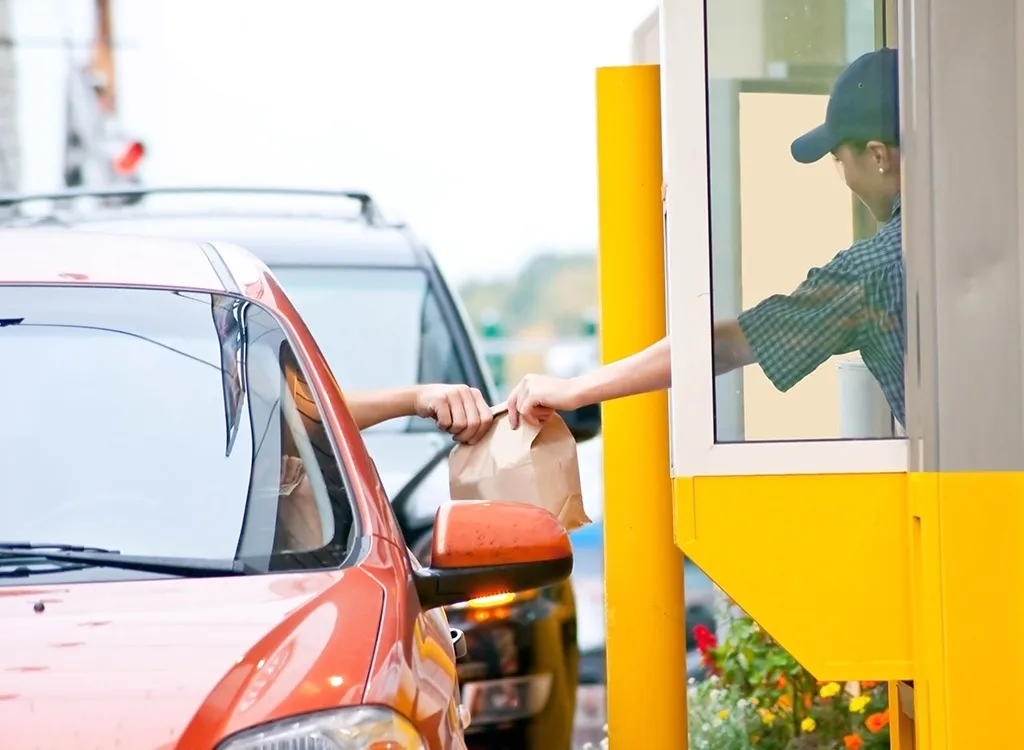 Drive-thru-only restaurants, a unique and quickly-expanding concept, seem to be the future of fast food.
Pandemic-era customers, in their continuing quest for safety, speed, and convenient options have demonstrated to major brands that you don't need seats to be successful.
According to Bake Magazine, drive-thru sales accounted for 42% of all restaurant traffic in November of 2021, up from 26% in February 2020. And delivery during this period rose from 3% to 9%. While most fast-food patrons became extremely comfortable with curbside pickup and digital and mobile ordering during the pandemic, the effect was enhanced when it came to people using drive-thru windows.
The Motley Fool has reported that drive-thru-only and off-premise models will, going forward, be "preferred" and may become "dominant." The outlet also said that "tomorrow's fast-food restaurant is going to transform into one that is all-digital and has a drive-thru window at its core."
Further, even chains that traditionally have not embraced drive-thrus, such as fast-casual restaurants Applebee's and Shake Shack, have apparently seen the light, with both recently announcing the addition of drive-thru lanes as well as takeout, curbside delivery, and mobile orders.
"We're seeing brands that would never in a million years embrace the drive-thru, embracing the drive-thru," Adam Chandler, author of the book "Drive-Thru Dreams," told The Counter. Chandler noted that the trend is guided by Covid. "The technology, the innovation of it, which made buying food quick and detached, is attractive."
And these fast-food chains are betting big that drive-thru and off-premise locations can drive their business home.
And don't miss 4 Most Overpriced Fast-Food Chains, According to Customers.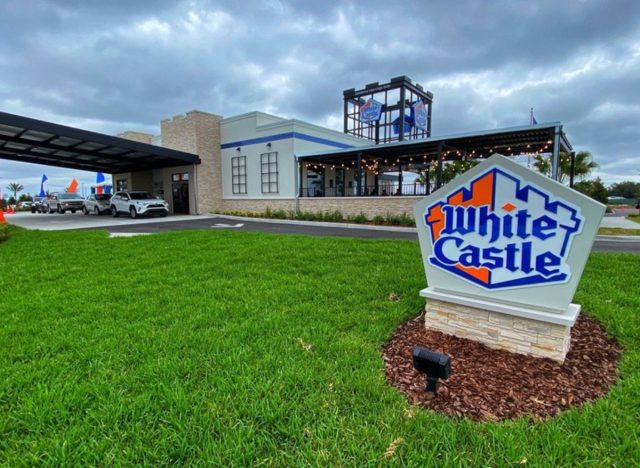 White Castle is opening a new takeout-only location in Orlando, Fla., according to Restaurant Dive.
The iconic burger brand's 1,800-square-foot unit will only handle digital orders for pickup and delivery, sitting literally right next door to White Castle's first Florida restaurant that has successfully handled drive-thru and dine-in customers.
The chain's takeout-only model is intended to directly bolster operations at a busy traditional location, rather than expand the chain's reach to new delivery markets.
White Castle is the latest burger chain to add an off-premise-only location as increased delivery demand remains strong. The company joins chains like Wendy's and Chick-fil-A that are experimenting with ghost kitchens (physical spaces to create food for off-premises consumption) as well as virtual brands to better capture off-premise orders.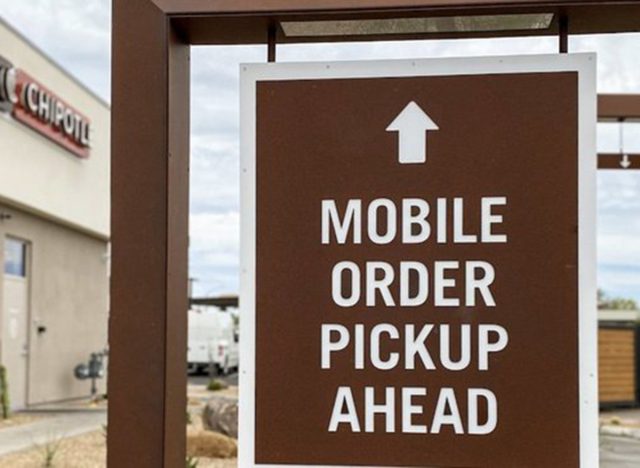 Late last year, Chipotle opened its first Chipotlane Digital Kitchen, in Cuyahoga Falls, Ohio, featuring a drive-thru, walk-up windows, and no dining room or front line.
The restaurant is smaller than standard locations and features a kitchen with a make-line for digital orders placed through the Chipotle app and the chain's website, as well as delivery partners. Customers and delivery drivers can pick up digital orders through the Chipotlane drive-thru or walk-up window. This location also features an outdoor patio.
Taco Bell drive-thru lines are legendary across the country. Scores of fans have tales of waiting at the drive-thru in the wee hours of the morning. The COVID-19 pandemic further accelerated the company's drive-thru popularity, as demand for contactless transactions grew.
In response, Taco Bell announced a new drive-thru-only concept called Taco Bell Defy, which will include not one or two but three lanes for mobile or delivery order pickups and a fourth lane for those wanting to place an order at the restaurant.
Customers can scan their order using a QR code at one of the digital check-in screens and then pull up to a pickup window where their food is delivered by way of a lift system.
A kitchen will be located above the drive-thru lanes and customers can interact with employees using a two-way audio and video technology system, company officials said.
The first Taco Bell Defy is set to open in Brooklyn Park, Minn. this summer.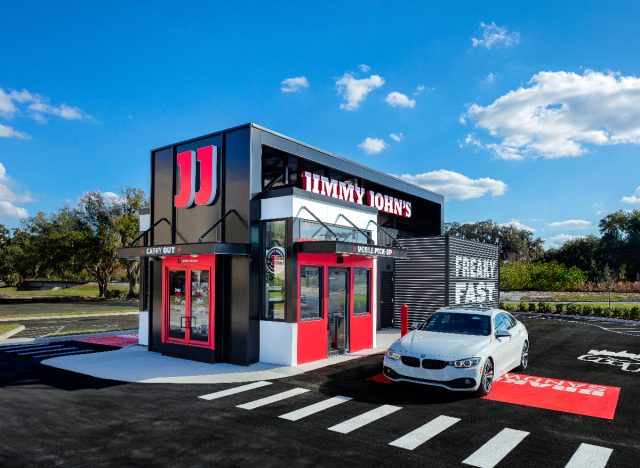 Inspire Brands' sandwich chain Jimmy John's recently announced a new restaurant format: its first drive-thru-only location in Bartow, Fla., according to Restaurant Business.
The location features a dual-sided drive-thru with a dedicated pickup lane, carryout lockers for takeout customers, and no seats.
The 2,700-unit Jimmy John's is hoping that drive-thru only can help propel the company forward after U.S. system sales dropped 8.5% in 2020, during the worst of the pandemic—despite a market that should have been favorable to a delivery-focused chain of its size.6254a4d1642c605c54bf1cab17d50f1e
Jimmy John's launched a new brand identity last year to get back in front of customers. The drive-thru-only format builds upon that new identity and promises a "digital-forward approach," with more options for mobile ordering.
One of the new drive-thru lanes, for example, is dedicated to mobile order customers. Those that don't want to go through that lane can get their food from carryout lockers.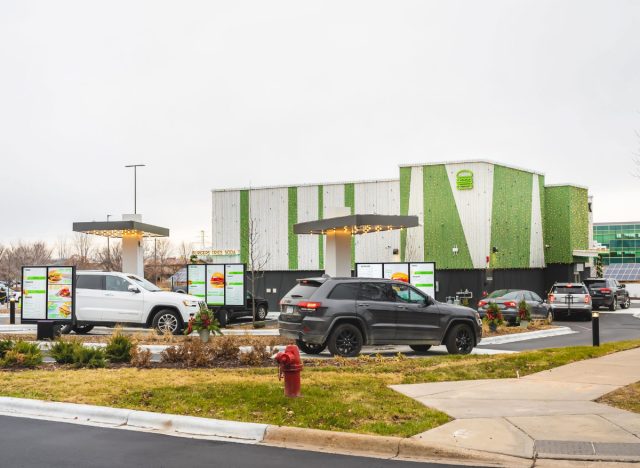 Shake Shack, while not yet at the point of opening drive-thru-only stores, opened its first-ever drive-thru location last December in Maple Grove, Minn., according to Restaurant Dive.
The restaurant includes a digital menu board, a two-lane ordering system, and a separate pickup window. Guests can order while in the drive-thru lanes or ahead via the company's app and website.
The fast-casual chain is looking to build ten drive-thrus this year as well as 45 to 50 new stores, its largest expansion to date. More than half of its new stores will be in suburban markets, emphasizing freestanding and shopping center locations that can offer drive-thru and drive-up options.
Alan Krawitz
Alan Krawitz is a veteran New York-based journalist with 25 years of experience working for a variety of media outlets including Newsday, Zenger News, and Long Island Press.
Read more about Alan