8 Fast-Food Items With Ridiculous Amounts of Fat
These burgers, sides, and more are best avoided.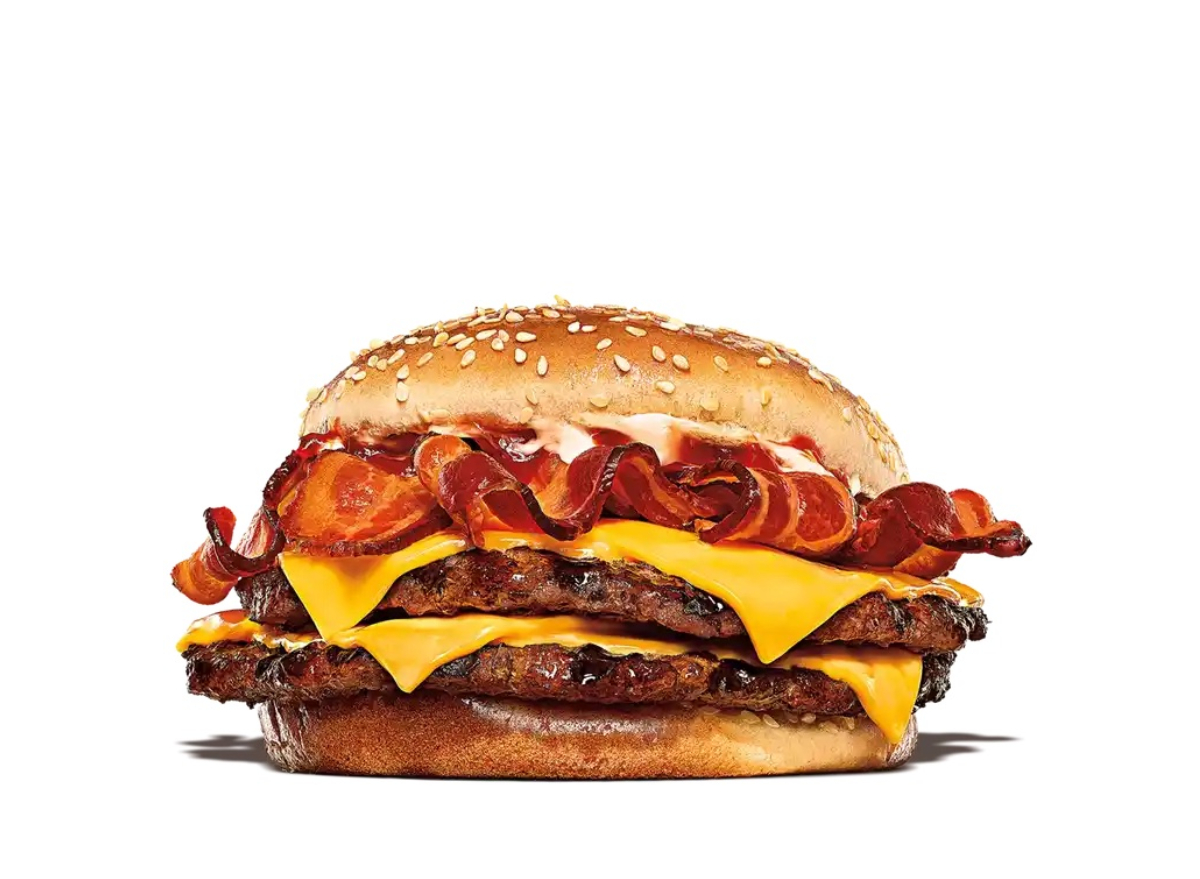 Fast-food chains are known for including some pretty unhealthy menu options, but you might be surprised at just how much fat is in some of your favorite menu items.
We consulted with dietitians Molly Hembree and Ilana Muhlstein to identify fast foods with crazy amounts of fat. "Some fast-food offerings contain an excess of total fat, including undesirable saturated fat, due to high-fat meats and cheeses and the use of added oils," says Hembree.
The current Dietary Guidelines for Americans recommend limiting saturated fat to less than 10% of daily calories, which would be 20 grams based on a 2,000-calorie diet. Hembree warns that six out of eight of the menu items on our list exceed this amount.
"These foods should be treated as 'sometimes' foods and never eaten on a regular basis," explains Hembree. "Fats in our diets should instead come from healthy unsaturated fats like nuts, seeds, avocados, and oils like canola or olive oil."
Read on to find out (and avoid!) these fast-food items with a ton of fat, ranked best to worst.
And don't miss 10 Fast-Food Drinks With Exorbitant Amounts of Sugar.
Pizza Hut's Meat Lover's 14-inch Pan Pizza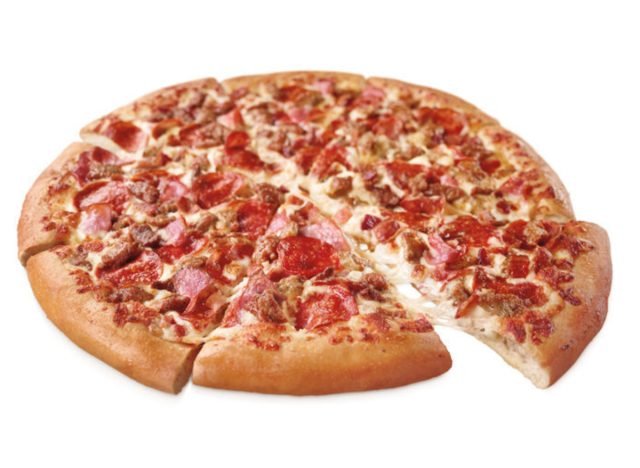 Per serving (1 slice, ⅛ pizza)
: 480 calories, 28 g fat (10 g saturated fat, 0.5 g trans fat), 60 mg cholesterol, 1,180 mg sodium, 37 g carbs (2 g fiber, 3 g sugar), 20 g protein
Pizza Hut's Meat Lover's pizza is the fattiest item on the menu with 28 grams of fat per slice. If you were to eat this whole pizza yourself, you'd be consuming a grand total of 224 grams of fat. As Hembree notes, high-fat meats and cheeses are very much at play here to make this pizza one to stay away from.
Five Guys' Large Fries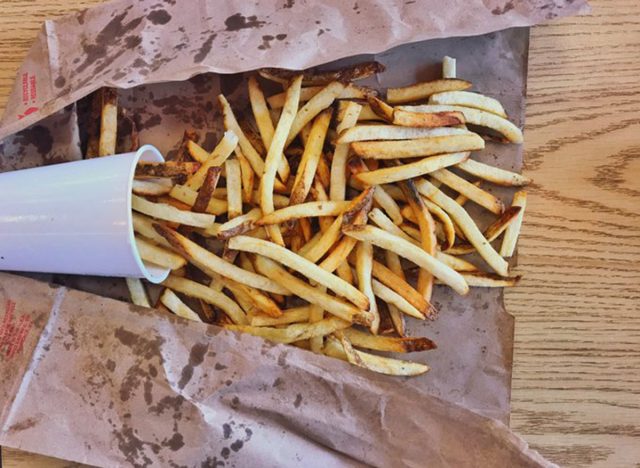 Per serving
: 1,314 calories, 57 g fat (10 g saturated fat, 1, g trans fat), 0 mg cholesterol, 1,327 mg sodium, 181 g carbs (21 g fiber, 8 g sugar), 20 g protein
As Hembree explains, the oils used to cook fatty foods make them especially unhealthy. And not only does Five Guys cook fries in refined peanut oil, but it also serves them up in large portions—almost 600 grams of fries compared to the more common 100- to 300-gram servings at other chains.
This is why a large serving of fries at other fast-food chains has significantly less fat: 21 grams at Wendy's, 23 grams at McDonald's, and 35 grams at Chick-fil-A and Arby's.
McDonald's Big Breakfast with Hotcakes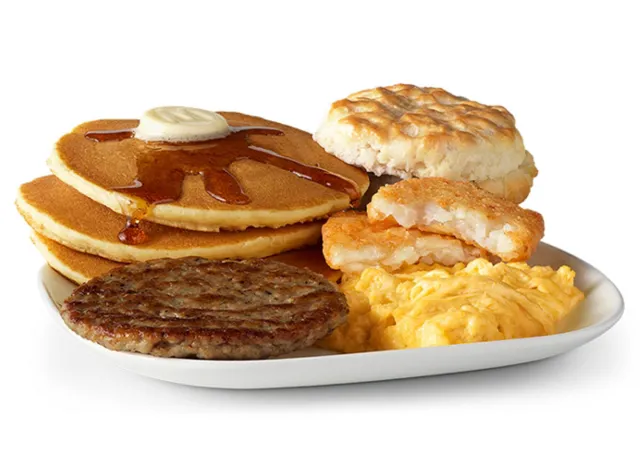 Per serving
: 1,340 calories, 63 g fat (25 g saturated fat), 525 mg cholesterol, 2,070 mg sodium, 158 g carbs (5 g fiber, 48 g sugar), 36 g protein
Talk about a full breakfast—this McDonald's breakfast item serves up more than your entire recommended daily intake of saturated fat. The breakfast includes a biscuit, scrambled eggs, hash browns, sausage, and hotcakes for more than half of your daily calories.
Popeyes' Large Mac & Cheese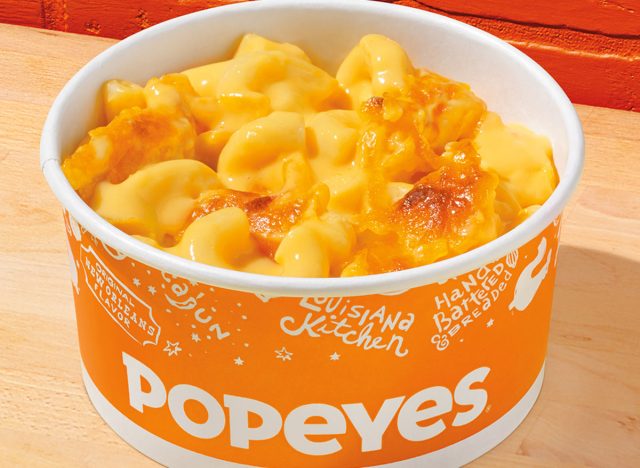 Per serving
: 850 calories, 63 g fat (36 g saturated fat, 1.5 g trans fat), 180 mg cholesterol, 1,540 mg sodium, 48 g carbs (1 g fiber, 9 g sugar), 33 g protein
Containing more fat content than comparable sizes of mac & cheese at Chick-fil-A (29g) and KFC (23g), Popeyes' mac & cheese is full of just the kind of "undesirable saturated fat" that Hembree warns about.
Not only does it have way more saturated fat than recommended, but the total fat is incredibly high for a fast-food side. Plus it's not likely you'll stop at just mac & cheese at Popeyes—add on some fried chicken and your meal gets criminally high in fat.
Burger King's Bacon King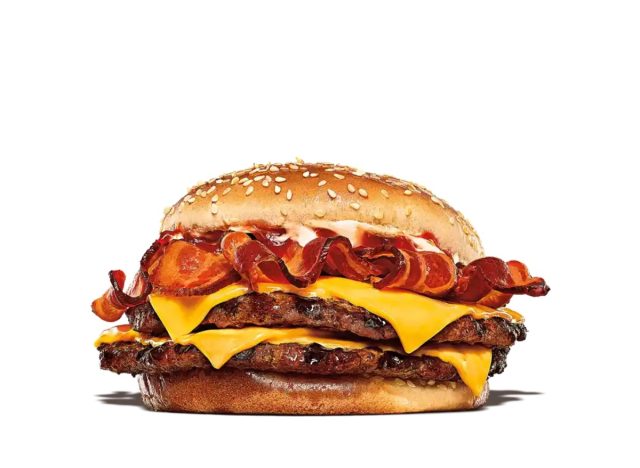 Per serving
: 1,359.3 calories, 93.9 g fat (39.3 g saturated fat, 3.1 g trans fat), 269.7 mg cholesterol, 2,962.4 mg sodium, 58.3 g carbs (2.5 g fiber, 14.5 g sugar), 72.7 g protein
As the fattiest burger on Burger King's menu, the Bacon King has nearly 100 grams of fat in just one serving. And it's easy to see why—this burger has two quarter-pound flame-grilled beef patties topped with smoked bacon, four slices of cheddar cheese, ketchup, and mayo.
Not only is the fat content super high, but the sodium content will also bring you to your daily recommended limit. The American Heart Association recommends adults consume no more than 2,300 milligrams of sodium per day.
Wendy's Big Bacon Cheddar Cheeseburger Triple
Per serving
: 1,420 calories, 102 g fat (42 g saturated fat, 5 g trans fat), 235 mg cholesterol, 2,110 mg sodium, 46 g carbs (3 g fiber, 6 g sugar), 82 g protein
With over 100 grams of fat in a single burger, Wendy's Big Bacon Cheddar Cheeseburger Triple should definitely be a once in a blue moon treat. The burger contains almost a pound of beef plus cheddar cheese, bacon jam, Applewood smoked bacon, onions, and American cheese, all on a cheddar bun—no wonder it's so unhealthy.6254a4d1642c605c54bf1cab17d50f1e
White Castle's Large Mozzarella Sticks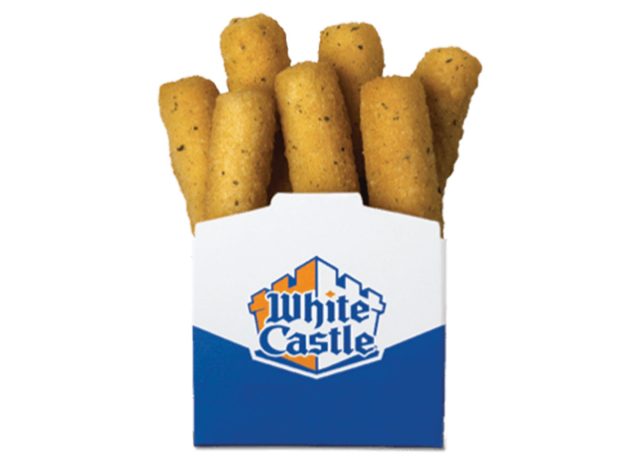 Per serving
: 1,490 calories, 111 g fat (31 g saturated fat, 1 g trans fat), 100 mg cholesterol, 3,110 mg sodium, 77 g carbs (4 g fiber, 6 g sugar), 41 g protein
A fast-food side that delivers an overwhelming amount of fat, White Castle's Mozzarella Sticks are an item to avoid at all costs. The large size contains 10 sticks for a grand total of 111 grams of fat.
Not to mention, the saturated fat content is higher than the recommended daily intake for most people. Combine that with the super high sodium content and these chunks of fried cheese should only ever be shared among a few people.
Steak 'n Shake's 7×7 Steakburger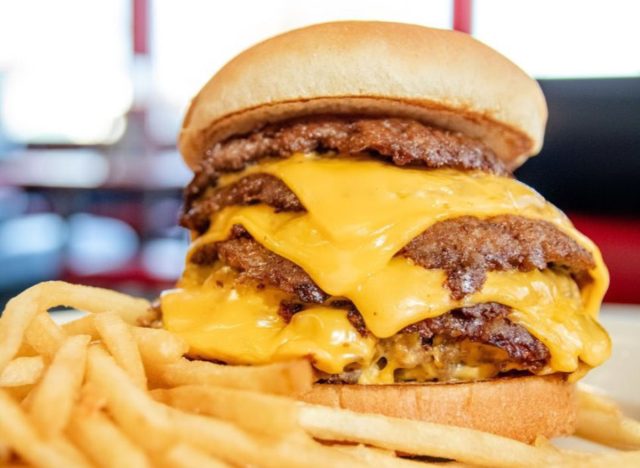 Per serving
: 1,660 calories, 128 g fat (62 g saturated fat, 6 g trans fat), 355 mg cholesterol, 3,800 mg sodium, 29 g carbs (<1 g fiber, 4 g sugar), 95 g protein
Who knew that one burger could have well over 100 grams of fat? Steak 'n Shake's popular 7×7 Steakburger serves up just that. "With enough saturated fat to put you over the limit for three days in a row, one should strongly reconsider before ordering this, especially if they have risk factors for heart disease, such as high blood pressure," explains Muhlstein.
Mia Salas
Mia is a freelance writer for several publications and a soon-to-be graduate from Princeton University with a degree in English.
Read more about Mia