This "Extreme Value" Grocery Store Chain is Opening 35+ New Locations
Get ready to save up to 70% on your groceries at more new Grocery Outlet stores across the country.
Costco and Walmart specialize in their low-cost brands Kirkland and Great Value. Everyone likes to save money by choosing these items over big-name brands, but one expanding grocery store chain is taking the concept to a whole other level… and, it's expanding with new locations as well.
Grocery Outlet has been in business for 75 years, first selling military food surplus items before becoming a more generic grocery store that prides itself on its steep discounts and offers 40-70% off of name-brand items and produce. The chain now operates stores in six states: California, Washington, Oregon, Pennsylvania, Idaho, and Nevada, and just opened its tenth store in Idaho on June 24—marking its 400th location nationwide to date, according to Supermarket News.
Related: This Is the Best Supermarket in America, New Survey Says
The expansion is all part of a 10%-a-year growth plan in which the chain hopes to open approximately 35 new locations every year. Between January and April 2021, Grocery Outlet opened 10 new stores and closed one, bringing its total to 389.
Then came another wave of store openings, with spots opening in June in Cathedral City, Calif., Tillamook, Ore., and Hailey, Idaho. Coming soon? An Oceanside, Calif. store opening on July 2.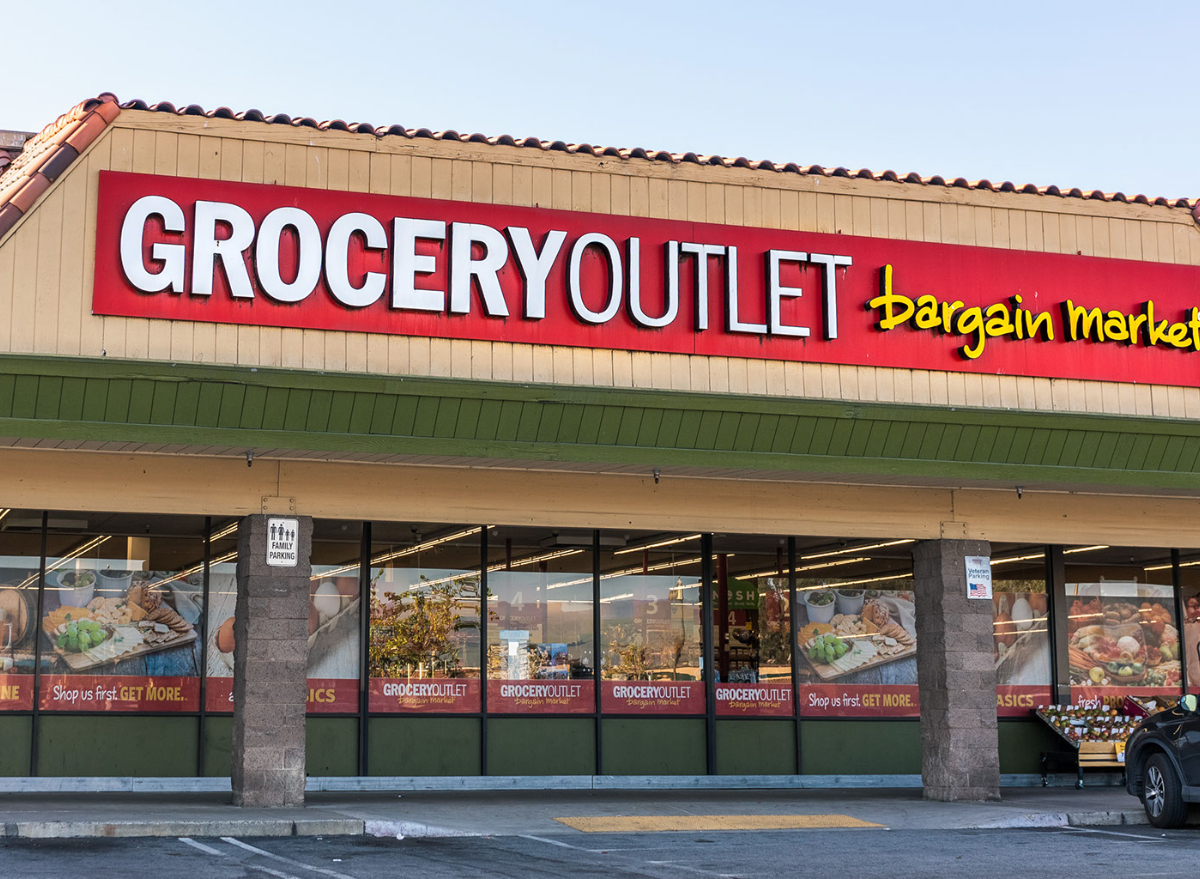 In the next few months, expect to see more new Grocery Outlet store openings (totaling up to 38) with at least two near Philadelphia, Pa., in East Norriton and Mount Airy, Supermarket News says.
To celebrate their growing footprint as well as the chain's 75th birthday, all Grocery Outlet locations are currently offering "diamond deals," aka up to 75% off products, as well as other throwback savings in-store.
"We are incredibly proud to celebrate the opening of our 400th store, a momentous number 75 years in the making," Eric Lindberg, Grocery Outlet's CEO said in a statement on its website. "Since our founding, Grocery Outlet has built on the core value of 'touching lives for the better,' and today, we are proud to play a part in 400 communities across the U.S. When you shop at a Grocery Outlet store, you are shopping local and supporting entrepreneurs within your own community."
To get all the latest grocery store news delivered right to your email inbox every day, sign up for our newsletter! And for more info on how to save money when you shop, read these next:
Amanda McDonald
Amanda has a master's degree in journalism from Northwestern University and a bachelor's degree in digital journalism from Loyola University Chicago.
Read more about Amanda