4 Things You Didn't Know About Guy Fieri's Eating Habits
The celebrity chef loves this type of food.
Have you ever watched those cooking and traveling shows on TV and wondered, "how do they stay in shape considering everything they eat?" It may seem baffling how physically fit some celebrity chefs appear to be in contrast to what they consume on their exotic traveling food excursions.
Guy Fieri is definitely an example of this—but his diet may not be what you think.
The Food Network star is well-known for his hit traveling TV show Diners, Drive-ins and Dives. During each episode, Fieri travels to the best greasy spoon restaurants across the U.S., noshing on chili burgers that ooze with cheese and gravy-laden "everything." Comfort food may seem appealing to some, but what if you had to eat it every day? Let's just assume no one would be very healthy. Thankfully, this isn't the case for Fieri, and it may result from his upbringing.
Fieri admits that he didn't grow up munching on your typical childhood snacks. He told Food Network's Chefography, "I never got to have white bread or baloney. I was brought up with steamed fish and brown rice and bulgur." That may be a foreign scenario for most of us raised on Oscar Meyer sandwiches and the brand's theme song.
In an audition video for Food Network, Fieri said that he learned how to cook out of survival (he was kidding, of course). During childhood, he wasn't keen on the meals his mother prepared. He told Food Network, "My parents were into macrobiotic cooking—vegetarian, nondairy, whole grains, no red meat. I started cooking when I was 10 because I just couldn't eat that stuff." He explained that whoever cooked dinner could decide what it would be. He leaned his tastes toward pasta, understandably since he has Italian roots. The famous chef began preparing food at an early age, learning creativity in the kitchen with various ingredients.
Before his rise to stardom, Fieri studied cooking in France. He snagged a degree in restaurant administration at the University of Nevada Las Vegas, opened many restaurants, and enjoys mixing various cuisines to create unique, one-of-a-kind dishes.
What we see on TV is far from what the celebrity cook actually eats at home. Surprisingly enough, Fieri consumes many plant-based foods because he was raised by parents who instilled the value of eating healthy habits in the home. The mayor of Flavortown actually eats healthy foods when he's off-camera and says that meals at home are always a debate.
Who decides the evening's meal? He told GQ, "My youngest son Ryder always likes to propose pizza. I believe he actually thinks pizza is a food group. My oldest son Hunter, me, and him are big fans of Asian food, and that's anything Korean, Thai, Chinese, Japanese, Vietnamese. My wife is a little bit all-American. She's more roasted chicken, potatoes, asparagus." So, what does the celebrity chef eat when he's at home?6254a4d1642c605c54bf1cab17d50f1e
Keep reading to find out, and then check out 16 Celebs Share How They Make Oatmeal.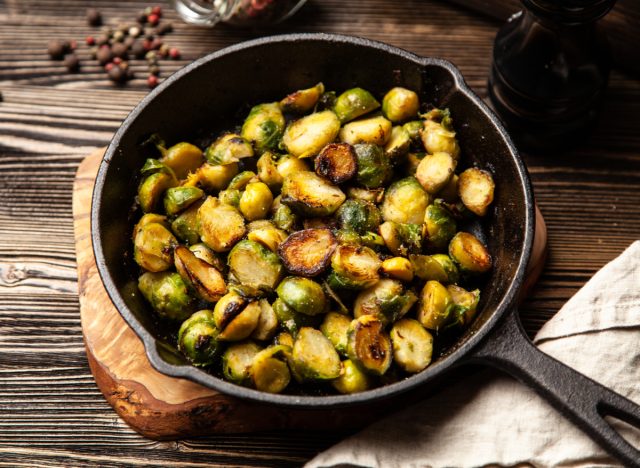 Fieri's mother would be proud if she saw what he eats today. The mayor of Flavortown opened up in an interview with Today, claiming that he cannot live without Brussels sprouts.
That's right, Fieri loves the mini cabbage-like vegetable, and he created a few recipes featuring the "versatile" veggie. He said about Diner's, Drive-ins and Dives, "We feature a wide variety of foods from around the world. We get down with vegetarian and vegan dishes. We hit it all. And, I'd have to say, that's a pretty fair assessment of how I eat."
He also claims that he loves salad, and while he is not a vegetarian, people would be surprised to know the amount of plant-based foods he consumes. Another food, or perhaps condiment, that Fieri says he cannot live without is soy sauce.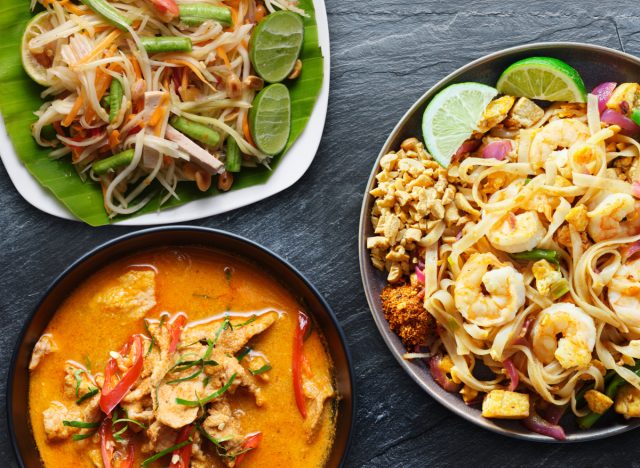 In an interview with The Takeout, he said, "People always think that I must just eat deep-fried pizzas and cheeseburgers for lunch, but I'm a big salad fan, big sushi fan, and Thai food fan." He likes it so much that an entire episode of "Triple D" is dedicated to the cuisine. So, this explains his love of soy sauce.
More importantly, he adds, "Lunch is always set up to contrast dinner. So, if I know we're going to be doing a big dinner, like barbecue, steak, or Asian food, I'll make sure I don't eat Thai for lunch." That sounds like some good advice coming from someone who knows food. He explains that he usually cooks every meal at home since he is on the road eating out most of the time.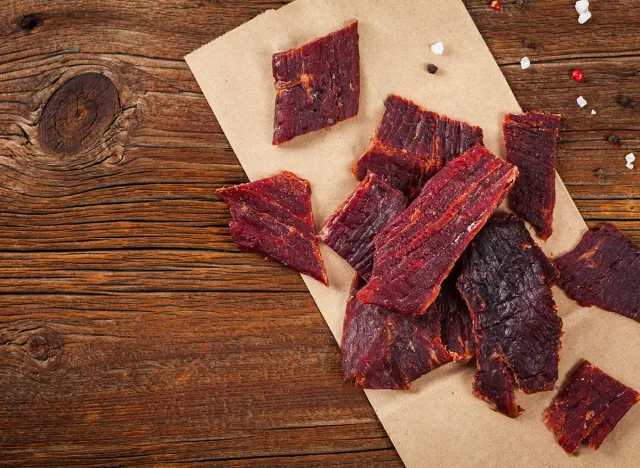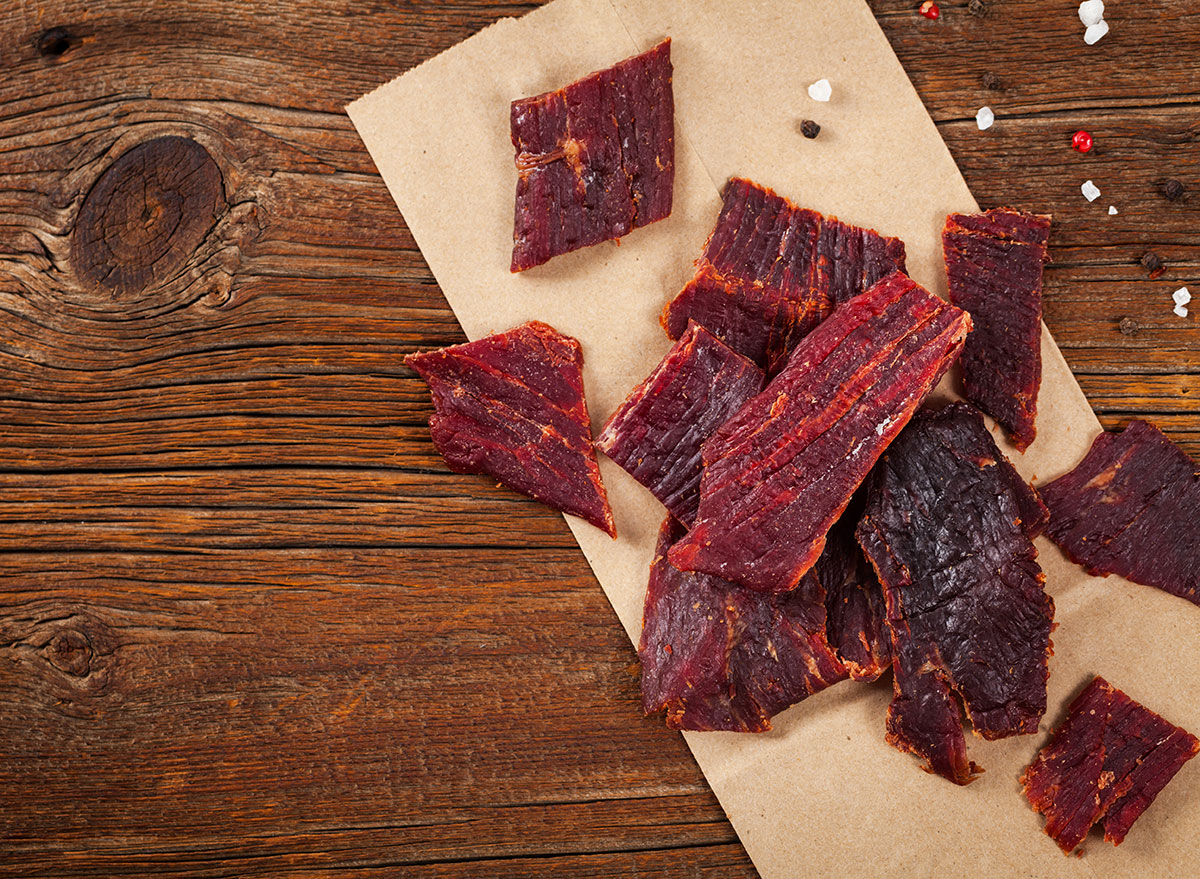 Fieri enjoys snacking, but he tries to make it somewhat healthy. During a filming of Guy's Grocery Games, he admitted that he has a snack hiding area behind the bags of rice (sorry, Guy). His snack of choice is Oberto beef jerky.
Apparently, Fieri's love for jerky began at an early age when he recalled loading jerky to an outdoor smoker during his shift at the historic Ferndale Meat Co. He said, "I was making jerky at the meat company when I was in fifth grade at Ferndale Elementary. I loved the jerky, and I asked Gary (Edgmon — former longtime owner) if I could have a job." Years later, in 2021, Fieri purchased the Ferndale Meat Co., the building in which he had so many fond childhood memories.
When he isn't chewing through a piece of jerky, Fieri opts for something a little easier to chew. In a 2021 interview with People, Fieri recalled, "I'm a big pretzel fan to the point that when I was a little kid, I had a business called The Awesome Pretzel Cart. I sold the big New York-style soft pretzels. They're salty, soft, and I'm a huge fan of mustard with them."
Fieri's childhood venture into entrepreneurship likely set the stage for the Guy Fieri Foundation. The foundation consists of programs equipped to help victims of disasters and support the culinary education and inspiration of aspiring chefs. He told GQ that no matter what he eats, he has one rule: "I'm a big believer that if you're going to eat something, eat the best. Don't go waste yourself on some imposter." He added, "It's got to be the real deal."
For more on celeb diets, check out 8 Eating Habits Jennifer Lopez Swears by to Look Amazing at 52.
Shaye Glisson
Shaye was born and raised in Houston, TX. She is a freelance Lifestyle/Beauty/Wellness writer and a licensed Cosmetologist with several years of writing experience.
Read more