These Are the Healthiest Menu Items at Panda Express, Says Dietitian
Here's what a health professional would order at the popular fast food chain.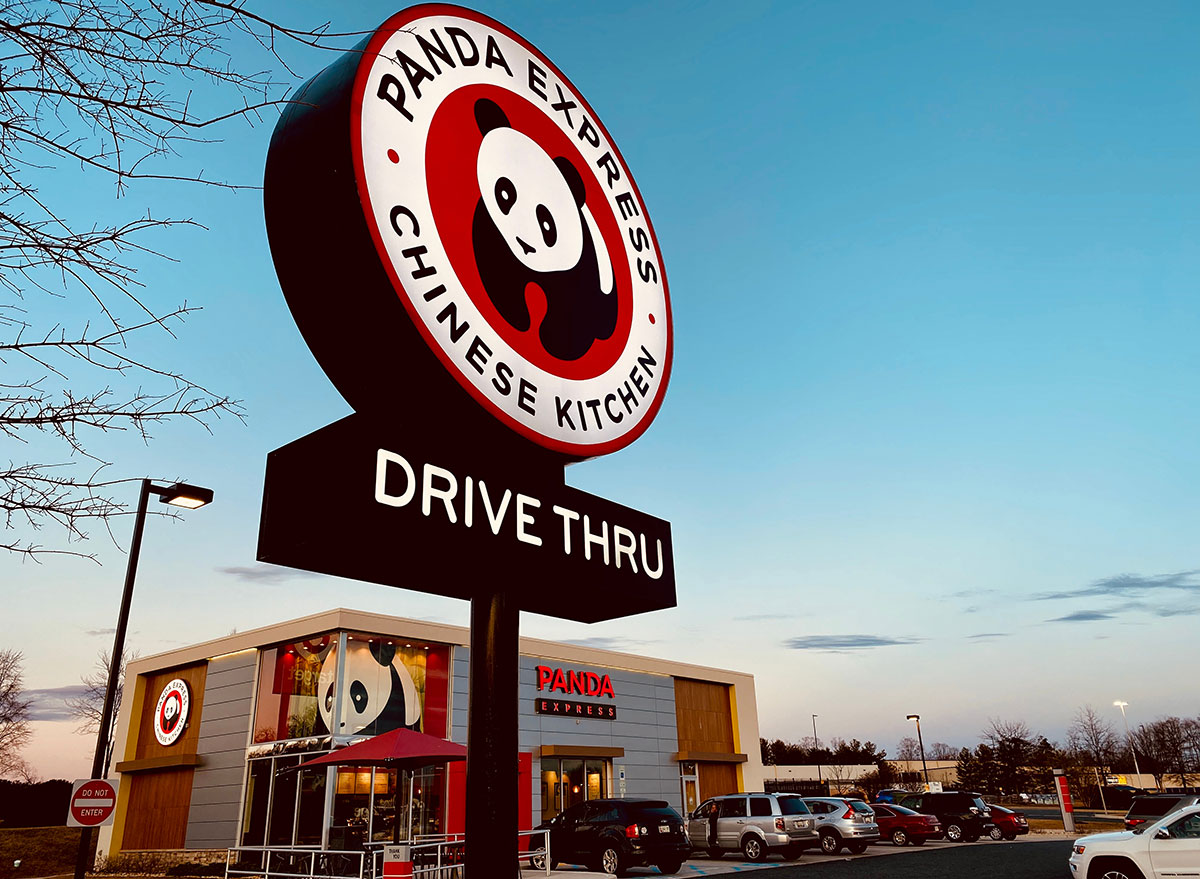 Let's face it, we all get hit with an occasional craving for fast food. As a registered dietitian, I'll admit that there are some quick-serve meals on my "must-have" list. And there are days when travel, or just being short on time, means that visiting a drive-thru or fast-casual restaurant are my best options for a nutritious meal.
While many quick dining meals are loaded with calories, saturated fat, and sodium, not all of them are "diet disasters." Craving Chinese food? No problem! If you have a hankering for Panda Express but you don't want to wreck your diet, I have some dietitian-approved picks from this fast-casual Chinese food favorite.
Then, don't miss Popular Fast Food Items to Never Order, Say Dietitians!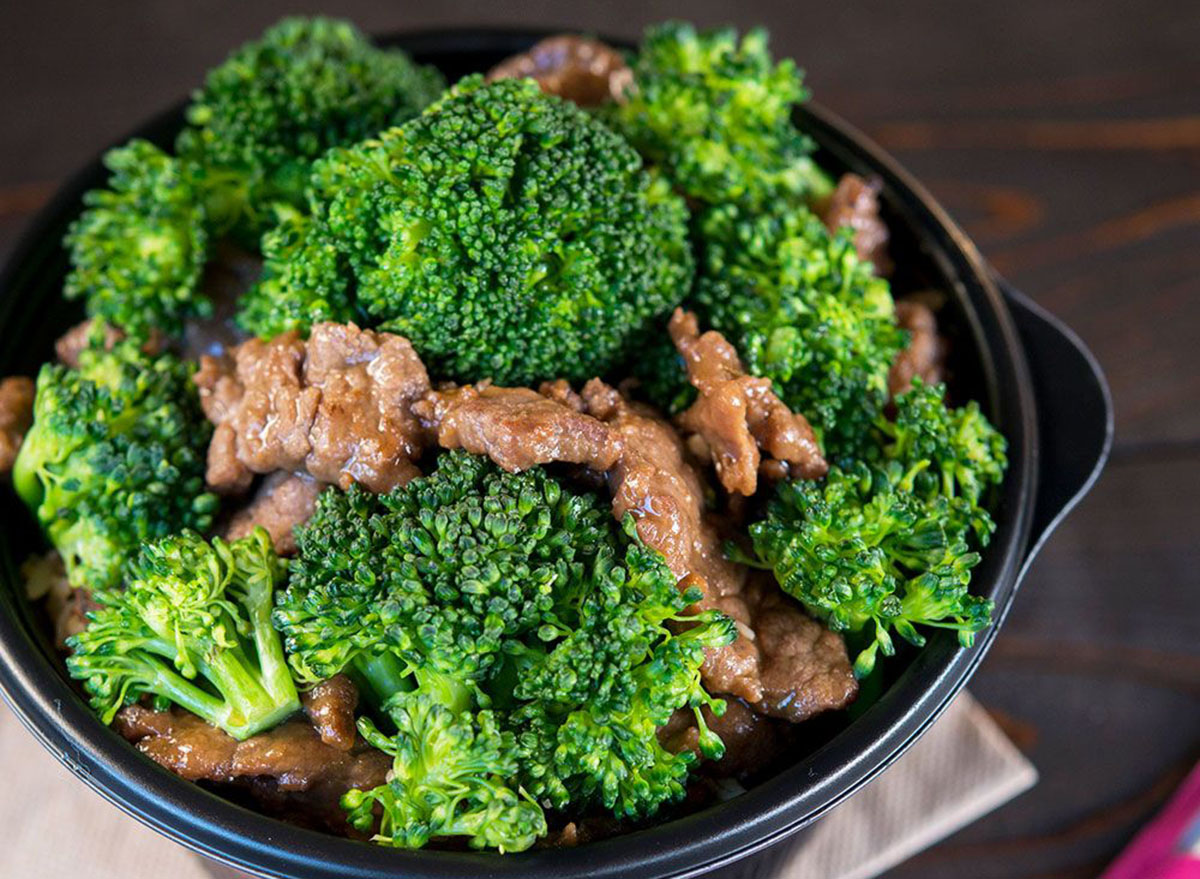 PER SERVING
: 150 calories, 7 g fat (1.5 g saturated fat, 0 g trans fat), 520 mg sodium, 13 g carbs (2 g fiber, 7 g sugar), 9g protein
A serving of the delicious Broccoli Beef entrée will only set you back 150 calories and, as the name suggests, it's loaded with nutrient-dense broccoli. This leafy green superfood is packed with vitamins and minerals including vitamins A and C, calcium, potassium, zinc, iron, and B vitamins. Plus, each serving of this savory entrée offers 9 grams of filling protein.
Keep in mind that this dish alone will likely not be enough to help you stay full. Try adding a side of white steamed rice for some added sustenance, unless you're following a low-carb diet, in which case you'll want to cut that portion in half or skip altogether.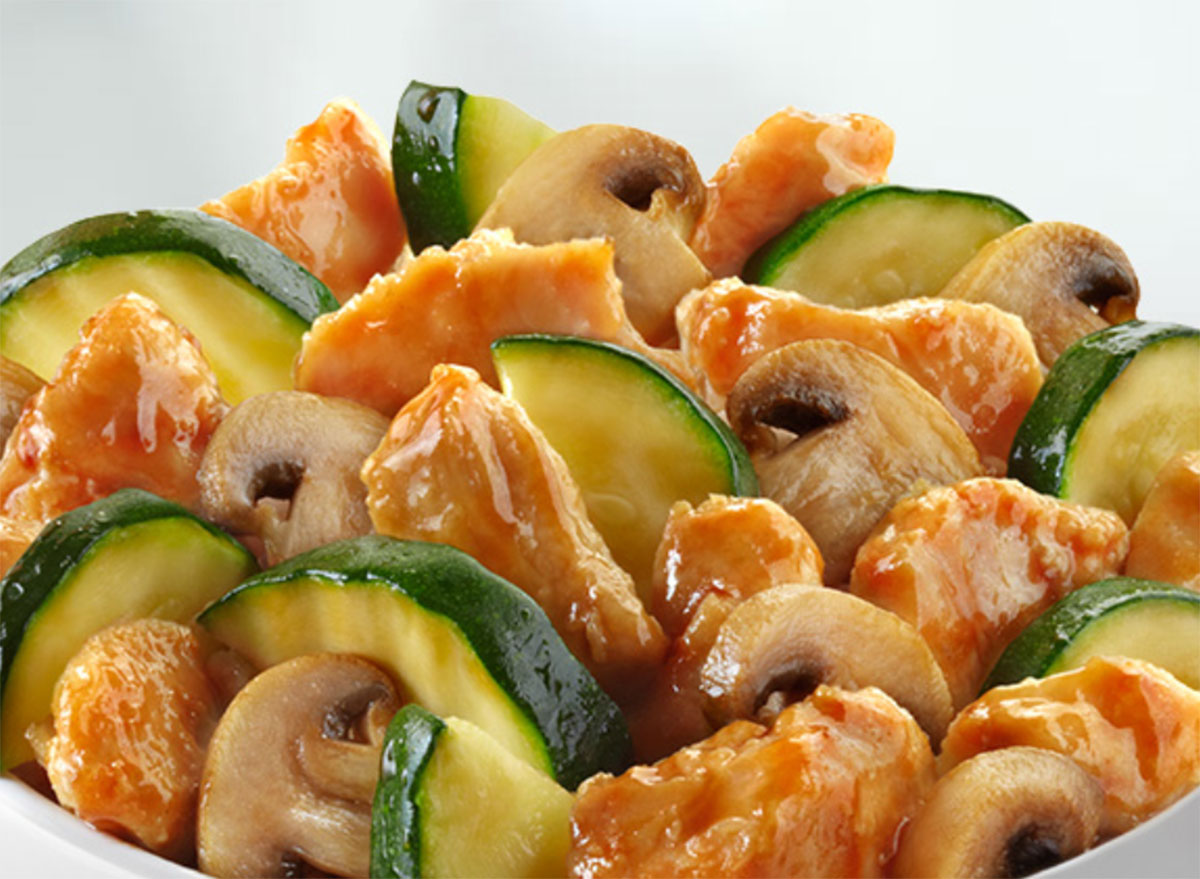 6254a4d1642c605c54bf1cab17d50f1e
PER SERVING
: 220 calories, 14 g fat (2.5 g saturated fat, 0 g trans fat), 840 mg sodium, 10 g carbs (1 g fiber, 5 g sugar), 13 g protein
You can't go wrong with this tasty combination of chicken, mushrooms, and zucchini served with a light ginger soy sauce. With just 220 calories you'll get a whopping 13 grams of filling protein, which helps you meet your daily veggie needs. Saturated fat and cholesterol are kept to a minimum at 2.5 grams and 50 milligrams, respectively.
Mushrooms provide a surprising amount of nutrition in very few calories, including two B vitamins, riboflavin and niacin, as well as several important minerals such as copper (which helps make red blood cells), selenium (an antioxidant), and potassium (an electrolyte that aids in nerve and muscle function).
Add a side of broccoli to add some more vegetables and calories to your meal!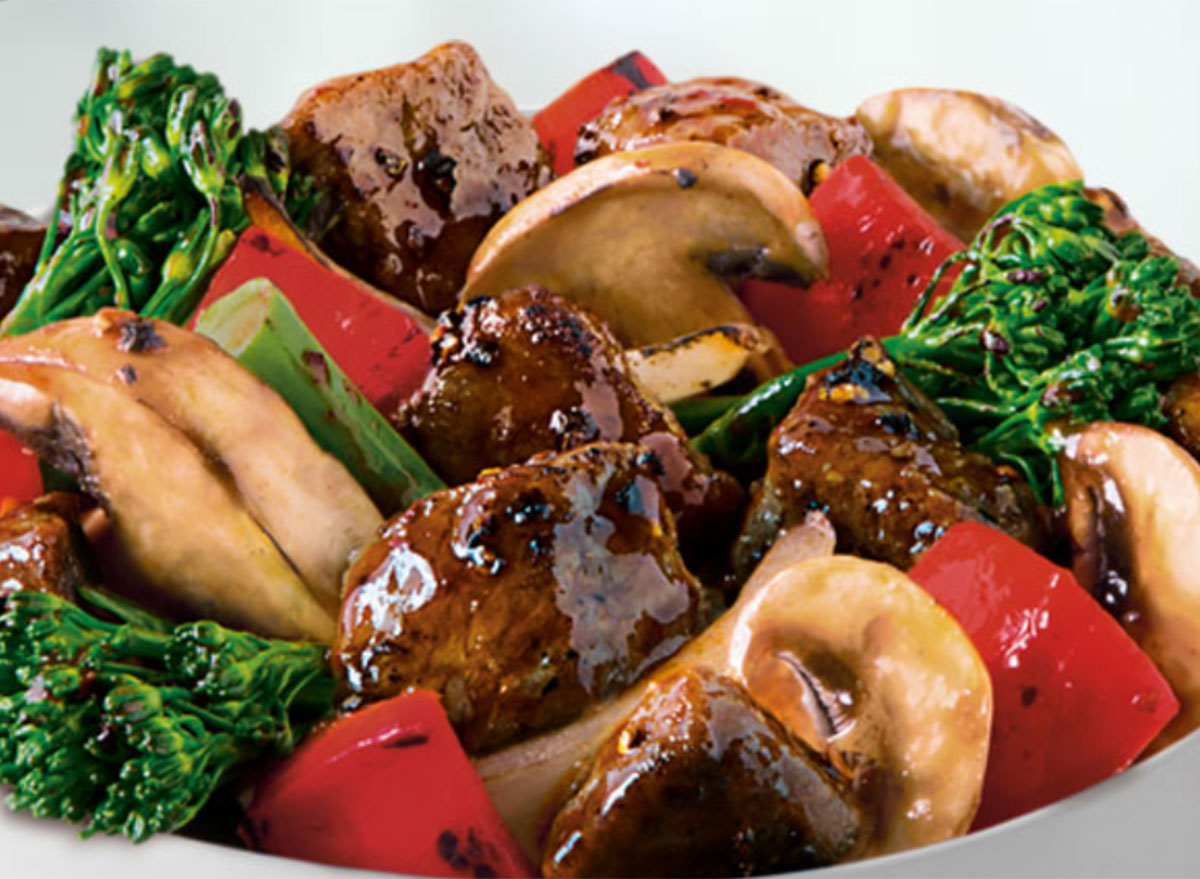 PER SERVING
: 180 calories, 7 g fat (2 g saturated fat, 0 g trans fat), 750 mg sodium, 10 g carbs (1 g fiber, 6 g sugar), 19 g protein
Big on flavor and low on calories, this Angus steak, wok-seared delight is loaded with baby broccoli, onions, red bell peppers, and mushrooms—all of which are tossed in a savory black pepper sauce. The red bell peppers add a boost of vitamin C, fiber, B vitamins, as well as an antioxidant called quercetin. Research shows that quercetin may help reduce inflammation, fight cancer, and lower the risk of heart disease and hypertension.
Don't miss Dangerous Side Effects of Having High Blood Pressure.
PER SERVING
: 90 calories, 3 g fat (0 g saturated fat, 0 g trans fat), 260 mg sodium, 10 g carbs (5 g fiber, 4 g sugar), 6 g protein
Adding a side of Super Greens to your Panda Express order will pump up the flavor and nutrition of your meal. This dish includes a healthful medley of broccoli, kale, and cabbage. With just 90 calories you'll get 6 grams of filling fiber and 5 grams of protein. Leafy greens like broccoli and kale are some of the most nutrient-rich foods you'll find. Studies show that they can help reduce your risk of heart disease, cancer, and even slow cognitive decline!
Now, be sure to sign up for our newsletter!
Katherine Brooking MS, RD
Katherine Brooking MS, RD is registered dietitian, nutrition writer/influencer and media spokesperson.
Read more about Katherine