The #1 Healthiest New Summer Drink to Order at Dunkin'
We've researched the nutrition info so you can sip smart and chill out.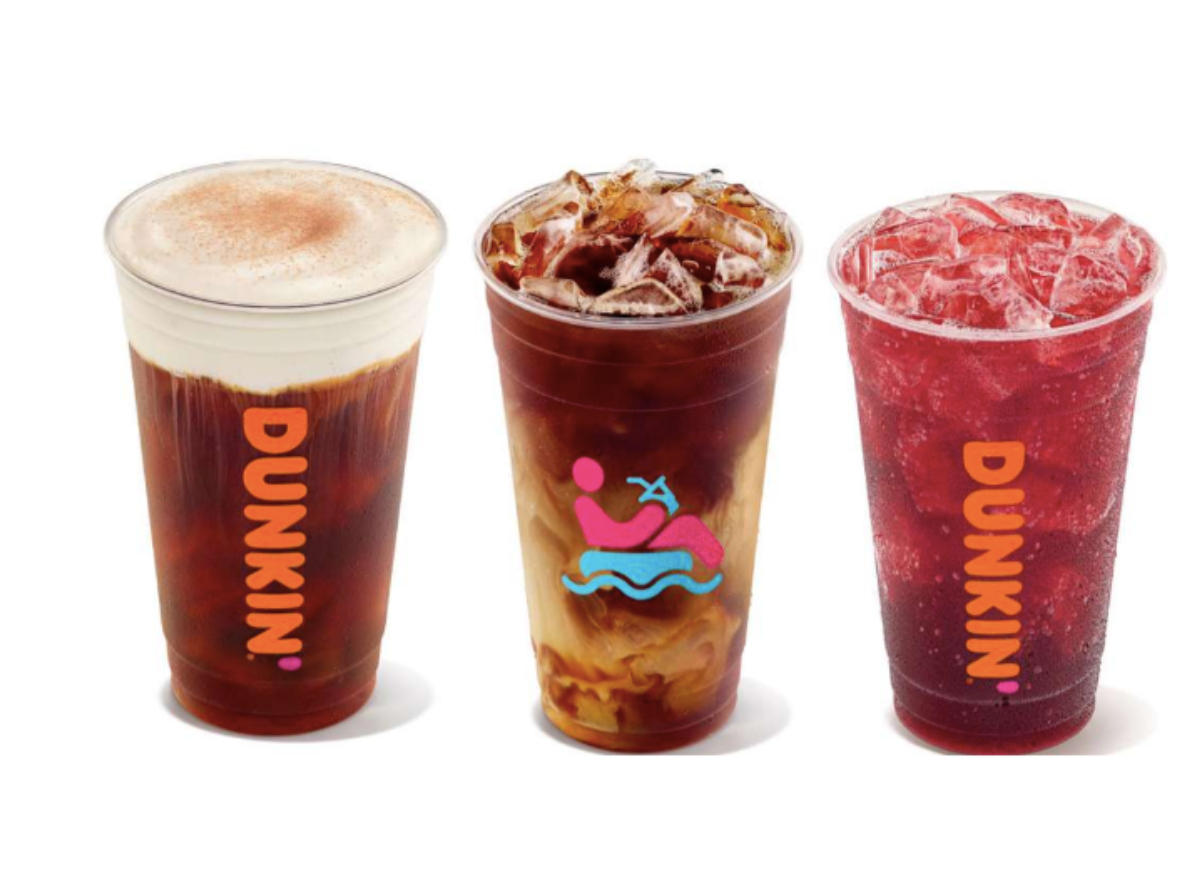 You want to know what's refreshing, besides a nice, cold drink on a hot day? The fact that this week, Dunkin' waited out the months'-long tidal wave of summer beverage announcements to deliver some chill new drinks for hot days.
The new arrivals include smoked vanilla cold brew with sweet cold foam, smoked vanilla iced latte, a Fuji apple berry kombucha as well as a blueberry lemon kombucha, and ElectroBrew with cream.
Clearly, Dunkin' is playing to the avocado toast crowd with some of these new sips… but are they as healthy as they sound? We tracked down the nutrition information to help you decide which Dunkin' drink to order this summer.
Keep reading to learn about the #1 healthiest new drink at Dunkin', and don't miss The #1 Healthiest Order at McDonald's, According to a Nutritionist.
(Editor's note: Some photos may be intended to represent Dunkin's new summer drinks.)
Rule #1: Be wise with size.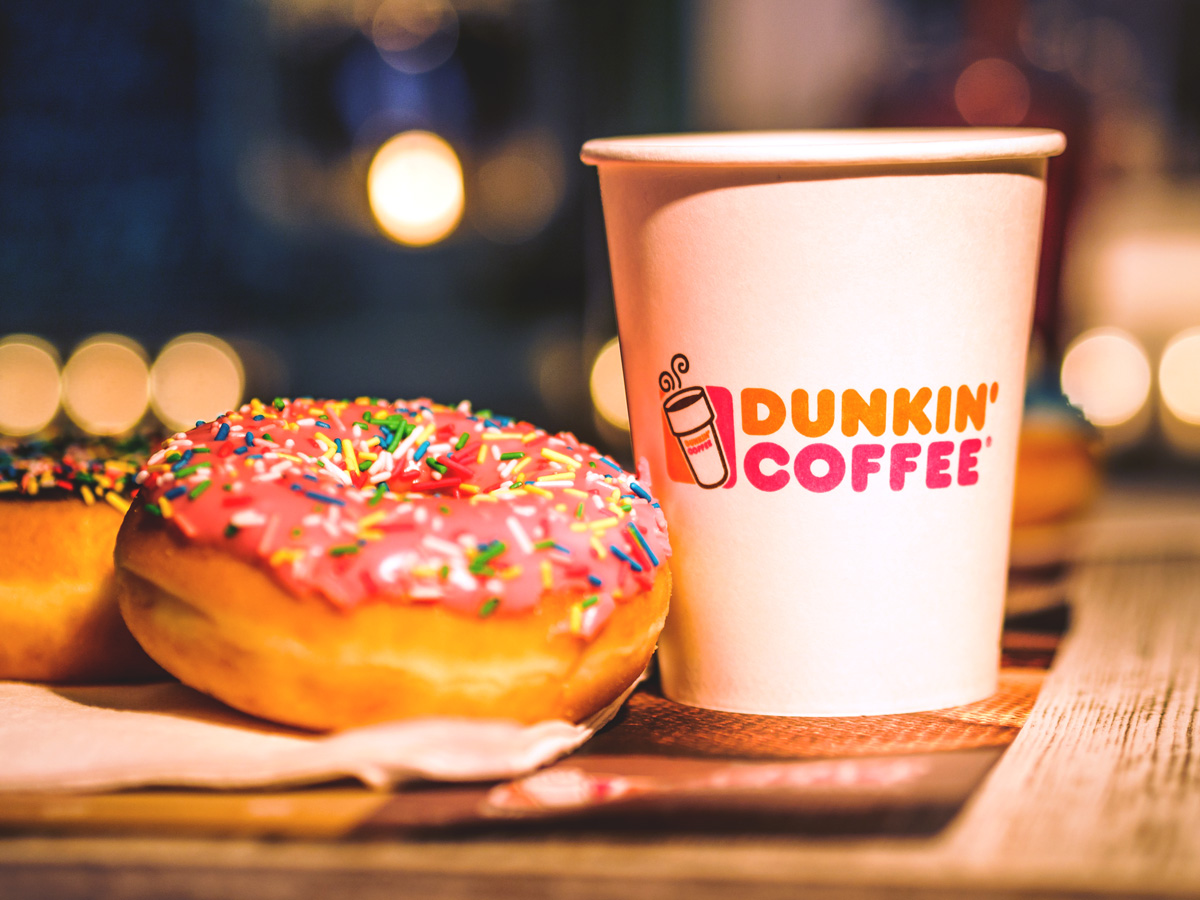 As always, it's smart to keep in mind that the bigger the drink you order, the more calories, fat, and sugar that are coming from that cup.
According to the information Dunkin' supplied us with, their summer drinks come in a 16-ounce small, a 24-ounce medium, or a 32-ounce large. We're giving you nutrition for the 16-ounce on all of these, but the math is relatively simple: In most cases, you can multiply these numbers by 1.5 to calculate the nutrition in the size medium, and by two to tally up a large.
One rule of thumb you might've heard us say before (like with Dairy Queen blizzards): The small often satisfies.
RELATED: Sign up for the Eat This, Not That! newsletter for nutrition wisdom delivered to your inbox each day.
PER SERVING
: 16 ounces: 80 calories, 0 g fat, 5 mg sodium, 22 g carbs (6 g fiber, 16 g sugar), 0 g protein
Excited about the return of kombucha to Dunkin' this summer? It's definitely a cool approach, but there are a couple of tips to keep in mind. Whether you go for this summer's Fuji apple berry kombucha or the blueberry lemon kombucha, there's some added sugar that sneaks up on you: 15 to 16 grams for each. A 16-ounce of Dunkin' kombucha goes about 80 calories—not bad—with zero fat, 22 grams of carbohydrates, and five milligrams of sodium.
Smoked Vanilla Cold Brew with Sweet Cold Foam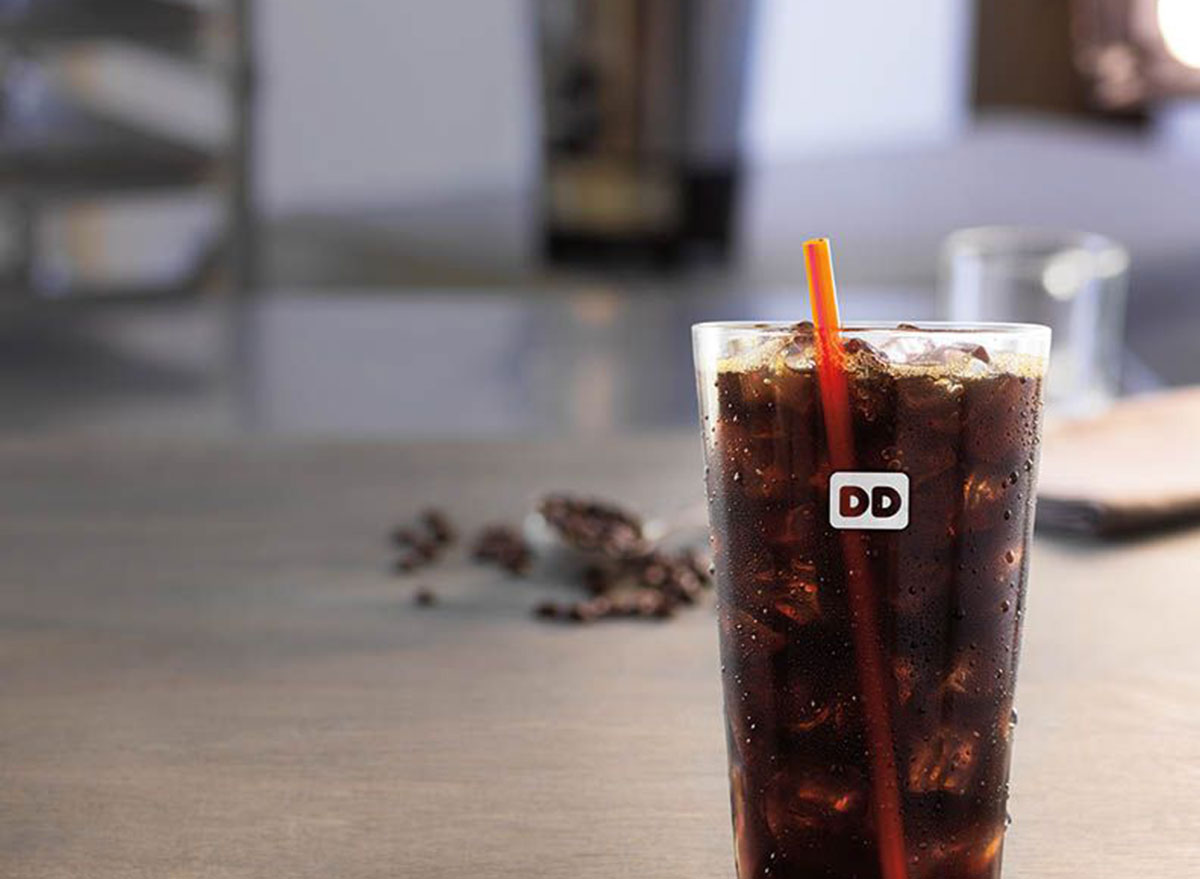 PER SERVING
: 16 ounces: 210 calories, 9 g fat (5 g saturated fat, 0 g trans fat), 65 mg sodium, 31 g carbs (0 g fiber, 29 g sugar), 2 g protein
This is the one drink on Dunkin's new summer menu that doesn't double automatically in terms of nutrition info for a size large—probably because the amount of cream only increases incrementally as you go up in size.6254a4d1642c605c54bf1cab17d50f1e
Here's the thing: As with Starbucks, you think cold brew, you think low-calorie… right? In this case, not so much. The small smoked vanilla cold brew with sweet cold foam runs at 210 calories and rises to 370 with a large.
Also in the size small is nine grams of fat, 65 milligrams of sodium, 31 grams of carbohydrates with 27 grams of added sugar, and two grams of protein.
Just like The Surprising Restaurant Meals With More Sugar Than 4 Donuts, the stats on this new Dunkin' cold brew with sweet cold foam are a little shocking, but this is not your lightest choice.
Dunkin' Smoked Vanilla Iced Latte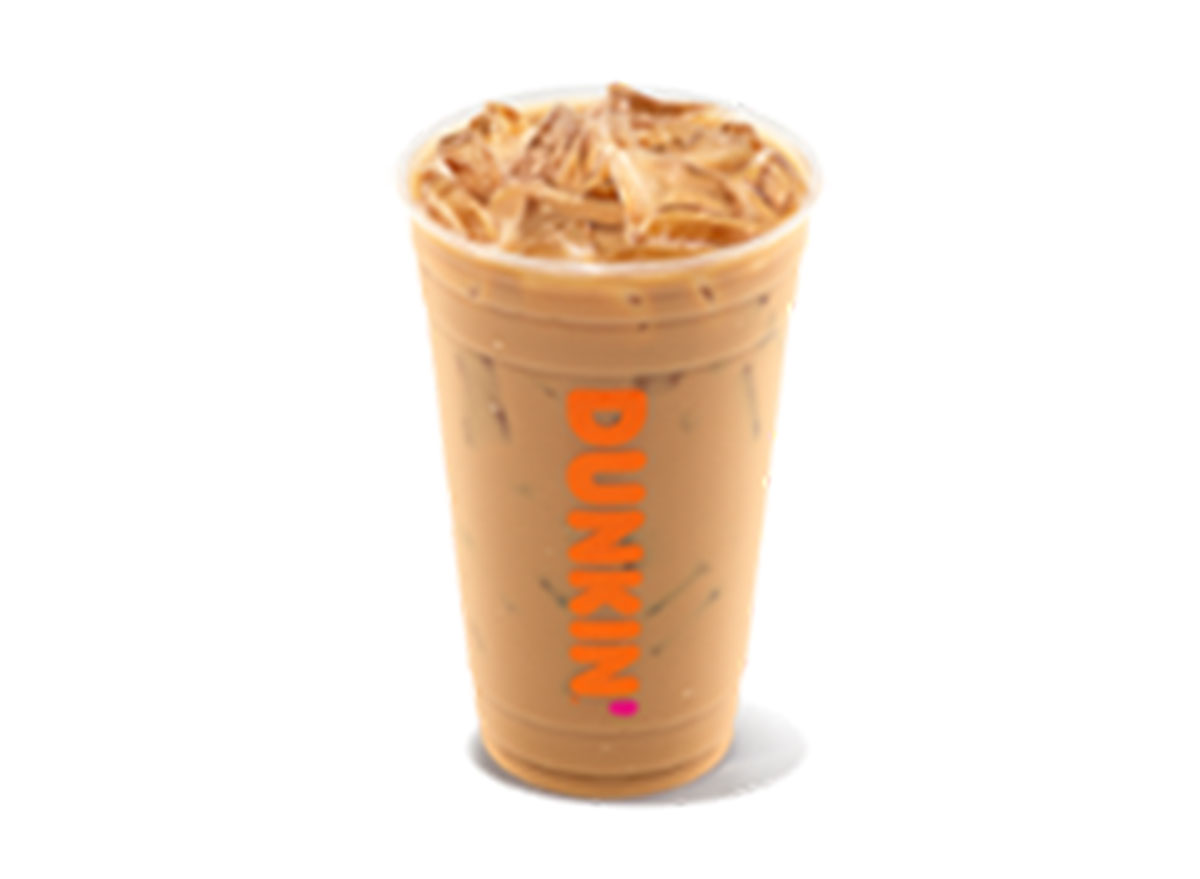 PER SERVING
: 16 ounces: 180 calories, 6 g fat (3.5 g saturated fat, 0 g trans fat), 105 mg sodium, 27 g carbs (0 g fiber, 25 g sugar), 6 g protein
The nutrition facts we reviewed for Dunkin's Smoked Vanilla Iced Latte were for the whole milk version—here goes: This drink has 180 calories, six grams of fat (with an important data point to watch out for in 3.5 grams of saturated fat), 105 milligrams of sodium, 22 grams of carbs with 16 grams as added sugar, and six grams of protein.
Not the worst… but now, learn the best.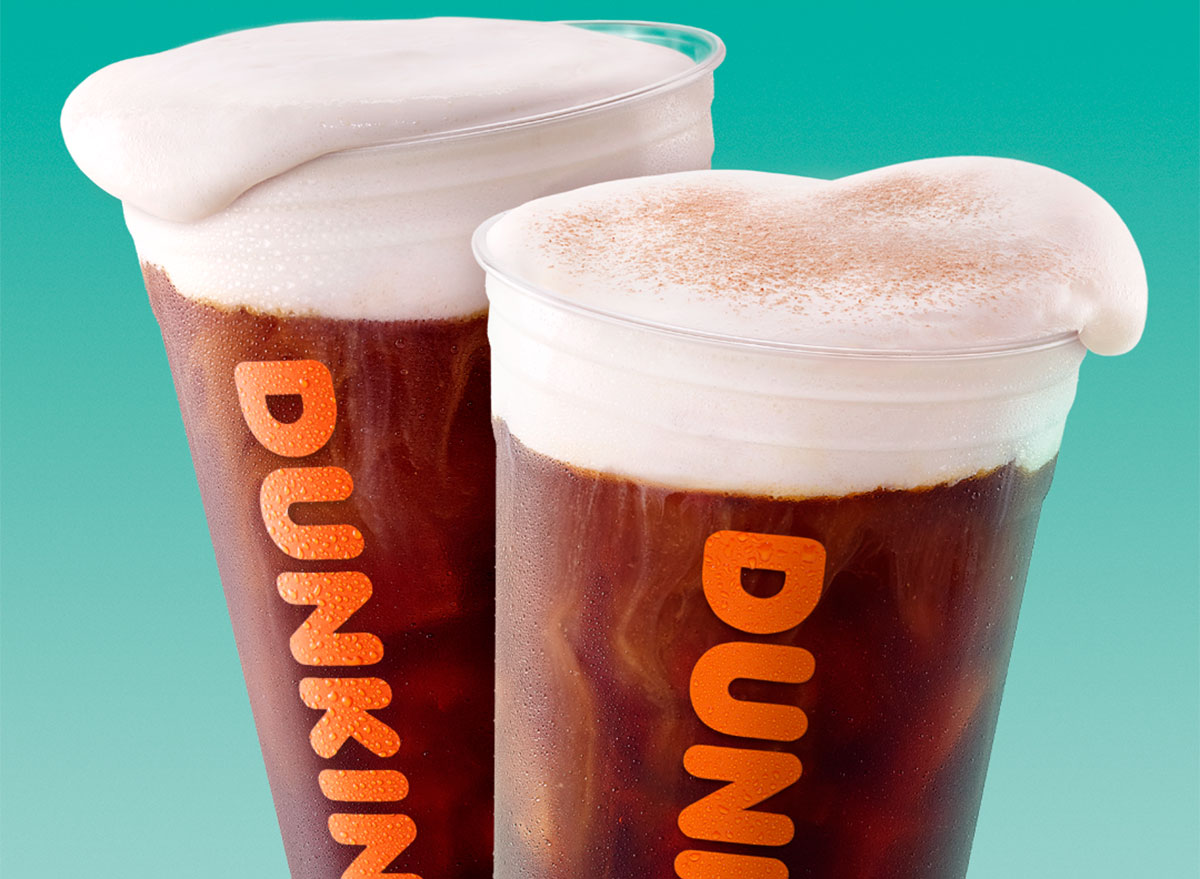 PER SERVING
: 16 ounces: 80 calories, 6 g fat (3 g saturated fat, 0 g trans fat), 60 mg sodium, 6 g carbs (0 g fiber, 4 g sugar), 1 g protein
Here's the healthiest new summer drink pick at Dunkin' if you're looking for a warm-weather pick-me-up: With 80 calories, six grams of fat, 60 milligrams of sodium, and six grams of carbohydrates (four as sugar, but zero added sugar), the 16-ounce Electrobrew with cream is probably your best beverage bet at the coffee chain this summer.
Next, read up on The Biggest Food Secrets Chick-fil-A Doesn't Want You to Know, and check out more news:
Krissy Gasbarre
Krissy is a senior news editor at Eat This, Not That!, managing morning and weekend news related to nutrition, wellness, restaurants and groceries (with a focus on beverages), and more.
Read more about Krissy