The Surprising Restaurant Meals With More Sugar Than 4 Donuts
You would think a savory dish would be light on the sweet stuff, but that isn't always the case.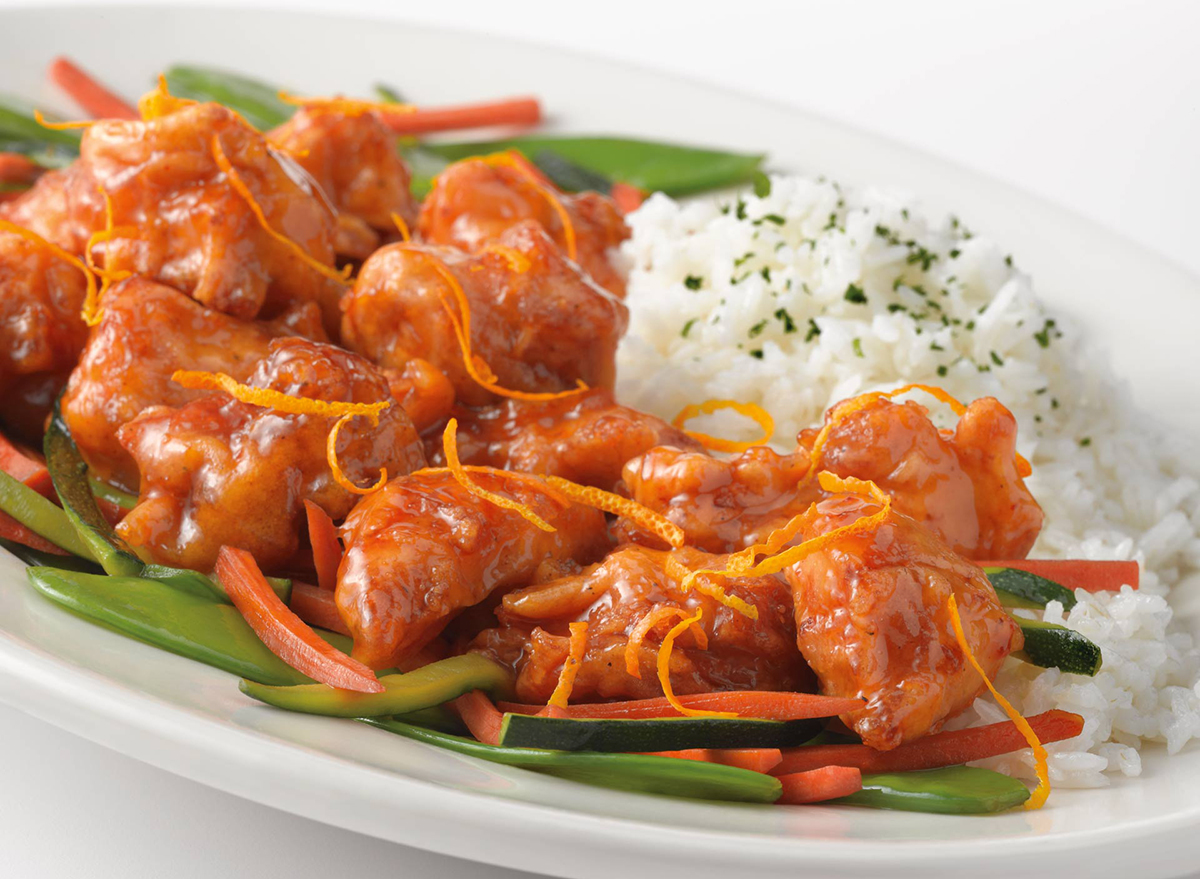 When you're out to dinner and finally decide which meal is going to be your main course, a sense of accomplishment and excitement might wash over you. Hey, you successfully navigated through the vast amount of options and chose a meal you know is going to taste great. Good food is something to always be excited about! So that's why it can be rather disappointing when you take a closer look at the nutritional breakdown of meals from your favorite chain restaurants, and uncover a scary truth: The meals are packed with sugar.
And we're not just talking about desserts or over-the-top pancake options you already assume would be overly sweet. It's the meals you would never suspect.
Some entrée options are packing as much sugar as you would get from four Original Glazed Krispy Kreme Donuts—or 40 grams of sugar. Big yikes. See, you always want to be mindful of your added sugar consumption, as too much added sugar in your diet can lead to weight gain, increase inflammation, and is of extra concern to those who have high blood pressure and diabetes.
To best help you out, we rounded up meals from restaurant chains you likely will be surprised to find out are packing more than four donuts worth of sugar. Be sure to keep these sugary restaurant meals on your "do not order" list! While you're making healthier choices, go ahead and stock up your kitchen with any of The 7 Healthiest Foods to Eat Right Now.
P.F. Chang's Sesame Chicken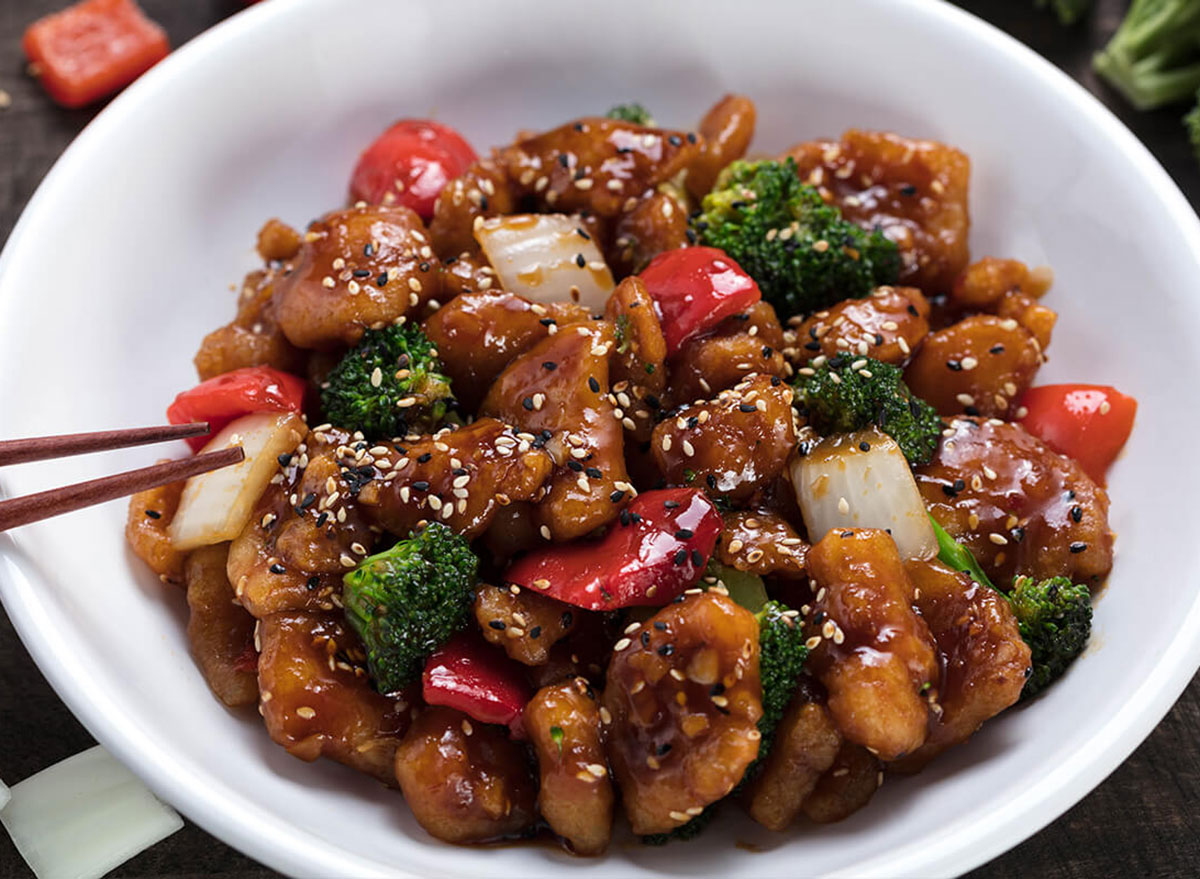 920 calories, 37 g fat (6 g saturated fat), 1,740 mg sodium, 82 g carbs (5 g fiber, 61 g sugar), 66 g protein
It's no secret that sesame chicken is often slathered up in a thick sauce, but you might've not realized how sugar-filled the sauce can be. At P.F. Chang's, the sesame chicken dish is no exception, packing in 61 grams of sugar. If you're really in the mood for something slightly sweet and tangy, try ordering the Dynamite Shrimp.
Applebee's Oriental Grilled Chicken Salad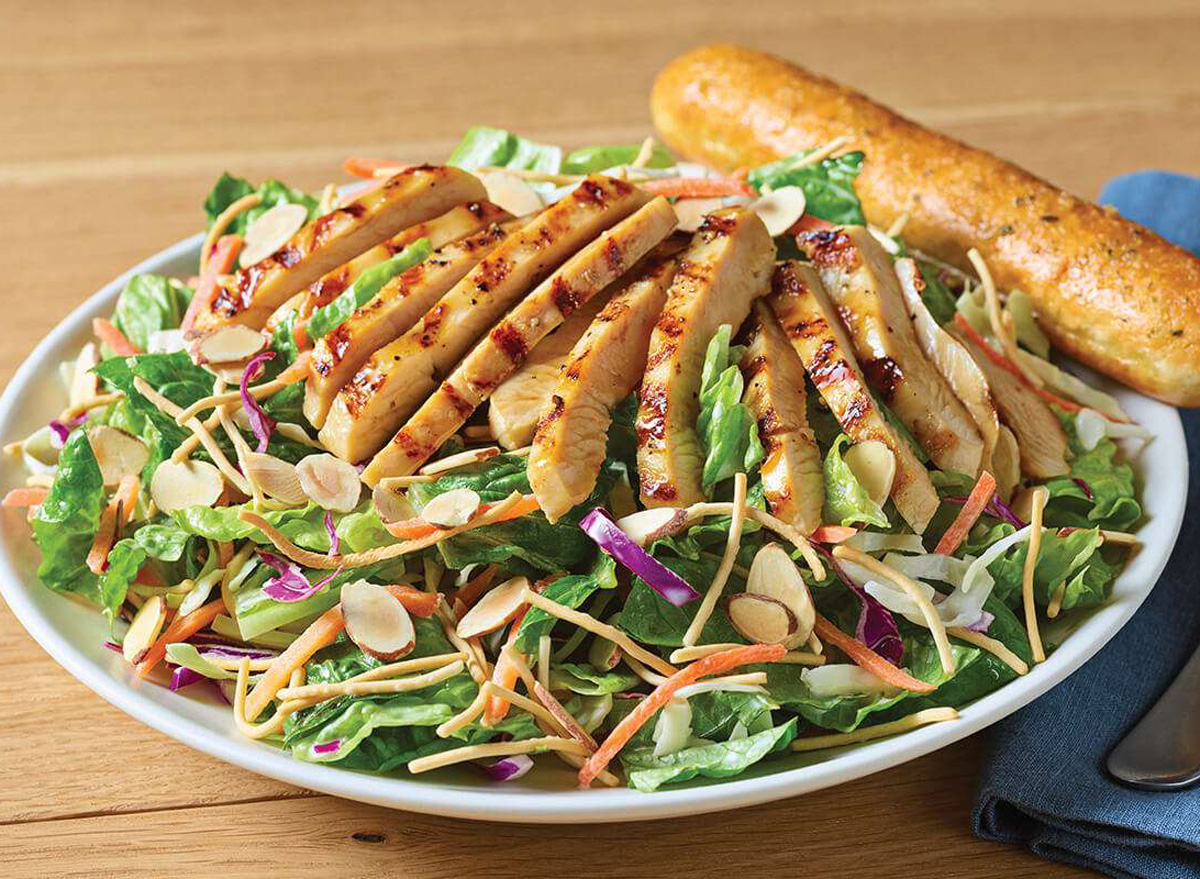 1,410 calories, 88 g fat (14 g saturated fat, 0.5 g trans fat), 2,210 mg sodium, 104 g carbs (10 g fiber, 51 g sugar), 57 g protein
You would think choosing a salad with grilled chicken would be a safe meal choice. Well, sorry to disappoint, but not at Applebee's! The Oriental Grilled Chicken Salad has not four, but five donuts worth of sugar.
Chili's Crispy Honey Chipotle & Waffles
2,590 calories, 126 fat (42 g saturated fat, 1 g trans fat), 5,180 mg sodium, 303 g carbs (14 g fiber, 128 g sugar), 63 g protein
Chicken and waffles is the perfect salty and sweet combination, but at Chili's that idea gets blown way of our proportion. Here, the Crispy Honey Chipotle and Waffles are not only extremely high in calories, fat, and sodium, but in sugar too. The order comes with more added sugar than you should consume in two whole days. You'll want to keep in mind The American Heart Association recommends men should consume no more than 36 grams of added sugar per day, and women shouldn't have more than 25 grams per day.6254a4d1642c605c54bf1cab17d50f1e
Looking for more helpful tips? Sign up for our newsletter to get daily recipes and food news in your inbox!
TGI Fridays Signature Whiskey-Glazed Burger with Gluten-Free Bun
1,110 calories, 58 g fat (24 g saturated fat, 2 g trans fat), 3,570 mg sodium, 109 g carbs (8 g fiber, 72 g sugar), 45 g protein
At, TGI Fridays, you'll notice quite a few menu items featuring the chain's Signature Whiskey-Glaze sauce that is infused with Jack Daniels. Order the burger and you'll be feasting on 72 grams of sugar, along with more sodium than The American Heart Association recommends the average adult consume in one day.
Cheesecake Factory Orange Chicken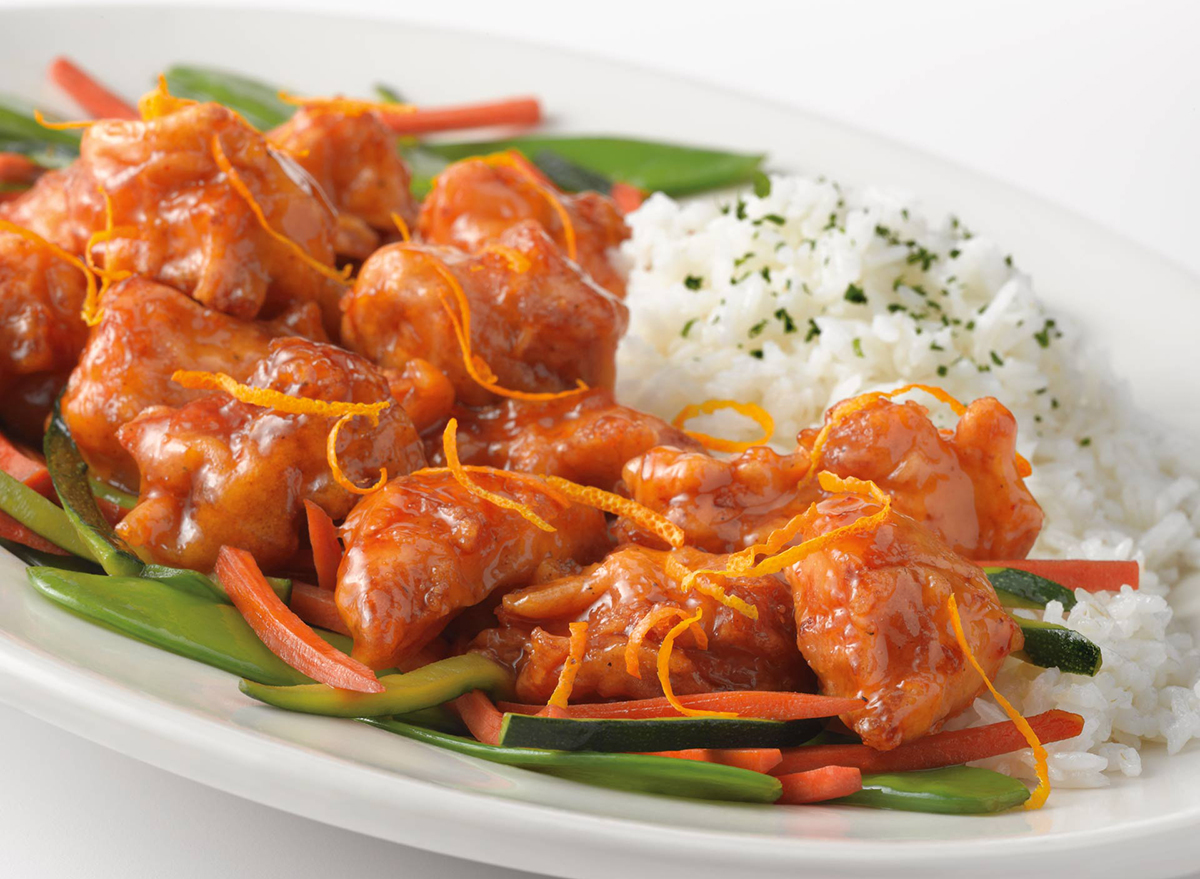 1,690 calories, 59 g fat (10 g saturated fat), 2,780 mg sodium, 218 g carbs (5 g fiber, 77 g sugar), 74 g protein
Another deep-fried chicken dish strikes. At The Cheesecake Factory, the orange chicken is coming in with more sugar than you would get from seven and a half Krispy Kreme Donuts. Not even the rice and veggies this meal comes with can save it!
BJ's Restaurant & Brewhouse BBQ Tri-Tip Sliders
940 calories, 28 g fat (7 g saturated fat, 0 g trans fat), 2,996 mg sodium, 117 g carbs (1 g fiber, 50 g sugar), 48 g protein
Think going for mini sliders instead of a bigger sandwich is better? If you plan on splitting this meal from BJ's Restaurant & Brewhouse, then we would say, yes, go for it. However, these marinated, slow-roasted, sliced sirloin mini sandwiches are rather easy to eat, so if you do eat all four yourself in one sitting, you're looking at 50 grams of sugar. Again, it's always nice to share! If you can have just one of two of these, you'll be in much better shape.
Bob Evans Cranberry Pecan Chicken Salad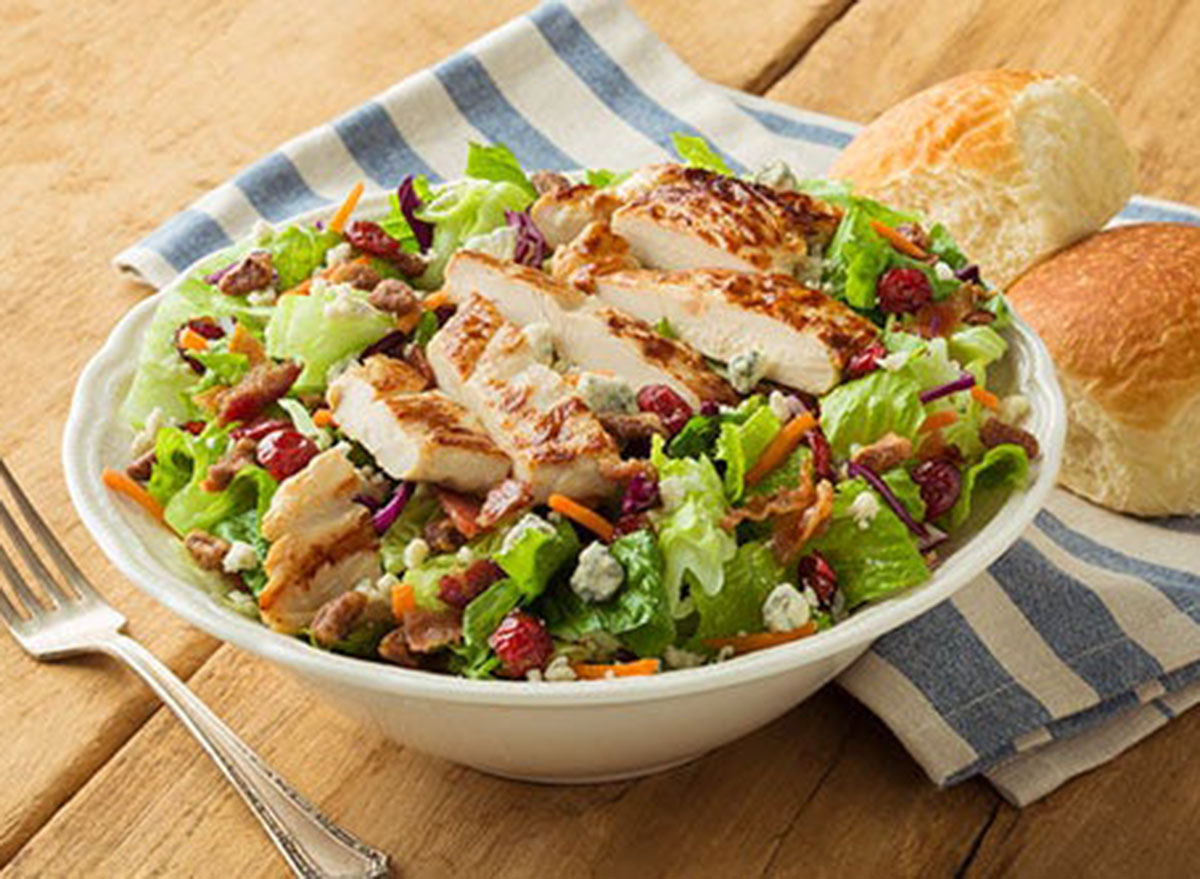 920 calories, 59 g fat (15 g saturated fat, 0 g trans fat), 1,780 mg sodium, 55 g carbs (7 g fiber, 40 g sugar), 47 g protein
A salad from Bob Evans might seem like a healthier option, but all of these restaurants are proving you can't just assume that! The Cranberry Pecan Chicken Salad actually has more sugar than you'll find in a piece of cranberry pecan pie…
Red Robin Bacon Jammin' Wings, Boneless
1,150 calories, 48 g fat (24 g saturated fat, 0.5 g trans fat), 2,960 mg sodium, 116 g carbs (16 g fiber, 46 g sugar), 35 g protein
Red Robin debuted new menu items that are all about the bacon, and hey, we can admit bacon does make things better. However, these wings? Not so much.
They're topped with a savory-sweet bacon jam, bacon crumbles, cherry peppers and a BBQ brown sugar glaze, all served on a bed of Yukon kettle chips. This makes for a dish that is packing 46 grams of sugar. That's not even factoring in a milkshake or any other dessert you might want to treat yourself to!
Jennifer Maldonado
Jennifer Maldonado is a senior editor at Eat This, Not That!, specializing in food and health content.
Read more about Jennifer