This Is the #1 Healthiest Soul Food, Says Chef
A chef living with latent autoimmune diabetes shares tips on how to make your favorite dishes even more nutritious.
Rich with culture and flavor, soul food stands out as America's most delicious regional cuisine.
Originating from African Americans in the South, the term soul food refers to the culinary heritage, foods, recipes, and traditions that have been passed down in the Black community for generations.
Today, some of those most notable dishes like fried chicken, rice and beans, macaroni and cheese, and collard greens have become emblematic of the cuisine of the South and can be found on menus all across the world.
Despite its popularity, soul food is commonly misperceived as being generally unhealthy.
When it comes to "traditional" soul food recipes, many are known for being high in fat, sodium, and added sugars. However, most of the staple foods in African culture and soul food are vitamin dense and nutrient-rich, legumes, sweet potatoes, and leafy greens.
The best part about soul food is that even the most nutritious dishes are still filled with rich flavors and legacy. Finding healthy soul foods is easier than it seems. To provide us with some Southern advice, we spoke with Mila Clarke Buckley, author of Diabetes Food Journal: A Daily Log for Tracking Blood Sugar, Nutrition, and Activity, self-taught cook, diabetes advocate, and founder of HangryWoman.com, about the healthiest soul foods to eat.
The Healthiest Soul Foods to Eat
"It's important that all people know that soul food isn't unhealthy. It is hearty, full of flavor, and completely satisfying," says Buckley.
Soul food itself is a recipe, and the ingredients come from numerous cultural legacies. As a Texas native with Caribbean roots, Buckley's idea of soul foods is influenced by all of those things.
"Braised collard greens, stewed black-eyed peas, and Oxtail are my go-to's for a healthy soul food meal," says Buckley.
Not only are these dishes packed with immense flavor, but they also have a pretty dense nutrient profile too. Collard greens have a long history in Southern cooking, and they're high in fiber and an excellent source of calcium, folate, and vitamins K, C, and A. Black-eyed peas are filled with protein and fiber and, when paired with rice, provide an added nutritional benefit. Oxtails are a protein powerhouse and a great source of bone collagen.
Healthy Soul Food Cooking Methods
As with anything you cook, the method is just as important as the ingredients. At the heart of soul food are tender meats and intense flavors of vegetables, all of which are achieved through healthy cooking techniques.
"Soul food is made by using generally healthy techniques, like braising, steaming, grilling, and boiling," says Buckley. "I love braising foods because they become extremely tender and flavorful without a ton of work on your part. And the house always smells amazing after braising!"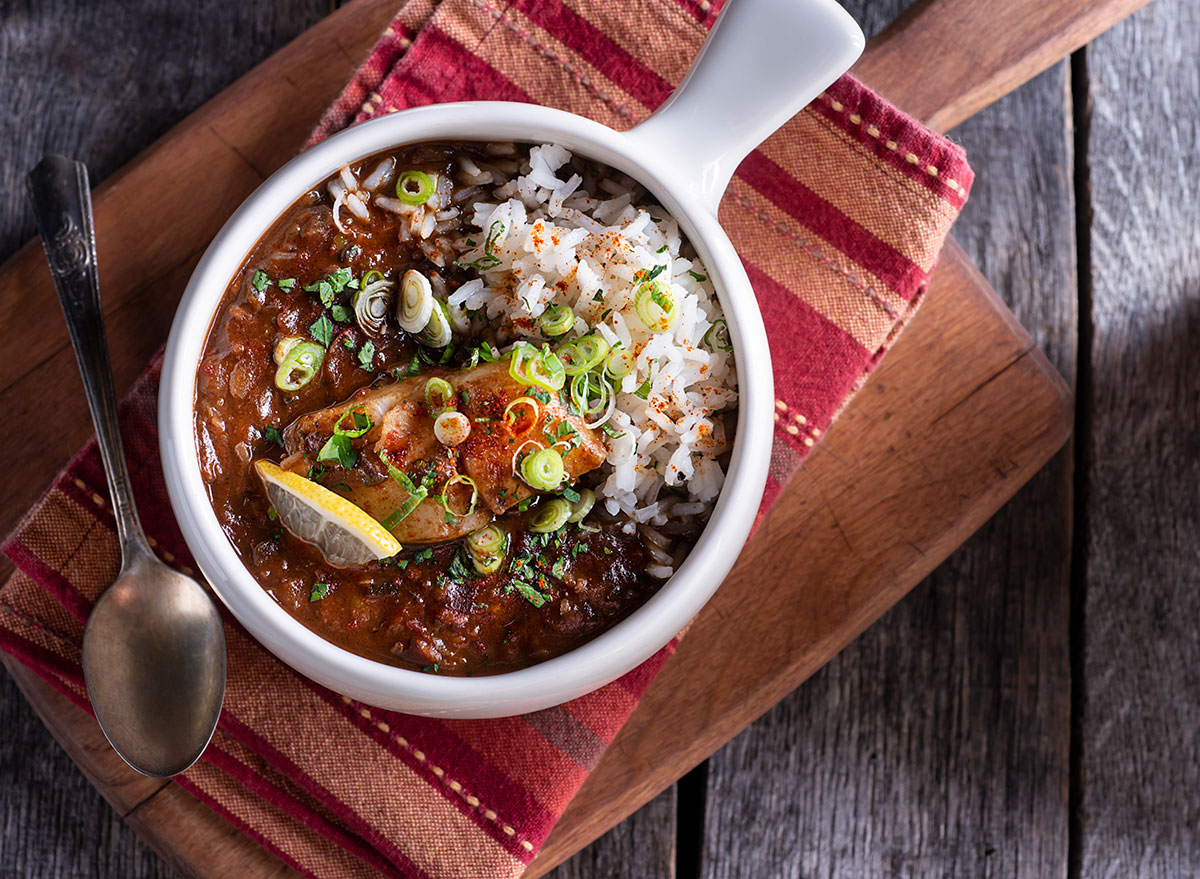 One of the pillars of soul food is the abundant use of seasonings and spices. Though, the key to cooking soul food that's healthy and flavorful is to be mindful of your intake of things like sodium and sugar.
"It's always important to measure your cooking," says Buckley. "Store-bought spices can—but don't always—have lots of added salt, sugar, or preservatives. If you're using a lot of store-bought spice blends, or ingredients, read those labels and measure."6254a4d1642c605c54bf1cab17d50f1e
That doesn't mean that in order for your soul food to be healthy, it has to be borderline bland. An easy way to add flavor without all of the extra additives is to season your dishes with aromatic veggies like onions, garlic, and celery.
As someone who lives with a form of type 1 diabetes called latent autoimmune diabetes (LADA), the best way for Buckley to keep her soul food seasoning low in sodium is by making her own herbs and spice blends at home. It's worth the time and the result is always fragrant and tasty, she adds.
Get Creative With Your Soul Food
Soul food was created out of necessity and creativity. As Buckley says, "our ancestors took scraps and undesirable foods to make a meal that would fill your belly and sustain your energy. We have the same traditions now, [but] with more access to foods we can get creative with."
When making these dishes at home, you still can honor tradition by incorporating ingredients that work for our lives today. In recipes that call for butter, try swapping for heart-healthy oils like olive, peanut, or canola oils. Replace high sodium, high-fat meats like ham hocks in greens with smoked, skinless turkey breast. Diversify your diet by swapping out meat for legumes, nuts, or seeds as your main protein source.
Healthy Soul Food Inspiration
The one thing about soul food is that you never walk away from your plate unsatisfied. The next time you host Sunday dinner, try creating a menu around more nutrient-dense soul food dishes or consider getting creative with some healthy swaps.
If you're in need of some inspiration, check out a few of Buckley's favorite healthy soul food recipes.
For more, don't miss 5 Amazing Cookbooks Written by Black Authors. Then, don't forget to sign up for our newsletter.