6 Most Expensive Chicken Sandwiches at Popular Fast-Food Chains
While basic chicken sandwiches are pretty similar, their prices vary from chain to chain.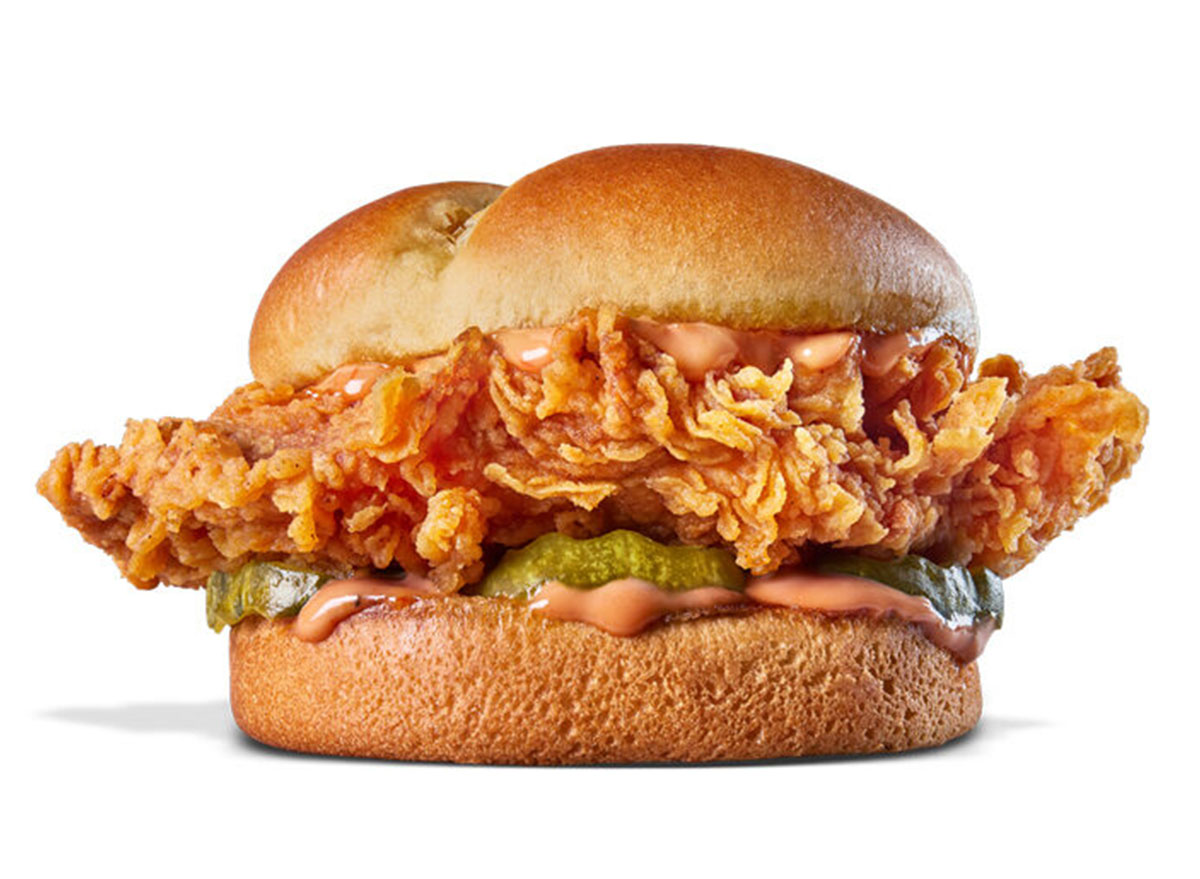 The chicken sandwich wars are raging on, and many new entrants are joining the fight with what they claim is the best chicken sandwich in fast food.
And while most of these sandwiches consist of very similar basic building blocks, their prices vary from chain to chain. Throw in some limited-time offers piled high with interesting ingredient combos, and you're stepping into the premium chicken sandwich territory.
We scoped out chicken sandwiches at several fast-food chains and found the most expensive options. Here's how they stacked up. For more on the latest fast-food trends, check out the 6 Most Anticipated Fast-Food Menu Items Launching This Year.
KFC is known for its chicken, but it is a latecomer to the chicken sandwich game—its new-and-improved chicken sandwich only launched this year. It features a quarter-pound slab of double-breaded white chicken meat, plus thick, crispy pickles, the dealer's choice of mayo or spicy sauce, and a buttered brioche bun.
"We tested the new KFC Chicken Sandwich in Orlando last spring, and we nearly doubled our sales expectations, so we knew that we had a winner," said Andrea Zahumensky, chief marketing officer of KFC U.S. "Many customers hadn't considered KFC as a part of the chicken sandwich conversation, but anyone who tastes this sandwich will know, without a doubt, that we're playing to win."
And while its a pricier option than some other chicken sandwiches on the market, at $3.99, it's still one of the more affordable options on the premium chicken sandwich list. The sandwich alone packs 620 calories.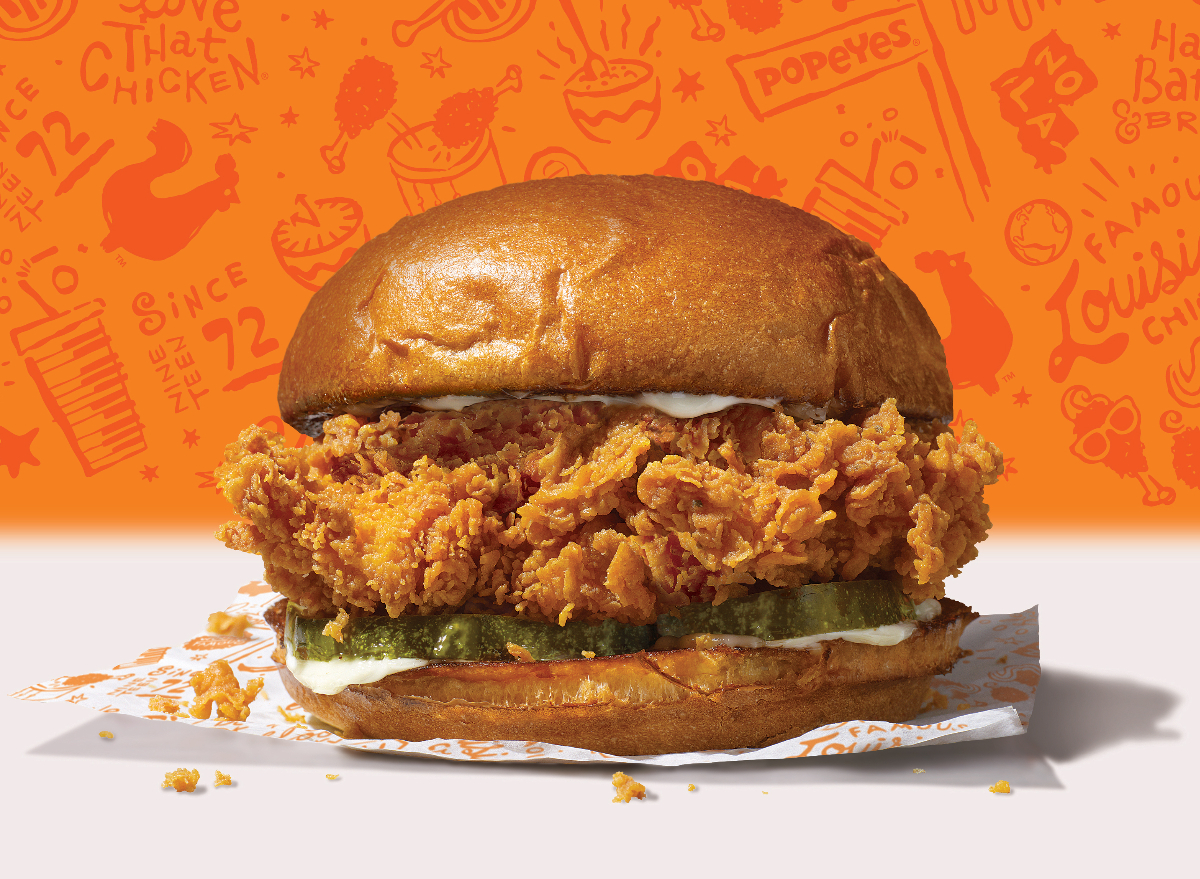 Popeyes is the instigator of this entire sandwich situation. In August 2019, it released its first fried chicken sandwich and upped the ante for a successful fast-food item launch. It compelled other chains that were already offering fried chicken sandwiches, like KFC and McDonald's, to revamp their existing offerings and join in the rivalry.
And despite its major hype, Popeyes' chicken sandwich is not the most expensive option, although it is up there. Each 699-calorie sandwich is $4.49 and features a huge, fried chicken breast filet, pickle slices, and mayo or spicy Cajun sauce all on a brioche bun.
Zaxby's Signature Chicken
According to Zaxby's, "The chicken sandwich war ain't over yet." The chain promises to deliver the best chicken sandwich around, which includes double hand-breaded chicken breast, three pickle chips, the regular or spicy Zax sauce, and a buttered potato roll. These sizable chicken sandwiches go for $4.99 at most locations. The original has 780 calories, while the spicy version contains 770.
Chick-fil-A's Spicy Deluxe Sandwich with Cheese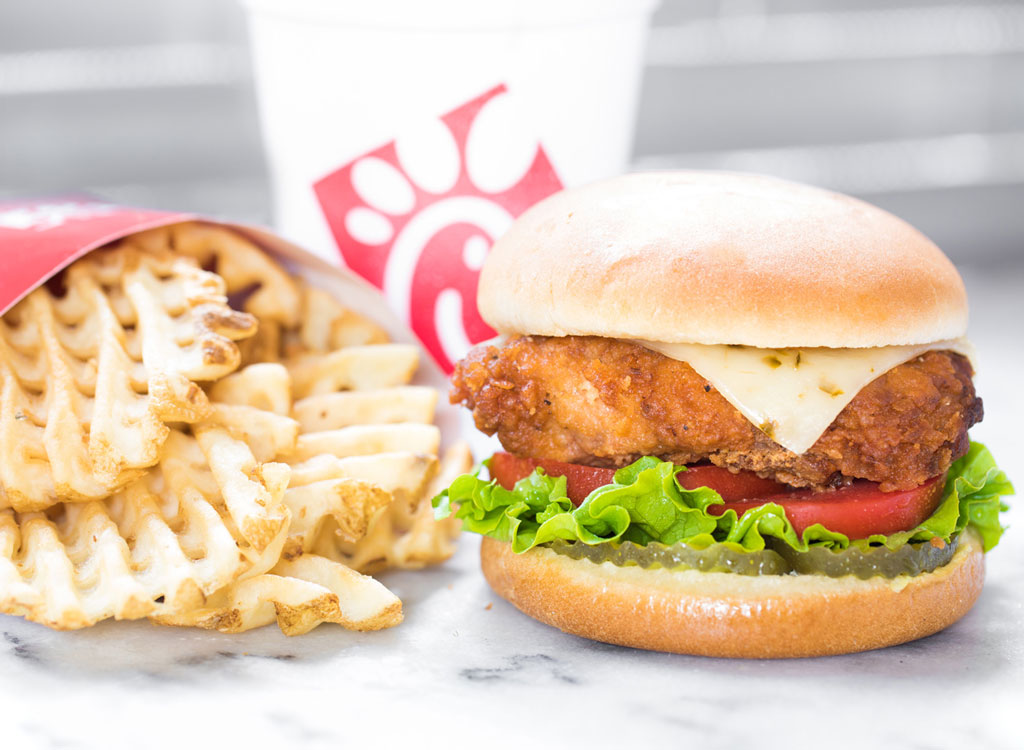 We pass the $5 mark with Chick-fil-A's Spicy Deluxe Sandwich, which unlike the previous options, is pricier than its non-spicy counterpart at $5.49. You pay extra for that sweet, sweet spiciness in the chicken breading, while you also get pickles, lettuce, tomato, and your choice of cheese. A major difference here is that this sandwich is pressure-cooked, not fried, which makes it one of the lightest chicken sandwiches at 550 calories.6254a4d1642c605c54bf1cab17d50f1e
Wendy's Pretzel Bacon Pub Classic Chicken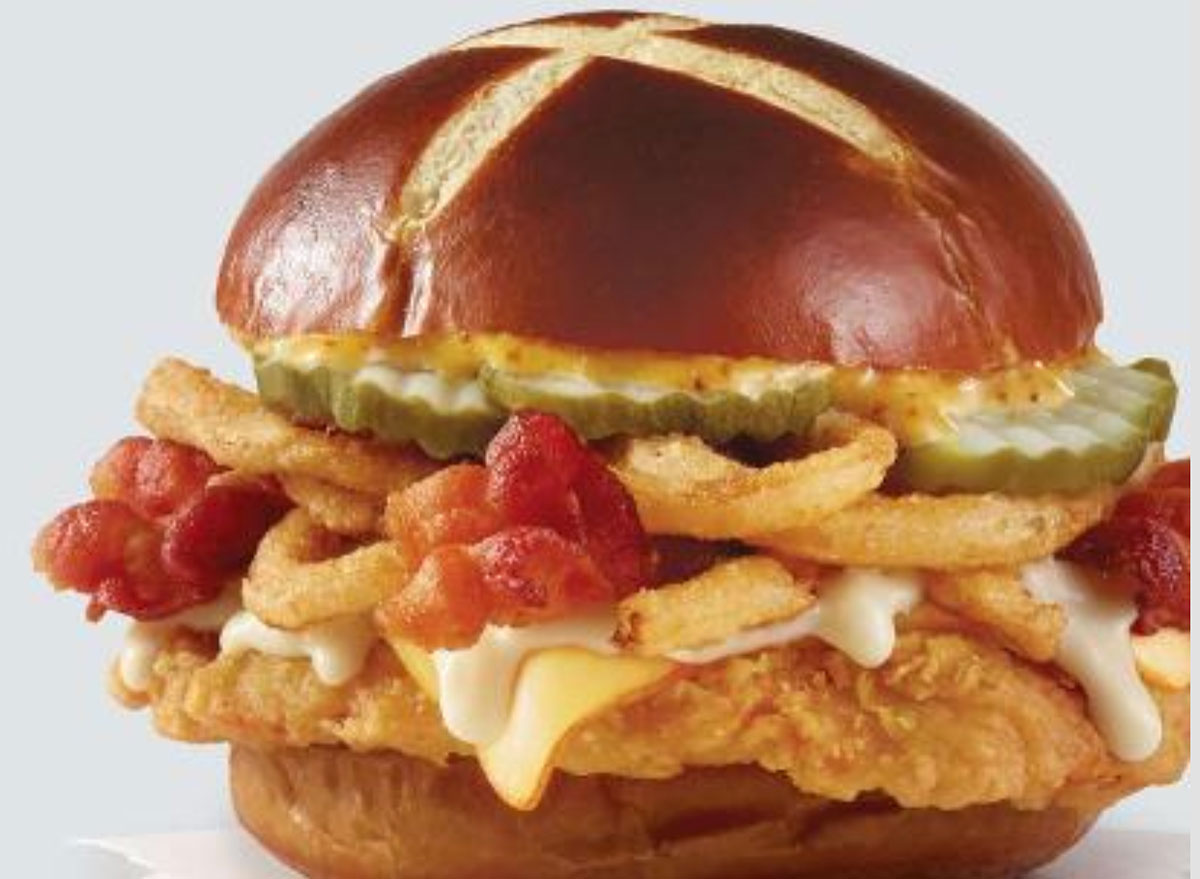 Pretzel bun, applewood-smoked bacon, beer cheese sauce—what's not to love? The price, for one. At $6.59 just for the sandwich, this item from Wendy's one of the most expensive fast-food chicken sandwiches you can buy. But you get a lot of bang for your buck. Inside the pretzel bun, you'll get melty muenster cheese, bacon, beer cheese sauce, crispy onions, pickles, smoky honey mustard, and, of course, a breaded chicken breast. This premium sandwich has 830 calories, and a whopping 2,190 milligrams of sodium!
Shake Shack's Korean-Style Fried Chick'n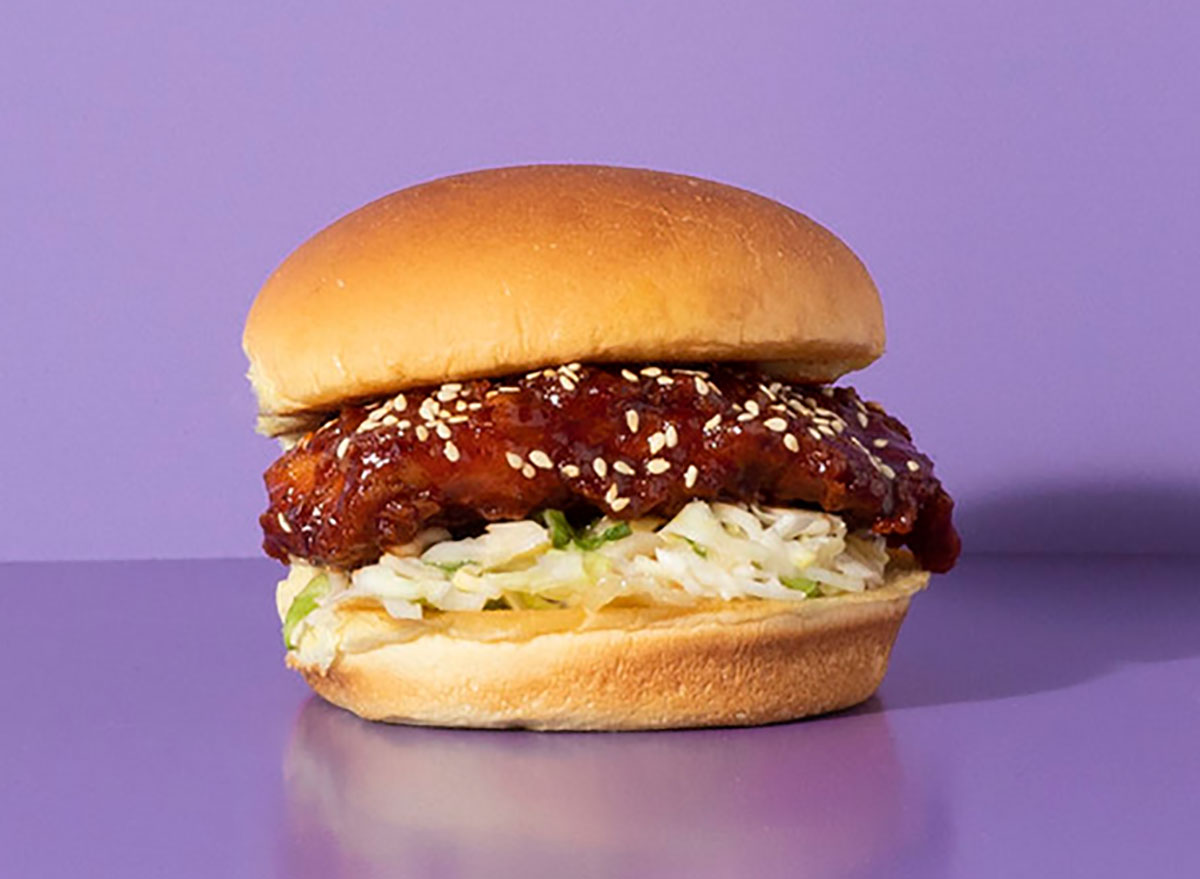 Shake Shack is shaking up the chicken sandwich wars with unique flavors. As part of its Korean-style limited-time menu additions, the chain released a pretty high-end chicken sandwich. The most expensive fast-food chicken sandwich we could find includes a breaded chicken breast coated in a sweet-and-spicy Gochujang glaze and sesame seeds, served on a bun with white kimchi slaw. Most locations sell this 590-calorie item for $7.29 a pop.
For more, check out 108 Most Popular Sodas Ranked By How Toxic They Are.
Paige Bennett
Paige is a Los Angeles-based editor and freelance writer. In addition to writing for Eat This, Not That!, she works as the content editor for Inhabitat.
Read more about Paige