If You Bought These Muffins, Throw Them Out Now, FDA Says
The muffins were sold at popular grocery stores like Walmart and Stop & Shop.
For many Americans, a sweet muffin paired with a cozy cup of coffee is part of their weekly morning routine. But if you have any of these beloved baked goods in your pantry right now, they may potentially pose a risk to your health. Dozens of different types of muffins sold at popular grocery stores like Walmart are being recalled because they could be contaminated with Listeria.
More than 25 varieties of muffin products from Give and Go Prepared Foods (U.S.A.) Corp. are included in the recall, according to the U.S. Food and Drug Administration (FDA). In addition to Walmart stores, the items were sold nationwide at other large retailers like 7-Eleven and Stop & Shop. (Related: 6 Best Groceries To Buy At Walmart Right Now)
Though the recall notice doesn't mention when the muffins were sold, about half of them have a "Best When Used By Date" around late August or early September 2021. The flavors on the list include banana nut, blueberry, chocolate, and Oreo.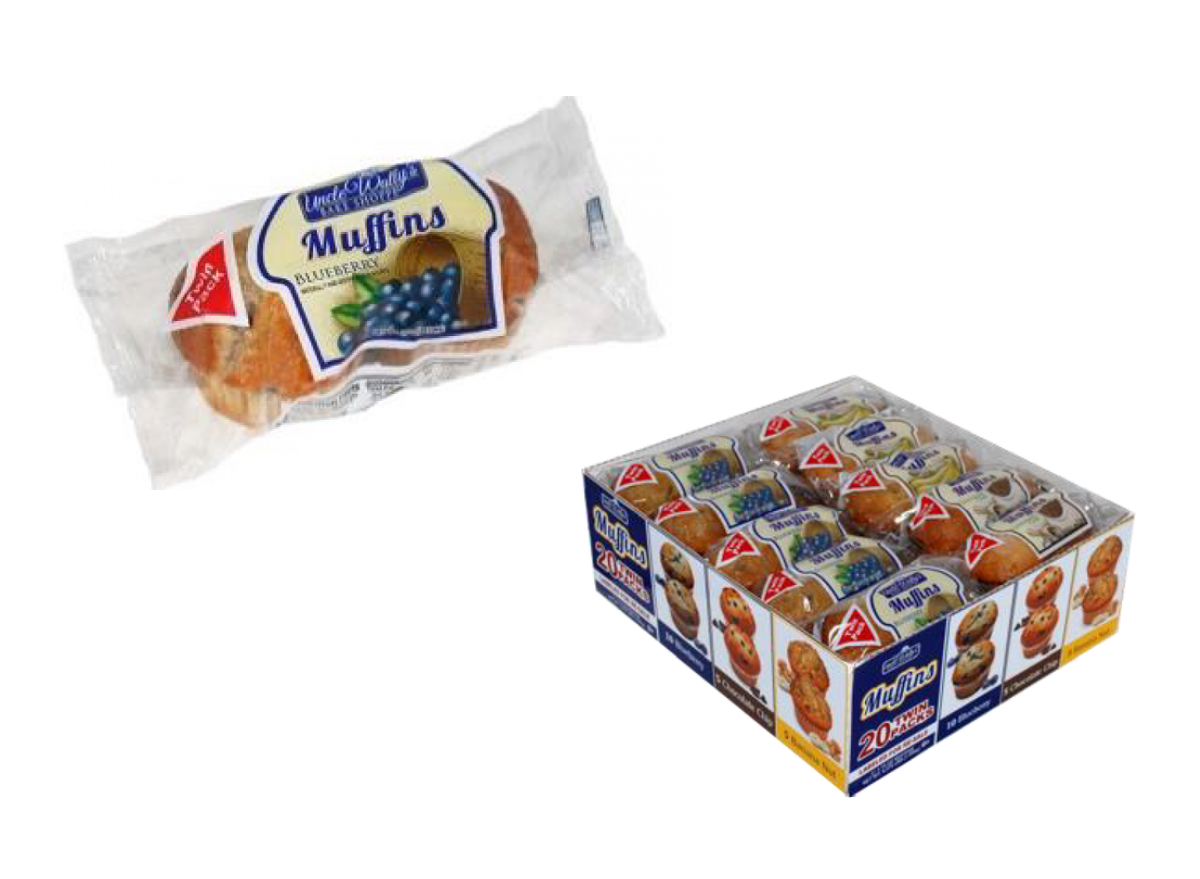 According to Give and Go Prepared Foods, the issue was discovered as part of the company's environmental monitoring program.
"To date, we have received no reports of illness related to this issue and are taking this action out of an abundance of caution," the recall notice says. "Consumers who have these products should immediately dispose of the products and not eat them. Consumers should make a note of the lot code of the products, which is found on the label, and provide it if they contact us."
In healthy individuals, Listeria monocytogenes is an organism that causes symptoms such as diarrhea, high fever, headaches, nausea, and stiffness. Listeria specifically affects those with a compromised immune system including children under the age of 6 years, the elderly, pregnant and lactating women, and those with compromised/weakened immune systems. Among pregnant women, it can also cause miscarriages or stillbirths in the 3rd trimester.
If you have any of the recalled products at home, don't eat them. Instead, throw them out immediately. For a full list of the muffins and their UPC codes, click here.
This isn't the only recall that you should be aware of right now. Here's what you need to know to keep your loved ones safe:
BrightFarms Packaged Salad Greens
BrightFarms—a greenhouse farming company with farms in six states—voluntarily initiated a recall of nine different packaged leafy green products due to possible Salmonella contamination. According to the FDA, the move comes after BrightFarms was notified of "illnesses among eight consumers, some of whom purchased or consumed the above products during the month of June."
The subsequent recall includes nine different varieties of greens that were sold at grocery stores like Jewel-Osco and Walmart in Illinois, Indiana, Iowa, and Wisconsin. For a full list of the recalled products, click here.
Related: To get all of the latest food safety news delivered right to your email inbox every day, sign up for our newsletter!
Tyson Frozen Chicken Products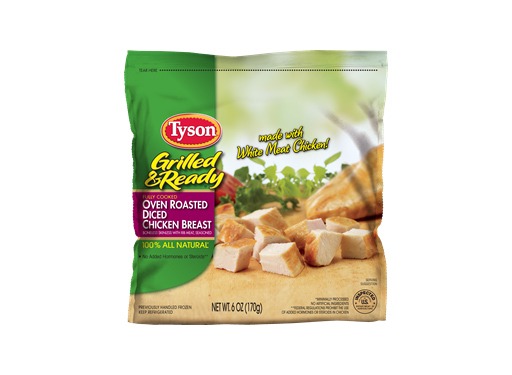 Nearly 9 million pounds of Tyson's most popular chicken items were the subject of a recent recall because they could be contaminated with Listeria. At least three hospitalizations and one death have been linked to the products, according to the USDA.
The products were distributed to grocery stores, hospitals, nursing facilities, restaurants, and even Department of Defense locations. Click here for more information about the recall.
Circke K Homestyle Chicken Salad Sandwiches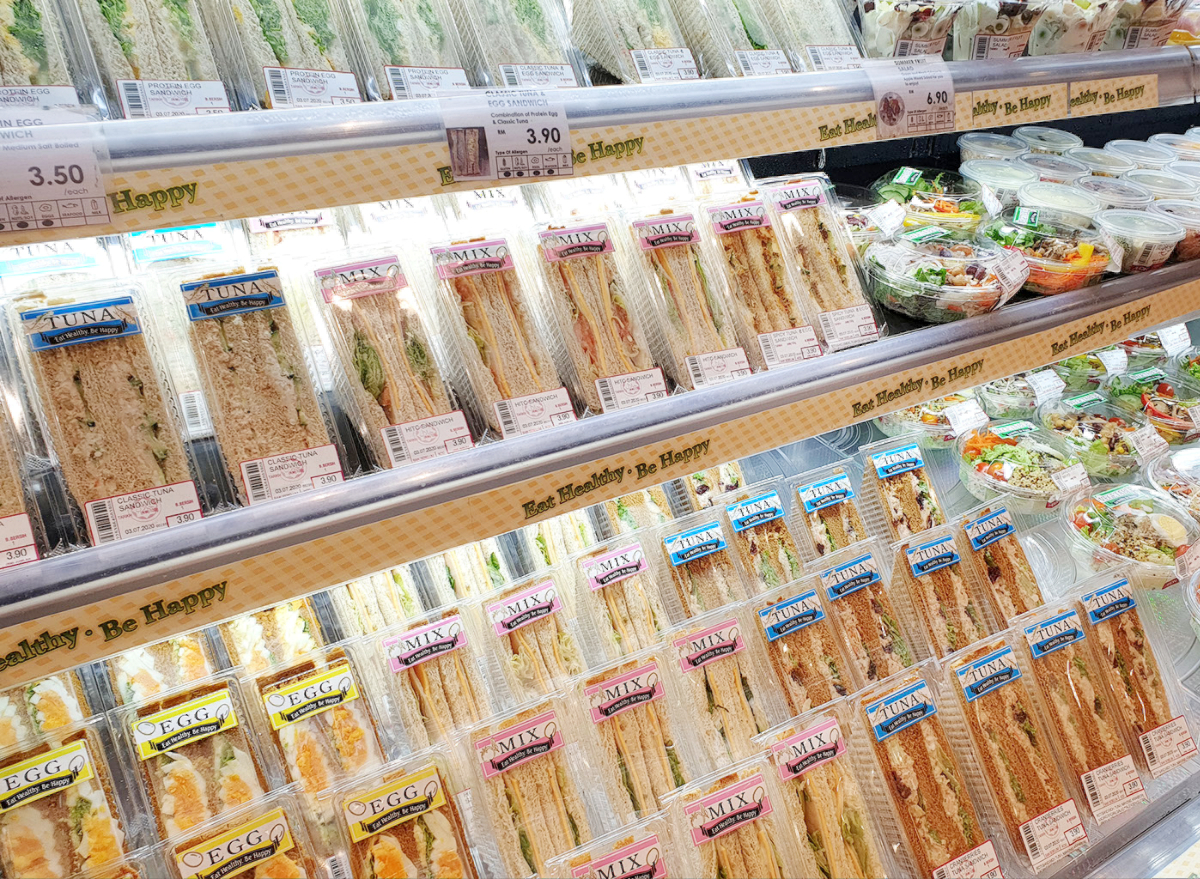 The recall notice for these chicken sandwiches published by the FDA suggests a link to Tyson. "The chicken used in this product is subject to a national recall issued by Tyson Foods Inc.," it says.
They were sold at Circle K stores in Phoenix and Southern California. Here are more details:
Retail customers who purchased the 5.9 oz. Chicken Salad Sandwich at Circle K stores between 6/1/21 – 7/5/21 are asked to dispose of the product or return it to Circle K for a full refund. Additionally, consumers should also look for a "best buy" date of 6/7/21 through 7/9/21. This product is packaged with Circle K branding and contains the UPC code: 815138013996.
Trader Joe's Dark Chocoalte Almond Butter Cups
These small Trader Joe's treats were recently recalled because they may contain "traces" of peanuts. About 6.1 million Americans are allergic to this type of nut, and the recall was issued following reports of allergic reactions.6254a4d1642c605c54bf1cab17d50f1e
"If you purchased any Trader Joe's Dark Chocolate Almond Butter Cups (2-Pack) with the affected date codes (APR 05 2022, APR 06 2022, or APR 07 2022) and have a peanut allergy, please do not eat it," Trader Joe's says in the recall notice. "We urge you to discard the product or return it to any Trader Joe's for a full refund."
For more grocery news, check out:
Amanda McDonald
Amanda has a master's degree in journalism from Northwestern University and a bachelor's degree in digital journalism from Loyola University Chicago.
Read more about Amanda