6 Non-Dairy Food Brands To Stay Away From Right Now
And why truly great plant-based alternatives are hard to come by.
The days of popping a Lactaid in order to enjoy your latte are over. Dairy-free alternatives have been gaining traction for the past decade, and they're more ubiquitous than ever. In 2021, Morning Consult surveyed 2,200 Americans on how frequently they use non-dairy milks. Nearly half responded "at least once a month," with almond milk topping the charts as the option that non-dairy drinkers prefer most.
But what about dairy milk? Isn't it good for you? Despite being told that you should opt for a glass of milk to help support healthy bones, there are a surprising number of potential negative effects from consuming dairy products on a regular basis. You might avoid dairy if you're lactose-intolerant, lowering gut inflammation, or trying to reduce the detrimental effects of dairy production on the environment by abstaining from animal products.
Or, surprising to some, you might simply enjoy the taste of a non-dairy option. According to Morning Consult's data, while 26 to 38% cited reasons such as health and environmental impact as a major reason for consuming alternative milk, 45% said they liked the non-dairy option better.
But it's not just milk that has these kinds of substitutes. Vegan consumers may be most familiar with the range of products that are created with dairy. From creamers to yogurt to cheese, there's a whole plant-based world out there to rival the animal product market.
While plenty of options can be high-quality, it's still important to do your research. There are always some items masquerading as healthier and more eco-friendly under the "plant-based" labels. In fact, with the help of Eat This, Not That! Medical Expert Board members Lisa Young, PhD, RDN and Sydney Greene, MS, RD, we found six dairy alternatives that may not be better for you or for the planet. Keep in mind that whatever dairy-free options you go with, you can still make sure you're fulfilling your daily calcium value by incorporating these non-dairy food sources.
Califia Farms Almond Milk Creamer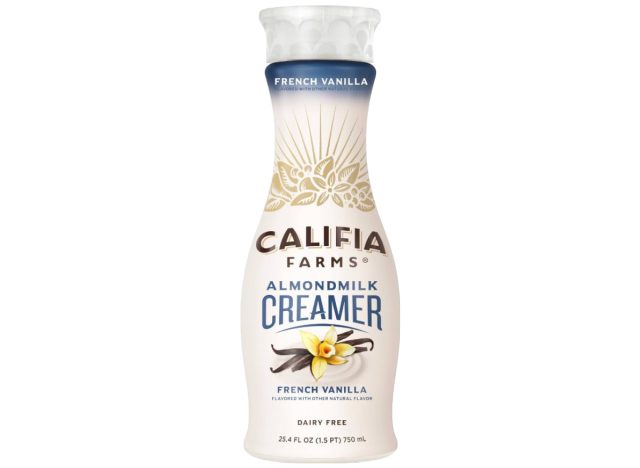 PER TABLESPOON
: 20 calories, 1 g fat (0 g saturated fat), 10 mg cholesterol, 15 mg sodium, 3 g carbs (0 g fiber, 3 g sugar), 0 g protein
This almond milk creamer isn't as good for you as plain old milk, says Young. "I'm not a fan of creamer as it tends to be low in nutrients and higher in calories relative to milk."
Still, it's certainly not the worst option when compared to Coffee Mate's Liquid Coffee Creamer, which has more than twice the amount of sugar and lists vegetable oil as the third ingredient. Especially if you already cannot tolerate lactose from regular dairy. Just make sure you're moderating your pour. "Most people use lots more [creamer] than just a tablespoon or two," notes Young. "It also contains added sugar, which adds up if you use several tablespoons."
PER CUP
: 90 calories, 1 g fat (0 g saturated fat), 0 mg cholesterol, 100 mg sodium, 16 g carbs (2 g fiber, 7 g sugar), 3 g protein
The largest U.S. coffee shops, such as Starbucks, Peet's, and Dunkin', have rapidly adopted oat milk over the past few years. According to CNBC Make It, the growth in sales for the plant-based drink shot up from $6 million to $40 million from 2018 to 2019. Oat milk is a safe option for those with soy or nut allergies, making it a more accessible choice.6254a4d1642c605c54bf1cab17d50f1e
However, opting for oat milk can still have certain health trade-offs, especially because of the way your body processes it. For those who are watching their sugar, you'll want to consider the level of carbs you're taking in.
"I generally advise people against oat milk because one serving contains about the same amount of carbohydrates as a slice of bread without any of the fiber or protein that is found in whole grain toast," says Greene. "Additionally, when oat milk is made, the enzymes used break the oats down into sugar, which means you are going to get a bigger blood sugar spike than if you ate oatmeal."
If you're not worried about spiking your blood sugar, one upside to the Oatly Low-Fat Oat Milk is that it leaves out inflammatory oils that are added to many dairy-free milks. It's also fortified with calcium and vitamin D, so you have some of the same nutrients provided by dairy.
But supporting Oatly is a double-edged sword, and personal nutrition isn't the main reason to avoid this plant-based brand. As much as oat milk production aims for low environmental impact compared to other options, the company is backed by a financial group that has had quite the opposite effect.
In 2020, sustainability blog Green Matters reported that Oatly sold 10% of the business to investment banking company Blackstone Group, receiving heated backlash from its climate-conscious consumers. Blackstone has invested in companies contributing to the deforestation of the Amazon rainforest, which reduces the planet's protection against global warming.
Oatly's response attempted to highlight the "green" impact it had on the banking group's portfolio: "We understand that partnering with Blackstone is an unexpected choice, however through this partnership we are able to get the leading player in private equity to invest in sustainability and to align their goals and values with our own, which we believe is a massive positive step forward. It also steers capital that would've otherwise gone into another commercial investment into sustainability instead, making their investments greener. Love, Oatly."
There are pros and cons to choosing Oatly oat milk, so making an informed decision for you is what matters most.
So Delicious Dairy-Free Coconut Milk Yogurt Alternative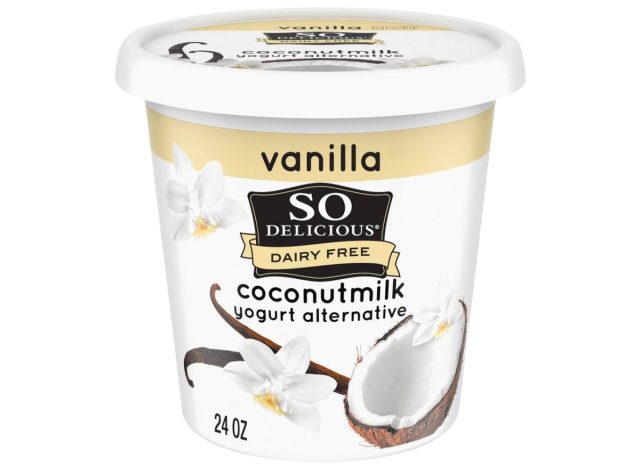 PER 3/4 CUP
: 150 calories, 5 g fat (4 g saturated fat), 0 mg cholesterol, 35 mg sodium, 25 g carbs (2 g fiber, 17 g sugar), <1 g protein
When considering a plant-based yogurt, you're probably looking for something to replace your healthy breakfast base without the dairy. Unfortunately, you won't find that in this coconut milk yogurt. While it provides a solid 15% of your daily calcium value and many natural (and tasty) ingredients, the effects of the sugar in one serving here can outpace all the potential benefits of yogurt, including weight loss and gut support.
"This yogurt has 17 grams of added sugar. That is about six packets of sugar that has been added to the coconut yogurt," says Greene. "Opt for the plain flavor of this yogurt to cut the sugar down."
She also points out that this yogurt isn't a good substitute when it comes to protein. "One gram of protein compared to dairy yogurts that contain anywhere from 8 to 16 grams of protein. Try looking for a dairy free yogurt that contains at least 8 grams of protein and little to no added sugar."
For non-dairy foods you can hang your hat on, you may find it helpful to start here, with our list of the best dairy-free yogurts.
Violife Vegan Cheddar Cheese Shreds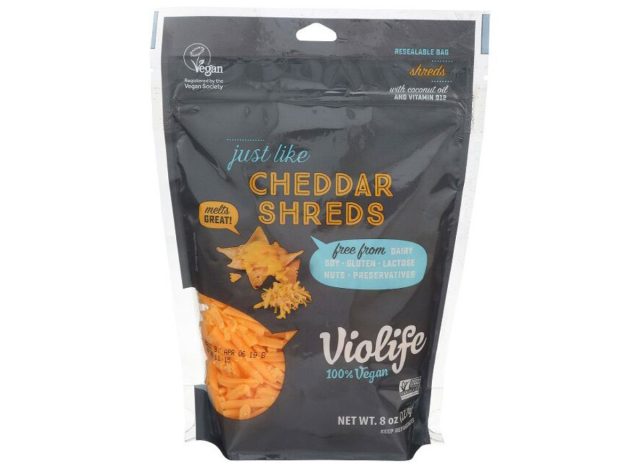 PER 1/4 CUP
: 80 calories, 7 g fat (6 g saturated fat), 0 mg cholesterol, 250 mg sodium, 6 g carbs (0 g fiber, 0 g sugar), 0 g protein
If you choose to avoid consuming animal products, you may be familiar with the age-old question of vegan manufacturers: how do you make imitation cheese taste and feel like real cheese? Those who have given up genuine aged cheddar often yearn to recreate the flavors and textures of cheese-centric foods, like pasta, pizza, and nachos.
According to one Reddit user in the r/vegan megathread, Violife's vegan cheese line seems to have the answer, with commenters vouching for the cheese-like taste and melting properties. However, one respondent found the brand's one fatal flaw—it's not that great for you. "I want the cheese to have some kind of nutritional value, not just be the equivalent of pouring cooking oil all over my food," the user said.
And it's true. Primarily created from water, coconut oil, and starches, this faux cheese is devoid of nutrients. "This product is high in saturated fat and contains no protein or calcium so I'd skip it or opt for part skim cheese," explains Young. The amount of saturated fat in one ounce of vegan cheese shreds is already 30% of your daily recommended limit.
For that reason, you may want to avoid this brand. However, we acknowledge that it's nearly impossible to hit all the right notes in a single product, so we'll just encourage you to use this one sparingly.
PER 2 TABLESPOONS
: 80 calories, 8 g fat (4.5 g saturated fat), 0 mg cholesterol, 115 mg sodium, 1 g carbs (0 g fiber, 0 g sugar), 1 g protein
With all of the dairy shortages right now, you may be wondering if you can swap in a non-dairy version for your lactose-free cheesecake recipe. Perhaps—but you might not want to do that with this "better for you" plant-based brand.
Go Veggie carries dairy-free versions of cheese, cream cheese, and spreads, claiming to be "The Healthier Way to Love Cheese." Unfortunately, the cream cheese version doesn't live up to the name, with a combination of oils, starches, and soy protein concentrate making up the bulk of the product.
"This cream cheese is high in fillers and is pure fat," says Young. "It does not contain much in the way of good nutrition, so I'd skip it."
Daiya Plant-Based Cheeses
PER 1/4 CUP
: 80 calories, 5 g fat (2.5 g saturated fat), 0 mg cholesterol, 240 mg sodium, 8 g carbs (0 g fiber, 0 g sugar), 0 g protein
Once named the fastest growing plant-based company in the continent, this Canadian non-dairy cheese company was the leading brand for vegans seeking justice for animal rights, bringing in $50 million in annual revenue.
But in July 2017, Daiya took a sharp left turn by selling the company for $325 million to the Japanese pharmaceutical brand Otsuka which conducts animal testing—a stab to the heart for loyal customers.
Former culture publication The Outline reported that local pro-vegan businesses stopped selling the plant-based cheddar in silent protest, while individual consumers passed around an online petition, asking Daiya to back out of the deal. One store manager in New York City told the media outlet, "The day that the sale was announced we pulled Daiya products from our shelves. It's a total bummer. That's the perfect word to describe it. It's really too bad."
Although their reputation has been built back up since then—Food Dive covered the aftermath of the acquisition in 2019, highlighting Daiya's expansion into new plant-based alternatives for frozen desserts, pizza, and breakfast burritos—it's entirely possible you can't get past this brand's dichotomous position in the sustainable food industry.
As for the original product, many love using Daiya as a cheese substitute, but Young wouldn't recommend this for its nutritional benefits. "With tapioca flour as the second ingredient, I'd skip this cheese. It also is a lot lower in protein than regular cheese."
Sarah Wong
Sarah studied at Northwestern University, where she received a bachelor's degree in computer science and experimented with mixing tech and journalism.
Read more about Sarah