5 Changes Publix Is Making Right Now
From product recalls to store closures, here's the latest news you need to know.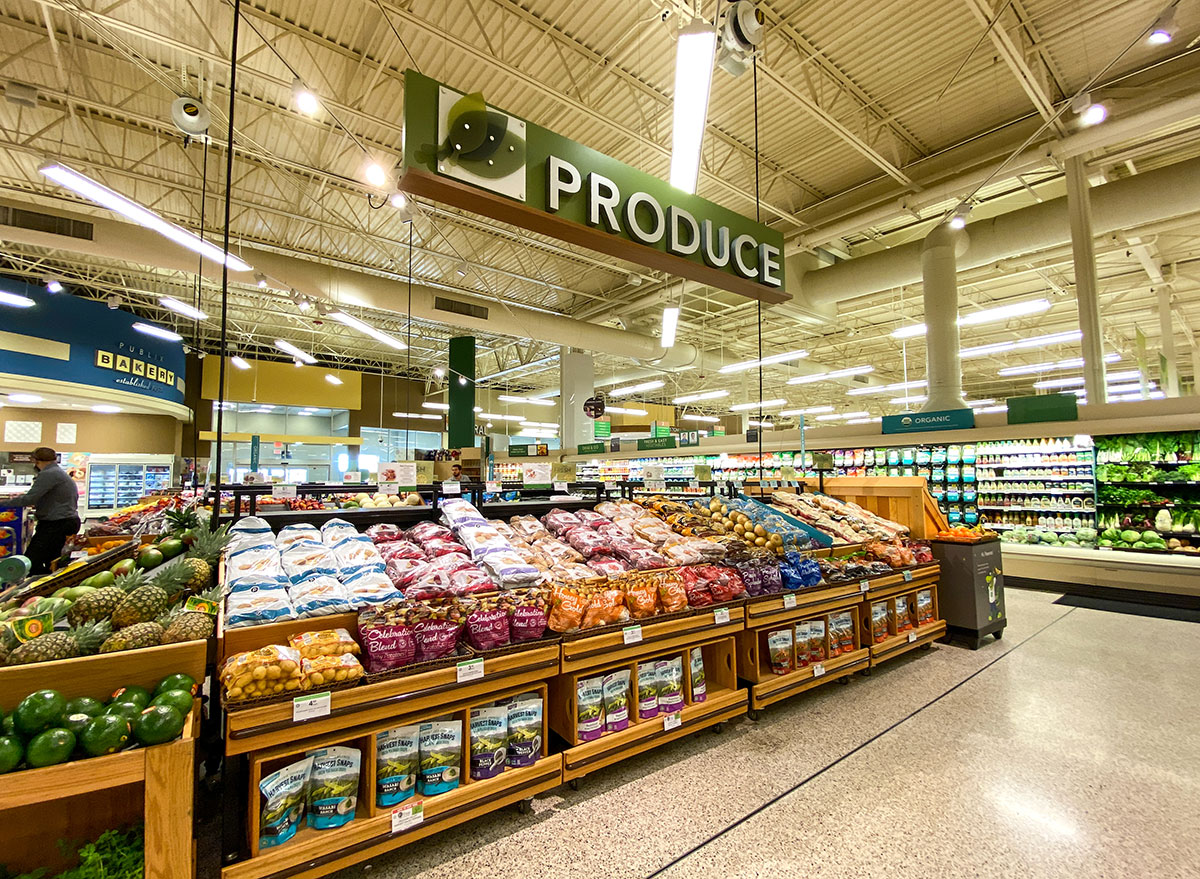 For Publix, the supermarket chain synonymous with Florida for many, this year is off to a busy start. Some of it is good news for the Sunshine State–based chain, like new locations opening and exciting product releases. Other things keeping the business occupied, however, are a little less sunny—including food safety recalls and store closures.
Whether you frequent Publix yourself for daily necessities or simply want more intel on the supermarket in the Southeast, here are the big changes that the chain is rolling out. And for more, check out Grocery Shortages To Expect in 2021, According to Experts.
Distributing the COVID-19 vaccine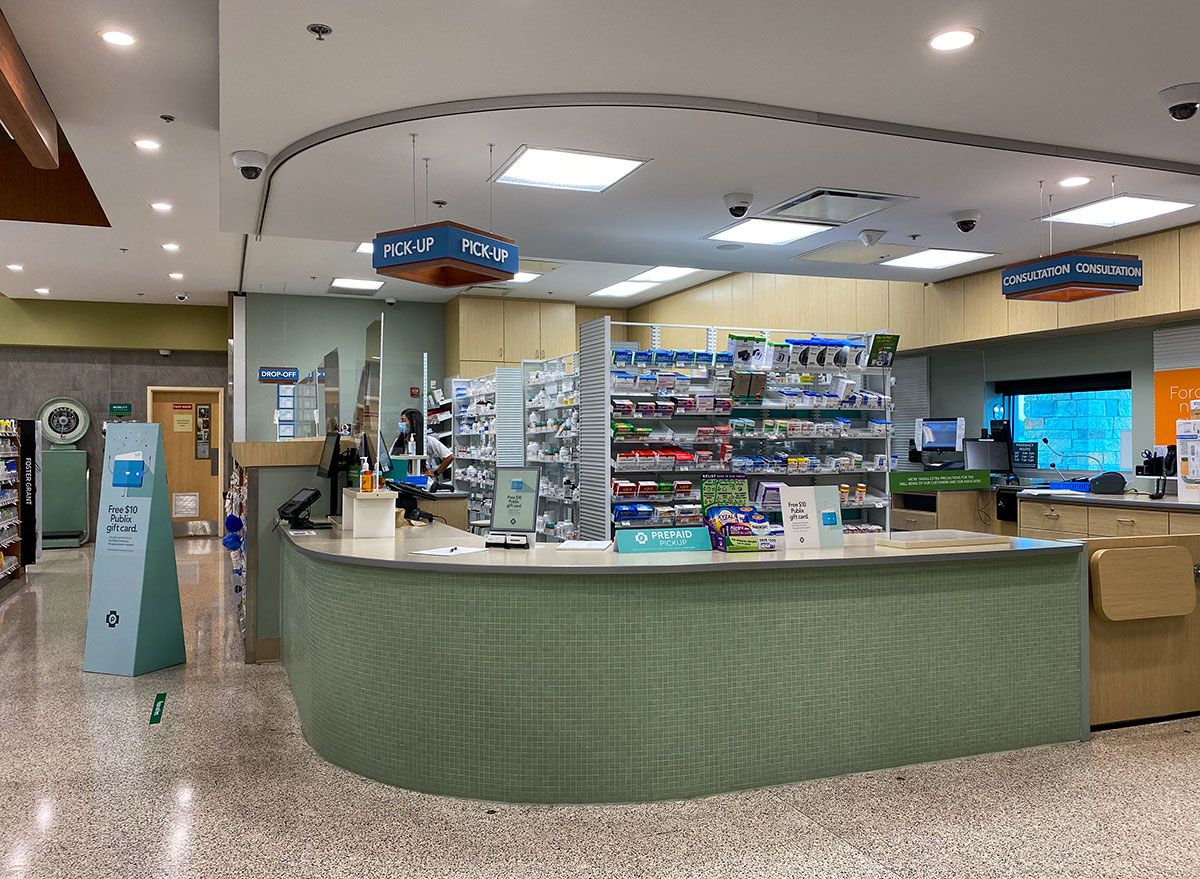 You may think of Publix as the destination for a Pub Sub or your weekly tub of spinach, but as of Feb. 12, the Publix Pharmacy has also administered more than 250,000 doses of the COVID-19 vaccine.6254a4d1642c605c54bf1cab17d50f1e
The company began administering the Moderna vaccine on Jan. 7, which started with a 22-store pilot effort in Florida. In the following weeks, it expanded COVID-19 vaccination appointments in Georgia and South Carolina and even moved into Virginia earlier this month.
"There is tremendous demand for this vaccine, and we are grateful our customers are looking to and trusting us to provide it," said Publix CEO Todd Jones in a statement. "It is our hope that continued collaborations with the states in our operating area and the federal government will allow us to quickly increase the number of customers we can vaccinate in the weeks ahead."
Currently, vaccinations are available to eligible individuals by appointment (and while supplies last) at select locations. Appointments must be made through the online reservation system at publix.com/covidvaccine. But keep in mind that the appointments are currently being affected by winter storms. Publix has temporarily stopped scheduling appointments for first doses in Florida (although second doses were not impacted as of Feb. 18).
"Publix will announce future appointment scheduling opportunities when the company receives its vaccine allotment," the company said in a statement.
Recalling a salmon product
A new recall involving a Publix salmon brand occurred as a result of a fishy mispackaging error in February. Around 8,450 of Ocean Beauty Seafood LLC Parmesan-Crusted Wild Alaskan Salmon Fillets, sold under the Publix brand, could contain undeclared soy, per an FDA announcement.
A consumer noticed salmon with teriyaki sauce inside of a parmesan-crusted salmon box, which was likely a loading box machine operator error. Beyond being the wrong flavor, the teriyaki salmon could cause a serious or life-threatening allergic reaction if it's consumed by someone with a soy allergy or sensitivity (even though no illnesses have been reported yet).
The affected 12-ounce boxes are black with white chalk drawings and were sent to Publix warehouses in Florida and Georgia between Sept. 18 and Nov. 11, 2020. The product was then distributed to various retail stores in the southeast. The packages have a UPC code of 41415302457, and a Best Before/Use By date of 02/11/22.
"Consumers that find any affected product as described in this recall notice are asked to either dispose of the product or return the product to the point of purchase for a refund," notes the FDA statement.
Soy is one of the eight types of food that account for 90% of all serious allergic reactions, per the American College of Allergy, Asthma & Immunology. For more on food safety, here are 8 Food Recalls You Need to Know About Now.
Expanding healthy offerings for foodies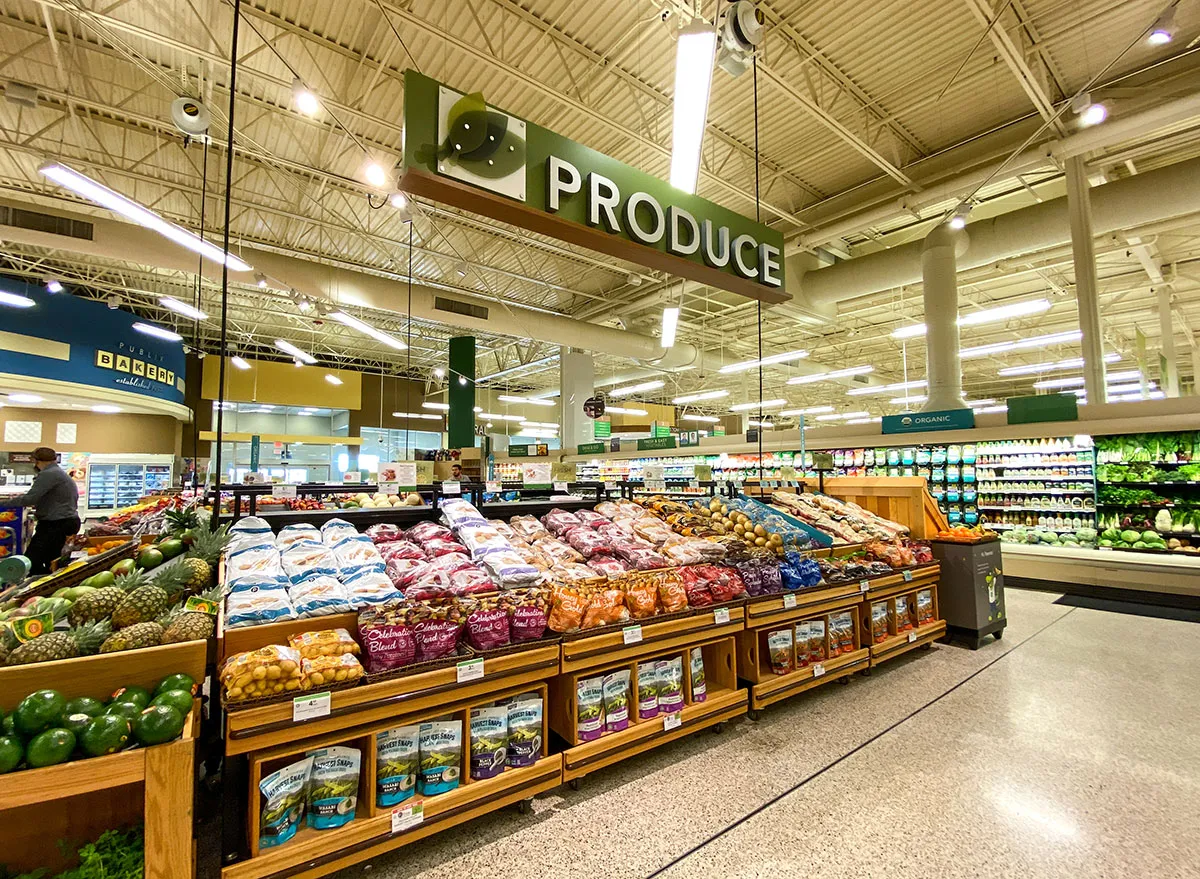 Publix opened a new GreenWise Market location in Fort Lauderdale, Fla. on Feb. 4. The chain calls its GreenWise Market a specialty, natural, and organic store that includes carefully curated local products for health-conscious and gourmet foodies.
This 27,758-square-foot store is the first GreenWise Market located in a multi-use high-rise. It's the eighth GreenWise Market for Publix and the sixth for the state.
"We took all of the things our customers love about GreenWise Market and put them in a centralized downtown location," said Publix President Kevin Murphy in a statement. "We look forward to sharing our unique atmosphere and products with our customers who live and work in this busy urban neighborhood."
The first GreenWise Market opened in 2018 in Tallahassee, Fla., and organic food has continued to grow in popularity since then. Shoppers can visit store zones like EATS (made-to-order meals and grab-and-go foods like handcrafted sandwiches) or POURS (beverages like locally-roasted coffee or wine and beer on tap).
That said, Publix did close two GreenWise Market stores in South Carolina after short stints because of space constraints in 2020, per Grocery Dive. The chain is known for closing locations that underperform or no longer fit its vision.
Launching new functional wellness products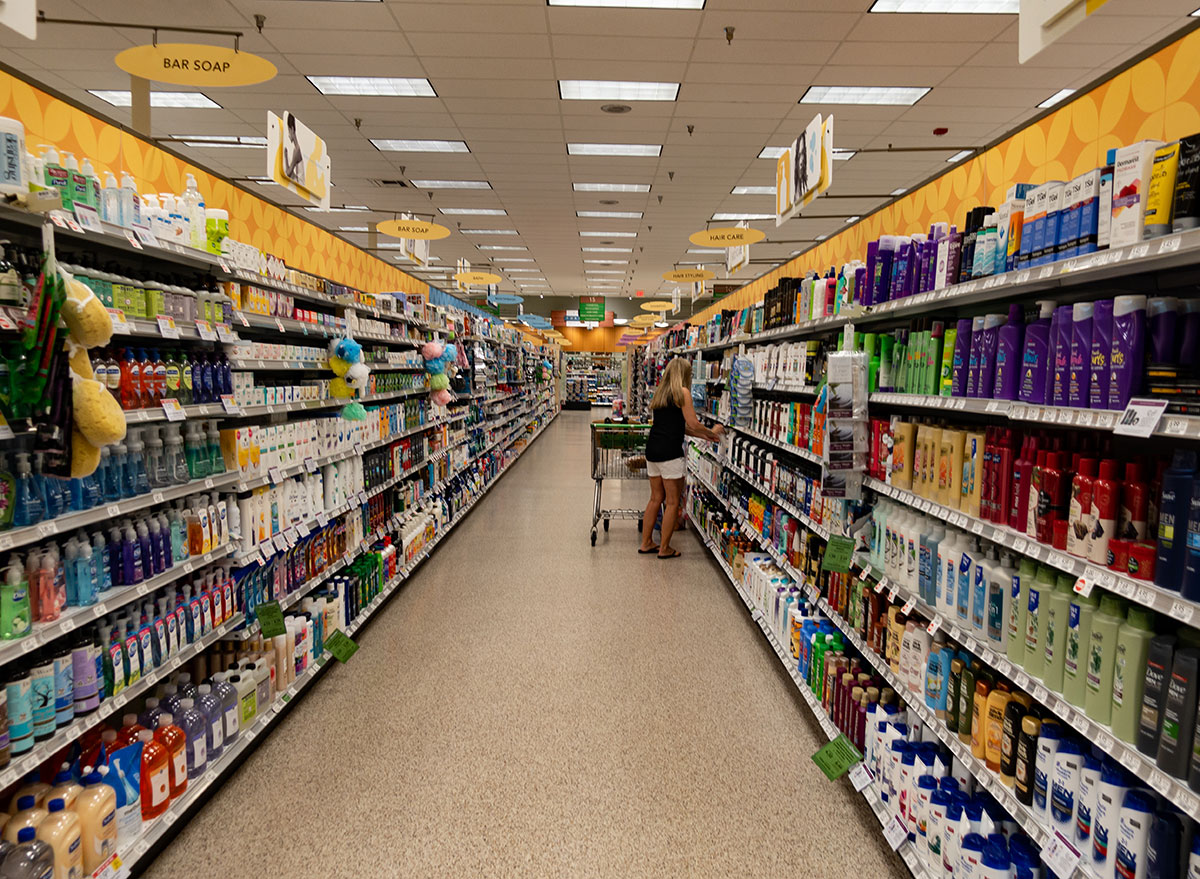 The company's GreenWise line recently debuted functional powders, which the company called "a convenient way for you to add essential nutrients to your diet that help keep your body going," per the Publix blog. The new line includes acai powder (add it to your smoothies or oatmeal), maca powder (incorporate it into baked goods like brownies), and camu camu powder (sprinkle it into salad dressings).
Publix also added organic kombucha to its GreenWise brand. These sips include live probiotic cultures and come in flavors including pineapple spirulina, peach, Honeycrisp apple, carrot ginger turmeric, and berry blend.
And if you're in the mood to indulge, the Publix bakery launched limited-edition treats from January through March—think mint chocolate bar cake, blueberry cheese mini strudels, cinnamon scones, and even organic seeded fruit and veggie bread.
For more on sweet treats, Hershey Is Making These 3 Major Changes to Its Chocolates.
Adjusting store hours due to winter storms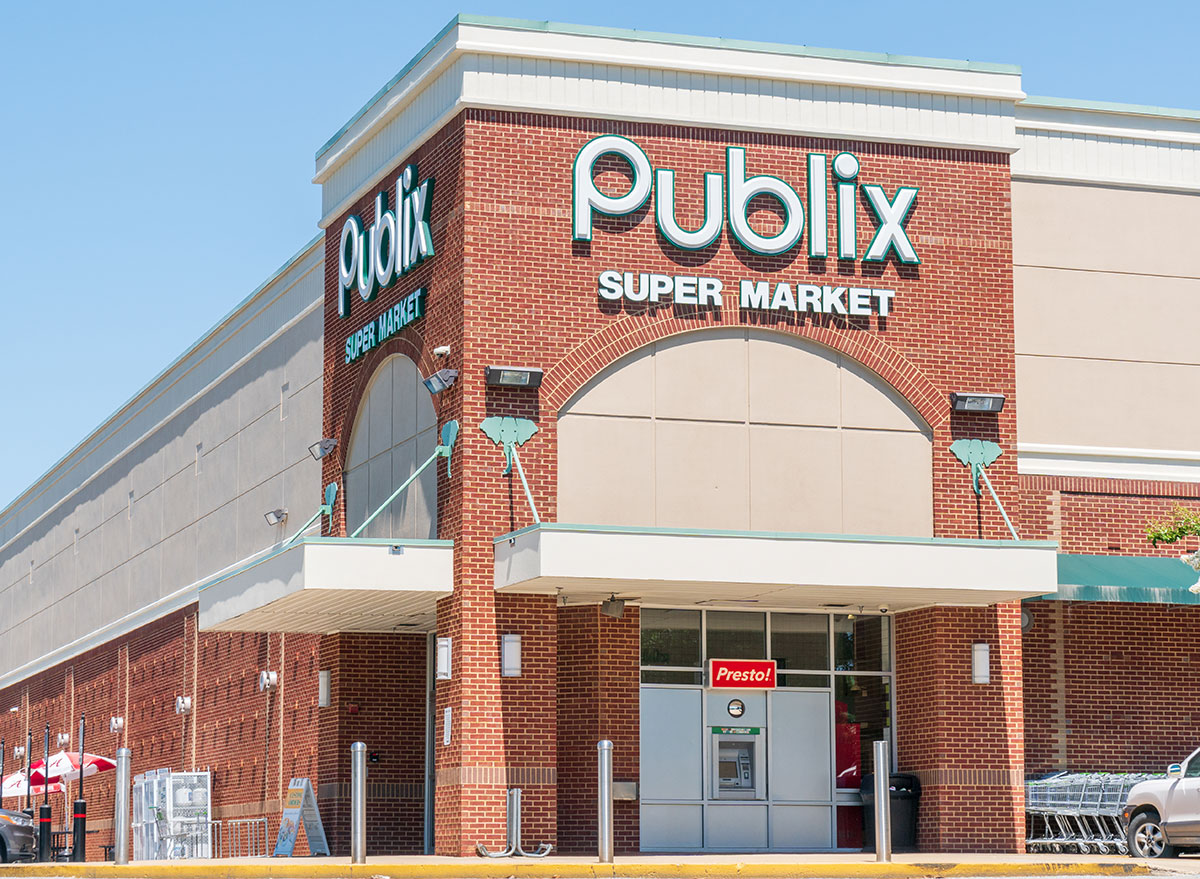 Publix has been affected by extreme winter weather moving through the southeast, and was required to modify the hours of more than 90 stores in Alabama and Tennessee this month.
"We're closely monitoring winter storms and the impact to our operating areas," the company states on its store status tracker. "Please be aware that several of our stores in the affected area will be adjusting their hours for the storm."
For more, check out 108 Most Popular Sodas Ranked By How Toxic They Are.