This Is The Rock's Exact Breakfast, Lunch, and Dinner
Dwayne Johnson stays shredded by eating these foods on a daily basis.
Professional wrestler turned actor, Dwayne Johnson (aka The Rock) is known for his insane muscles. We all saw him introduce the 2022 Super Bowl, right? Even next to a ton of NFL football players, The Rock stood out. But you can't hold your own with Joe Burrow without a strict fitness plan. Besides The Rock's workout routine, he also follows a pretty hardcore diet to stay fit.
The Rock eats not three, not four, but five to seven meals a day. His diet is strategically planned around his workouts so that he can perform his best and then refuel afterward. (Think: Carbs, protein, vegetables, etc.)
The Rock's acting career also affects what he eats. When he was getting ready to star in Black Adam (2020), he posted his meal on Instagram with the caption: "One month away from shooting #blackadam⚡️ so the diet is very strict and all food is weighed & measured so my conditioning can come in on point."
But Johnson isn't all work and no play. He's a big advocate of treating yourself to the foods that you love, every now and then. "I love my cheat days," he said in a 2021 Delish interview. "They have become legendary."
Ready to see what The Rock eats to live up to that nickname? Read on to find out, and next, check out how 16 Famous Celebs Make Their Oatmeal.
Breakfast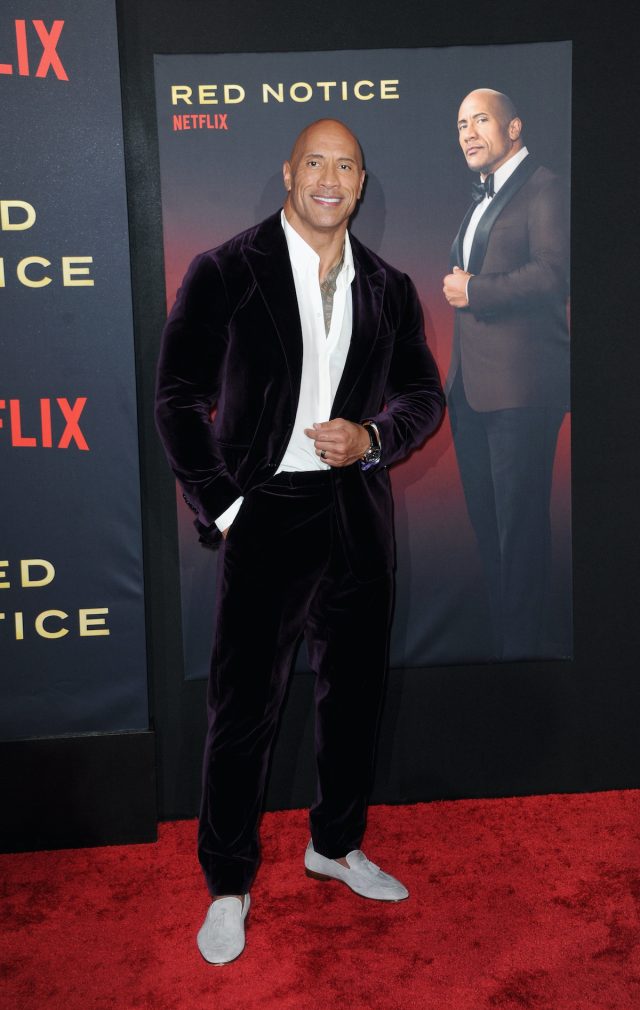 For the first meal of the day, The Rock starts off with cream of rice or oatmeal. He'll also have some buffalo and eggs on the side. He calls this meal his "Power Breakfast" because it gets him energized for his first workout of the day: "Sitting on the floor aka the Green Mile at the #ironparadise ~ enjoying pre workout power breakfast 🥞🍍🍎 🥭 getting kissed by the sunrise," wrote The Rock on Instagram with a photo of his meal.
Post-workout, but still in the morning, The Rock will fuel up on carbs and protein. He told Delish that he enjoys eating rice or sweet potatoes as his carb, and then typically he'll have chicken as his protein.
An energy drink is also a must. The Rock drinks his own brand, ZOA energy, and sometimes pairs it with freshly juiced celery. "Helluva combo to optimize your mornings and get you out of the gates with energy and feeling GREAT," he shared on Instagram. The go-to serving? 12-16 oz ZOA energy (tropical punch flavor is his recent favorite), and 32 oz celery juice.
Lunch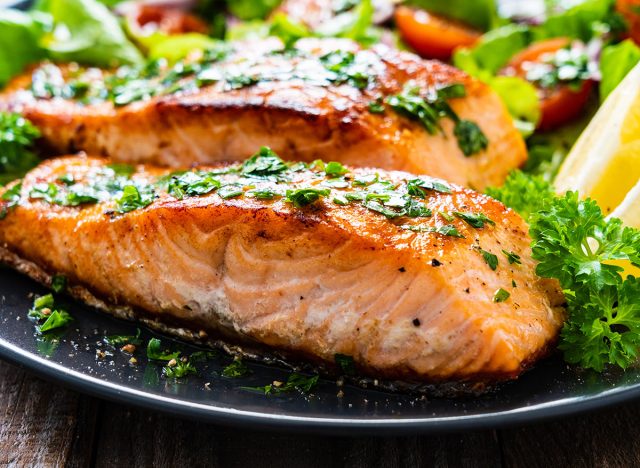 Another carb and protein combo, The Rock will have either chicken and rice or buffalo and greens for lunch. There's not a whole lot of variation to his meals throughout the day, because it's mainly about getting the nutrients he needs to feel good. Aside from slight variations while prepping for acting roles, The Rock told Delish: "My diet has pretty much remained the same for the past 5 ot 10 years."
Since The Rock has always lived such an active lifestyle, carbs and proteins are necessary to keep him going. Previous reporting shows that lean proteins and complex carbohydrates are best after workouts, so The Rock definitely has the science down. Throughout the day, he'll also eat a lot of cod and salmon, even though he told Delish that he hates salmon. He used to stick to cod, but the added health benefits of salmon are hard to turn down.
Dinner
Before bed, The Rock will be sure to squeeze in one more meal, or a "midnight snack" as he sometimes calls it. On a Saturday night, he might also treat himself to a drink. "Crusted salmon w/ brown rice 🐟🍚. Paired with a frost bitten bottle of @teremana slow poured over rocks topped with pineapple," wrote Johnson on Instagram along with a photo of his meal.
Snacks
Speaking of snacks, does The Rock actually snack on anything besides cod and rice? Well, on Sundays, yes! The Rock's "cheat meals" have gone viral on Instagram and TikTok. In his Delish interview, Johnson shared that his favorite cheat foods are bacon cheeseburgers and fries, cookies, coffee cake, and apple fritter bread.6254a4d1642c605c54bf1cab17d50f1e
But we also know from social media about his famous "Rock Toast," which consists of 4 inch-thick Brioche bread dipped in a secret recipe, homemade vanilla whipped cream, toasted coconut chips, drizzled peanut butter, and coconut maple syrup. Another one of his cravings is pancakes, specifically a recipe created by his family friend Chef Puttie. Check out the recipe for DJ's Infamous Coconut Banana Pancakes to recreate them yourself.
Want to learn more about how The Rock stays fit? Check out The Rock Looks Shredded in His New "Walk of Hell" Workout Video.
Mia Salas
Mia is a freelance writer for several publications and a soon-to-be graduate from Princeton University with a degree in English.
Read more about Mia