Eating This Type of Fish Could Reduce Your COVID Risk, Study Suggests
Plus, they have other major benefits that can keep you healthy.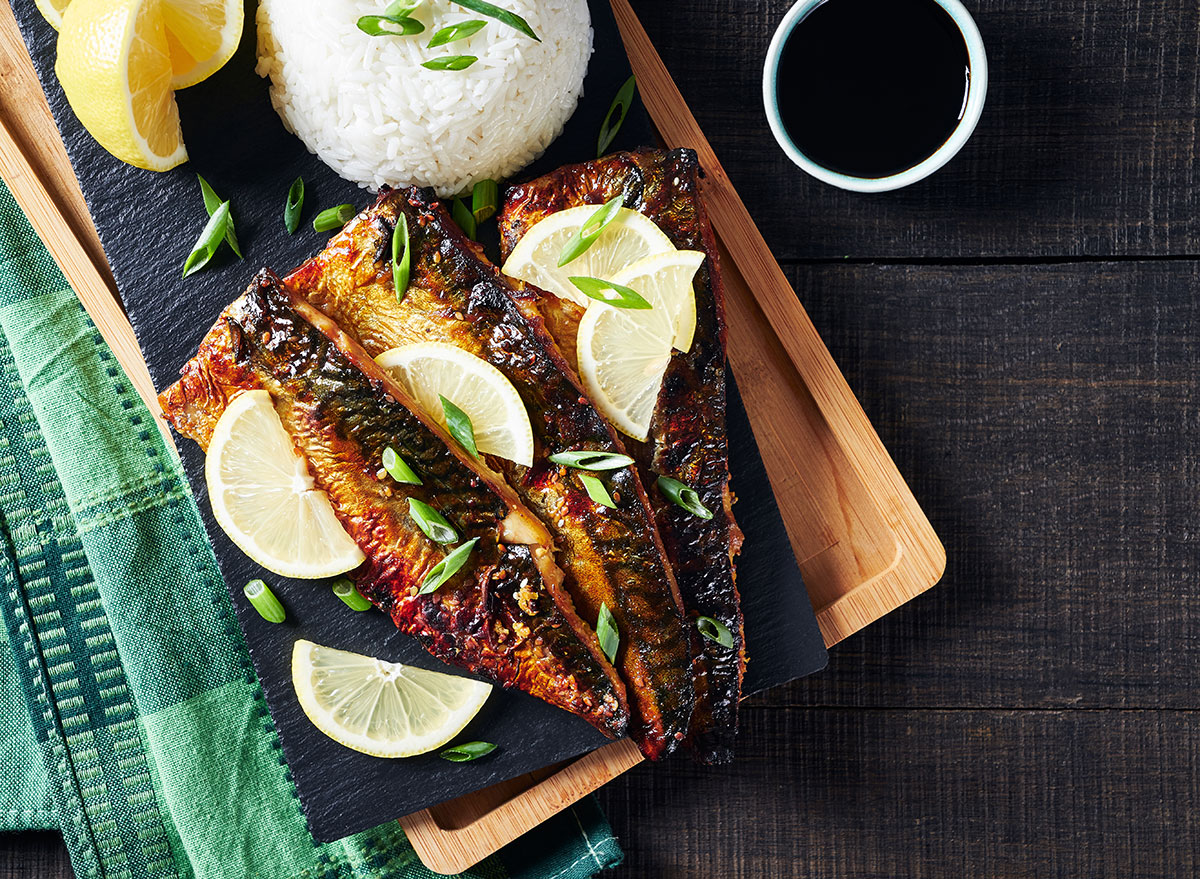 A big part of COVID-19 prevention is ensuring your immune system is in the best possible shape to fight off infection—that way, even if you do get the novel coronavirus, you're much less likely to have serious complications compared to someone with a weakened immune system.
Tamping down inflammation is a key part of that strategy, and in terms of what can give you a dietary boost in the right direction, a recent study suggests you may want to load up on fatty fish. (Related: The 7 Healthiest Foods to Eat Right Now.)
Choices like salmon, Atlantic mackerel, sardines, cod, and herring are all packed with omega-3 fatty acids, and research published in the journal Prostaglandins, Leukotrienes and Essential Fatty Acids finds there's direct evidence that higher omega-3 blood levels may reduce the risk of death from COVID.
Researchers looked at 100 patients admitted to the hospital with the virus, and examined their blood samples, noting that 14 had died since admission. They found that the risk for COVID-related mortality was four times higher for those with low omega-3 blood levels, and in fact, 13 of the patients who had passed away were in the group with the lowest amount.
Although researchers noted that larger studies will need to be done to confirm the findings, this pilot study suggests there are strong associations between the anti-inflammatory effects of fatty acids and better COVID outcomes.
That's just one benefit of more omega-3s in the diet, says Lisa Mosconi, PhD, neuroscientist and author of Brain Food: The Surprising Science of Eating for Cognitive Power. Eating fatty fish at least a few times per week can improve brain health and even boost your mood, she notes. That can reduce your risk of the notorious "brain fog" that many people experience with COVID, and also lower stress levels—another top way to support your immune system.6254a4d1642c605c54bf1cab17d50f1e
"The good news is that even if you've been making less-than-healthy choices for a while, your body and brain will respond to positive changes fairly quickly," she says. "That can lower your inflammation and heighten immunity quickly, as long as you stay on that track."
Although there are plenty of omega-3 supplements on the market that can get your levels up fast, Mosconi suggests eating fatty fish first. Not only do fatty fish options have the right kind of fat to help reduce the risk of several negative health outcomes (think cardiovascular disease), but they also provide various nutrients such as vitamin D, riboflavin, calcium, and other minerals.
"Plus, this kind of fish is super simple to prepare and it's delicious," she adds.
For inspiration on which dishes you can make right at home, be sure to check out 21+ Best Healthy Salmon Recipes for Weight Loss.