The #1 Most Unexpected Meal You Can Make in the Microwave
You won't believe what you can prepare using just a microwave.
A microwave is an underrated appliance. When used properly, this handy device can save you time, effort, and a bunch of dirty dishes. Not to mention, there are several healthy, homemade microwave meals you can prepare using fall foods.
Microwave ovens have been around for a long time—with the first domestic one being introduced in 1955—and they're really good at rapidly heating foods, thawing frozen foods, and melting ingredients like chocolate or butter. But did you know that you can also cook a variety of meals in the microwave?
Something else you might not know about your microwave is that it can also help retain the nutrient content of your food. Because ingredients like vegetables tend to leach out their vitamins and minerals in the cooking water, the quick cook time and low water usage of a microwave oven can help preserve these nutrients.
The team at Meatless Monday rounded up nine different microwave meals, many of which are inspired by the fall season. Most of these recipes can be made using just a mug, but all of them will inspire you to cook and eat more plant-based foods.
After, don't miss Foods You Should Never Put in the Microwave, Say Experts!
2-Minute Cinnamon French Toast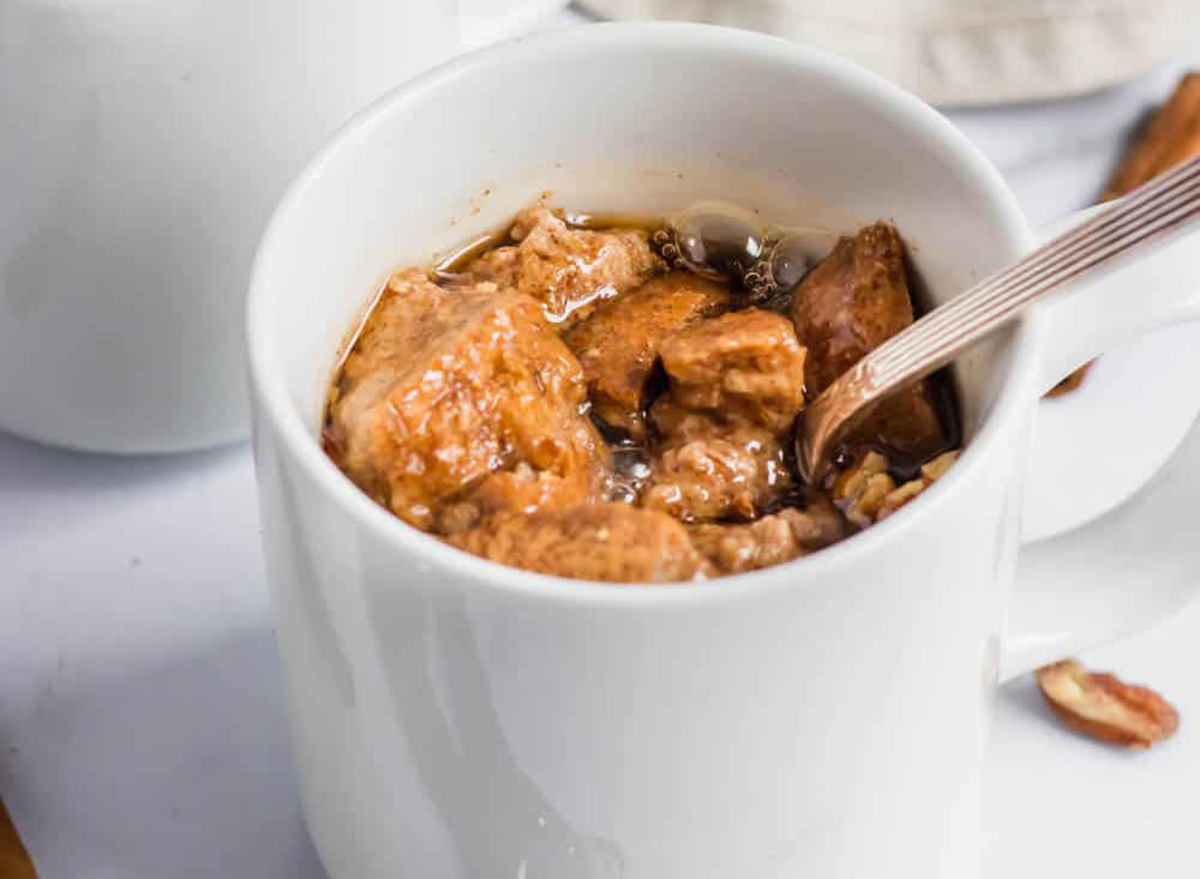 This is a great recipe from Lemons + Zest for two reasons: it's entirely plant-based, and you can make it in a mug. And there's no better way to embrace the fall spirit than with some gooey cinnamon French toast. Coat chunks of bread in a creamy, vanilla-cinnamon-maple mixture and microwave for about 90 seconds. And there you have it, quick-and-easy vegan French toast.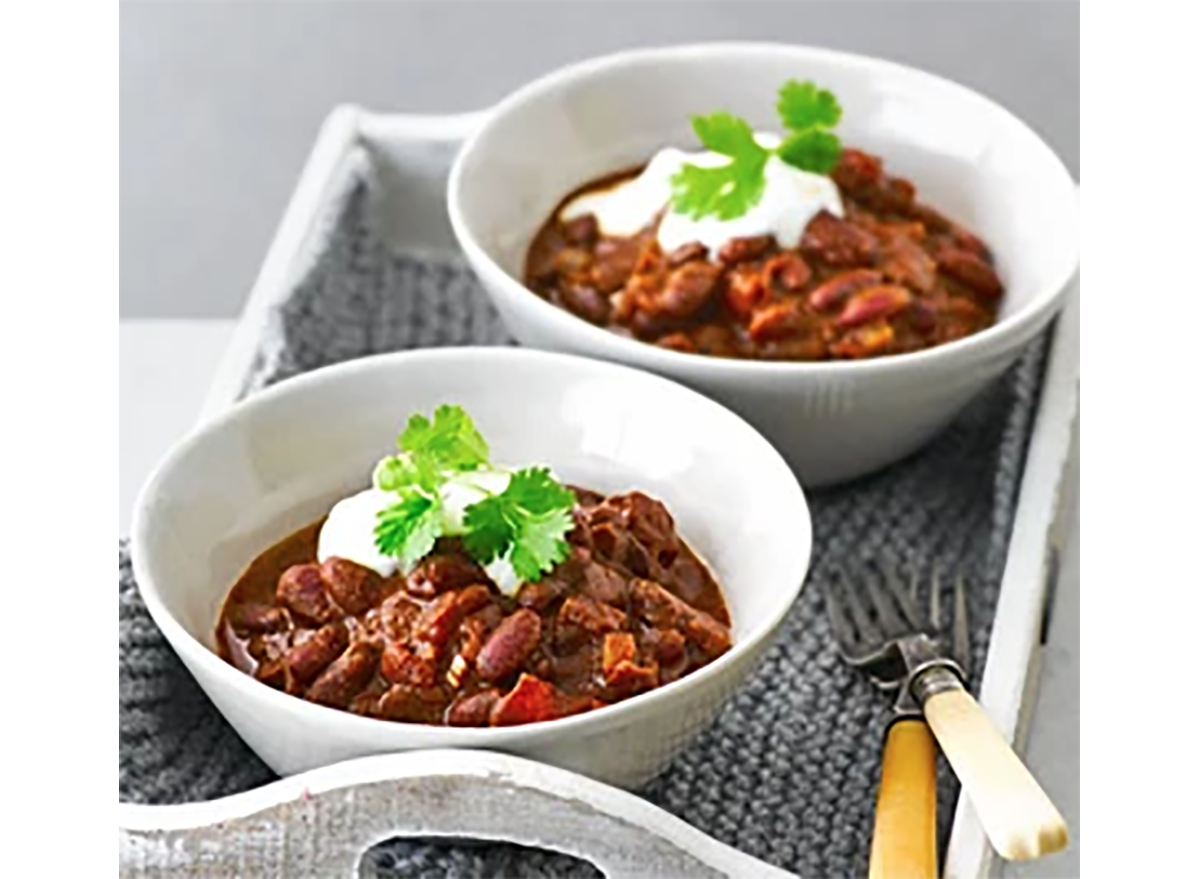 Despite what your relatives might tell you, chili doesn't need to cook on the stovetop for hours on end to develop a deep, rich flavor. This 5-minute microwave chili from Jack Monroe of BBC Good Food is a quick midweek meal that you can make completely plant-based by swapping out the butter and sour cream for vegan alternatives.6254a4d1642c605c54bf1cab17d50f1e
Blueberry Banana Microwaved Baked Oats
We've all had oatmeal for breakfast—sometimes it's good, other times it's fine—but this recipe for blueberry banana baked oats from Kim's Cravings takes breakfast (and oats) to the next level. Baked oats are a little denser than your average oatmeal, bordering on cake-like, but they still cook in only 2-3 minutes in the microwave. Add an extra teaspoon of ground flaxseed or 2 tablespoons of aquafaba to make it vegan.
Don't miss One Major Effect of Eating Flax Seeds, Says Science.
One of the best-kept secrets is cooking sweet potatoes in the microwave (although the trick works for regular potatoes, too). This recipe from Kroll's Korner uses cinnamon, peanut butter, and sliced banana for extra flavor, but you can also add a drizzle of syrup for an extra touch of sweetness.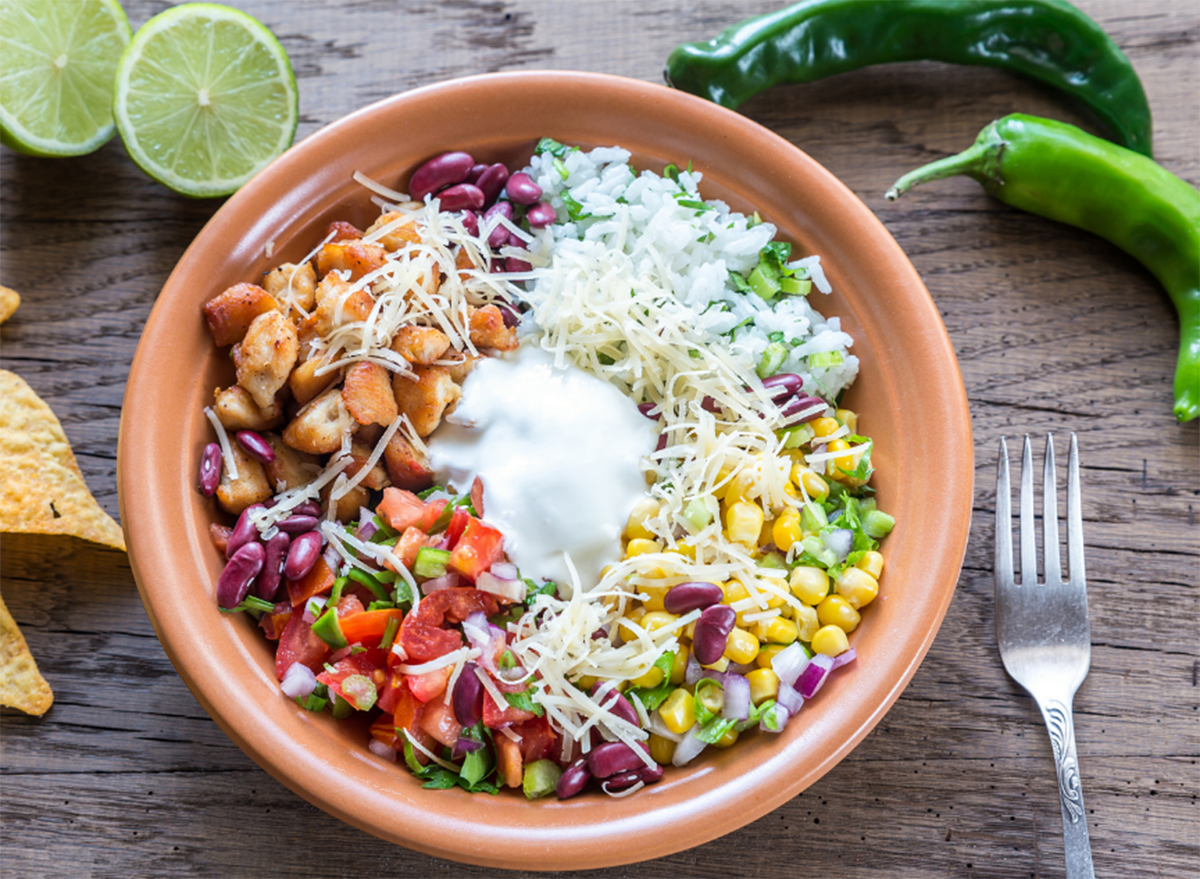 This is a low-cook meal, meaning that you just have to assemble a few pre-prepared ingredients. We recommend starting with a grain (quinoa, brown rice, cauliflower rice), and adding some thawed corn kernels, canned beans, and packaged guacamole or salsa. Microwave all the ingredients (minus the guacamole or salsa), and you have yourself a super-healthy plant-based meal.
Microwave Spaghetti Squash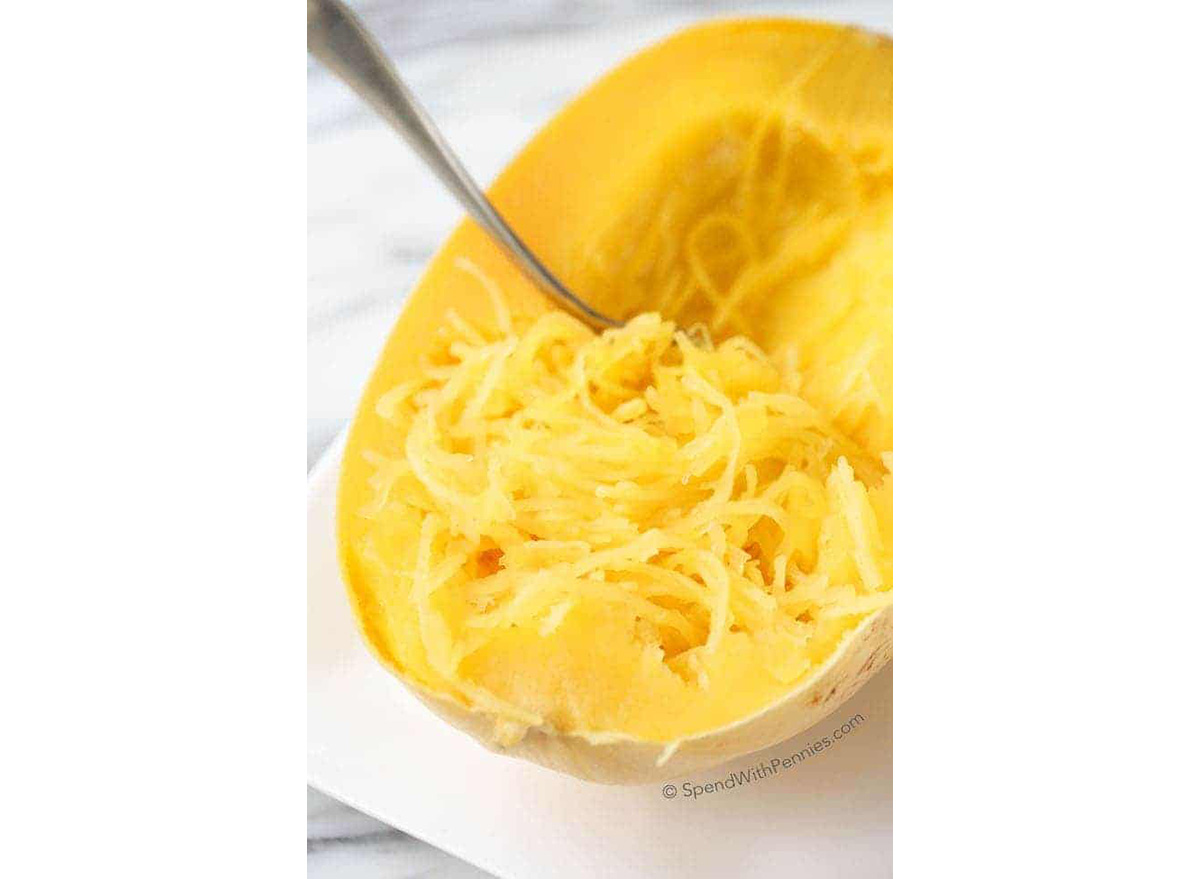 Spaghetti squash is one of those perfect fall ingredients because it has a delicate flavor and stringy texture, making it a suitable pasta replacement. This recipe from Spend with Pennies shows how you can quickly cook your spaghetti squash in the microwave, saving the hassle of heating up the oven. From start to finish, you can have shredded strands of squash in under 15 minutes. Just toss with your favorite pasta sauce and some vegetables for a complete plant-forward meal.
Making ramen in the microwave is nothing new, but this jazzed-up version from Sneaky Veg is much more complex than anything you'd get from a package. Adding ginger, miso paste (optional), and dried shiitake mushrooms to the equation really elevate the umami flavor of the broth—and just in time for soup season.
Simple Butternut Squash Soup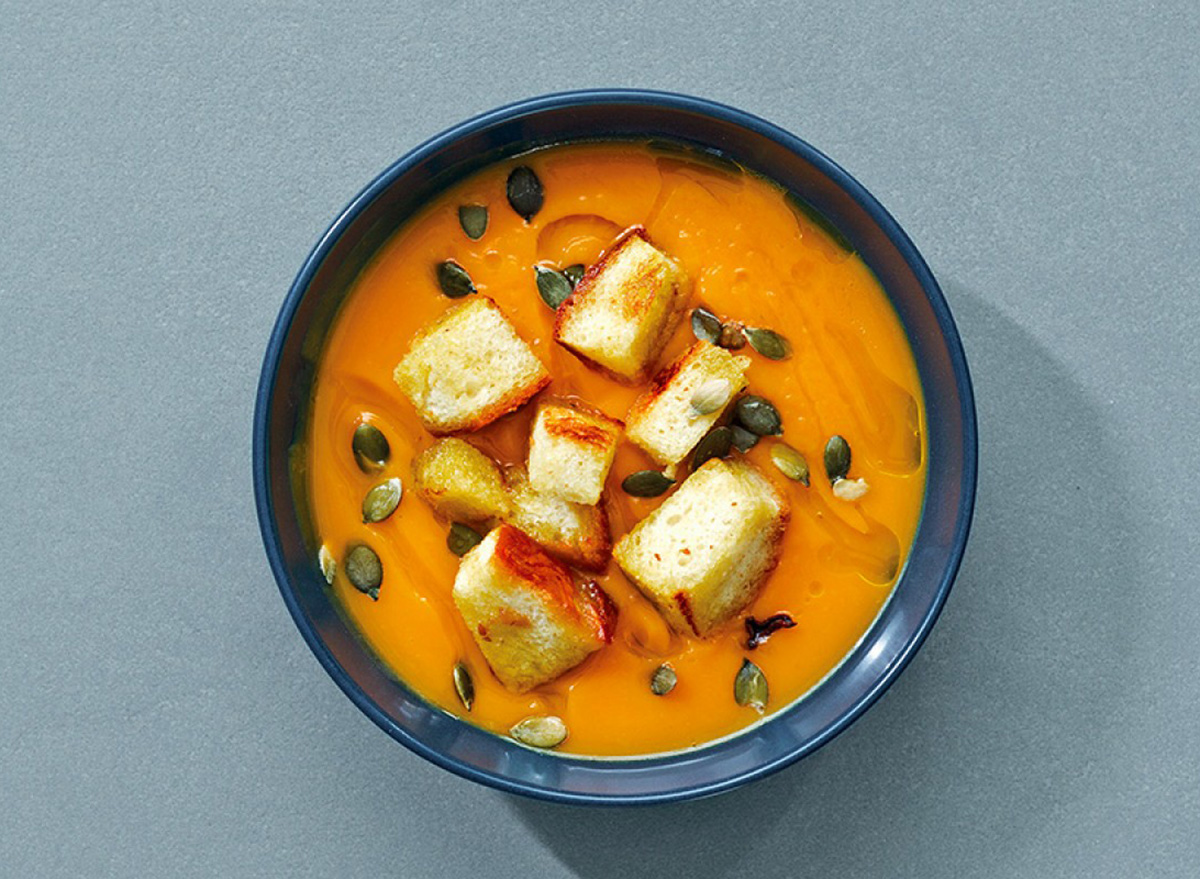 Another staple of the autumn harvest, butternut squash is the perfect blend of sweet and savory. To make this simple butternut squash soup from La Cucina Italiana, cook chunks of butternut squash in the microwave with vegetable broth for 10 minutes (just to soften), and blend the mixture together with a hand mixer or blender. Season the soup with salt, and top with pumpkin seeds or croutons.
Vegan Mac 'n' Cheese in a Mug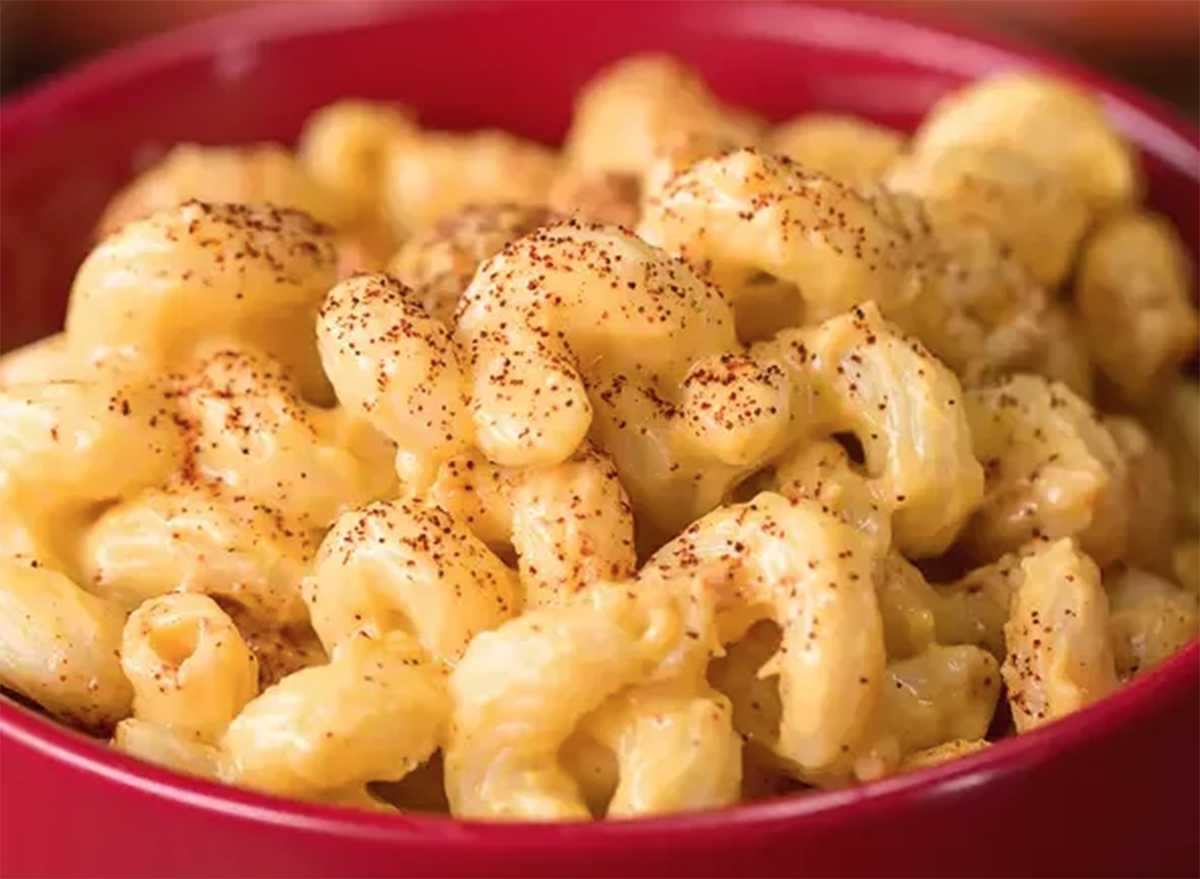 All the creamy deliciousness of macaroni and cheese—without the cheese (and piles of dirty dishes). Using almond milk, paprika, vegan butter, and nutritional yeast, you can recreate the silky-smooth texture of classic mac in under 10 minutes. Another great thing about this recipe from Tasty is that it can be made in one big mug.
For more, be sure to check out 15 Ways to Make Your Favorite Meals Meatless. Then, don't forget to sign up for our newsletter!