15 Ways to Make Your Favorite Meals Meatless
Our friends from Meatless Monday share some of their favorite recipes from bloggers.
Memorial Day is just around the corner which means it's time to amp up your recipe game and get ready to entertain family members and friends. However, if you're trying to eat more plant-based foods, the holiday could set you back as some of our favorite cookout-friendly dishes typically contain some type of meat, dairy, or eggs.
Fortunately, our friends at Meatless Monday compiled a list of 15 beloved meals from food bloggers that swap out meat out for plant-based ingredients. This Memorial Day weekend, try shaking the menu up by preparing a few meatless versions of the classics. Your guests will likely find the vegetable-forward version of each recipe to be just as satisfying as the original!
Cauliflower Buffalo "Wings"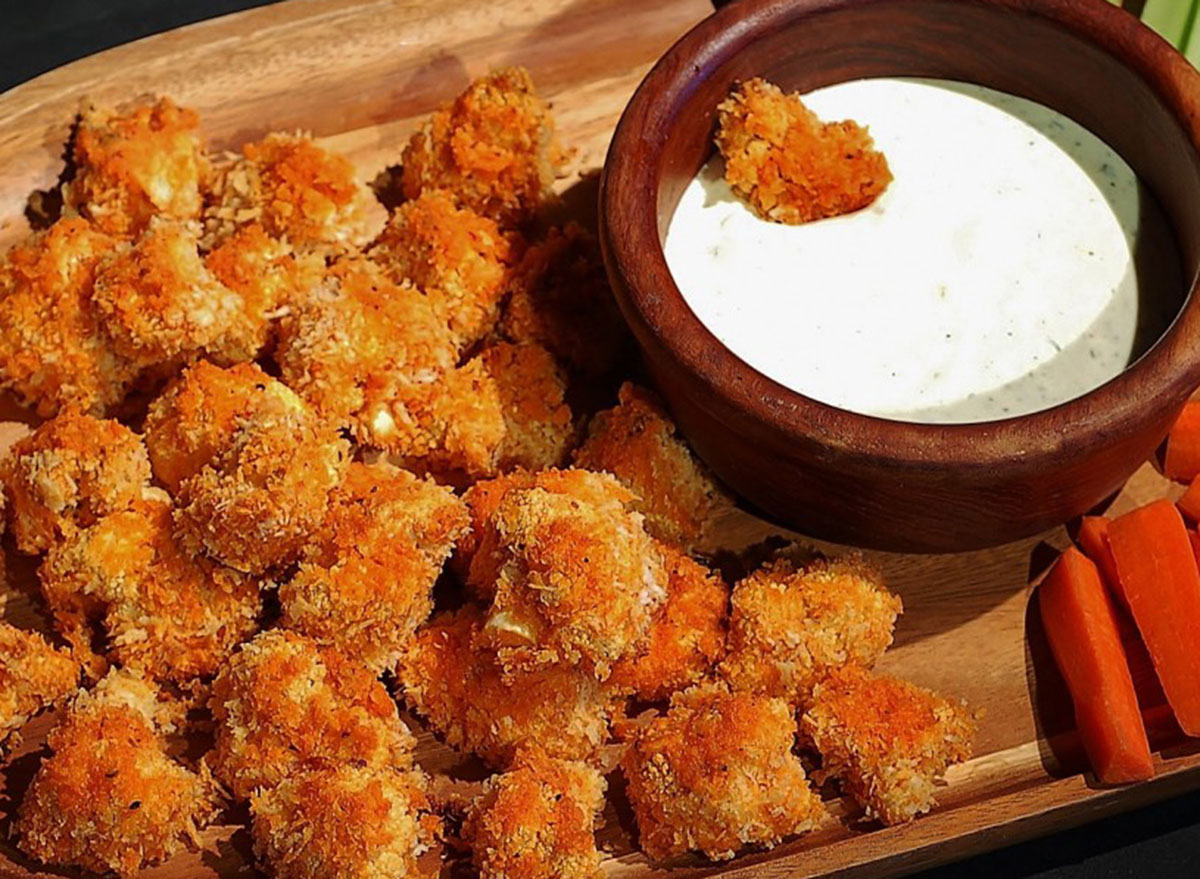 What many of us love about buffalo wings is the spicy, vinegary, garlicky sauce. So, why not give veggies the same treatment? In this recipe for cauliflower buffalo wing bites, the cauliflower florets are doused in hot sauce and breaded with panko bread crumbs, which stay crispy and help to deliver the same crunch you'd expect from a chicken wing.
This recipe for chickpea "tuna" melts from Make it Dairy Free might just be better than the original. By using nori, lemon juice, and old bay seasoning, you can recreate the salty, brininess of the tuna without tasting the over-powering fishy flavor. Hearts of palm and chickpeas add a satisfying chew that feels similar to the firmness of canned tuna.
Now, be sure to check out 5 Ways Eating Chickpeas Can Help You Lose Weight, Say Dietitians.
The key to this General Tso tofu from Jessica in the Kitchen is pressing the tofu before frying. By expelling any excess water, you'll ensure your tofu cubes get nice and crisp. All you need is Hoisin sauce, sesame oil, and fresh ginger to create a sauce that is slightly sweet with a touch of tang.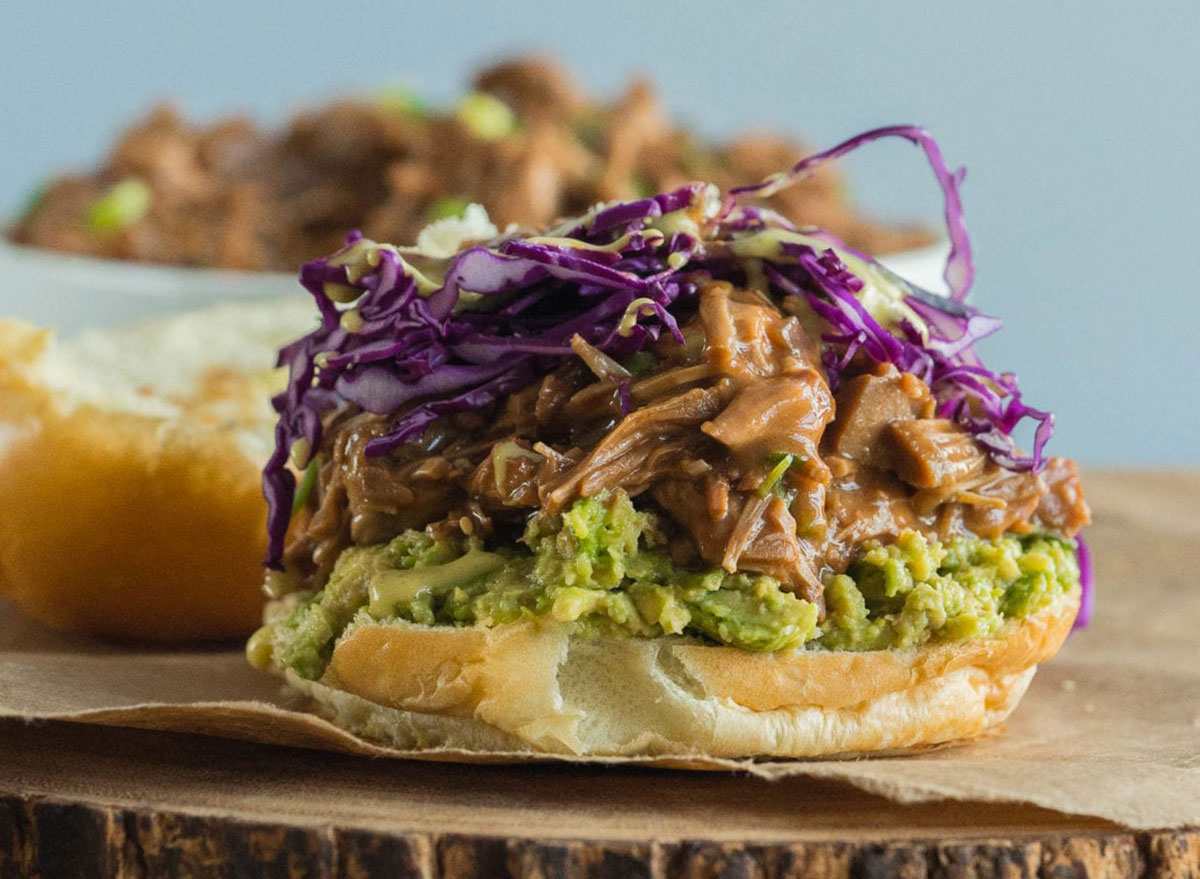 For meat-eaters, there are few things more satisfying than the sweet and smoky flavor of slow-cooked barbecue. But when you're trying to reduce the consumption of animal proteins, we often need to find alternatives to our favorite meaty dishes, like this vegan jackfruit pulled "pork" from Fit Men Cook. The recipe uses jackfruit, a savory fruit that has a stringy consistency similar to the fall-apart texture of pulled pork. Dressed up with a homemade barbecue sauce, you'll hardly be able to taste the difference between this version and the real thing.
Mushroom "Beef" Stroganoff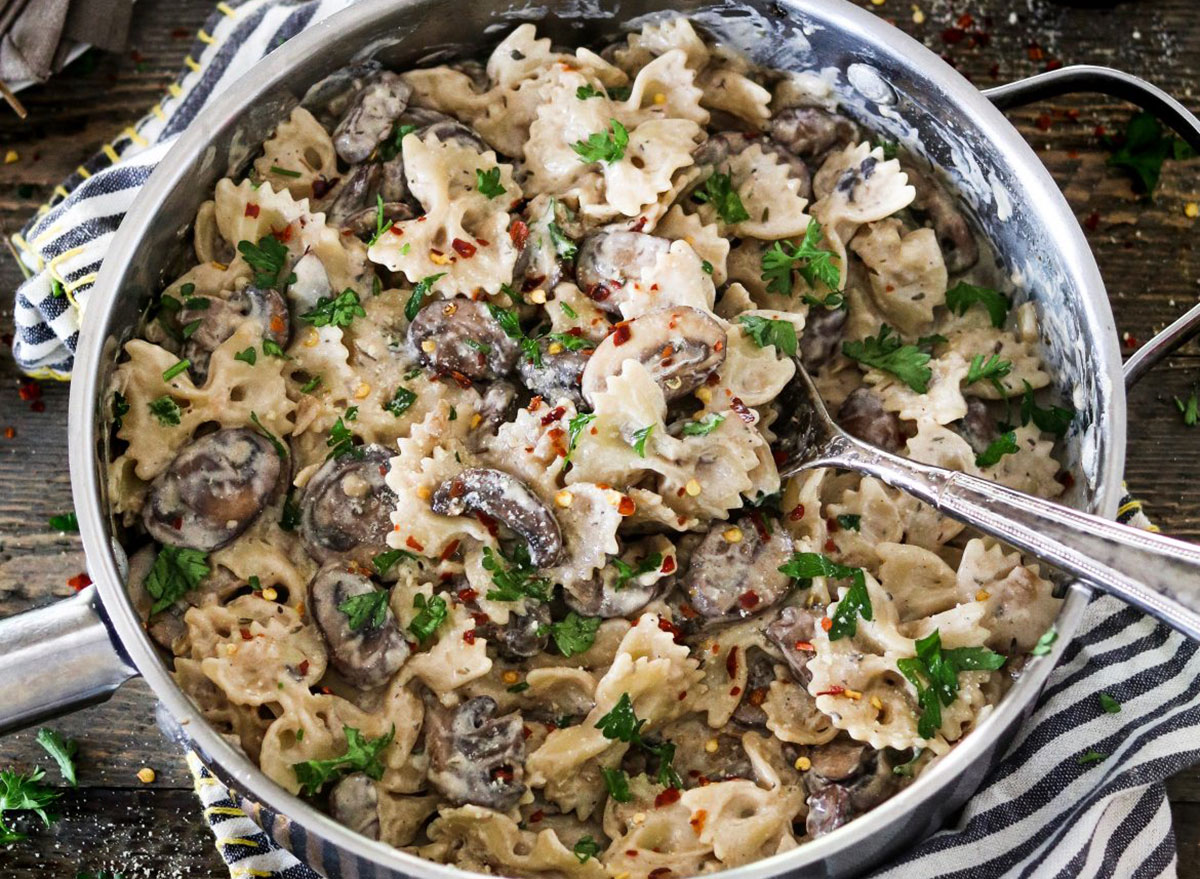 Impress an Eastern European mother-in-law or stubborn eater with this cozy and comforting (and completely plant-based) version of "beef" stroganoff. Mimic the flavor, texture, and creaminess of beef stroganoff by using succulent baby portobello mushrooms, soy sauce, and your favorite brand of plant-based sour cream. Try this mouth-watering recipe for mushroom stroganoff from Vegan Huggs.
Orange Cauliflower "Chicken"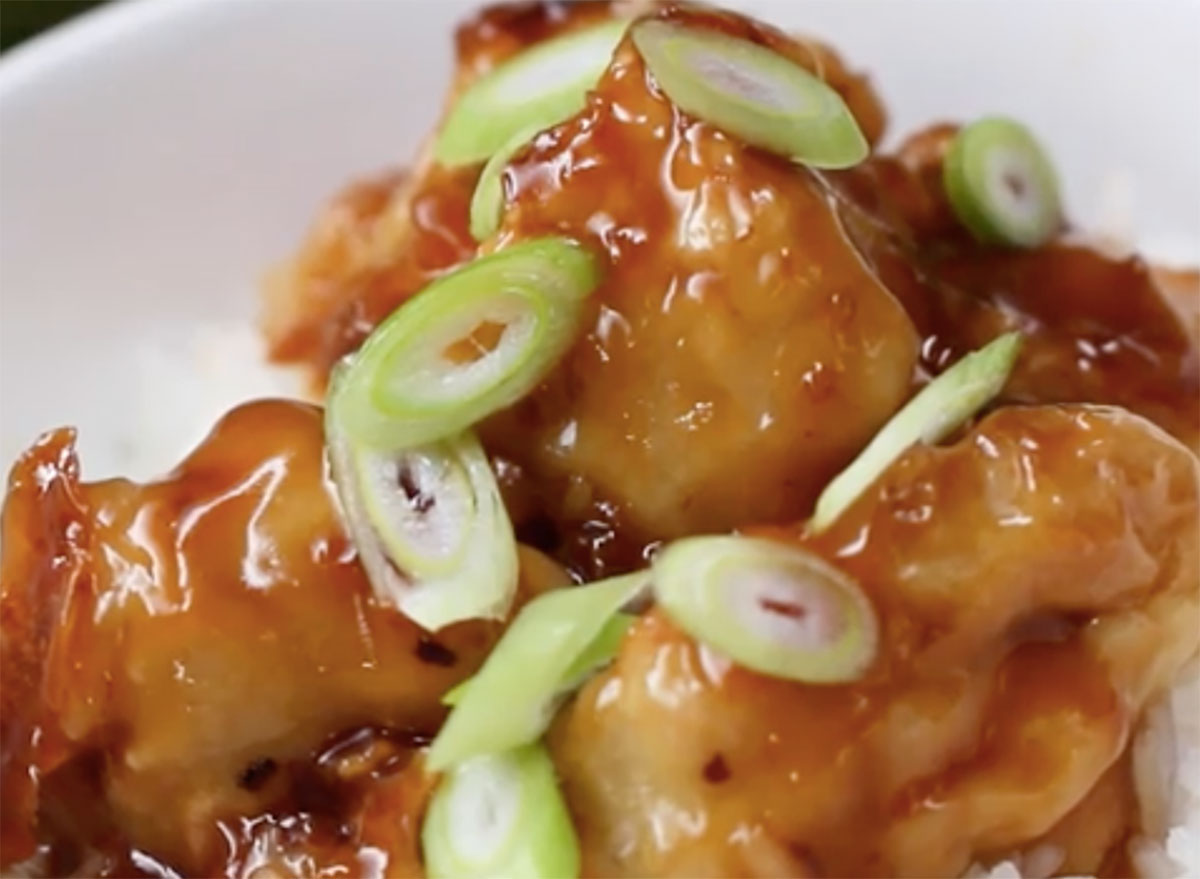 A delicious alternative to takeout, this recipe for orange cauliflower "chicken" from Tasty is the right mixture of spicy, citrusy, and sweet. For the best result, toss the roasted cauliflower in the syrupy sauce right before serving to ensure a nice, crispy bite.6254a4d1642c605c54bf1cab17d50f1e
Parsnip Spinach Shepherd's Pie
Lighter than the original version, which calls for a heavy layer of mashed potatoes, this parsnip spinach shepherd's pie gets its flavor—not from beef—but from fresh sage, tamari, white beans, and a mirepoix of vegetables. The roasted garlic parsnip puree adds a hint of spicy sweetness to each bite.
Classic pasta carbonara is dense and decadent, consisting of spaghetti tossed with bacon (or another cured pork product), egg, cream, and cheese. This plant-based mushroom carbonara from Sister Woman Vegan isn't as heavy as the original thanks to the use of mushrooms, spinach, and cashew cream.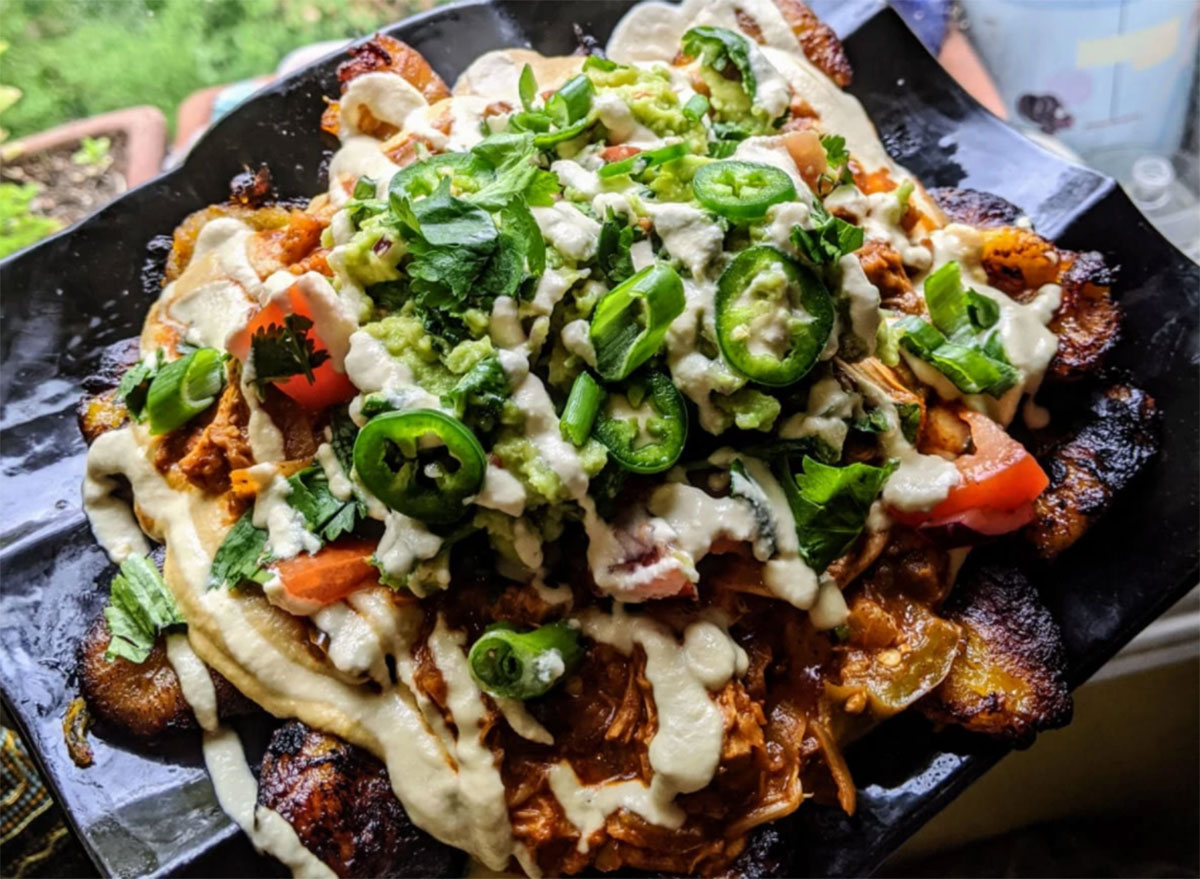 Nothing brings the party like a plate of crispy, gooey, spicy, nachos. This recipe for plantain nachos from Sister Woman Vegan explains how to make every element of the nacho platter—plantain chips, guacamole, salsa, pulled jack fruit, sour cream, and "cheese" sauce—from scratch. You can buy any of the above premade, but we always think homemade tastes better.
The perfect balance between nutty, spicy, and sweet: enter the seitan satay with spicy peanut sauce. Swap out the traditional chicken breast for oven-roasted seitan; you won't be able to tell the difference. Follow this yummy recipe from seitan peanut satay from Sunnyside Hanne.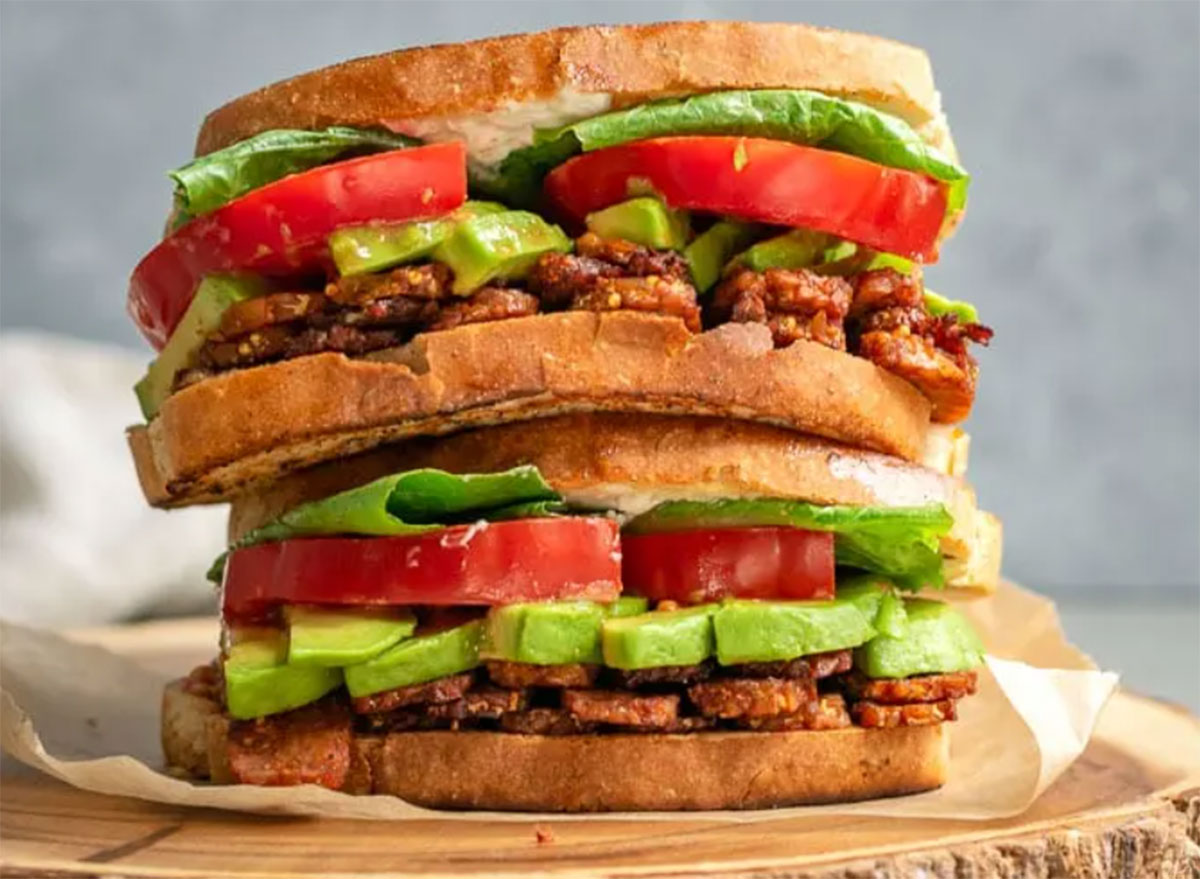 Crisp, clean, and classic, who doesn't love a BLT? Marinating the tempeh overnight in a mixture of apple cider vinegar, soy sauce, liquid smoke, maple syrup, and spices gives it the flavor of bacon while baking it in a hot oven recreates its crisp-yet-chewy texture. Check out this recipe for a tempeh BLT from The Curious Chickpea and get ready for next weekend's brunch.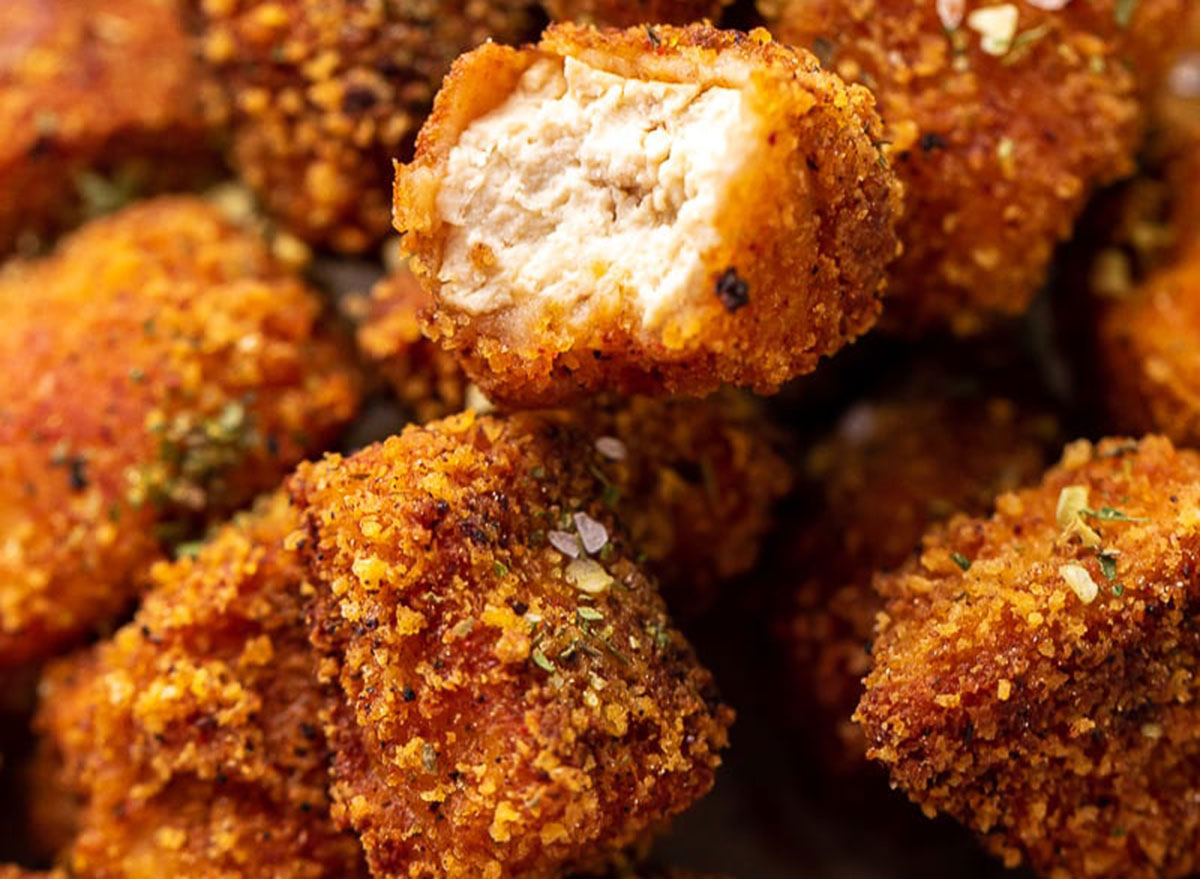 When it comes to tasty tofu "chicken" nuggets, it's all about the marinade. Soaking the tofu in a marinade of liquid aminos, soy sauce, and spices infuses the dish with a distinctive peppery and umami flavor. Jessica in the Kitchen uses a seasoned panko bread crumb mixture to give these nuggets a solid crunch.
Tofu "Chicken" Tikka Masala
No need for takeout if you plan ahead. Capture the silky texture of tikka masala by making this easy slow cooker version that is completely plant-based from Delish Knowledge. Like many slow cooker recipes, this one is simple to prepare and uses a base of tofu and chickpeas followed by a saucy mixture that includes a bold spice mix as well as rich and creamy coconut milk. Set it and then forget it for 4 hours (or 8 hours on low)
Vegetable "Chicken" Pot Pie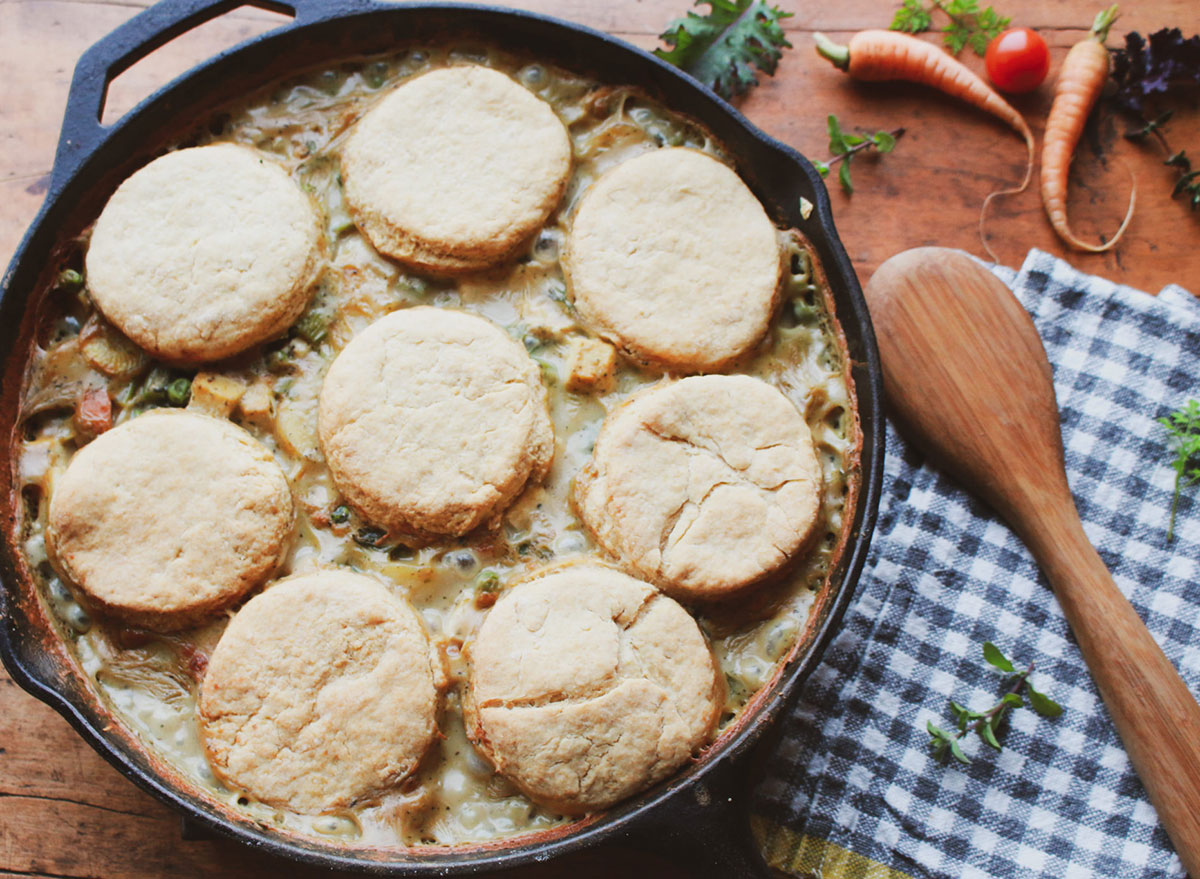 Capture the creamy richness of pot pie without the use of animal products. A combination of plant-based milk, vegetable broth, and all-purpose flour gives this biscuit-topped vegetable "chicken" pot pie a velvety texture that's as decadent as it is comforting.
Originating from Southern Italy, traditional braciole consists of meat stuff with garlic, herbs, and cheese simmered in tomato sauce. This vegan version of braciole from A Veg Taste From A to Z calls for a combination of vital wheat gluten, chickpeas, dried mushrooms, and spices to recreate the meaty flavor of the rolled beef.
For more, be sure to check out 11 Misconceptions About Plant-Based Eating You Shouldn't Believe.